If you're following a grain free lifestyle and miss having a hearty bowl of oatmeal in the morning, here is a simple overnight oatmeal that's nutrient dense and gluten and grain free. It can be topped with your favorite nuts, seeds, nut butters, berries or bananas.
Jump To
Changing to a gluten free and mostly grain free diet was not as difficult as one might imagine. But surprisingly, the most challenging part of changing my lifestyle, was strangely enough, giving up oatmeal. I know that's laughable, but I loved the stuff and couldn't get enough of it. I'd been eating oatmeal almost exclusively since I was in High School. It was the breakfast I naturally gravitated towards. It was what I enjoyed most and looked forward to every morning.
I figured the pain I was experiencing after nearly every single bowl of oatmeal, was just part of how one feels after eating breakfast. A denial that lasted years upon years. I can still hear my mother telling me: "Maybe it's the oatmeal, you should try something else for breakfast". A defiant protest followed nearly every one of her well meaning suggestions. "Me, give up oatmeal? That's preposterous"
Sure enough, oatmeal played a big role in a lot of the pain I was experiencing and after mourning what I thought was an irreplaceable breakfast, I had to move on. It's been 2.5 years since I've had a bowl and I've somehow survived.
Funny enough the days of feeling like I'm somehow missing out are long gone. That mindset has been replaced with all the wonderful things I have gained. Less pain, less inflammation, more clarity, etc.
Though let's face it, there's something extremely comforting about having a warm bowl of porridge in the morning, especially as the weather starts to get cooler. So in honor of my former breakfast, I decided to play around with an overnight paleo oatmeal recipe and surprised myself. It actually tasted great!
My version of paleo oatmeal is rich in nutrients, healthy fats and proteins as it's made with nuts, seeds and coconut flakes.
Does paleo oatmeal include oats?
No, paleo oatmeal is 100% grain free but the consistency turns out to be much like oatmeal and is a perfect substitute for those following a paleo, grain free, anti-inflammatory or whole 30 lifestyle.
So what's in paleo oatmeal?
Paleo oatmeal is incredibly easy to make and all you'll need are chia seeds, flax seeds, waltnus, coconut flakes almond milk (cashew and coconut work too) and vanilla extract. This will create the base for your oatmeal.
Does overnight paleo oatmeal need to sit overnight?
That's up to you. Unless you have a lot of time in the morning, I would opt for making the oatmeal the night before. If you have time, it will reach a thick consistency in about 2-3 hours but ideally overnight will give you the best paleo oatmeal. You can also store it in the refrigerator longer when you double up on the ingredients.
How to serve paleo oatmeal?
When it comes to oatmeal in general, it's always about the toppings. In the morning, you can warm up the oatmeal in the micro or pan if you wish and add a few sliced bananas, berries, almond butter, cinnamon, coconut flakes and any nuts and seeds of your choice. If you want to make the oatmeal a little bit creamier, you can always add a bit more milk of your choice. I went with vanilla cashew, which is my favorite.
You could also add the sweetener of your choice, whether it's honey or maple syrup or a little bit of coconut sugar. Or you could just rely on the sweetness from the banana and berries.
What are the benefits of eating paleo oatmeal?
Unlike the traditional oatmeal, all of the ingredients are very nutrient dense. They are full of fiber, manganese, magnesium, protein, calcium and antioxidants. Paleo oatmeal is also low in carbohydrates and high in good fat, which keeps blood sugar low. And above all it is grain free, which can be life changing for some sensitive types. You'll also be fuller longer and not likely need to snack in between meals.
Do you need any special equipment for making paleo oatmeal?
You will need a blender, as some of the seeds will need to be ground in order to obtain the desired consistency. Also, I find mason jars with lids to work best but you can choose to use whatever airtight works best for you.
More breakfast recipes you may like: 
📖 Recipe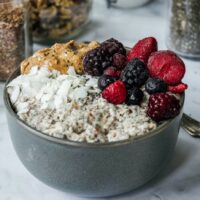 Overnight Paleo Oatmeal
Additional Time:
12 hours
Total Time:
12 hours
17 minutes
This overnight paleo oatmeal is a delicious and nutritious grain-free alternative if you still want that oatmeal feel.
Ingredients
¼ cup chia seeds, divided
¼ cup flax seeds
6 tablespoon chopped raw walnuts
¼ cup coconut flakes
1.5 cups almond, coconut or cashew milk
½ teaspoon vanilla
Instructions
1. In a blender or food processor, add 2 tablespoon chia seeds, flax seeds, and walnuts and finely grind. 


2. In a large jar, add remaining ingredients and stir well. 
Store overnight in the refrigerator. 


3. When ready to eat, you can either eat the paleo oatmeal cold or warm it up slightly. And if you wish, add a bit more milk. 


4. You can top it with bananas, honey, fruit, cinnamon or any nuts and seeds you'd like. 
Notes
Let sit overnight for 12 hours.
Recommended Products
As an Amazon Associate and member of other affiliate programs, I earn from qualifying purchases.
Nutrition Information:
Yield:

2
Serving Size:

1
Amount Per Serving:
Calories:

473
Total Fat:

38.5g
Trans Fat:

0g
Cholesterol:

0mg
Carbohydrates:

24g
Fiber:

32g
Sugar:

3g
Protein:

12.5g