This Easy Cranberry Sage Cauliflower Stuffing is an easy grain-free and healthy alternative to traditional stuffing. It's also paleo and whole 30.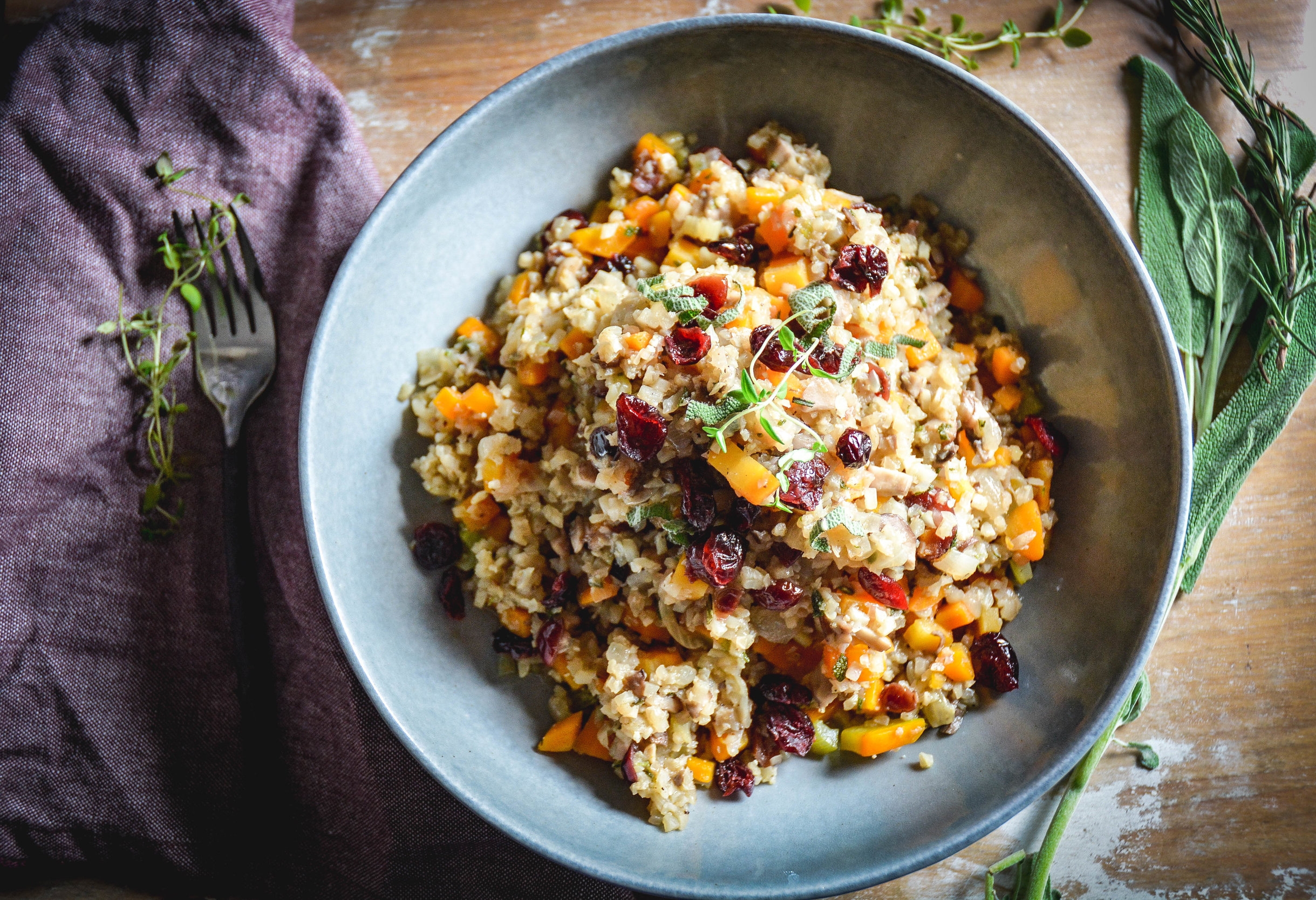 Jump To
It's strangely quiet in the house. The gentle gurgling of the dishwasher and my dog's rhythmic breathing are the only noises cutting through the silence. I haven't been home alone in a good while. I'm conflicted between all the things I'd like to do. Having a good chunk of alone time feels unfamiliar. So much I want to do, yet I find myself utterly stuck as part of me just wants to lay on the couch and stare at the ceiling for a while. Alone time that doesn't demand anything of me is foreign.
Since I became a parent, especially a parent of two kids 3 years apart, I started functioning on a different level. A level I never thought was possible pre-kids. It's being on all the time. I don't mean constantly doing things, I mean my radar is always on.
Seeing the stuffed animal that is about to trip my daughter as she's walking backward. Picking up the shirt my son left on the floor as he was running around dancing because hardwood floors and cloth of any kind, don't mix. That type of stuff. Inevitably, I find myself consistently planning, predicting, and trying to prevent. But this only strikes me in moments of solitude.
I also realized I adapt relatively well to chaos, maybe even thrive on it subconsciously. In a way, it drives and motivates me to keep moving to get things done. After all, that's what I know 95% of the time.
This recipe was created on a day when things were nothing short of chaos. But I was determined to make it despite the madness around me and hoped it would turn out as I had envisioned. Sure enough, it did. It's a simple recipe that can easily be made in the bustle of Thanksgiving.
This Paleo Cauliflower Stuffing is:
Grain-Free
Paleo
Whole 30
Dairy-Free
Vegan
Easy to make
A healthy alternative to traditional stuffing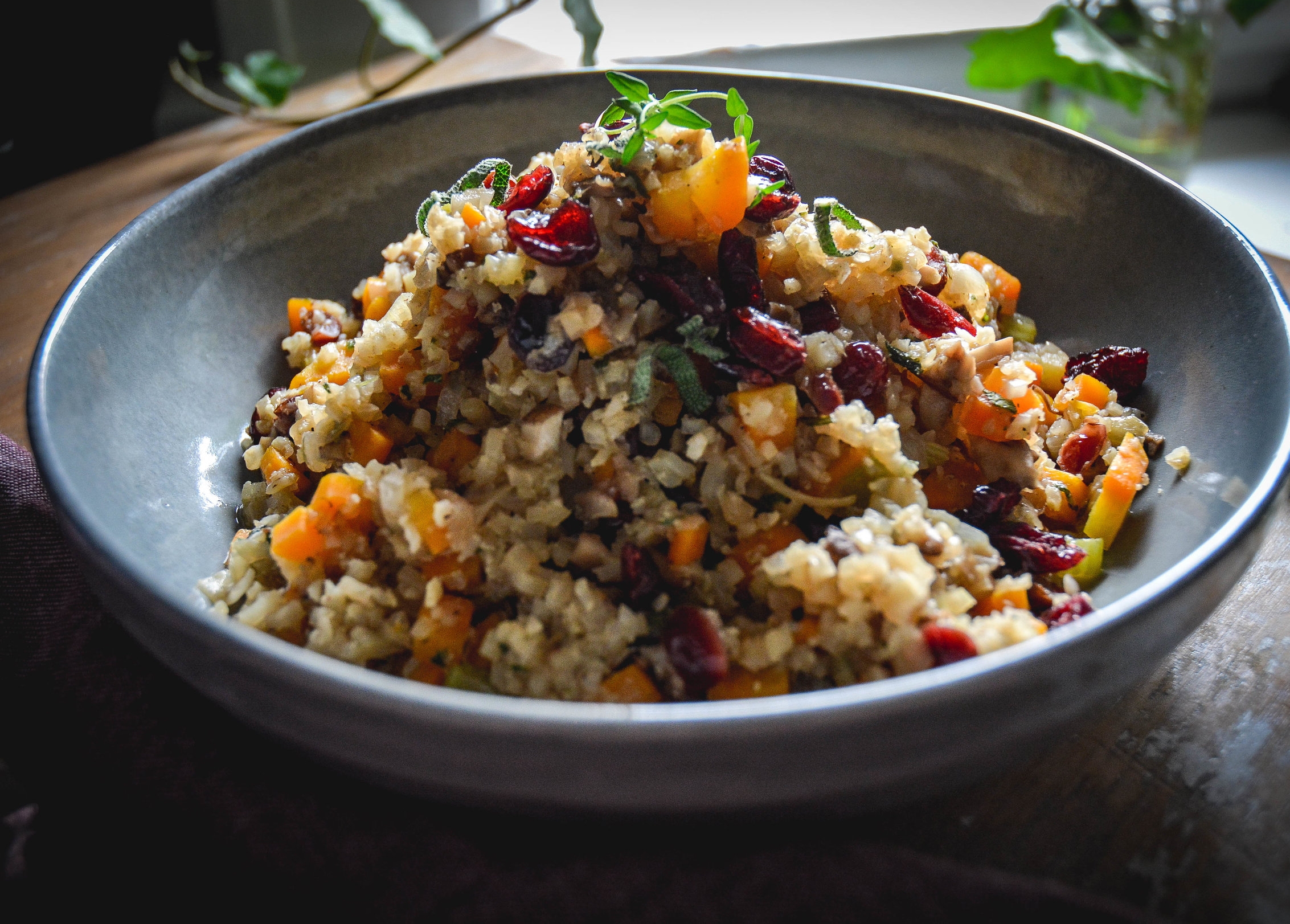 Can you use frozen cauliflower?
If you're a purist, my suggestion would be to make your cauliflower ahead as it will save you a good amount of time. Here are instructions on how to do it. But if you're really strapped for time, you can always use frozen as that will make your life a lot easier. I do it quite often!
Can you use an alternative to onion for the cauliflower stuffing?
Yes, if you don't love onion, you can use 1 medium leek. It will add a milder flavor to the cauliflower stuffing.
Can you use dried herbs instead of fresh ones?
Yes, but not but yes. The typical rule is to use ⅓ less if you're using dried herbs, but I find the fresh herbs really add a certain earthiness and flavor to the stuffing that you may not get from dried herbs. But if you're struggling to find fresh herbs, especially at the last moment, try to find quality dried herbs.
The best broth for cauliflower stuffing
Quality matters. Try looking for a good quality broth that's reduced in sodium. You want to have full control over the amount of salt, so I always recommend using low-sodium broth. And if you're vegan, go for vegetable broth.
Can this stuffing be made for a larger group?
Absolutely! If you're going to feed a lot of people just double up on the recipe and make sure you're using the largest pan available.
If you're following a paleo way of eating or are gluten-free, this is going to be a nice alternative for your Thanksgiving table. The vegetables work exceptionally well with the sweetness of the cranberries and the earthy taste of sage. It will not disappoint.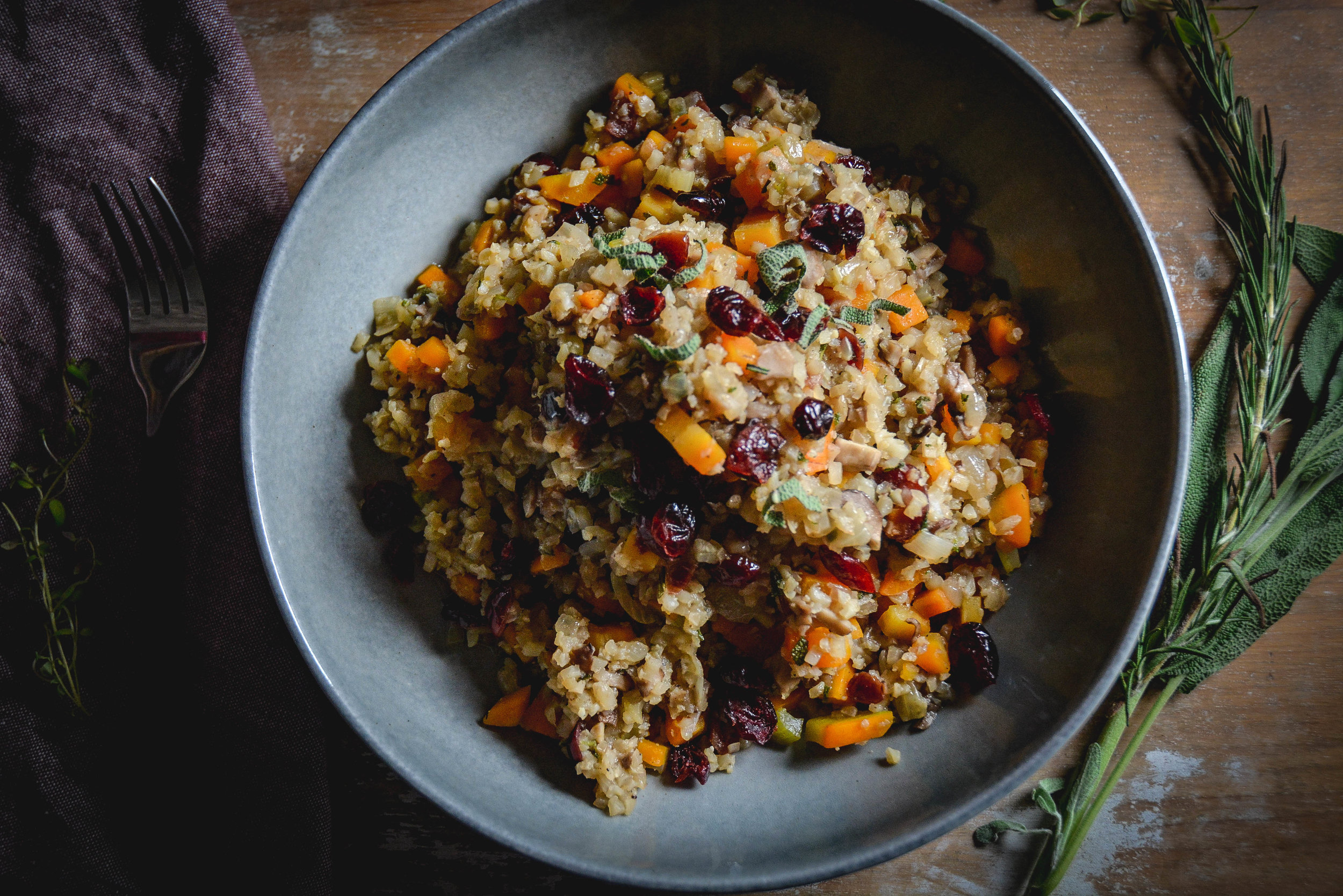 📖 Recipe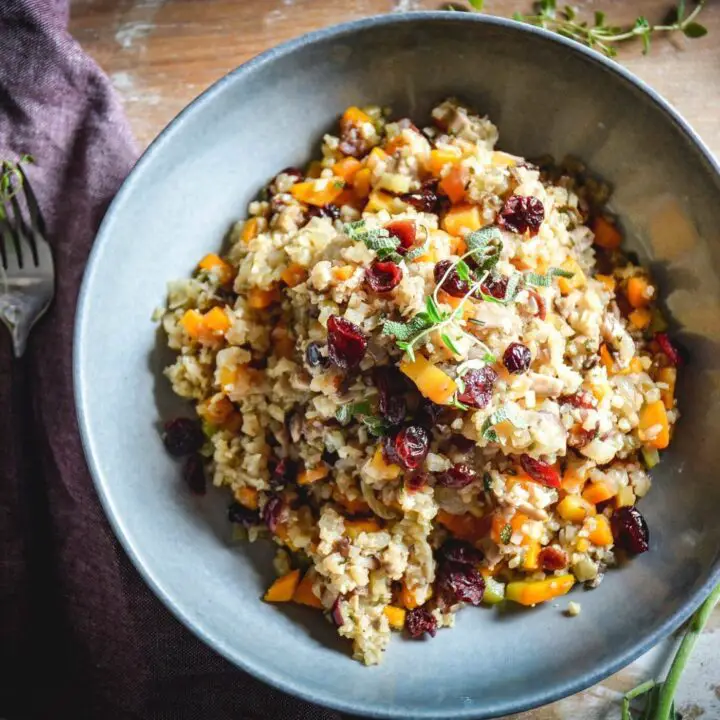 Paleo Cranberry Sage Cauliflower Stuffing
This Cranberry Sage Cauliflower Stuffing is an easy grain-free and healthy alternative to traditional stuffing. It's also paleo and whole 30.
Ingredients
4 cups frozen cauliflower rice or 1 head cauliflower (Find the recipe for caulirice here)
3 large carrots cut into small pieces
1 medium onion diced
2 stalks celery diced
½ pint mushrooms diced
1 teaspoon sage, finely chopped
1 teaspoon fresh thyme, finely chopped
¼ teaspoon rosemary, finely chopped
3 tablespoon dried cranberries
¼ cup low sodium broth
½ teaspoon salt divided
¼ teaspoon pepper
Instructions
1. Heat pan on medium heat. Add olive oil, carrots, celery, onion, ¼ teaspoon salt and cook until veggies are soft – about 6-8 minutes.

2. Next add mushrooms, cauliflower rice, herbs and cranberries. Cook for 2 minutes until incorporated. Add broth and simmer for 15 minutes until all vegetables have softened.

3. Add extra cranberries if you wish and serve right away.
Nutrition Information:
Yield:

8
Serving Size:

1
Amount Per Serving:
Calories:

62
Total Fat:

1g
Saturated Fat:

0g
Trans Fat:

0g
Unsaturated Fat:

0g
Cholesterol:

0mg
Sodium:

201mg
Carbohydrates:

13g
Fiber:

4g
Sugar:

7g
Protein:

3g