These 30 Gluten and Dairy-Free Moroccan Recipes are incredibly flavorful, nourishing, and delicious. Here you'll find everything from salads to soups, entrees, and side dishes, all without gluten or dairy.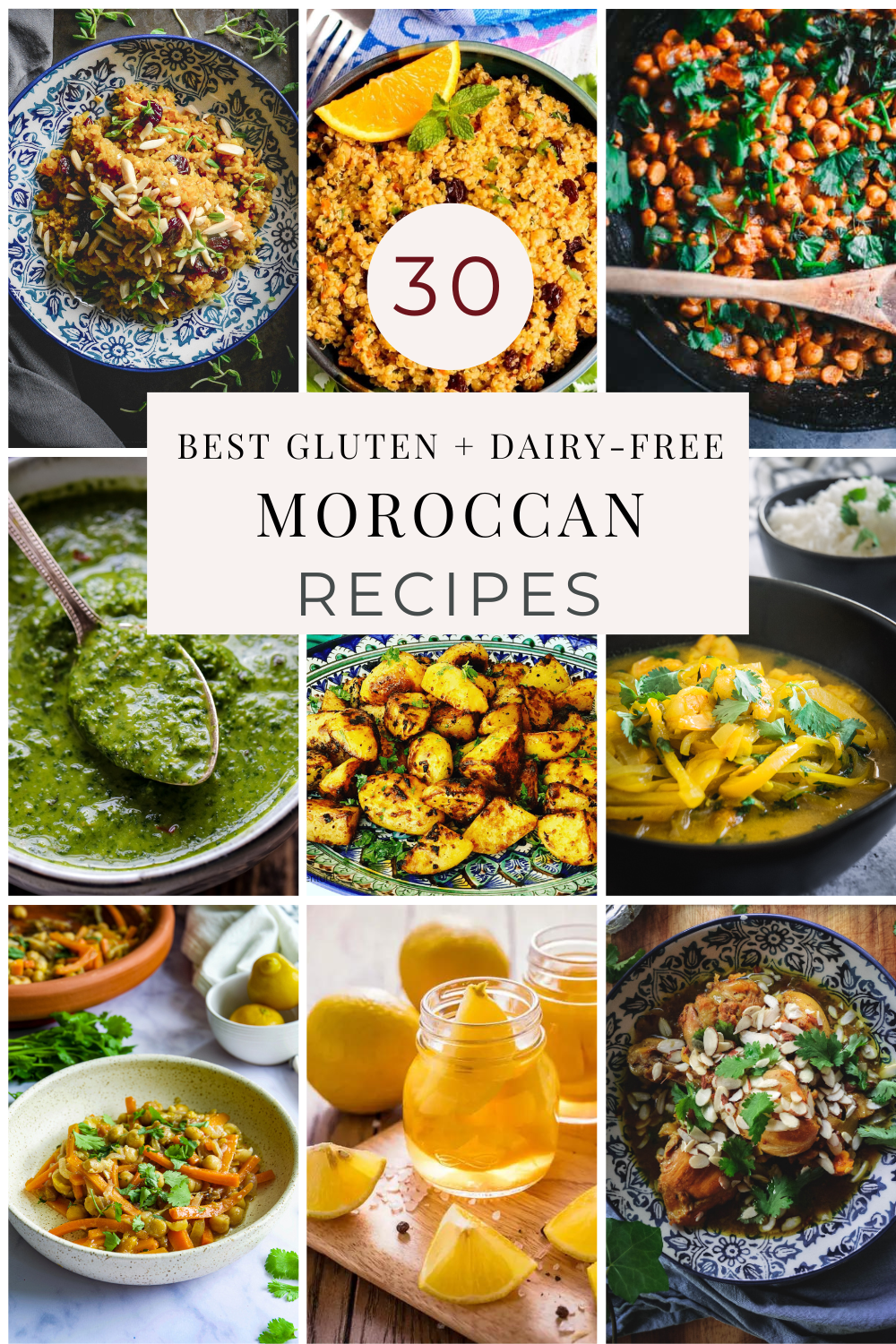 Jump To
What Is Moroccan Cuisine?
Moroccan food has influences rooted in a variety of cultures including Berber, Arab, Mediterranean, and European. And Moroccan cuisine is often known for its use of spices, fresh ingredients, and traditional slow-cooking methods.
Popular Moroccan Dishes
Some of the most popular Moroccan dishes include:
Tagine: A slow-cooked stew made with meat, vegetables, and spices.
Couscous: A steamed semolina dish served with vegetables, meat, and sauce.
Pastilla: A savory pie made with shredded chicken, almonds, and spices.
Harira: A hearty soup made with lentils, chickpeas, and spices.
Bastilla: A flaky pastry filled with meat or seafood, almonds, Ras El Hanout, ginger, and cinnamon.
The Most Popular Moroccan Ingredients
Moroccan food uses a variety of fresh and dried ingredients, including:
Spices: cumin, coriander, turmeric, ginger, cinnamon, saffron
Vegetables: tomatoes, onions, peppers, garlic, potatoes, carrots
Fruits: apricots, dates, figs, lemons
Meat: lamb, beef, chicken, fish
Grains: couscous, rice, bread (we use grain-free couscous and gluten-free bread)
Dairy: yogurt, cheese (vegan yogurt and cheese work)
Herbs: mint, parsley, cilantro
Classic Moroccan Cooking Methods
Moroccan food is typically cooked using slow cooking methods, such as stewing, braising, and baking. These methods allow the flavors of the ingredients to meld together and create a rich and flavorful dish.
Tips For Cooking Moroccan Food
When cooking Moroccan food, it is important to use fresh ingredients.
It is also important to use good-quality spices.
Moroccan food is typically cooked over low heat, so be patient and allow the flavors to develop.
30 Best Gluten and Dairy-Free Moroccan Recipes