*This post may contain affiliate links. The earnings go back to supporting the content created on this site.
All you need to create this delicious sweet potato sautee, are sweet potatoes, kale, and onions. It's a perfect side dish with your favorite meat or fish, or simply topped with a tasty over-easy egg.
My drive to work is a lengthy one. Sixty miles of highway driving…and that's one way. Fortunately, it's only twice a week. But I can't complain as I take full advantage of uninterrupted time to listen to music, and podcasts and think. That's also the time when most of my ideas come to me. The trouble is my thoughts are fleeting and I'm unable to write anything down. But one of them in stayed with me.
It occurred to me that I have this underlying feeling of not completely fitting in. I've been living in the US now longer than I have in the other two countries, but part of me has always felt slightly misplaced. Perhaps this happens to all transplants who've had to up and leave most of their family, but it is very much a strange feeling. Not one I dwell on too often but it does come and go.
This may also have something to do with the 17 times I've moved since I was 9. But for a nomad at heart, I found it surreal to finally settle down, own a home and be in it with my family. Sometimes I look around and can't quite believe that it's mine (well the bank's until the mortgage is paid off in 6000 years). My family helps to indirectly remind me that yes, I do belong, even when those feelings start to bubble to the surface.
One other way I've found to create a bridge between the life I used to have and the one here, is through food. No matter where I lived, food was always an important component of daily life. And not just because obviously we need it to live. For me preparing food is much more than just throwing things together and making a meal. It's grounding and helps to connect me to the place where I am.
One of the nice things I find about living in the US is having access to a variety of food. I've mentioned this in previous posts but I was limited in terms of what food was available in Europe. An example is sweet potatoes. I more than makeup for the years I didn't have them as they now go in most things I make: soups, curries, get roasted, baked, fried, etc. They're versatile and delicious.
Since we're on the brink of Thanksgiving, I decided to play around and put a little spin on the standard dishes I've had over the years. Whenever possible, I like to healthify (yes, I made up a word) dishes, this one being no exception. These sweet potatoes are roasted and tossed with kale and caramelized onions. Needless to say, the combination is pretty damn delicious.
Sweet Potatoes With Kale And Caramelized Onions 
Vegan
Gluten, Grain, and Dairy-free
Whole 30 approved
Super easy to make (just 3 ingredients)
Perfect as a side or main dish with an egg on top
Tips For Making Sweet Potatoes With Kale And Caramelized Onions
Look For Organic Sweet Potatoes
Because we're talking about only three ingredients, it's important that you source the best possible sweet potatoes, kale, and onion.
I highly recommend using the freshest organic sweet potatoes for this dish because the sweet potatoes will be the star of the dish and you want the sweetest, freshest sweet potatoes available. Farmers' markets are usually the best place to find them but fresh organic at your local market will work perfectly fine.
Freshest Kale Available
And while we're on the topic of fresh, be sure to get the freshest organic kale as well, with sturdy vibrant, green leaves that will hold up well in cooking. You could use red kale or Lacinato kale as well but I do find green kale to hold up best in this dish.
Yellow Or Sweet Onion?
That's entirely up to you. I lean towards sweet onion often when making this dish but I've made it numerous times with yellow onion. The trick is to let the onion cook low and slow until all the natural sugars are released and the onion starts to caramelize. It's tempting to want to rush it, but you'll get a distinct melt-in-your-mouth sweet onion in every single bite.
What To Serve With Sweet Potato And Kale Sautee?
This dish works really well with meat, chicken, pork, and salmon. It's also perfect with tempeh or tofu, hearty mushrooms, or any other variation you'd like.
Another idea is serving the sweet potato kale combination in a salad. It's always a good idea.
Does This Recipe Store Well?
Most definitely. It will store in the refrigerator for 2-3 days. I often use the leftovers sweet potato sautee for lunches or dinner the next day and top them with an over-easy egg. Sweet potatoes and eggs work well together.
More Sweet Potato Recipes You Might Like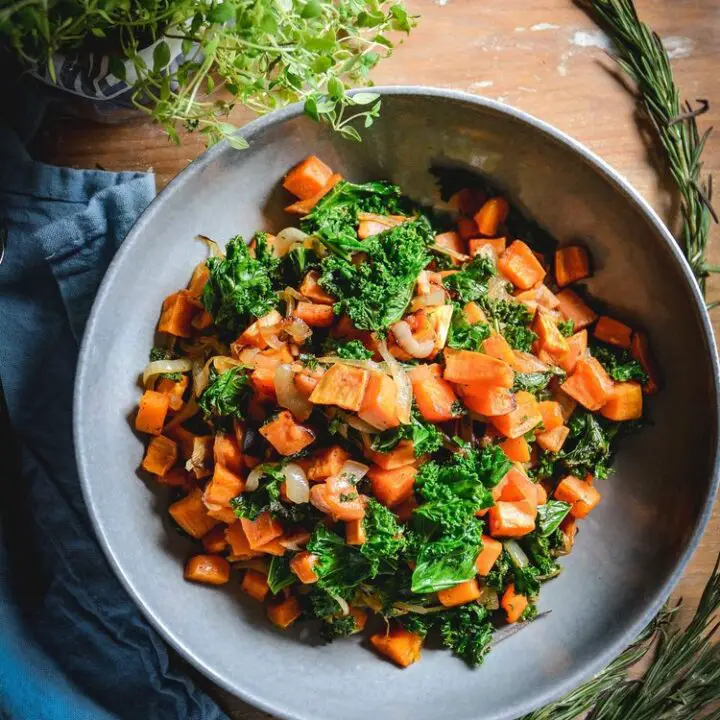 Sweet Potatoes with Kale and Caramelized Onions
Sweet potatoes with kale and caramelized onions are is an easy vegan, paleo and whole 30 side dish that requires just 3 ingredients.
Ingredients
3 large sweet potatoes cut into cubes
1 bunch kale stems removed and chopped into bite size pieces
1 large onion thinly sliced
2 tbsp olive oil or avocado oil divided
1 tsp salt divided
1/2 tsp pepper divided
Instructions
Preheat oven to 375 degrees. Line your roasting sheet with parchment paper or foil. Add sweet potatoes, 1 tbsp oil , 1/2 tsp salt, and 1/4 tsp pepper. Combine well and roast for 25-30 minutes until sweet potatoes are soft. Toss once half way. Remove and set aside.
Meanwhile, preheat pan on medium-low heat. Add the other 1 tbsp of oil, onion and 1/4 tsp of salt and cook stirring until soft. Turn heat to low and cook until onions start to caramelize, stirring occasionally – about 25 minutes.
Next, add the kale to the pan along with other 1/4 tsp salt and 1/4 tsp pepper and cook for 5-10 minutes until leaves begin to wilt and soften.
Add roasted sweet potatoes and toss everything together to combine. Feel free to add additional seasonings and a drizzle of olive oil.
Nutrition Information:
Yield:

6
Serving Size:

1
Amount Per Serving:
Calories:

157
Total Fat:

7g
Saturated Fat:

1g
Trans Fat:

0g
Unsaturated Fat:

6g
Cholesterol:

0mg
Sodium:

426mg
Carbohydrates:

22g
Fiber:

4g
Sugar:

7g
Protein:

3g