All you need to create this delicious sweet potato sautee, are sweet potatoes, kale, and onions. It's a perfect side dish with your favorite meat or fish, or simply topped with a tasty over-easy egg and sliced avocado.
Jump To
One of the nice things I find about living in the US over the years is having access to a variety of food. I've mentioned this in previous posts but I was limited in terms of what food was available in Romania. An example of that food is the humble sweet potato. I now more than make up for the lost years by eating a plethora of them. I use sweet potatoes in soups, curries, simply roasted, baked, fried, etc. They're versatile and delicious.
And this sweet potatoes and kale recipe with caramelized onions are a delicious and easy 3 ingredient side or even entree. The combination of kale and sweet potato works beautifully. You can simply make the sweet potato sautee and throw in avocado and a fried egg and call that a pretty fantastic healthy lunch or dinner.
Check out how to make this simple sweet potato and kale recipe below!
More Sweet Potato Recipes You Might Like
Sweet Potato Curry with Chickpeas
Roasted Sweet Potatoes with Ginger, Cumin, and Coriander
Paleo Chili Stuffed Sweet Potatoes
30 Minute Vegan Black Bean Sweet Potato Chili
Coconut Cilantro Sweet Potato Soup
Grilled Salmon with Sweet Potato Puree and Crunchy Green Beans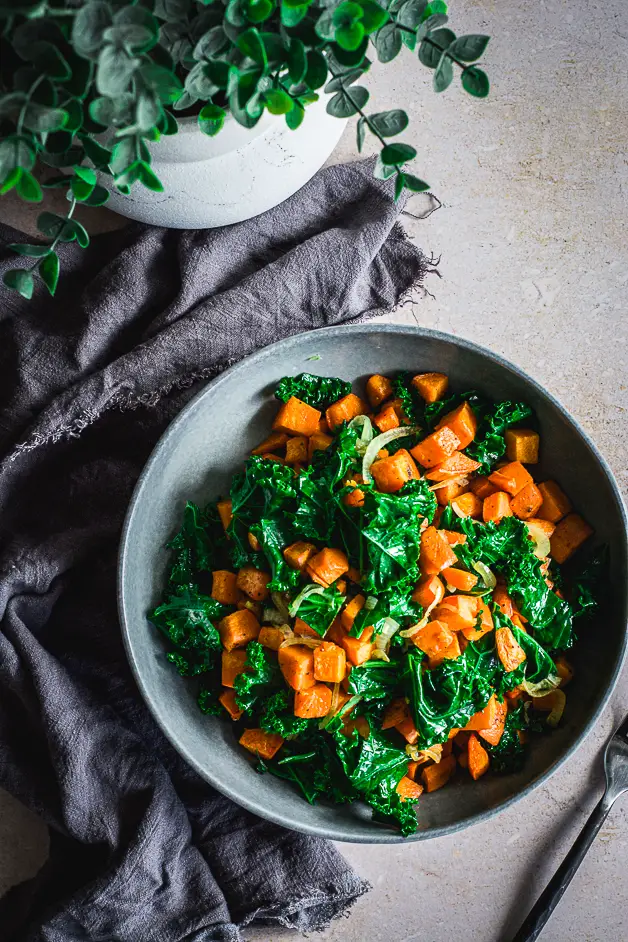 Why You'll Love This Recipe
It's Vegan
Gluten, Grain, and Dairy-free
Whole 30 approved
Super easy to make (just 3 ingredients)
Perfect as a side or main dish with an egg on top
For Your Shopping List
Sweet potatoes
Sweet onion
Green kale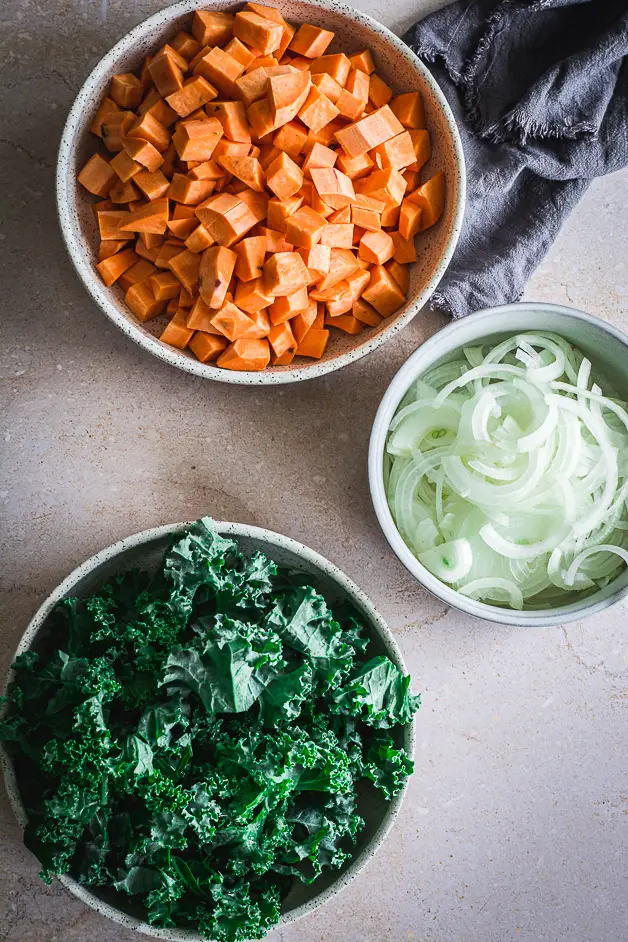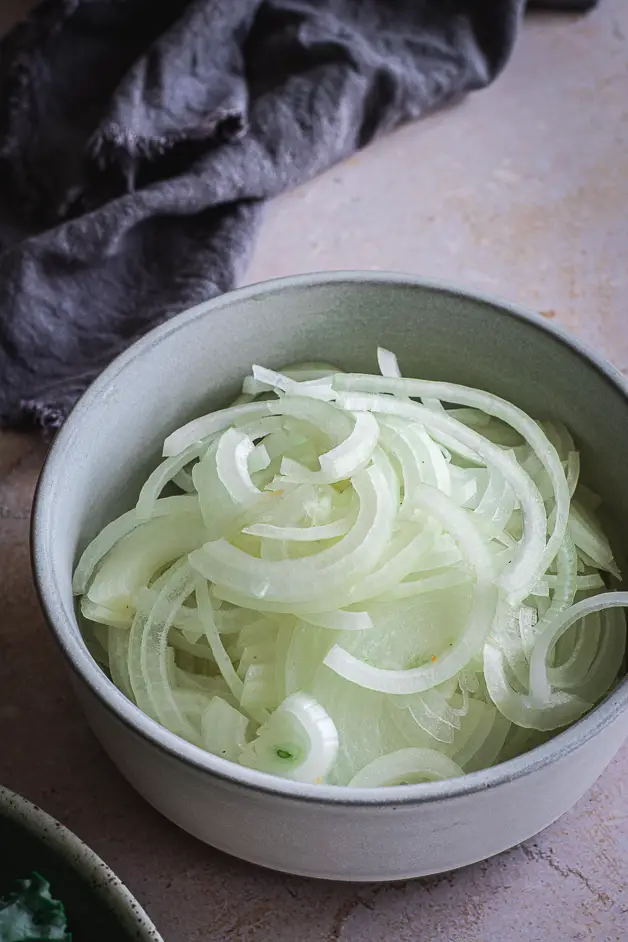 How To Make It
Peel your sweet potatoes and chop them. Toss them with extra virgin olive oil, salt, and pepper and roast them until soft and a little caramelized
Thinly slice the onions and sautee them until caramelized.
Chop the kale into bite-size pieces and add it to the onions when finished. Cook for only a few minutes until soft but not charred.
Toss the sweet potatoes into the pan and enjoy!
Tips For Making Sweet Potatoes With Kale And Caramelized Onions
Look For Organic Sweet Potatoes
Because we're talking about only three ingredients, it's important that you source the best possible sweet potatoes, kale, and onion.
For this sweet potato and kale recipe, I highly recommend using the freshest organic sweet potatoes for this dish because the sweet potatoes will be the star of the dish and you want the sweetest, freshest sweet potatoes available. Farmers' markets are usually the best place to find them but fresh organic at your local market will work perfectly fine.
What Is The Best Kale To Use?
You could use red kale or Lacinato kale but find green kale to hold up best in this dish. Also, I recommend getting the freshest organic kale as well, with sturdy vibrant, green leaves that will hold up well in cooking. Either will work well in this kale and sweet potato recipe.
Yellow Or Sweet Onion?
That's entirely up to you. I lean towards sweet onion often when making this dish but I've made it numerous times with yellow onion. The trick is to let the onion cook low and slow until all the natural sugars are released and the onion starts to caramelize. It's tempting to want to rush it, but you'll get a distinct melt-in-your-mouth sweet onion in every single bite.
What To Serve With This Kale And Sweet Potato Recipe?
This dish works really well with meat, chicken, pork, and salmon. It's also perfect with tempeh or tofu, hearty mushrooms, or any other variation you'd like. You can also top this sweet potato and kale recipe with this delicious Mediterranean herbed green sauce.
Another idea is serving the sweet potato kale combination in a salad. It's always a good idea.
How Do You Store Leftovers?
This kale with sweet potatoes will store in the refrigerator for 2-3 days. I often use the leftovers for lunches or dinner the next day and top them with an over-easy egg. Sweet potatoes and eggs work well together.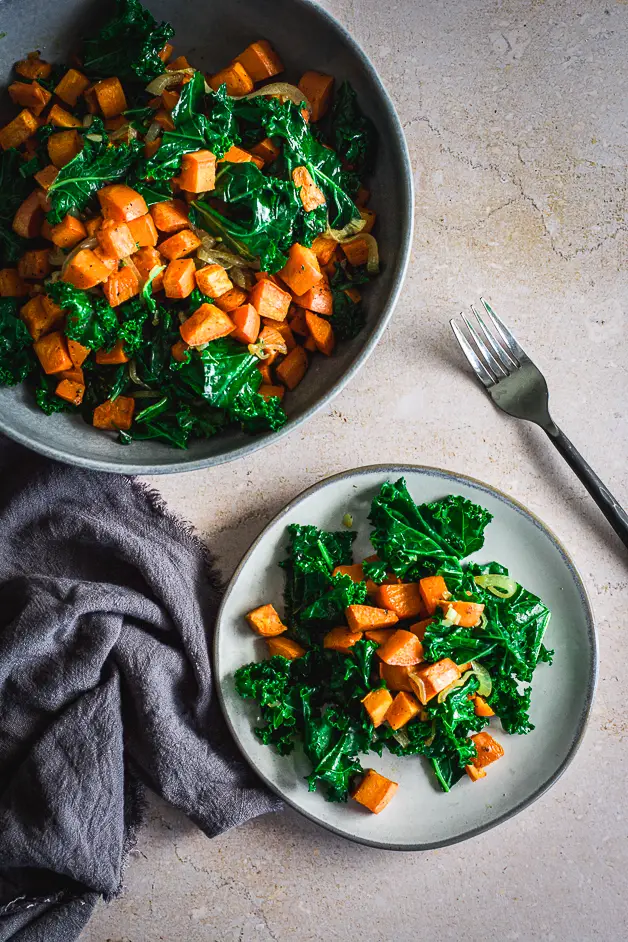 📖 Recipe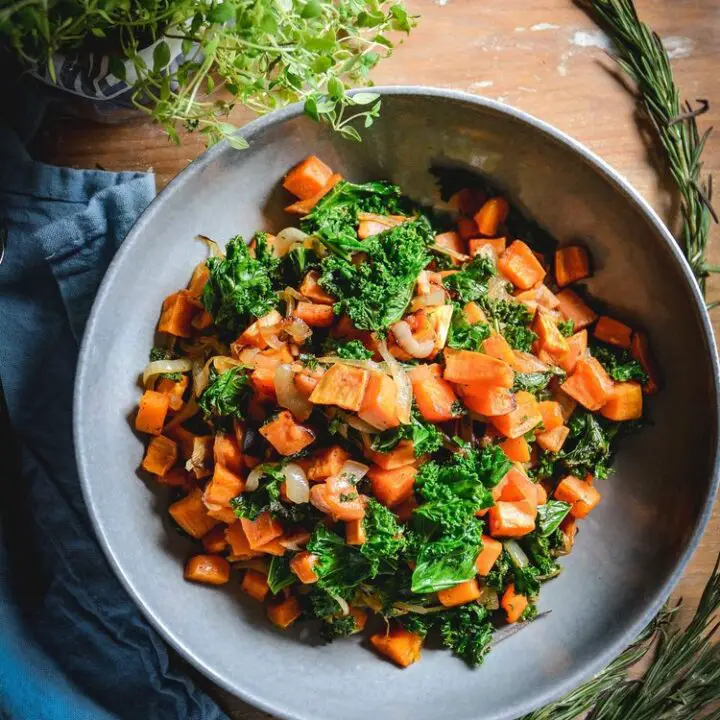 Roasted Sweet Potatoes with Kale and Caramelized Onions
All you need to create this delicious sweet potato sautee, are sweet potatoes, kale, and onions. It's a perfect side dish with your favorite meat or fish, or simply topped with a tasty over-easy egg and sliced avocado.
Ingredients
3 large sweet potatoes cut into cubes
1 bunch kale stems removed and chopped into bite size pieces
1 large onion thinly sliced
2 tablespoon olive oil or avocado oil divided
1 teaspoon salt divided
½ teaspoon pepper divided
Instructions
Preheat oven to 375 degrees. Line your roasting sheet with parchment paper or foil. Add sweet potatoes, 1 tablespoon oil , ½ teaspoon salt, and ¼ teaspoon pepper. Combine well and roast for 25-30 minutes until sweet potatoes are soft. Toss once half way. Remove and set aside.
Meanwhile, preheat pan on medium-low heat. Add the other 1 tablespoon of oil, onion and ¼ teaspoon of salt and cook stirring until soft. Turn heat to low and cook until onions start to caramelize, stirring occasionally – about 25 minutes.
Next, add the kale to the pan along with other ¼ teaspoon salt and ¼ teaspoon pepper and cook for 5-10 minutes until leaves begin to wilt and soften.
Add roasted sweet potatoes and toss everything together to combine. Feel free to add additional seasonings and a drizzle of olive oil.
Nutrition Information:
Yield:

6
Serving Size:

1
Amount Per Serving:
Calories:

157
Total Fat:

7g
Saturated Fat:

1g
Trans Fat:

0g
Unsaturated Fat:

6g
Cholesterol:

0mg
Sodium:

426mg
Carbohydrates:

22g
Fiber:

4g
Sugar:

7g
Protein:

3g