This quick and easy ladolemono dressing is a perfect companion to fish, chicken, grilled or roasted vegetables, and everything in between.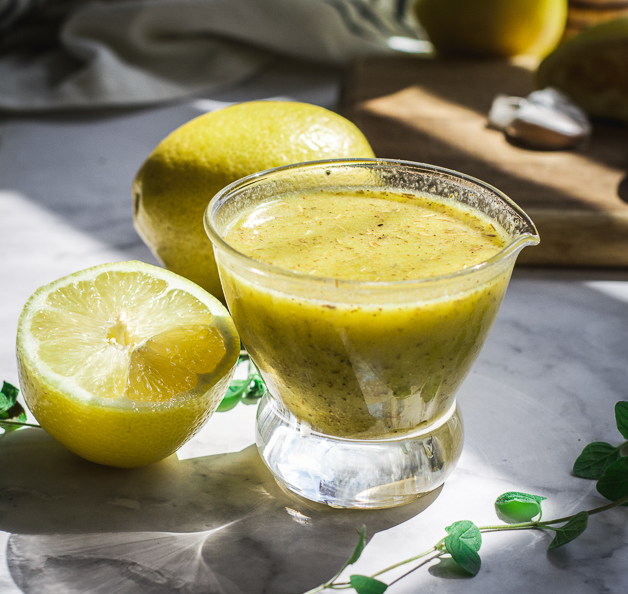 Jump To
It probably is no secret that I have a particular fondness for lemons. They're a staple in my life and I can't imagine cooking without them or starting my day without a big glass of warm lemon water. They are essential to my life.
While on vacation this past week, I got to eat at one of my all-time favorite restaurants - George's Place. They make some of the most delectable Greek dishes I've ever had and frequently change their menu. This time, what caught my eye was their Ladolemono sauce, which is a Greek lemon sauce. On the menu, it was used on several dishes, and naturally after tasting it, was inspired to create my own version. It works wonderfully on chicken and fish, roasted vegetables, and potatoes, as a salad dressing, and on rice, and quinoa as well. So this sauce is a little homage to the Greek side of my family.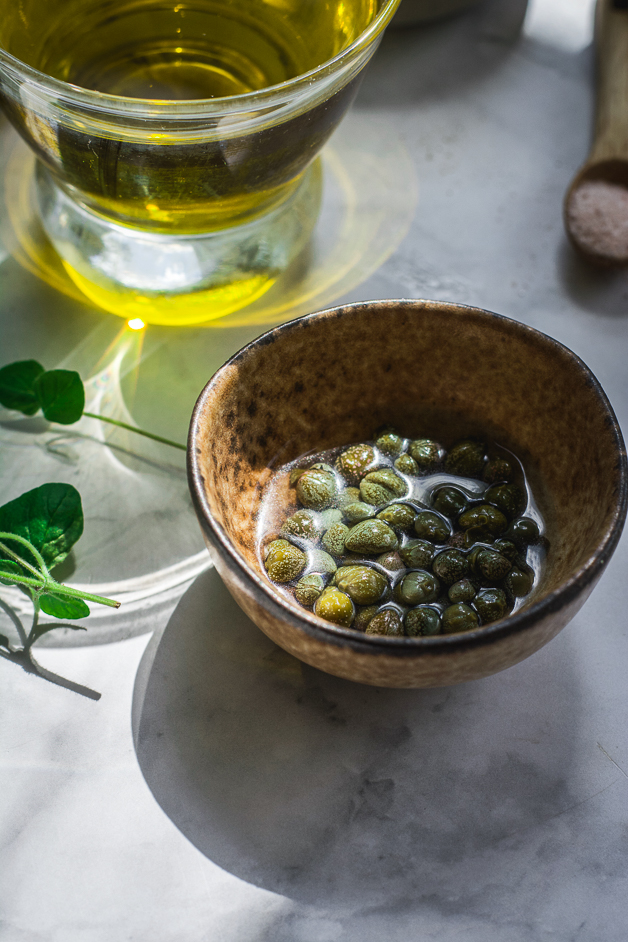 What Is Ladolemono?
Ladolemono is lemony olive oil that's infused with oregano, salt, and pepper. It's incredibly easy to make and stores very well in the refrigerator. And what I love most about this dressing is that it ties in all the dishes on your plate, giving them brightness and zesty flavor. A little goes a long way and you can play around with how much or how little a dish actually needs.
About The Recipe
It's vegan, paleo, keto, low-carb and whole 30 approved
Low-FODMAP
It stores for weeks in the refrigerator
Ideal for chicken, fish, grilled or roasted vegetables
As a salad dressing, on rice, quinoa, and potatoes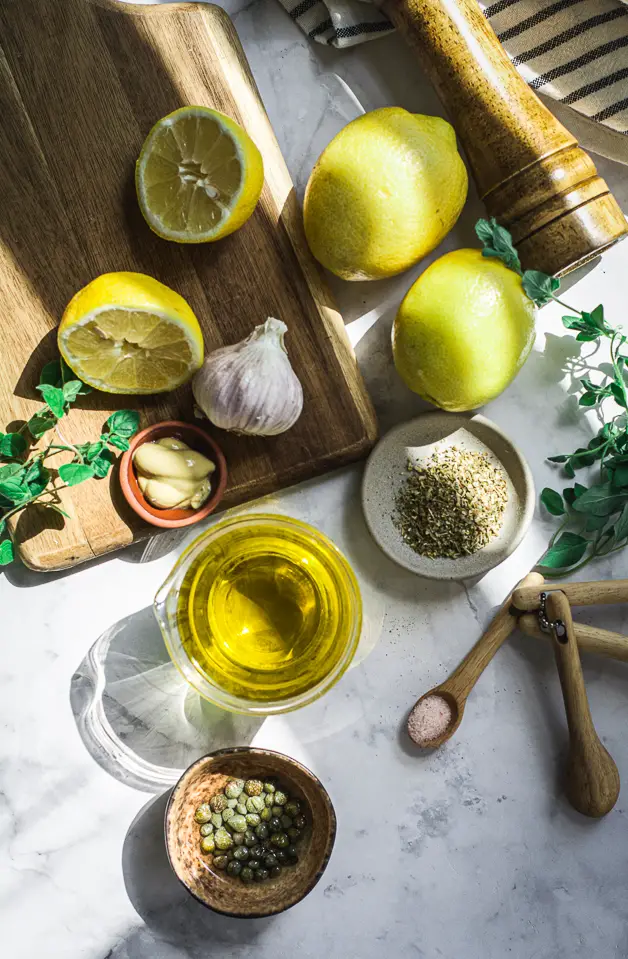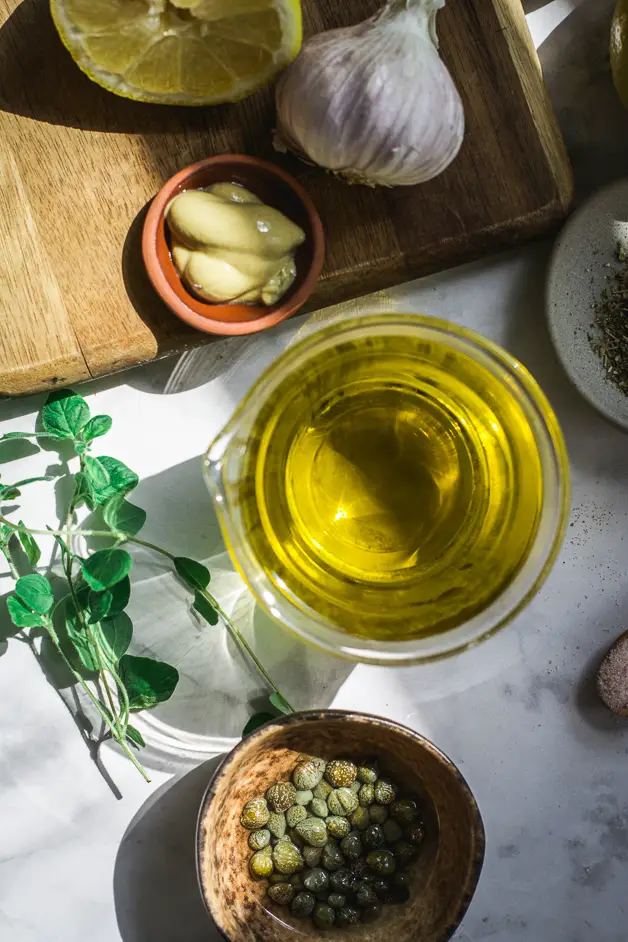 Ingredients At A Glance
Lemon juice
Good extra virgin olive oil
Low-FODMAP garlic substitute or finely minced fresh garlic
Dried oregano
Good Dijon mustard
Salt
Pepper
Optional: 2 teaspoon chopped capers
Let's Make It
Step 1. Combine all ingredients in a jar with a lid and thoroughly shake.
Step 2. Refrigerate if not using the lemon dressing right away.
* Be sure to vigorously shake the dressing before each use.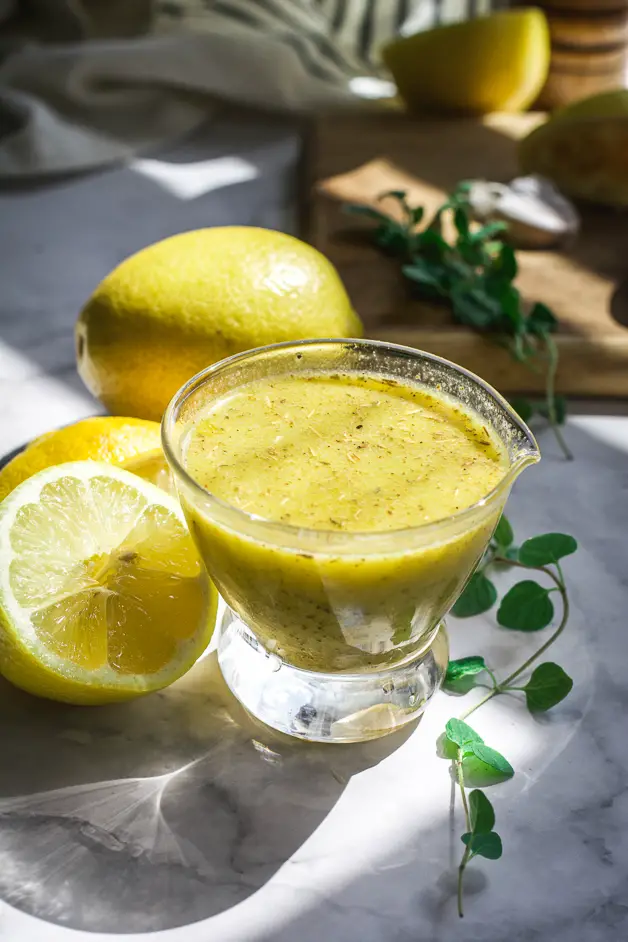 Top Tips + FAQs
Can You Substitute Olive Oil For Extra Virgin Olive Oil?
Those two little words, "extra virgin" make all the difference in this recipe and are super important. Since this dressing is used on already cooked food, I would recommend the best possible extra virgin olive oil. There really is a big difference, in my opinion.
Would Bottled Lemon Juice Work?
Unfortunately, anything but the real thing will not work in this dish. Bottled lemon juice has preservatives and will alter the taste of the recipe.
What About Fresh Oregano?
I've not tried it with fresh but it's certainly an option if you're going to use all of it right away. As fresh herbs will wilt, it's best to use dried especially if you plan on storing the leftovers.
Can You Skip The Dijon?
If you don't like Dijon mustard or don't have any on hand, you can skip it but I find it adds additional depth to the dressing.
What About The Garlic?
If you are sensitive to garlic and follow a Low-FODMAP diet, you can use a garlic substitute otherwise go for the real thing, or feel free to skip the garlic altogether. Pre-minced jarred garlic will alter the taste so I would stick to the real thing.
Do You Need Capers?
I absolutely love capers and use them as often as possible. I find them to be a delicious addition to this tangy lemon sauce, but if capers are not your thing, no worries, leave them out.
How To Save Dried Fish?
It happens to us all...it just happened to me recently. The grill was a little too hot and I was multitasking and next thing I know, I have an expensive piece of fish (isn't everything?!) overcooked. But don't worry, a little ladolemono sauce will save fish that's a little overcooked. The same goes for chicken.
Final Thoughts
In my opinion, aside from the dried oregano, all ingredients should be as fresh as possible. This way the sauce will enhance your food and not take anything away.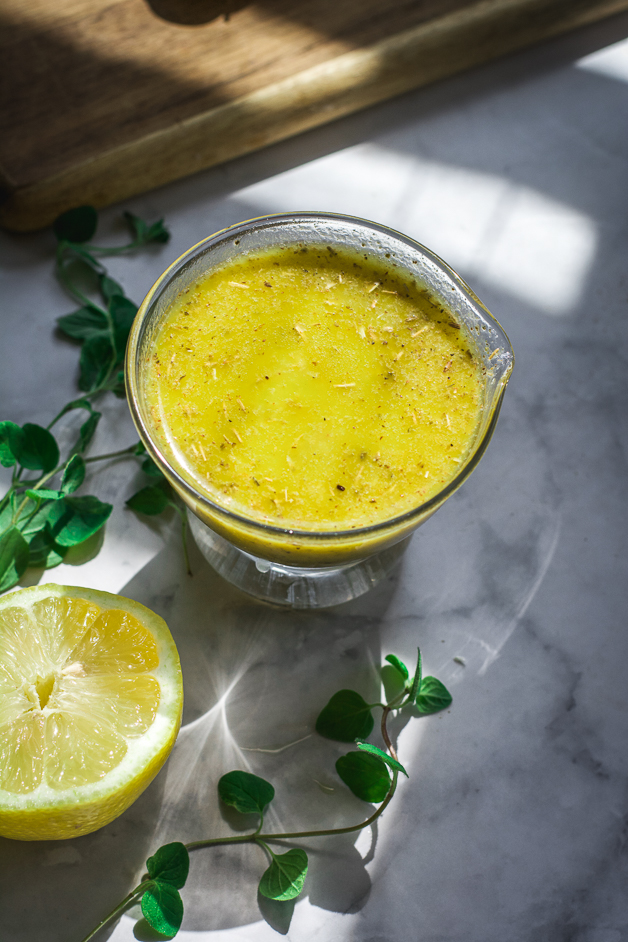 More Recipes You Might Like
📖 Recipe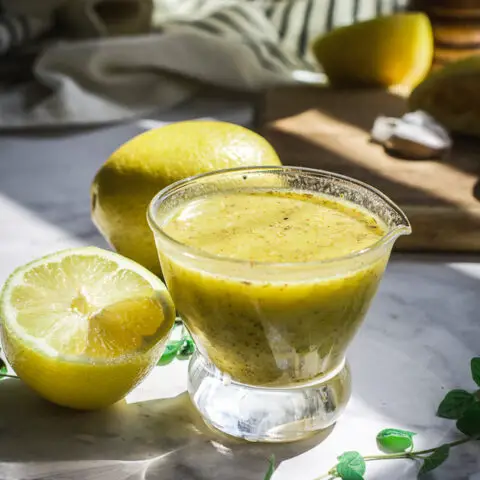 Simple Ladolemono Dressing (Greek Lemon Sauce)
Ingredients
1 lemon juiced
½ cup good extra virgin olive oil
1 teaspoon dried oregano
¼ teaspoon good Dijon mustard
¼ teaspoon salt
¼ teaspoon pepper
Optional: 2 teaspoon chopped capers
Instructions
1. Combine all ingredients in a jar with a lid and thoroughly shake.

2. Refrigerate if not using the lemon dressing right away.




Notes
1. Be sure to vigorously shake the dressing before each use.
2. Don't worry if your dressing solidifies after being refrigerated. Simply leave it at room temperature for a few minutes and then stir it well.
Recommended Products
As an Amazon Associate and member of other affiliate programs, I earn from qualifying purchases.