With these paleo tortillas, you don't have to miss out on taco night if you're paleo or Whole 30. A simple mix of cassava and coconut flours, water, apple cider vinegar, extra virgin olive oil and salt makes the perfect tortilla for your favorite fillings.
Jump To
Tacos, oh tacos. How I love thee. I've payed homage to the beloved taco on many occasions on this blog so I thought it was time to actually give the paleo tortilla a proper shout out.
I'll be the first one to say it: my stomach isn't great. I wish it wasn't so, but it's the truth. If I don't eat in such a way that supports it, I'm in pain; not just for a day but several. It's unfortunate but it's my reality. No need for me to sit here and whine about it because I know full well what I need to do to not feel that way.
So when taco night rolls around, everyone in my house is usually enjoying either corn or flour tortillas to wrap up delicious fillings, while I have a blast with my lettuce wraps. Don't get me wrong, lettuce wraps have their time and place and are a fantastic super low carb option. However, when you're in the mood for substance but are faced with pain if you go the processed corn route, that can be quite disappointing. But fear not, in come paleo cassava tortillas.
I've been sprinkling them in a few taco recipes so I wanted to fill you in on the easiest way to make cassava paleo tortillas at home with only a few ingredients and the right technique. To me there's something very satisfying about mastering the seemingly simple stuff that requires a bit of skill.
Tips for making the paleo tortillas
So let's talk about paleo tortillas. While it all seems pretty straight forward, if you're a kitchen nerd like me and frequently enjoy getting your hands dirty (and you will with this recipe), there are a few techniques that will come in handy for getting the perfect paleo tortilla every single time.
What's the best flour to use for paleo tortillas?
Cassava and coconut and here is why. Cassava flour adds an almost glutenous like texture that's reminiscent of a regular tortilla but in my opinion cassava flour adds much more flavor. I also add a little coconut flour for flavor and absorbency. Coconut flour is a sponge and absorbs any liquid it touches.
I found the ratio of one cup cassava to 2 tablespoon coconut flour to give the ideal consistency I was after (post several failed attempts).
Can you use tapioca flour instead of cassava flour for paleo tortillas?
No, and here's why. There is a distinct difference in how the two are processed. Tapioca is a starch extracted from the root and processed while cassava is simply the whole root, ground. The texture of dishes will be significantly different and unfortunately, tapioca will not yield a pliable dough the way cassava can.
Where can you find cassava flour?
Most grocery stores carry coconut and almond flour, but not many carry cassava unless you have access to a Whole Foods or a specialty store. But don't worry, I like getting mine online because it's often cheaper. I find this brand to be particularly great for making paleo tortillas.
Are paleo tortillas vegan?
Yes, paleo tortillas are 100% vegan. The only ingredients required are cassava flour, coconut flour, water, apple cider vinegar, olive oil and salt.
Best way to make paleo tortillas
It's taken a lot of fails to get to this place but I find using wax paper to roll out the tortillas to be most efficient. Since the dough is quite sticky and our working hands tend to be warm, the tortilla is not easy to transfer from work surface to pan without losing half of it.
So here's the method. One you've made your dough, you roll it into a tube and cut it into 10 pieces (count this by making a small incision with a knife before you actually cut, so you end up with 10 even pieces). Sprinkle the pieces with cassava flour. Cut several pieces of wax paper into large enough squares to roll out the tortillas. Roughly 10" squares. You can use them a few times.
Sprinkle cassava flour on one of the wax paper pieces and place the piece of dough on top. Add another sprinkling of cassava flour and cover with a second piece of wax paper. With a rolling pin, roll the dough to a desired size, so it's thin and pliable.
Take the pieces of wax paper, remove the top one and just let the tortilla basically flop from one piece of the wax paper to the other. This will make it extra easy to add it to the pan without it sticking to the wax paper.
When you're ready, add it to the hot skillet by placing the tortilla face down and lifting the piece of wax paper off. Cook for about 2 minutes until you start to see bubbles and a few dark spots. Flip and cook for another 2-3 minutes. Repeat with the rest of the tortillas.
Can you make paleo tortillas without wax paper?
You absolutely can if you are using a tortilla maker. If you don't have one, I highly recommend using a biodegradable wax paper.
What's the best skillet to use for paleo tortillas?
The skillet is up to you but the ones I find work best are a non stick ceramic skillet and of course or my favorite, a cast iron skillet. Make sure whichever one you choose, that you preheat it on medium. Or again, if you have tortilla maker, that's going to make your life much simpler.
Final thoughts on paleo tortillas
I think you'll be delightfully surprised at how tasty these paleo tortillas are and how much more pleasureful it is eating something you made vs. something that was purchased. It takes a little bit of practice but I hope you enjoy making and eating these paleo tortillas as much as I do. And what makes making these even more enjoyable is a glass of wine…but that of course is optional!
Taco ideas you may like:
📖 Recipe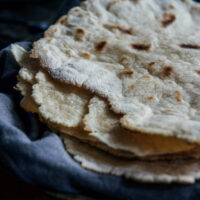 Paleo Tortillas
With these paleo tortillas, you don't have to miss out on taco night if you're paleo or Whole 30. A simple mix of cassava and coconut flours, water, apple cider vinegar, extra virgin olive oil and salt makes the perfect tortilla for your favorite fillings. They're vegan too!
Ingredients
¾ cup water
½ teaspoon salt
Instructions
1. Combine all ingredients under cassava flour tortillas and mix by well by hand.
Roll out dough into long tube and cut into 10 equal pieces.

2. Roll each into a ball and coat with a sprinkling of cassava flour and even add some to the wax paper to prevent from sticking. Place each ball between 2 pieces of wax paper and roll out until you have the desired thickness.

3. Then gently peel the tortilla and gently flip back and forth between the two piece of wax paper.


4. Preheat dry skillet on medium heat. Place tortilla face down in the pan and remove wax paper. Heat until tortillas starts to bubble - about 2-3 minutes per side. Repeat until all tortillas are cooked.
Notes
The type of cassava flour can varry in consistency. Start with 1 cup and then move on to 1.5 cups and add extra until you get a smooth dough.
Recommended Products
As an Amazon Associate and member of other affiliate programs, I earn from qualifying purchases.