Satisfy your sweet tooth with an amazing roundup of 30 simple Almond Flour Cookie Recipes. There's something here for everyone!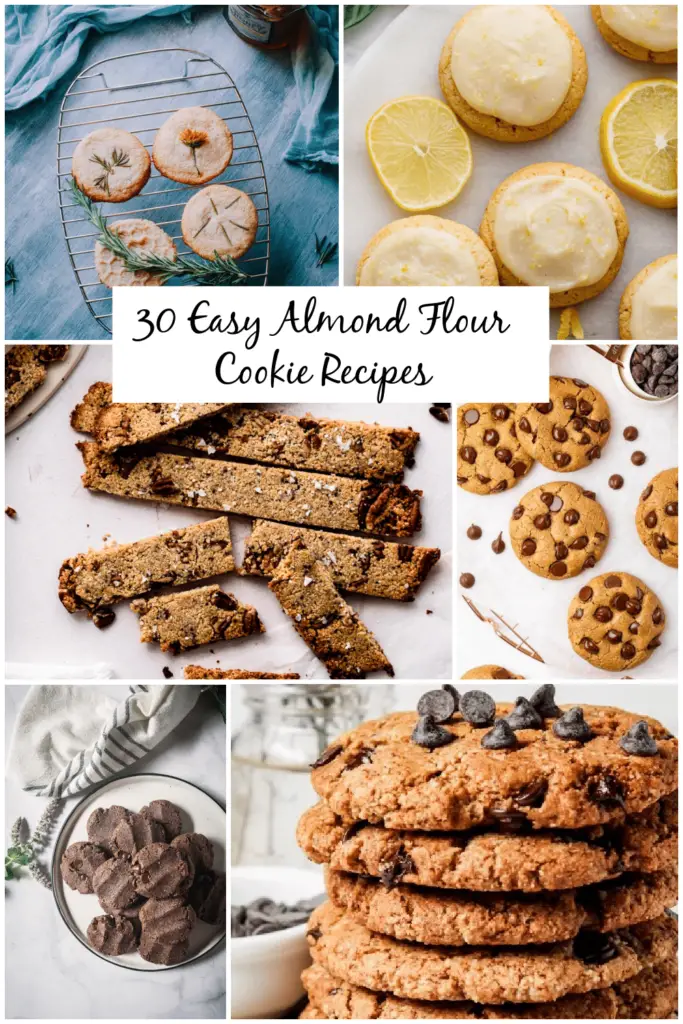 Baking has always been a little intimidating. Then once I switched to a gluten and dairy-free lifestyle, it took on a new meaning entirely. Frankly, I felt a little paralyzed. But slowly and with lots of error I started experimenting with different types of flour and I have to admit, the first time I successfully made my first batch of cookies, I celebrated. And all thanks to a little ingredient called almond flour.
A few years back, almond flour probably sounded a little intimidating and sometimes hard to find, but luckily it's become one of the most used ingredients in grain-free baking and also super easy to find. And because I like making cookies any time of year (especially when only about 10 minutes at a time), I wanted to share 30 Easy Almond Flour Cookie Recipes I hope you will enjoy as much as I do!
But first, let's talk a little about almond flour.
What Is Almond Flour
Almond flour is made from ground almonds, most of the time, blanched. It has a consistency similar to finely ground cornmeal and is different from white, rice, tapioca, or cassava flour. Its closest relative in texture is coconut flour, though when it comes to baking, almond flour doesn't absorb liquid the way coconut flour does.
Almond flour is nutrient-dense and low in carbohydrates. It's versatile in baking and gives baked goods a nutty and flavorful taste.
Is Almond Flour Gluten-Free?
Yes, almond flour is gluten-free and dairy-free. It is also grain free for those who are following a grain-free lifestyle.
Types Of Almond Flour
Not all almond flour is created equal and that's extremely important when it comes to baking. There are basically 4 different types of almond flour on the market, almond meal, ground almonds, almond flour, and fine/superfine almond flour. Almond meal and ground almonds are perfect for savory recipes but when it comes to cookies, I like using fine or superfine almond flour.
Superfine Almond flour is made from blanched almonds and will ensure your cookie texture is chewy and fine and not in any way gritty.
Why Is Almond Flour Good For Baking
As I mentioned above, almond flour gives baked goods, (particularly cookies) a consistency that comes close to white flour. Unlike other flours, it's also lower in carbs and nutrient-dense, making it the ideal ingredient for keto, low-carb, and paleo baking.
Where Can You Find Almond Flour?
Almond flour is available in every grocery store in organic and regular forms. I highly recommend organic blanched fine almond flour for all your baking needs, particularly for making these fantastic cookies.
How Much Does Almond Flour Cost?
Almond flour is more expensive than other flours but some markets offer almond flour in bulk bins so you can purchase 1-2 cups at a time as needed. Though I personally find that almond flour prices have gone down some over the years, making this great news for all of us almond flour bakers!
And now, let's get to these delicious almond flour cookie recipes!
30 Easy Almond Flour Cookie Recipes