If you're looking for a delicious way to get more adaptogens into your life, try these delightful no-bake brownie bites with mushroom powder. Don't worry, you can't taste it, you just get all the benefits!
When it comes to foundational supplements or foods, I can't think of anything more foundational in my life than adaptogenic mushrooms in the form of mushroom powder. Like most people who were introduced to adaptogenic mushrooms, I first found out about mushroom coffee years ago. Since then we've come a long way with available products.
For me, adaptogenic mushroom powder makes its way into my life on a daily basis, without fail. I add it to coffee, and smoothies, sprinkle it on food, and in this case, add it to these delightful vegan chocolate brownie bites. But before we dig into the recipe let's talk about why medicinal mushrooms are beneficial.
What Are The Benefits Of Using Mushroom Powder?
Medicinal mushrooms have been used for thousands of years for all kinds of ailments and offer a variety of benefits, including:
Improved brain function
Reduced inflammation
Increased energy
Improved heart health
Reduced stress
Can help with anxiety and depression symptoms
Improved athletic performance
And if you've been following me for any length of time, you know I have a serious weakness for chocolate and you can find plenty of chocolate recipes to satisfy your cravings. Anything from my hormone-balancing hot cocoa, to paleo chocolate fudge, to homemade salted chocolate, and way more!
Jump To
Why You'll Love These Brownie Bites Recipe
Requires only a few pantry ingredients
Is delicious, healthy, and tasty
It's vegan, paleo, grain-free, soy-free
A perfect snack when you want something sweet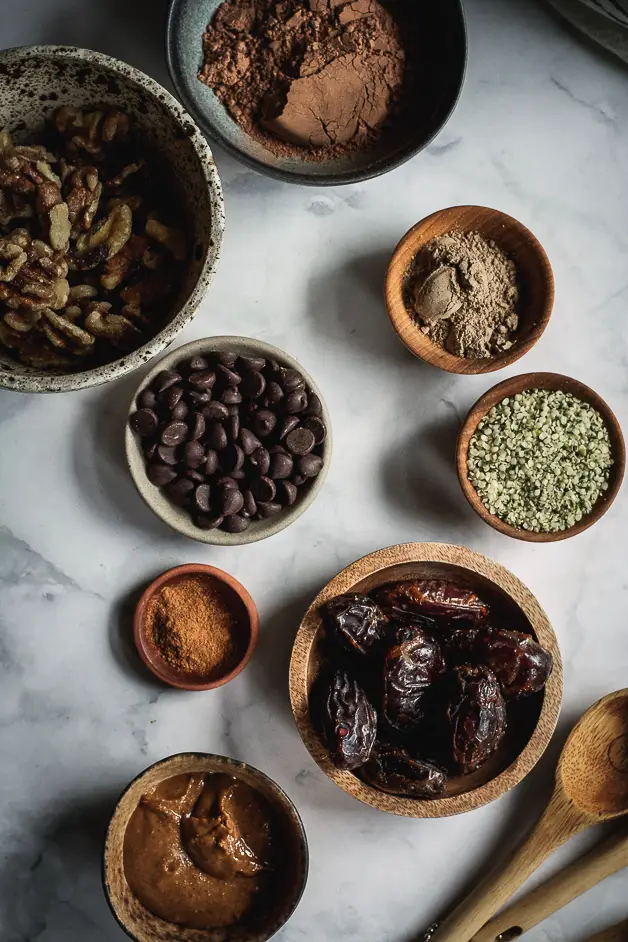 Ingredients
Raw cacao - you can use cocoa powder if you don't have cacao.
Dates - they create a sweet and chewy base. Medjool dates are ideal here in this recipe.
Walnuts - walnuts are essential in this recipe as they're going to create a moist texture in the no-bake brownies.
Mushroom powder - since it is the secret ingredient that puts the brownie bites over the top, I like to use it in the brownie bites as well as the chocolate coating.
Almond butter - works well in this recipe but you can use cashew butter or peanut butter too.
Cinnamon - don't skip this one as it adds nice flavor and depth to the brownie bite recipe.
Hemp hearts - another essential as it's creamy and full of omega 3s, adding ideal texture.
Chocolate chips - this part is optional but I like to dip the brownie bites in it melted chocolate to create a slightly crunchy outer layer.
See the recipe card for quantities.
Instructions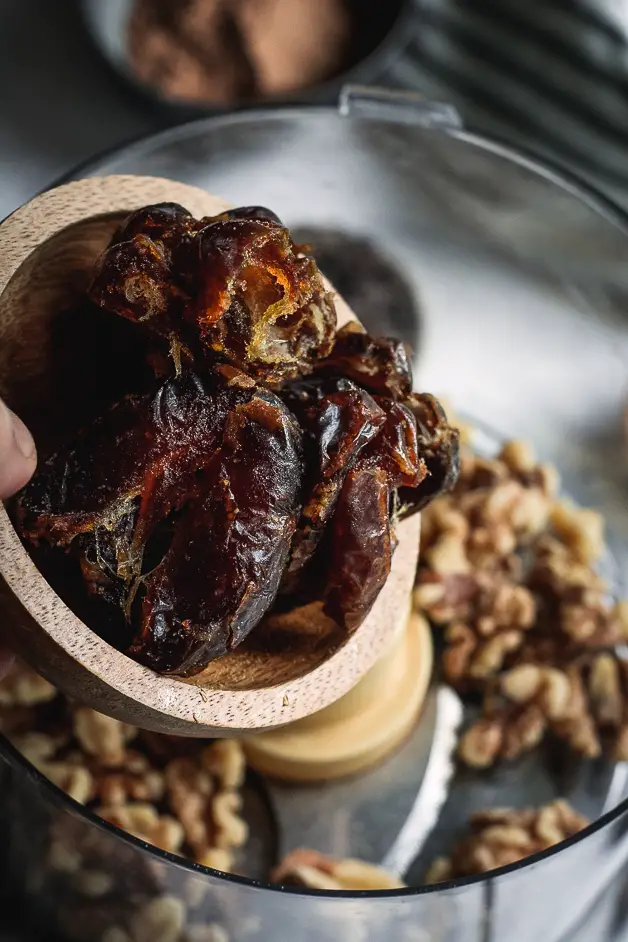 Add all ingredients to the food processor aside from chocolate chips.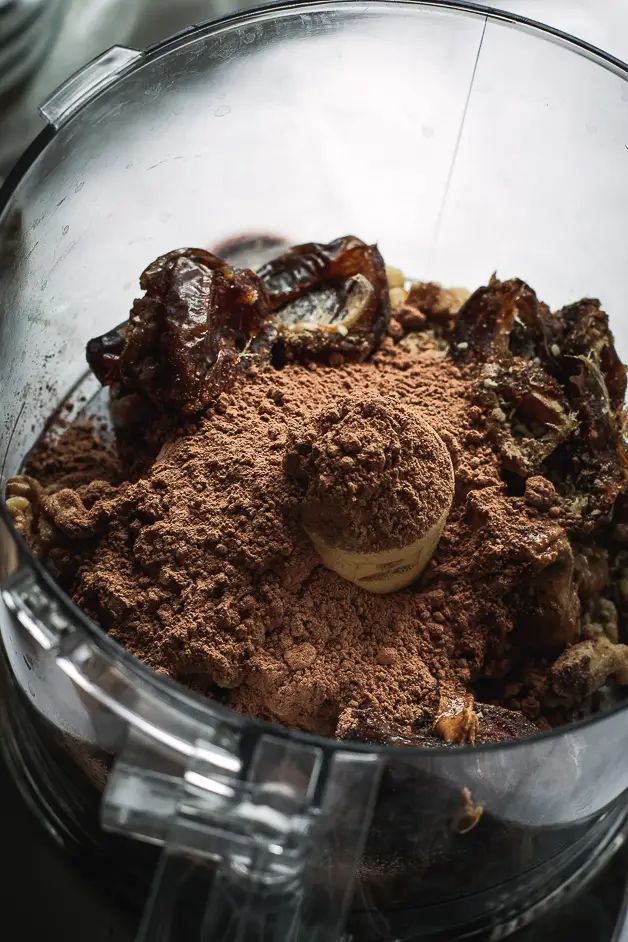 Mix until well combined.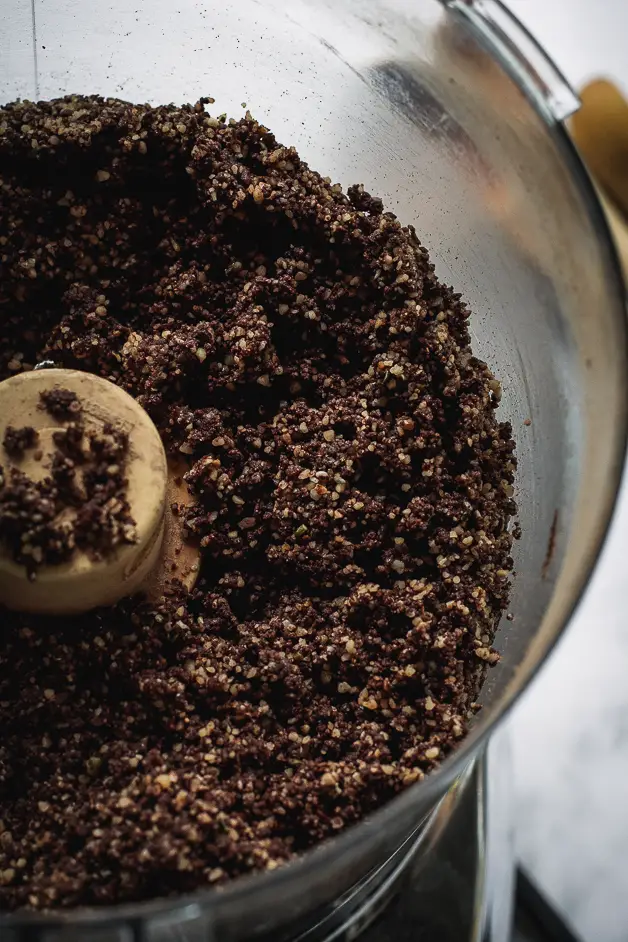 Form the mixture into balls and set aside place them in the freezer for 5 minutes.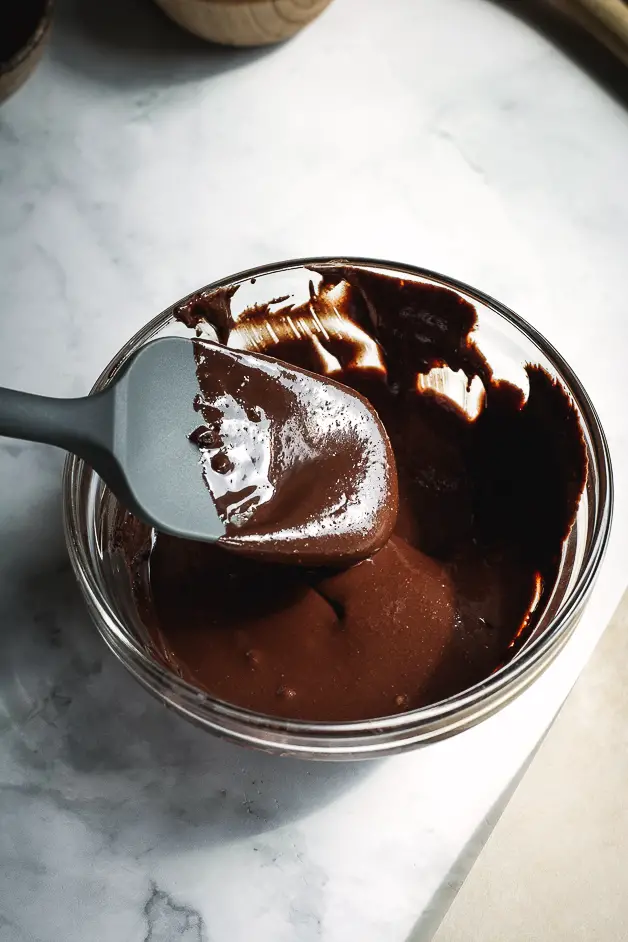 When the chocolate is melted, dredge each of the vegan chocolate brownies until coated fully or partially.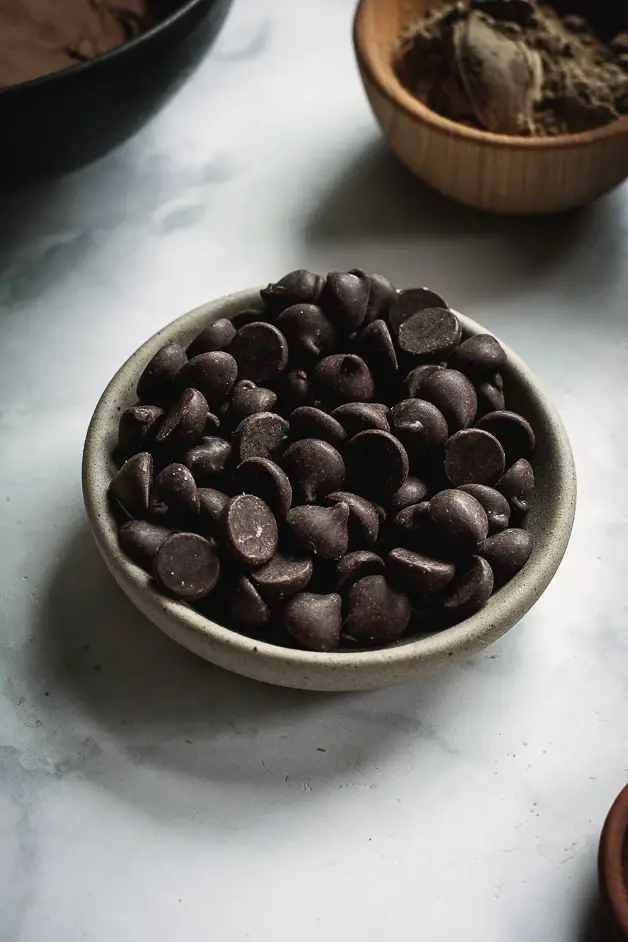 Melt chocolate chips either in a double boiler or microwave for 30-1 minute.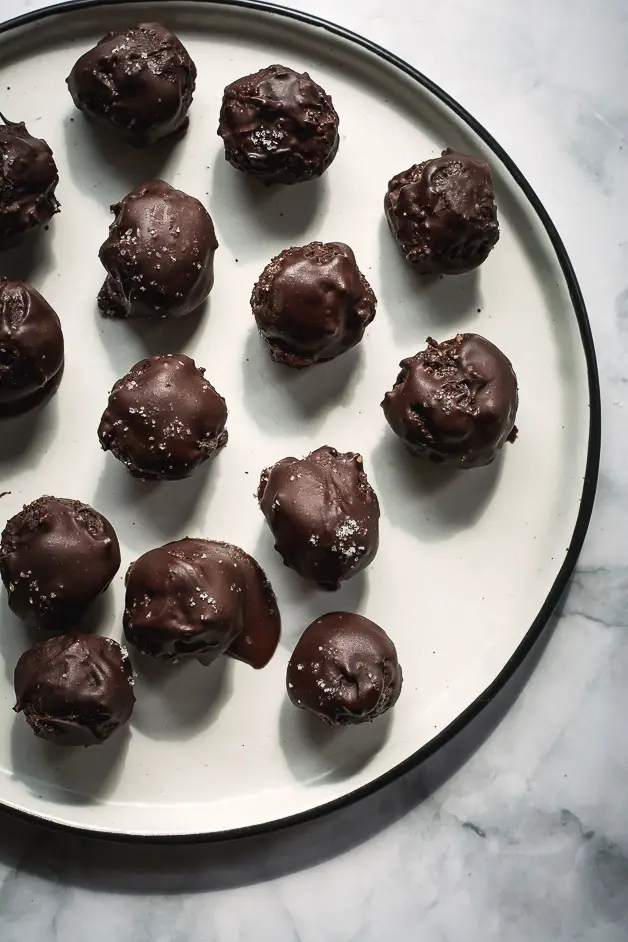 Sprinkle with salt and refrigerate them right away.
Hint: You can use flaky salt or any kind of salt you'd like but the salt makes a big difference in this recipe.
Substitutions
If you're following a strict paleo diet you can skip the melted chocolate and you can just refrigerate the vegan brownies and eat them like that. If not, then feel free to add the extra layer of chocolate. Other substitutions you can use include:
Peanut butter or cashew butter - instead of almond butter feel free to use any nut butter or seed butter you'd like.
Hemp hearts - if you don't have hemp hearts you can use finely shredded coconut flakes.
Mushroom powder - while the mushroom powder is not mandatory, it's certainly at the heart of the recipe giving it the antioxidant edge.
And if you're looking for another great way to use mushroom powder, check out this adaptogenic peanut butter chocolate smoothie.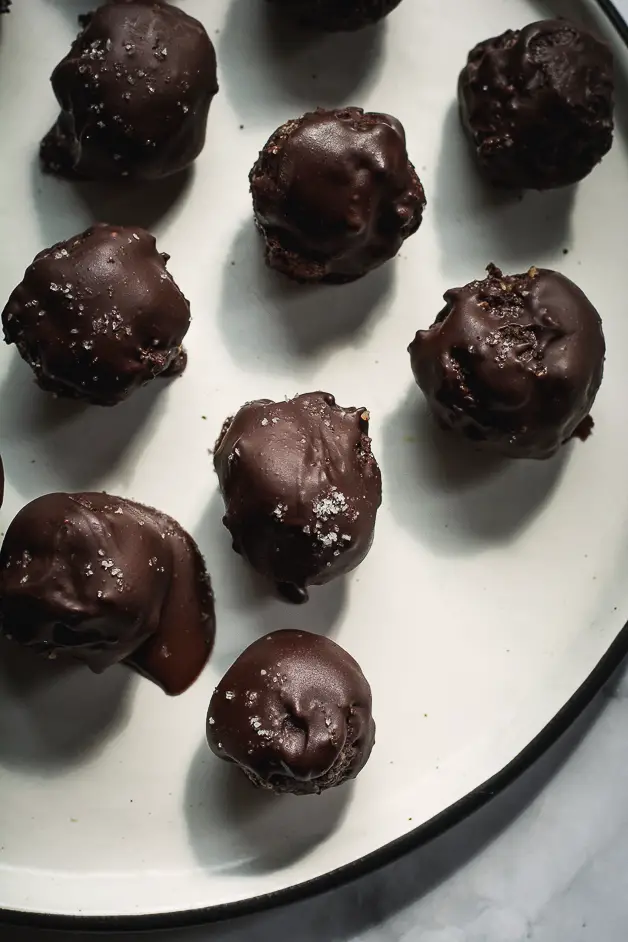 Equipment
The only equipment that's essential here is a food processor. Alternatively, you could use a high-speed blender such as a Vitamix.
Storage
Store the vegan brownie bites in the refrigerator for 5-7 days.
Top tip
If you want to chill the mushroom chocolate brownie bites quickly, pop them in the freezer for about 30 minutes.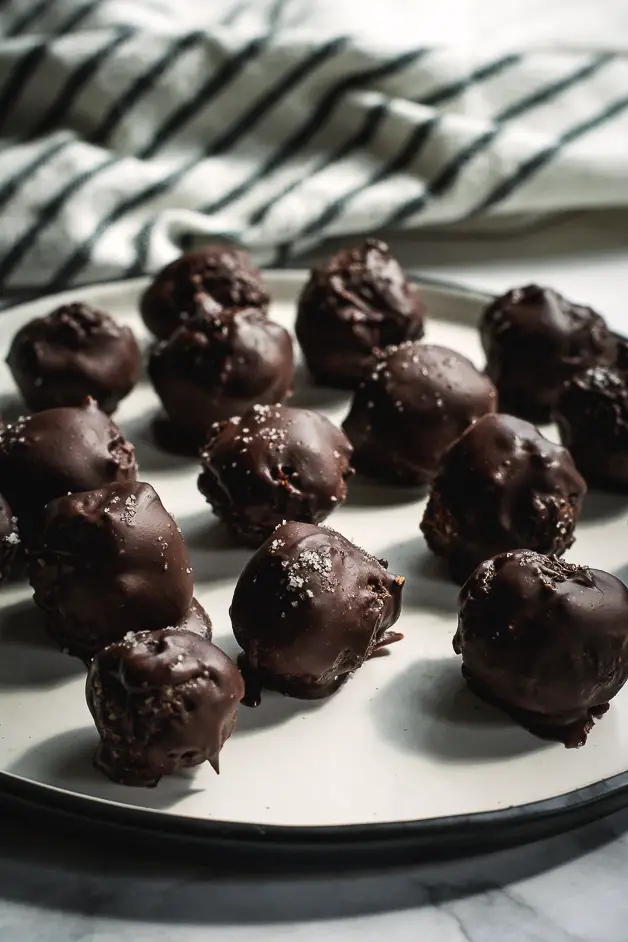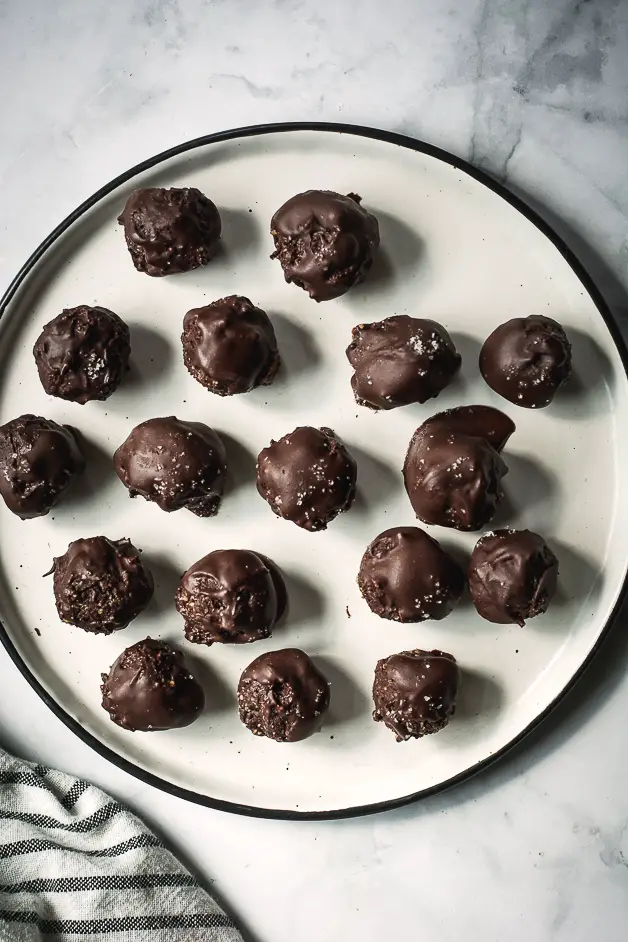 FAQ
Do You Need The Chocolate Coating?
This is optional but creates a crunchy and creamy outer layer. You can use any type of chocolate you'd like, from 55% to 100% cacao. I find 75%-85% cacao to work best for this no-bake brownie bites recipe.
Why The Mushroom Powder?
I love adding mushroom powder anywhere I can because it's very good for you. And in this recipe, you can not detect it at all, thanks to chocolate.
Is There An Almond Butter Subsitute?
You can use cashew butter or peanut butter in this recipe and both will work well.
What If You Don't Have Hemp Hearts?
You can substitute the hemp hearts with coconut flakes. That will change the flavor profile of the brownie bites, but they will still be delicious!
Can You Taste The Mushroom Powder
Absolutely not! It is completely masked by chocolate.
How To Store The Brownie Bites
You can store the brownie bites in the refrigerator for up to a week in an airtight container.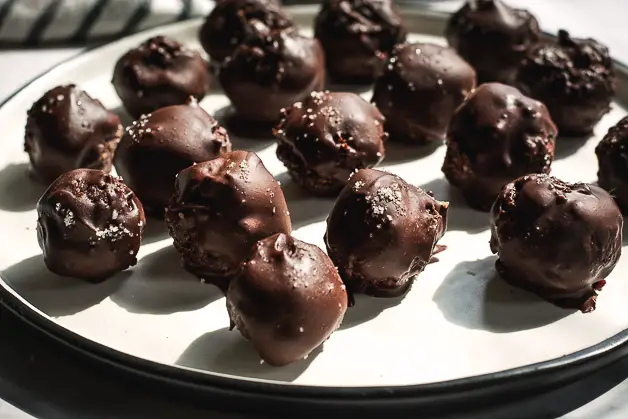 Related
Looking for other recipes like this? Try these:
More Energy Bite Recipes
📖 Recipe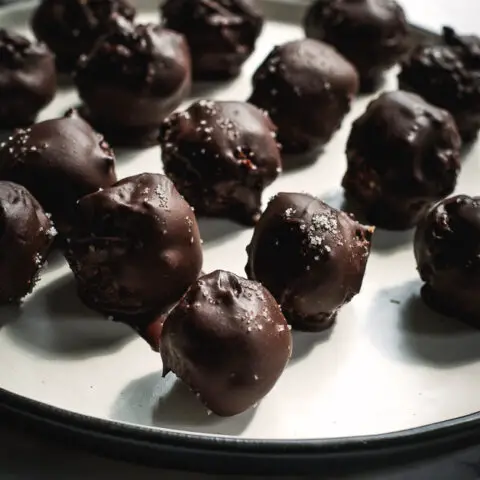 No-Bake Brownie Bites With Adaptogenic Mushroom Powder (Vegan, Paleo)
If you're looking for a delicious way to get more adaptogens into your life, try these delightful no-bake brownie bites with mushroom powder. Don't worry, you can't taste it, you just get all the benefits!
Ingredients
8 scoops mushroom powder
¾ cup chopped walnuts
7 medjool dates, pitted
¼ cup raw cacao
2 tablespoon hemp hearts
pinch sea salt + extra for coating
½ teaspoon ground cinnamon
¼ cup dark chocolate chips
3 tbsps natural runny almond butter divided
Instructions
Add all ingredients aside from chocolate chips and 1 tablespoon almond butter and mix until all ingredients are incorporated.
Roll the mixture into 1" balls and refrigerate them while you move to the next step.
Add the chocolate chips to a microwave-safe bowl. Microwave the chips until they are melted. This takes about a minute. Mix in the remaining almond butter and 2 scoops of mushroom powder.
Dip the vegan brownies in the chocolate mixture and coat them with as much or as little chocolate as you'd like.
Set them on a parchment paper lined tray or plate and sprinkle them with sea salt or flaky salt. Refrigerate the no-bake brownies for an hour and enjoy!
Notes
1. The no-bake chocolate brownies can be stored in the refrigerator in an air-tight container and will keep for a week or longer.