Find your favorite soups in this collection of 40 healthy and nourishing gluten and dairy-free vegetable soup recipes that are also free of legumes and grains and are 100% vegan.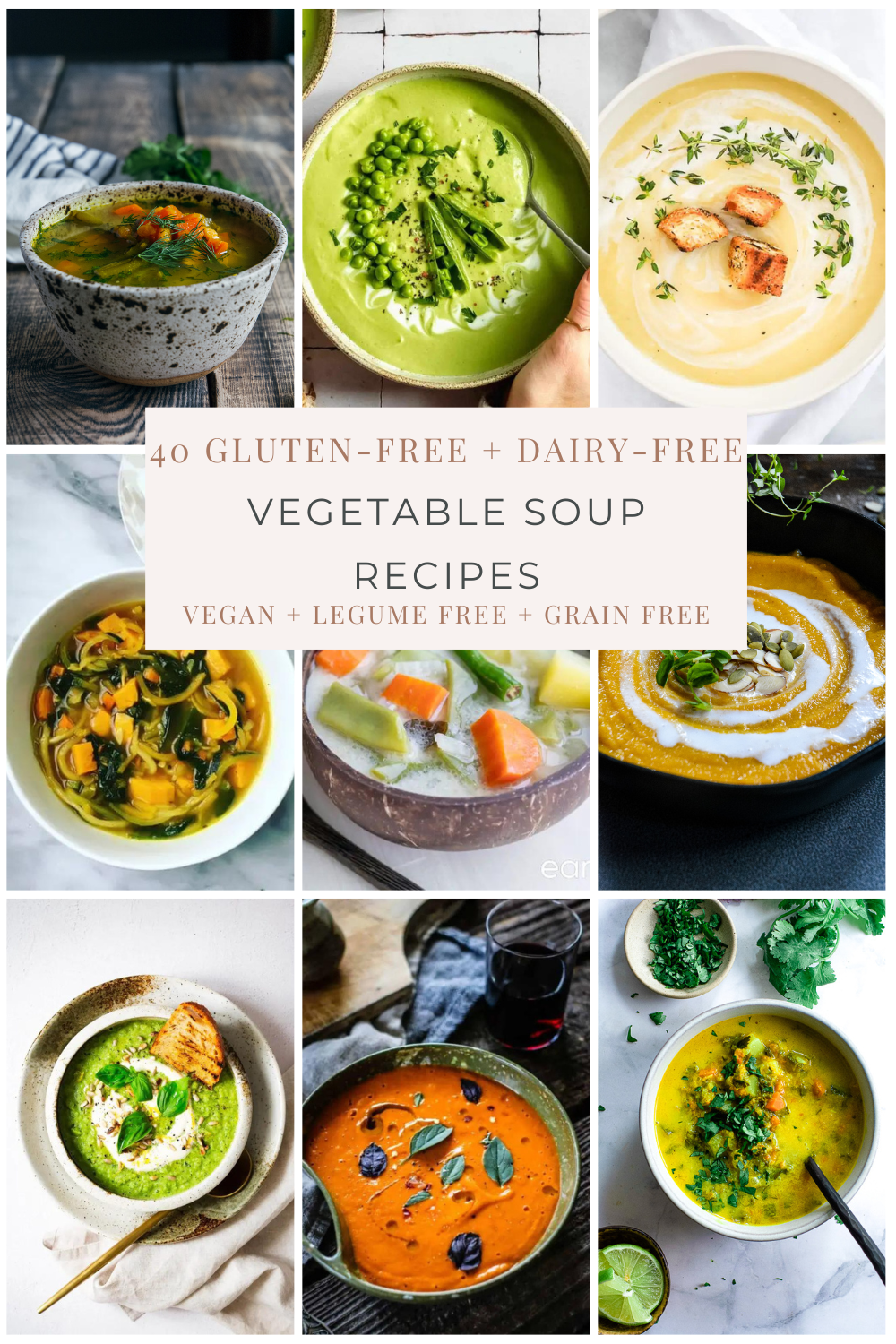 The very first dish I ever made, was a simple vegetable soup at the age of 11. I was intrigued by cooking early on and after a failed attempt of cooking eggs a couple of years prior, I decided to give this cooking thing another shot. My mom and dad allowed me to take over the little kitchen and do things my way. That's a lot of trust.
It was one of the most rewarding experiences for me as a child and from that point on, vegetable soups have held a special place in my heart.
So with that said, I wanted to put together a collection of gluten-free and dairy-free vegetable soups that are also vegan. You'll find easy soup recipes from various cultures and styles, focusing primarily on vegetables and broth. What's so lovely is that these soups are allergy friendly too. All soup recipes are made simply without meat, grains, or legumes, all while letting the vegetables shine. I hope on this list you find at least one soup that will make you say: "This is the best vegetable soup recipe!"
Why Are Vegetable Soups Good For You?
I find vegetable soups to be the ultimate gut health food. That's because not only do soups provide the body with vitamins and nutrients, but the cooked vegetables in soups are much easier to digest. And then there is the added benefit of fiber and broth, both essential for healthy digestion.
How Does Eating Vegetable Soup Improve Digestion?
Vegetable soups are rich in fiber, vitamins, and minerals
They're hydrating
They prevent bloating and constipation
Your digestive system doesn't have to work too hard to break down soup
They keep blood sugar steady
Eating soup regularly improves bowel function
So let's get to this wonderful list of homemade vegetable soup recipes!
40 Gluten Free Dairy Free Vegetable Soup Recipes