This easy vegetable soup is the perfect way to stay hydrated, improve digestion and get a dose of nutrients.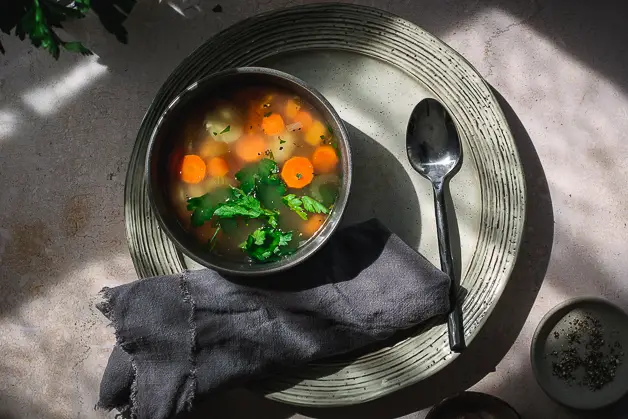 Jump To
In my opinion, one of the best ways to improve digestion is by eating more soup. Regardless of the season, I find I ultimately function better when my meal is accompanied by soup. And I'm not talking about heavy, creamy soups, but light, brothy and vegetable-filled kinds.
This is where my mom's easy vegetable soup comes in. When I visited her a few months ago, she had a beautiful lunch prepared but as is customary in Romania, lunch always starts with soup. It was an unpretentious soup but I found it so soothing and balancing that after the 3rd bowl, I had to ask her for the recipe.
As is normally the case though, my mom does not do measurements...but uses her instincts to create everything. Which of course is fine by me, because this is where I come in. She tells me what she uses, and I recreate and record. And so this "throw it all in one pot", easy soup is an homage to my mom.
For this recipe, you need water and consomme or broth, extra virgin olive oil, sweet potatoes, carrots, parsnips, celery, shallot, fresh Italian parsley, salt, and pepper. That is it!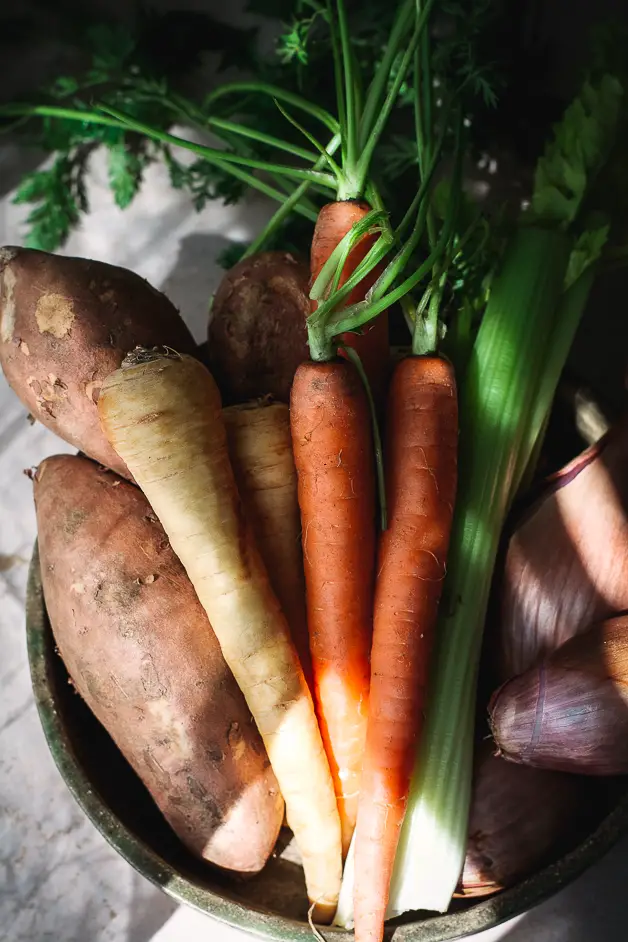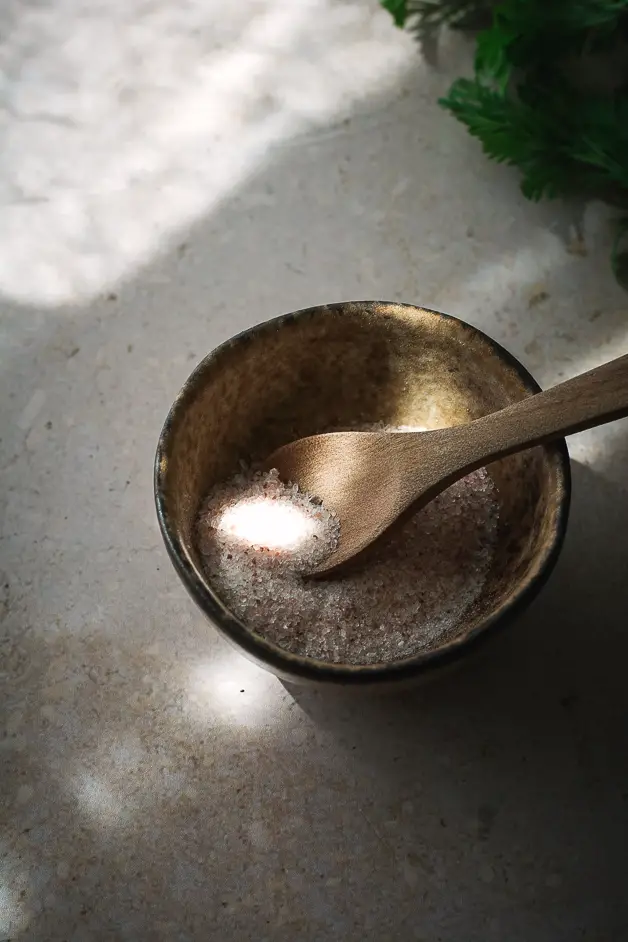 About This Soup
It's vegan, paleo, whole 30
Easy on digestion
Nourishing and healthy
Gluten and grain-free
Perfect soup when you're feeling under the weather
Light and brothy
While there is a time and a place for rich, filling, and hearty soups, I find vegetable soups that are light and brothy to be the ideal soup for when you're feeling under the weather and want something easy on digestion.
Ingredients at a glance:
Water and consomme or the broth of your choice
Extra virgin olive oil
Carrots
Sweet potato
Parsnip
Celery
Shallot
Salt and pepper
Italian parsley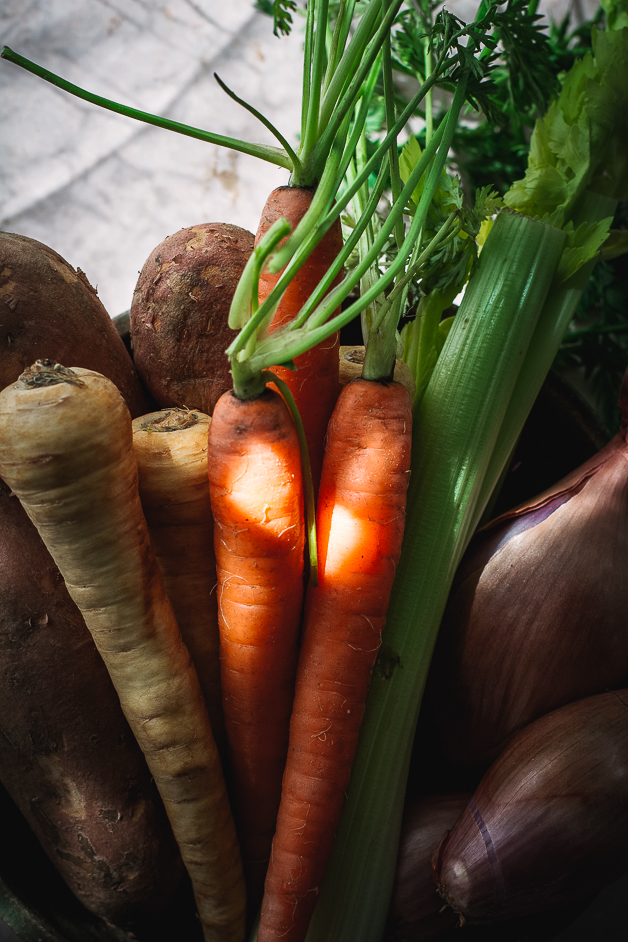 Benefits of Eating Broth Based Soups
Truth be told the only thing I ever want to eat when I feel run down or sick is soup. It was my mother's remedy for pretty much everything. When I was growing up in Romania there were no peer-reviewed studies, Healthline, medical news, and the like, to tell us why certain foods are good for us. My mom instinctively knew, just the way her mom, grandma, and great-grandma knew. But now we have science to back us up, which I find quite reassuring. So here are some of the benefits of eating soup on a regular basis.
They're warming and soothing
Help to improve digestion
Provide the body with nutrient-dense foods
Are inexpensive to make and perfect as part of meal-prep
Soup keeps the body hydrated and full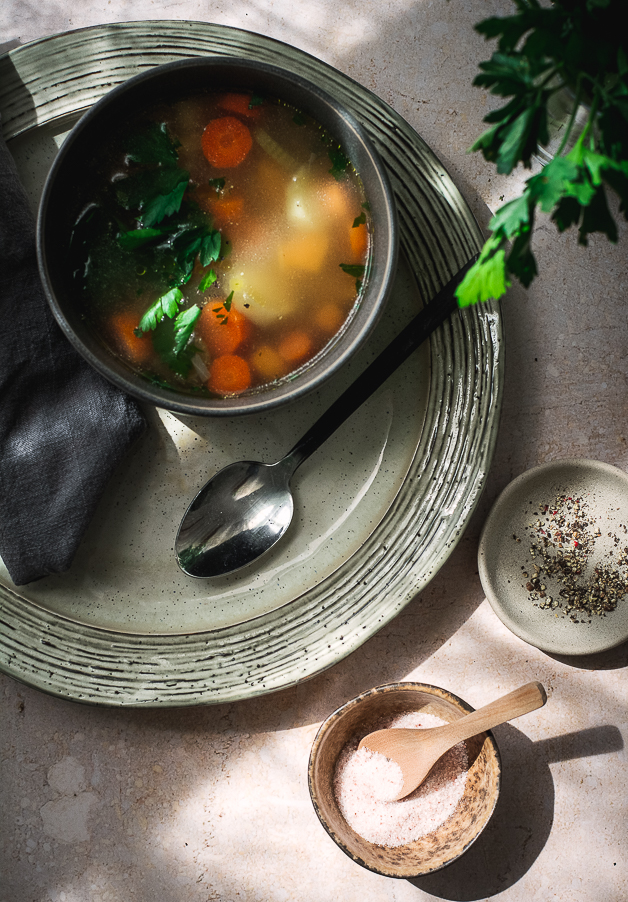 Let's Make It
Step 1. Combine all ingredients aside from parsley in a large soup bowl.
Step 2. Bring soup to a boil and reduce heat to low. Cook covered for 50 minutes.
Step 3. Add parsley in the last few minutes of cooking.
FAQs and Tips
Does It Matter What Kind Of Broth You Use?
Not so much, but I recommend using low sodium broth, which will allow you to control how much salt goes into it. If you prefer water and consomme or stock, you can adjust the liquid depending on how brothy you want it to be.
How Should You Cut The Vegetables?
According to my mom, the best way is to slice the carrots, celery, and parsnips into ½" pieces and the sweet potatoes into about 2" pieces (sweet potatoes will cook the fastest). Shallot can be finely chopped.
Why Is This Soup So Simple?
I love rich soups. You can find some of them here. But in this case, I wanted a soup that's hydrating and easy to digest. I like to add about 8 cups of liquid to ensure there is ample broth once the soup has finished cooking. If you want a vegetable soup that eats more like a meal, you can check out my bone broth vegetable soup here.
Can You Add Different Vegetables?
You can customize this soup with whatever you have on hand. If you want to replace any of the ingredients or add your own, that's perfectly fine. Turnips, potatoes, taro root, green beans, onion - all work. If you don't like parsley, you can skip it entirely.
How Long Can You Store The Soup?
Ideally, the soup will last up to a week in the refrigerator or several months in the freezer.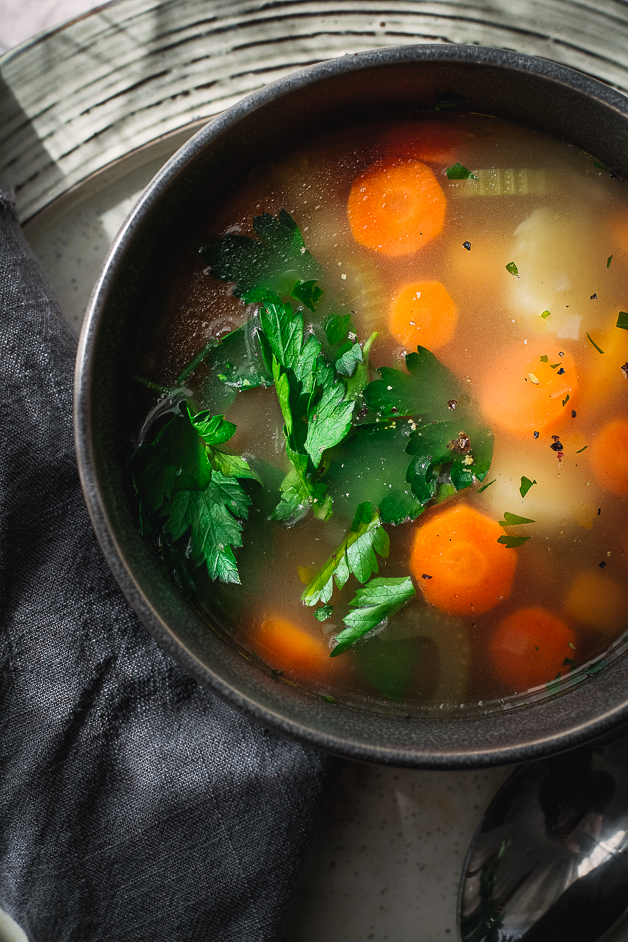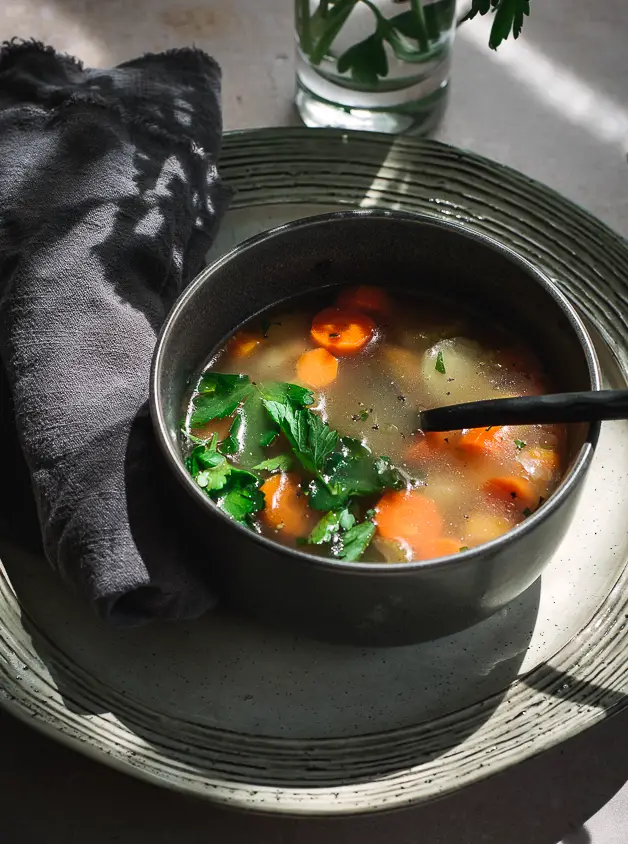 Important Tips
Always add your ingredients to cold water or broth and bring to a boil once the vegetables are in.
You don't have to add the extra virgin olive oil but I find it works really well since we're not using fat or protein in the soup.
Cut the sweet potatoes into about 2" pieces. If they are too small, they will fall apart during cooking.

More Recipes You Might Like
📖 Recipe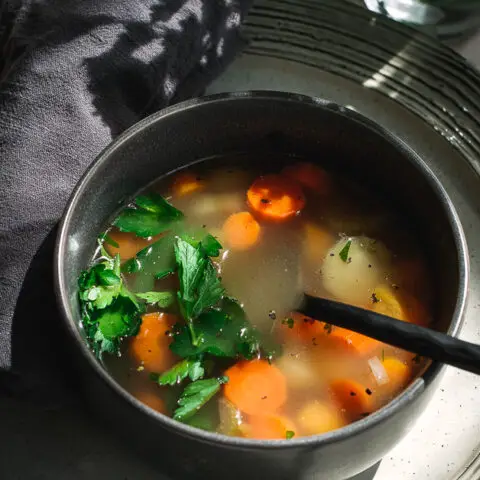 Mom's Easy And Nourishing Vegetable Soup
This easy vegetable soup is the perfect way to stay hydrated, improve digestion and get a dose of nutrients.
Ingredients
2 large carrots, peeled and sliced
2 parsnips, peeled and sliced
1 large sweet potato, peeled and cut into 2" pieces
1 stalk celery, thinly sliced
1 chopped shallot
6-8 cups broth or water + consomme
1 tablespoon olive oil
½ teaspoon salt
1 tablespoon freshly chopped Italian parsley
Instructions
Add all ingredients to a large soup pot.
Bring soup to a boil and reduce heat to low. Cook covered for 50 minutes. 
Add parsley in the last few minutes of cooking.