These Dry Sautéed Mushrooms make a quick and easy side dish that requires just a few ingredients and can be made in under 10 minutes. It's delicious, versatile, vegan, paleo, and whole 30.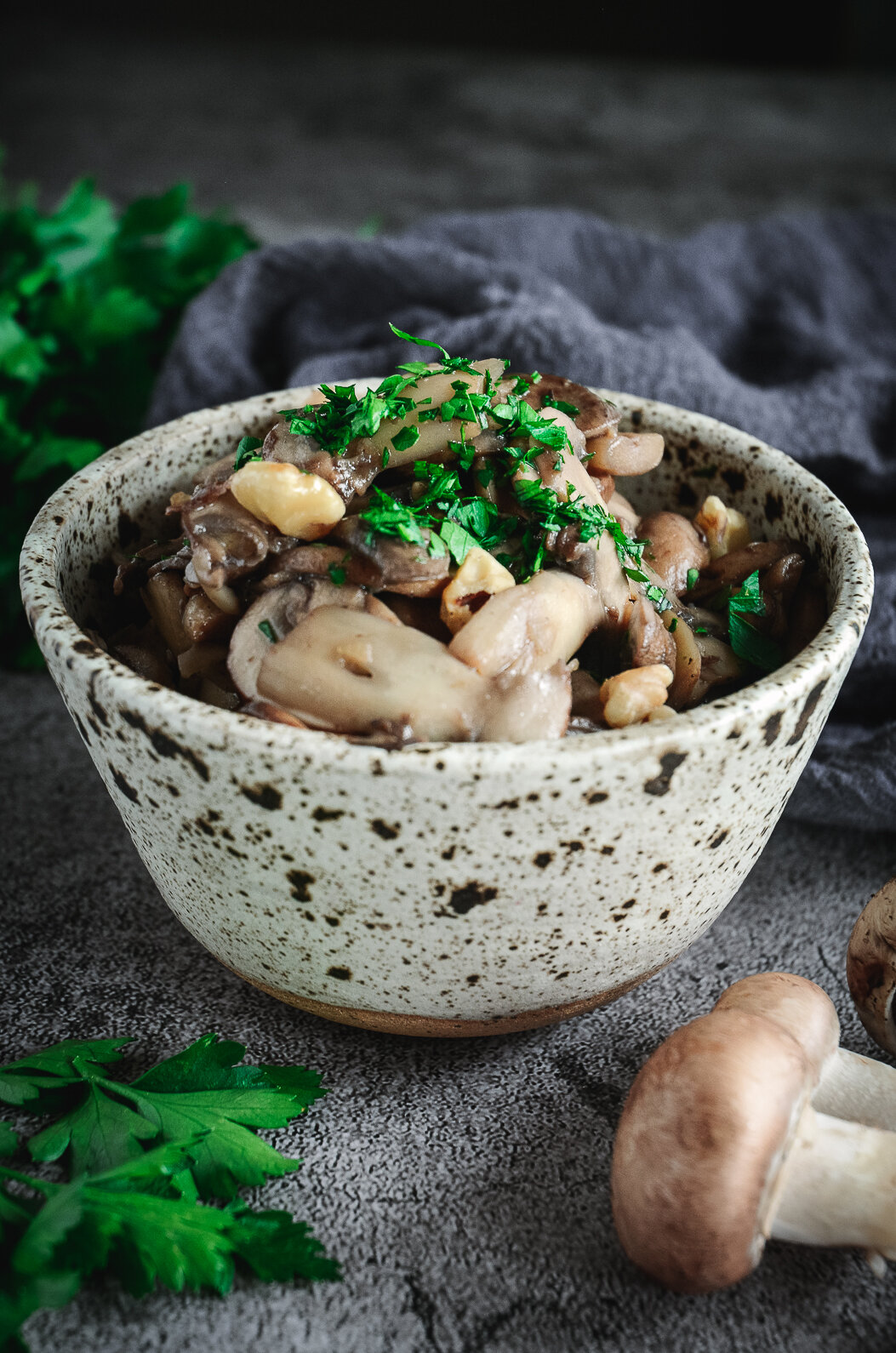 Jump To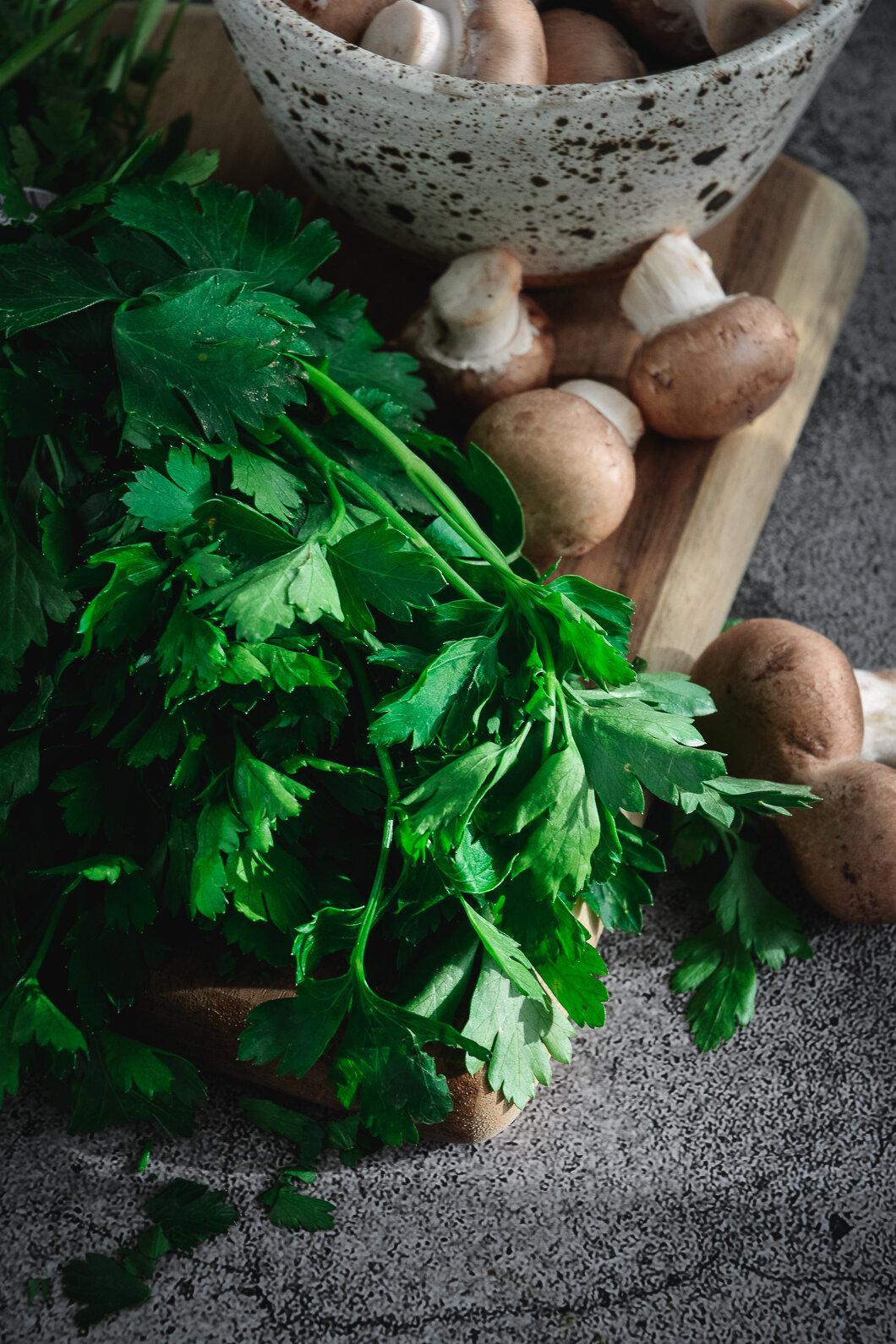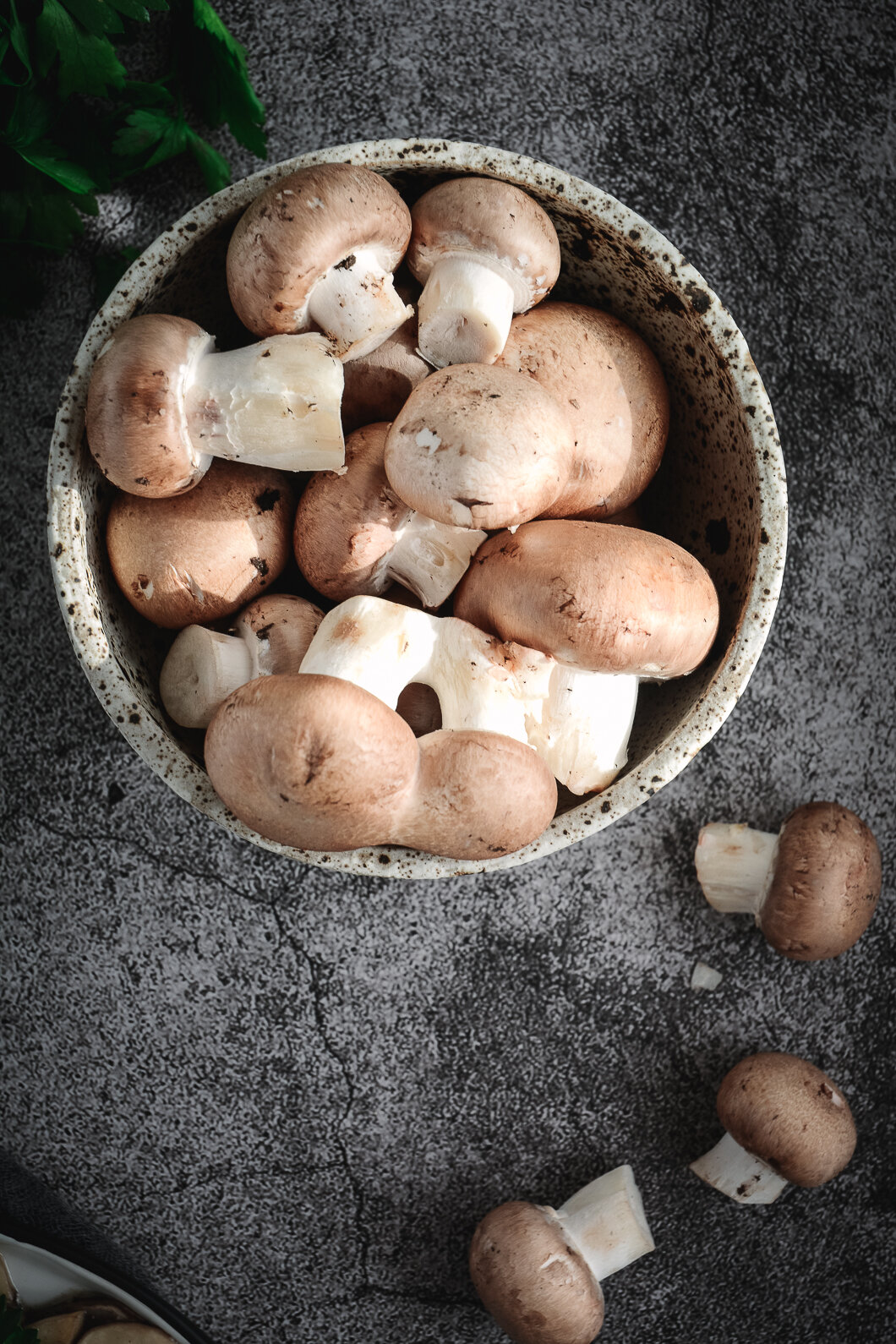 Umami - a term often associated with a rich salty flavor in slow-cooked broths and meats, is not one I use in my everyday vocabulary. Truthfully, I've really only heard it mentioned in either articles or shows like "Chef's Table". No one I know is talking about umami because I think it's an almost ethereal term. It's a 5th taste that makes you stop and pay attention.
Ironically I experienced this taste in the most unlikely of places - Whole Foods. I know, I know, kind of comical, I admit. You were probably expecting me to throw out some Michelin Star restaurants. But no, it was at a grocery store - admittedly a very good one.
On a recent outing with my daughter, a quick Whole Foods stop was in order and while there we decided to grab lunch. Grabbing lunch is not generally something I do, but seeing the vast assortment of paleo-friendly foods intrigued me. Yes, Whole Foods can be almost snobby in that way and makes me roll my eyes at times, but if it wasn't for places like it, people with food sensitivities would be without options when looking for something quick.
So food cartons in hand, my daughter and I found a seat by a sunlit window and dug in. My lunch consisted of sautéed mushrooms, roasted vegetables, grilled chicken and walnuts. It felt rather unadventurous and bit plain so I reached for the liquid aminos spray sitting on the table. What happened next can only be described as culinary euphoria. I took a bite, turned to my 3.5-year-old, and said: "This….this is umami". She gave me a sideways look, dipped her chicken nugget into the ketchup, dropping back into her own enjoyment.
Long after that modest lunch, I couldn't stop thinking about the taste I'd experienced. For days, I wanted to understand what it was that shook and woke up my tastebuds in such way. Then it dawned on me: both mushrooms and liquid aminos (or soy sauce) are umami foods. And as a matter of fact, so are walnuts.
There is no magic, no mystery - just simple ingredients coming together to create something spectacular. So naturally, I was going to make my own version at home.
These sautéed mudrooms are:
easy to make

delicious

naturally glute-free

a perfect side dish

vegan

paleo

versatile
Why Dry Sauteed Mushrooms?
I've taken this super simple recipe through the wringer of testing. I wanted to achieve the best-tasting mushrooms, that aren't soggy and full of flavor. I found adding olive oil, sesame oil or even ghee, can sometimes add too much liquid to the mushrooms making them soggy.
Pretty much exactly what the term describes, dry sautéeing mushrooms requires just a hot pan and mushrooms while everything gets added at the end.
Tips for making the best dry sautéed mushrooms
Since this sautéed mushroom dish doesn't require many ingredients, I recommend purchasing the best possible quality you can and always look for organic.
What are the best mushrooms to use for this side dish?
I like using either cremini or button mushrooms. If possible, look for the smallest mushrooms you can find. I find the smaller they are, the more they absorb the flavor in each slice.
What makes these dry-sauteed mushrooms delicious?
The magical ingredient in this recipe is liquid aminos. If you're not gluten-free, you can easily use soy sauce or gluten-free soy sauce. But I find liquid aminos to work really nicely. Coconut aminos are a good substitute if you're following a strict paleo or whole-30 lifestyle.
Go easy on the parsley
If you're a parsley lover like me, I understand, the more the merrier - but that's not always the case. Because parsley has a lot of flavor, you want to make sure you're not taking any of it away from the mushrooms. I also recommend chopping it very fine to evenly distribute it in every bite.
Add some crunch to the mushrooms
if you like a little crunch, you can add chopped walnuts or almond slices to the mushrooms but just like with the parsley, go lightly on them.
I hope you will enjoy this recipe as much as I do. It's so easy to make and pairs wonderfully with any meat, eggs, roasted vegetables and much more.
Other sides you may like: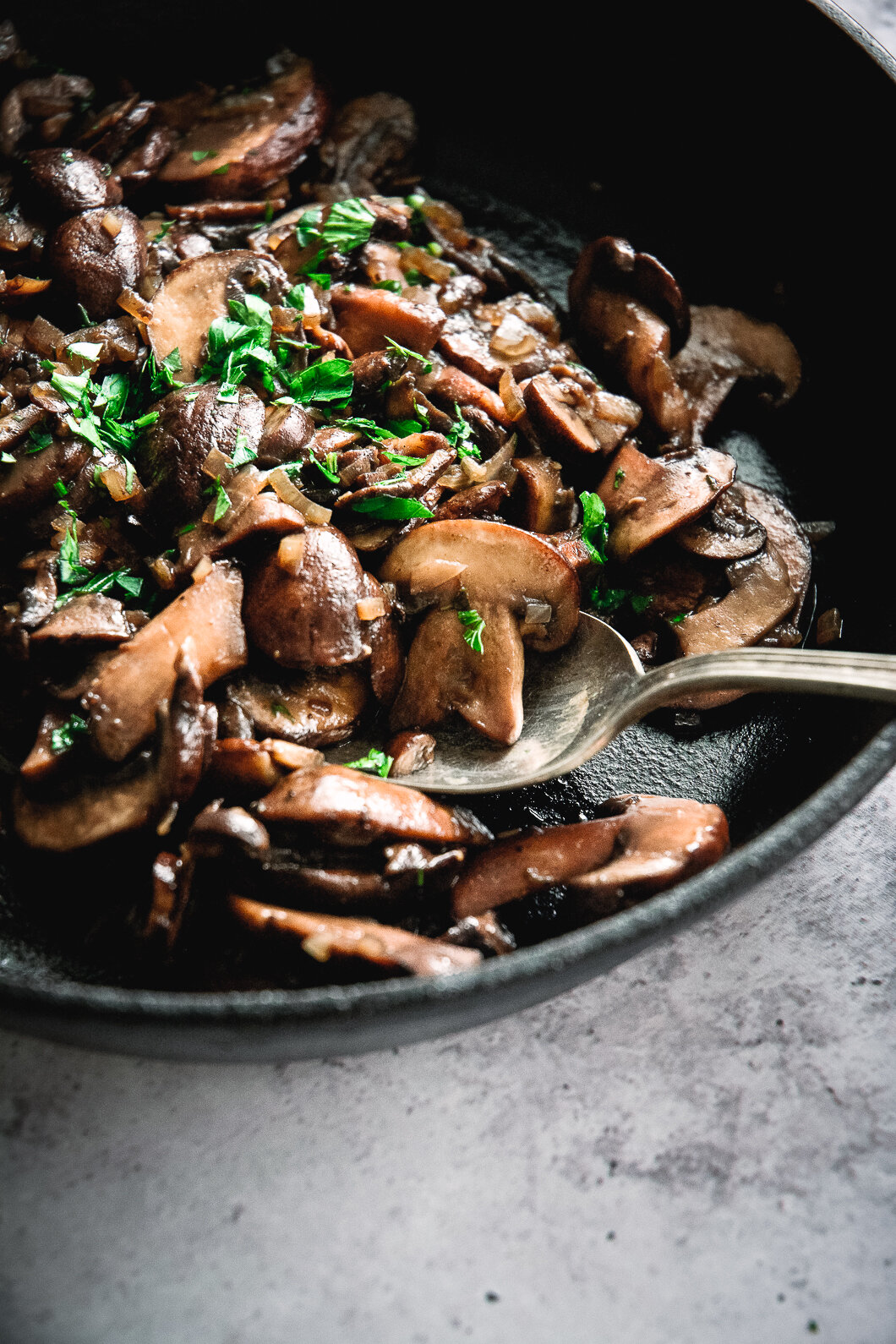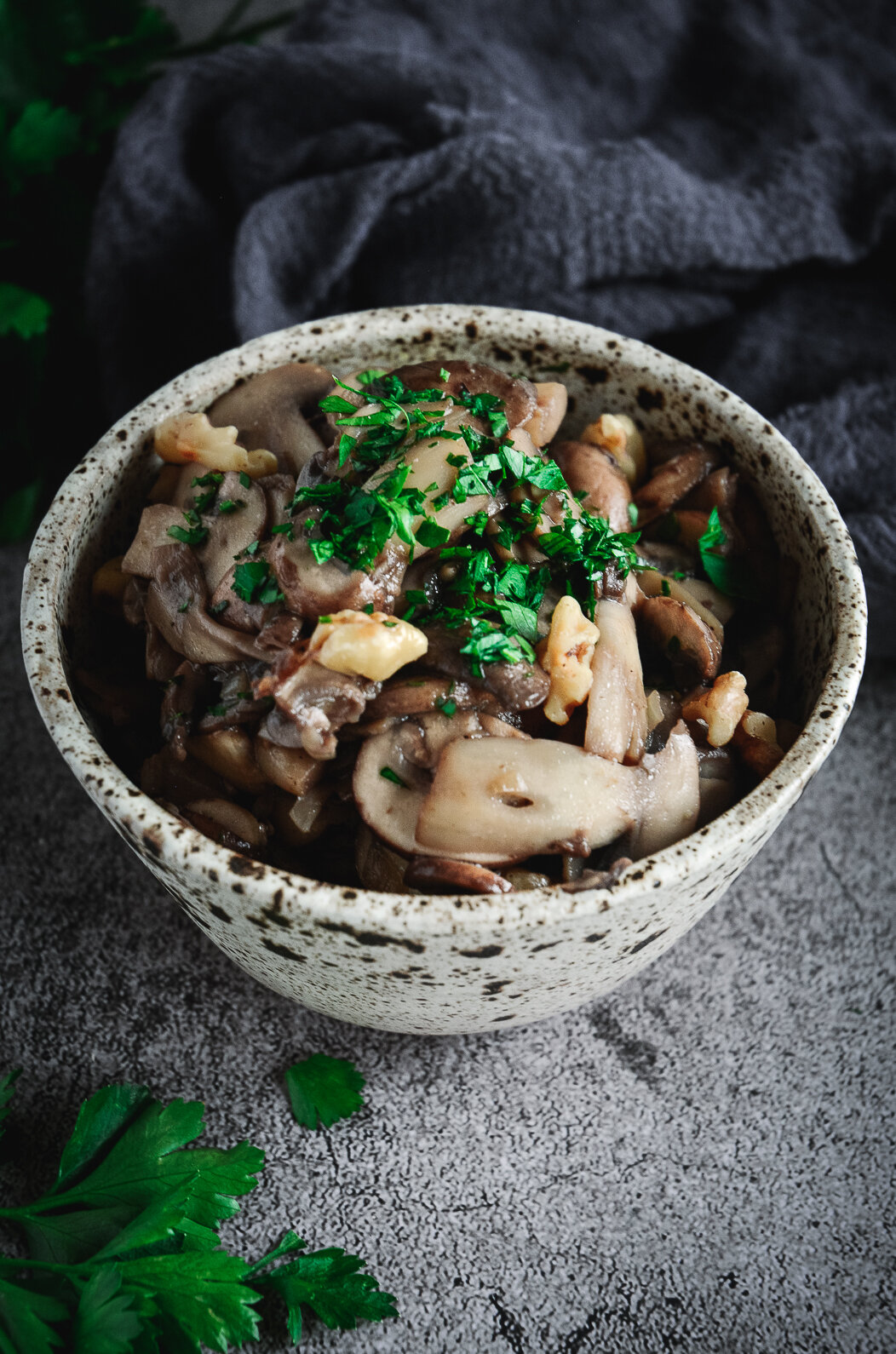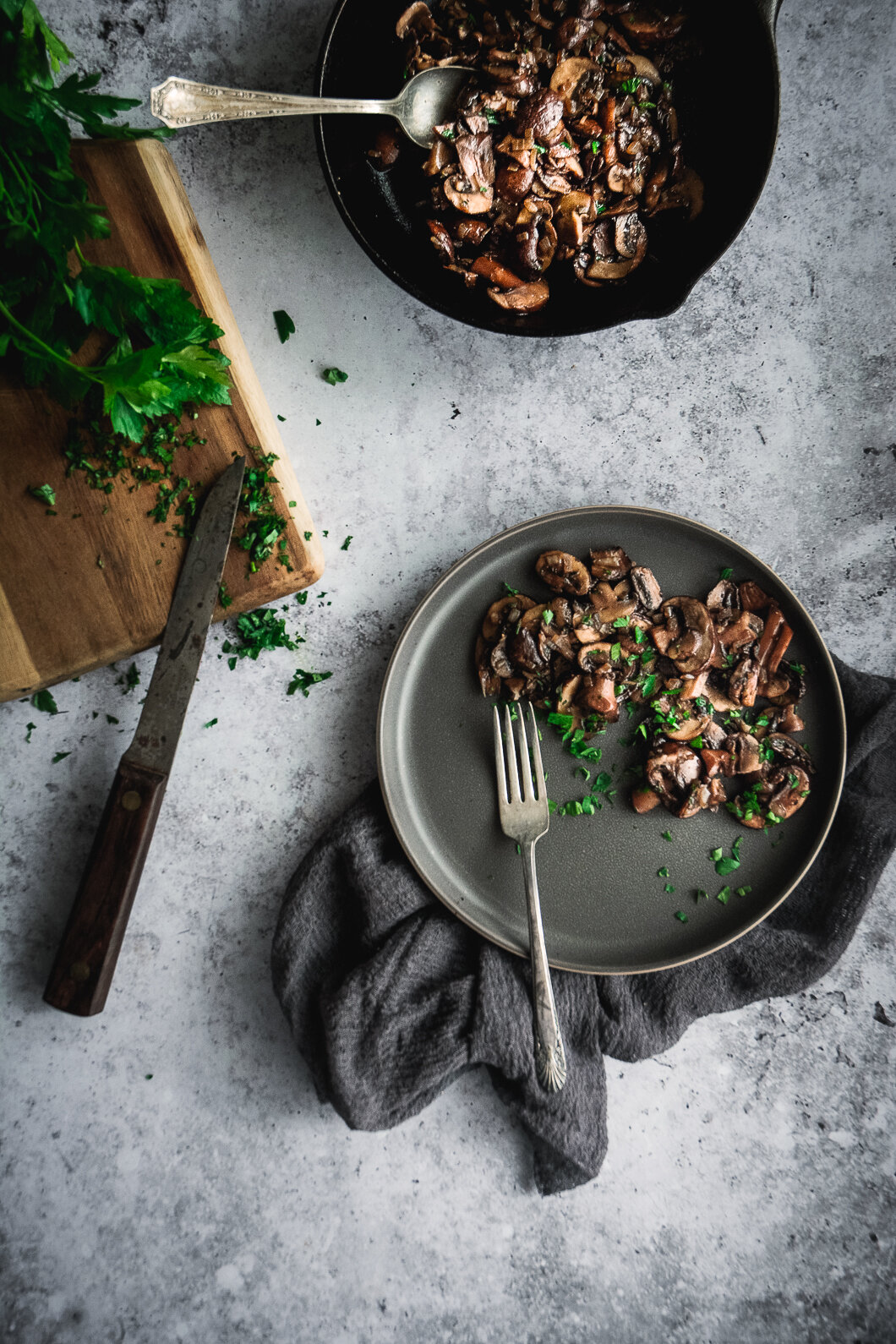 📖 Recipe
Best Dry-Sautéed Mushrooms
These Dry Sauteed Mushrooms make a quick and easy side dish that requires just a few ingredients and can be made in under 10 minutes. It's delicious, versatile, vegan, paleo and whole 30.
Ingredients
1 lb mushrooms
pinch salt
¼ teaspoon freshly ground pepper
1 teaspoon olive oil, sesame oil, ghee or butter
1 teaspoon liquid aminos, soy sauce or coconut aminos
optional: finely chopped parsley to taste
Instructions
1. Heat a large, preferably cast, iron pan over medium heat. Add mushrooms and cook for 5-7 minutes, stirring occasionally. The mushrooms will release their own liquid so no need to add anything at this point.


2. Once mushrooms are soft, add salt, liquid aminos, oil or ghee and cook for another 2 minutes.


3. Sprinkle with parsley if desired and serve right away.