These Mediterranean balsamic grilled vegetables are light and flavorful, healthy, and pair well with just about any main dish. They're also vegan, keto, paleo, and whole 30.
Jump To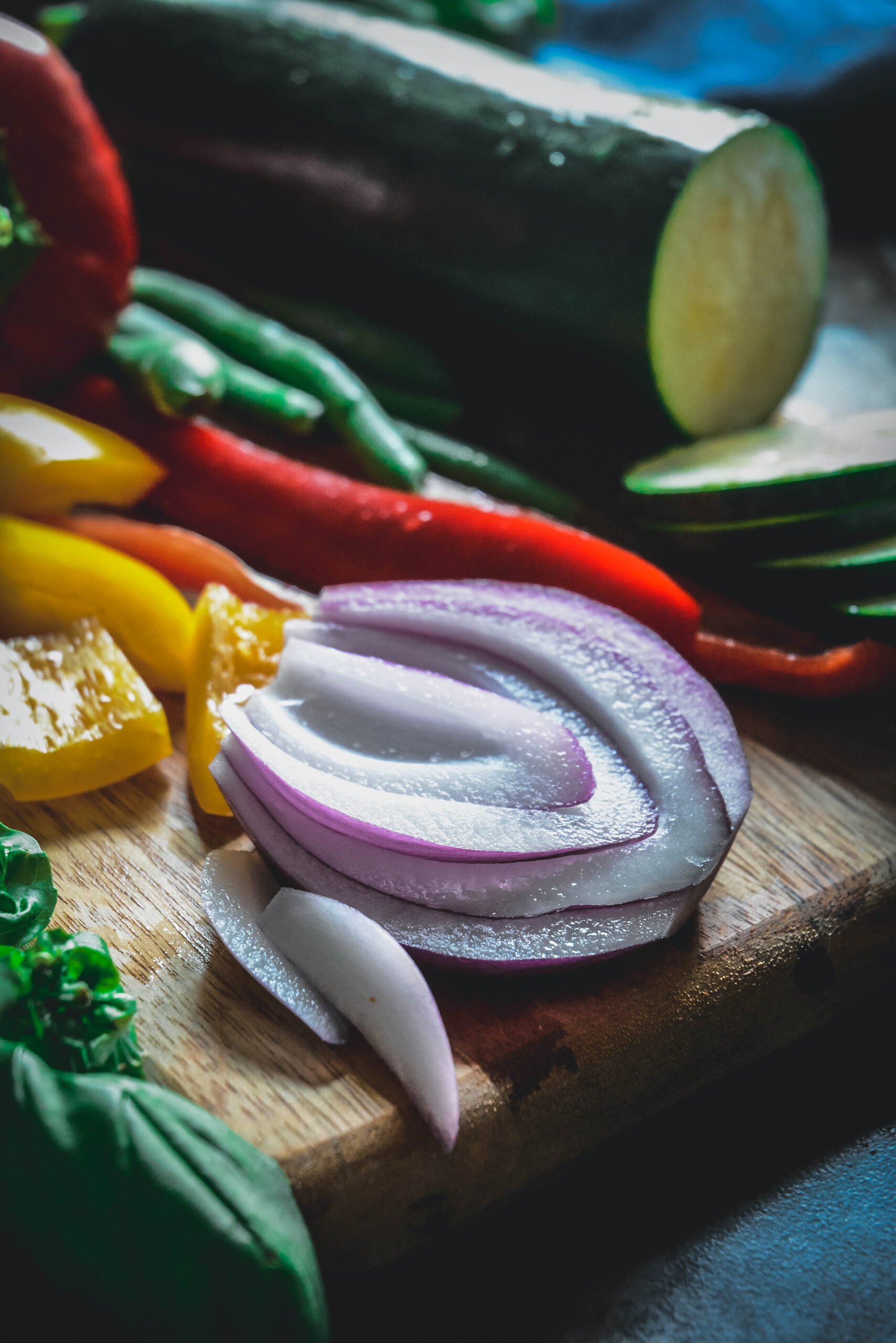 Red onion - an unassuming vegetable hiding a gentle sweetness and flavor behind its many layers. It took me a while to fully come around to this lovely vegetable. I used to catch glimpses of it at the market, modestly nestled next to the sweet and yellow variety but hardly ever did I think to cook with it. I guess it seemed a bit intimidating so I stuck with the familiar kind. 
But truth be told, red onion is now one of my favorite vegetables. Aside from its alluring color, red onion has a sweet, mild flavor that enhances many a dish. 
Last weekend my mother visited. And as is typically the case, she comes bearing little gifts of one kind or another. While I insist that I need nothing and she doesn't have to, this time though she nailed it when she walked in with a massive pot of basil. There are few things that bring me as much joy as fresh herbs. But along with the basil she also brought an array of vegetables that were now strewn about my counter so my job was to figure out what to do with the mishmash. 
Days passed and I still hadn't figured out what to do with all the vegetables on hand. Roasting of course was always an option but I wanted something else. Then I remembered the red onion sitting in the fridge from a previous recipe I'd made and it all came together. I would keep things very simple and grill the vegetables, toss them with olive oil, salt, and pepper, and finish them with balsamic vinegar and fresh basil. 
Ingredients For Your Shopping List
Red Onion
Zucchini
Green Beans
Red Bell Peppers
Extra Virgin Olive Oil
Balsamic Vinegar
Salt + Pepper
Fresh Basil
Top Tips + FAQs
What Are The Best Vegetables For Grilling?
Inspired by the Mediterranean region, for this recipe I like using red bell pepper, zucchini, and red onion. Green beans add texture and some crunch so they were a natural fit for this dish, but you could always add summer squash or eggplant as well.
You can play around with this recipe as you see fit and swap out the vegetables to suit your liking but the red onion is a must! It changes the entire flavor profile of the vegetables. It brings out the best in them in an almost inexplicable way. You'll see...
Can You Make Them On The Stovetop?
Well, you have a few options. You could toss them directly on the grill, add them to the grill pan that came with your grill (if that was the case) or uses a cast iron skillet directly on the grill. Either option is going to give you flavorful grilled vegetables. And if you don't have a grill at all, you can always use a grill pan and make them on the stovetop.
Can You Skip The Balsamic Vinegar?
That is entirely up to you. Some people find the flavor of balsamic vinegar to be intense and would rather tone it down. You could experiment with something milder vinegar like a splash of rice vinegar, champagne vinegar, or red or white vinegar. Or you could skip it entirely and just go for a little more olive oil to really bring out the flavor of the grilled vegetables.
Do You Need Basil?
Well, of course, I just happen to love it and think that it works fantastically well in this dish. You could experiment with other tender herbs or leave them out altogether. I don't think a tougher herb like rosemary finds its home in this dish so stick with milder ones! Fresh oregano would be a very good contender!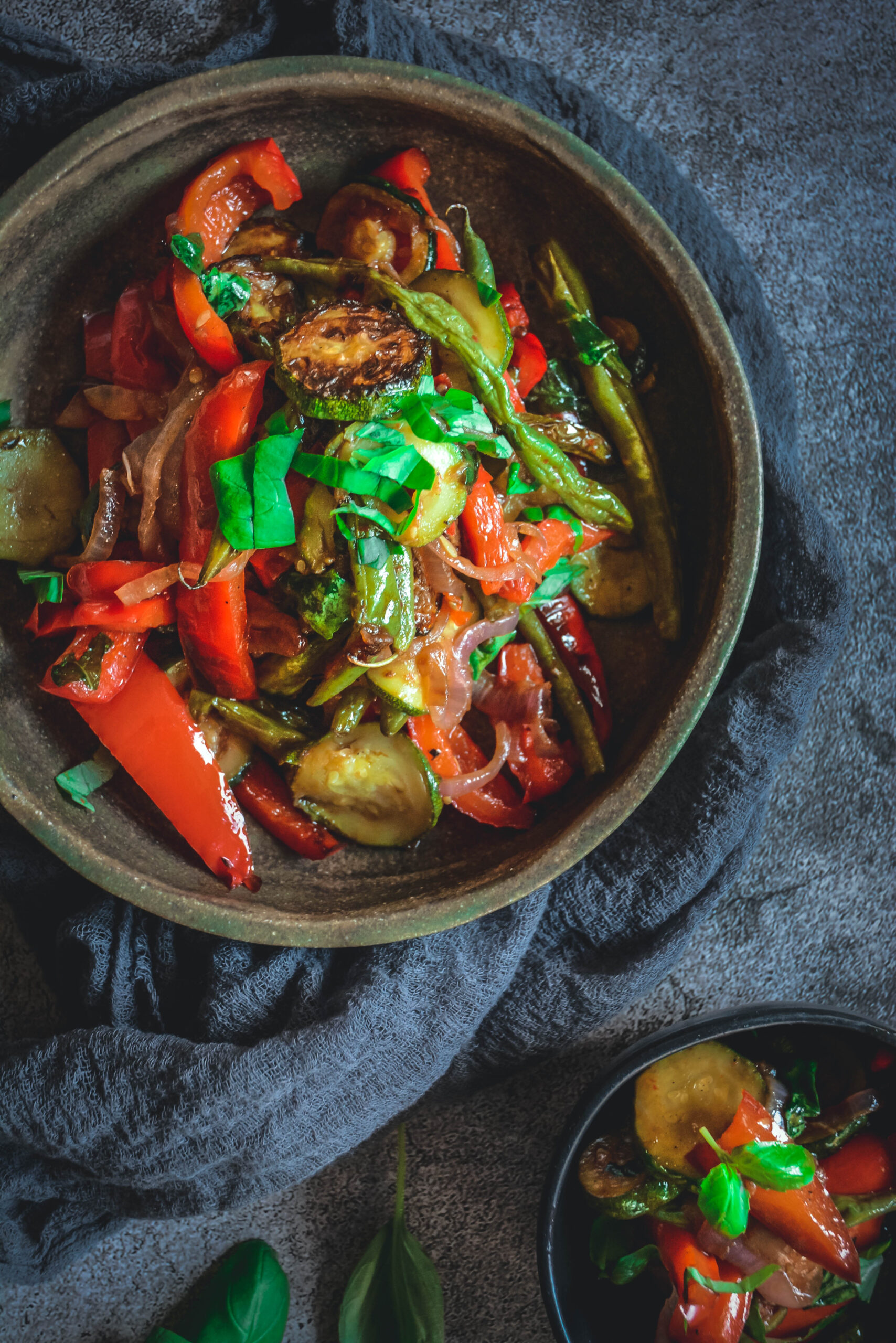 More Recipes You Might Like
📖 Recipe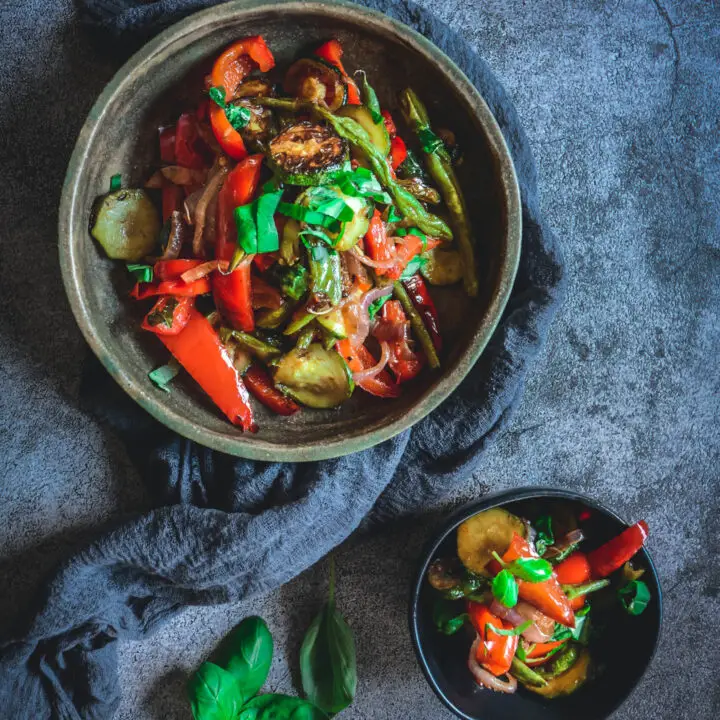 Best Mediterranean Balsamic Grilled Vegetables
These Mediterranean balsamic grilled vegetables are light and flavorful, healthy, and pair well with just about any main dish. They're also vegan, keto, paleo, and whole 30.
Ingredients
1 red onion, sliced
1 zucchini, sliced
handful of green beans, trimmed
2 red bell peppers, roughly chopped
¼ cup extra virgin olive oil
1 teaspoon salt
¼ teaspoon ground pepper
2 tablespoon balsamic vinegar
1 tablespoon fresh basil chopped
Instructions
Preheat grill on medium-low.
In a large bowl combine all ingredients aside from vinegar and basil and mix well.
Add all vegetables to grill safe cast iron plate (most grills come with one) and grill for 10 minutes on low (stirring occasionally) until soft but still retaining a bite.
Place grilled vegetables back in bowl, add balsamic vinegar and basil and stir until vegetables are coated.
Cover with wrap and let sit for 5 minutes. Serve right away.
Nutrition Information:
Yield:

4
Serving Size:

1
Amount Per Serving:
Calories:

166
Total Fat:

14g
Saturated Fat:

2g
Trans Fat:

0g
Unsaturated Fat:

11g
Cholesterol:

0mg
Sodium:

587mg
Carbohydrates:

10g
Fiber:

2g
Sugar:

6g
Protein:

2g