Be transported to another place with this Chicken Tagine with Lemon, Dates and Apricots, as Moroccan flavors are brought right to your table.
Jump To
Just writing the name of this recipe instantly transports me to a foreign land. Ever since I was young, I've had a fascination for different cultures. I've been fortunate to experience a few different ones but not in the way that would turn my every day upside down. I'm drawn to the mystery of people living life unlike my own. But most of what I'm drawn to is how different cultures prepare and cook their food. The traditional way of eating and the flavors that are particular to that region. 
One place that holds such mystery for me is Morocco. Everything I've seen about Morocco has been in films and photos but its beauty and colors take my breath away. I imagine walking down the narrow street of a market, people buzzing about, colors exploding all around me, wind blowing the intoxicating scent of spices...I have an ideal of a country I know little about but I suppose to me that may be part of the charm. A kind of fantasy I've created around a place and culture. 
My first experience with Moroccan food was a Tagine or Tajine - which includes apricots, spices and chickpeas. It was love at first bite. I had never tasted anything like it. The combination of fruit and spices was mind-blowing. 
As I don't use legumes much these days, I decided to make my own version of Tagine using chicken, a blend of spices, apricots, dates, lemon rind and almonds. 
When it comes to chicken for this dish, in my opinion, thighs and legs cook and taste infinitely better than breast. I suggest serving it over rice but you can use cauliflower rice as well if you're strictly paleo. If you want a recipe for cauliflower rice, check out this simple guide. 
This Chicken Tagine with Lemon, Dates and Apricots is:
Paleo
Whole 30
Full of flavor
Grain-free
Gluten-free
Dairy-free
A perfect weeknight dinner
Ingredients for Chicken Tagine with Lemon, Dates and Apricots
Organic chicken things and legs
Onion
Garlic
Turmeric
Cumin
Ginger
Cinnamon
Dried dates 
Dried apricots
Lemon rind
Chicken Broth 
Organic chicken broth
Cilantro (optional) 
Sliced Almonds (optional) 
Tips and substitutions
The most important part of this dish is to use quality ingredients from the chicken to the ingredients for the sauce. 
Chicken - if possible, use organic chicken for this dish. 
Dates - if Medjool dates are not available, Deglet dates or any other date will be fine. Just use a few extra Deglet dates to get the same sweetness.
Dried apricots - If it's possible, look for apricots that don't have any added sugar. They can turn your dish too sweet. 
Cilantro - Cilantro is an herb you either love or hate. I happen to love it but if it's not for you, feel free to substitute with parsley. I generally favor Italian parsley over curly but either will work. 
Ginger - If you can't find fresh ginger, use ¼ teaspoon fresh. If you like a little more heat and intensity, feel free to go up to ½ tsp. I happen to love ginger so more is better for me.
📖 Recipe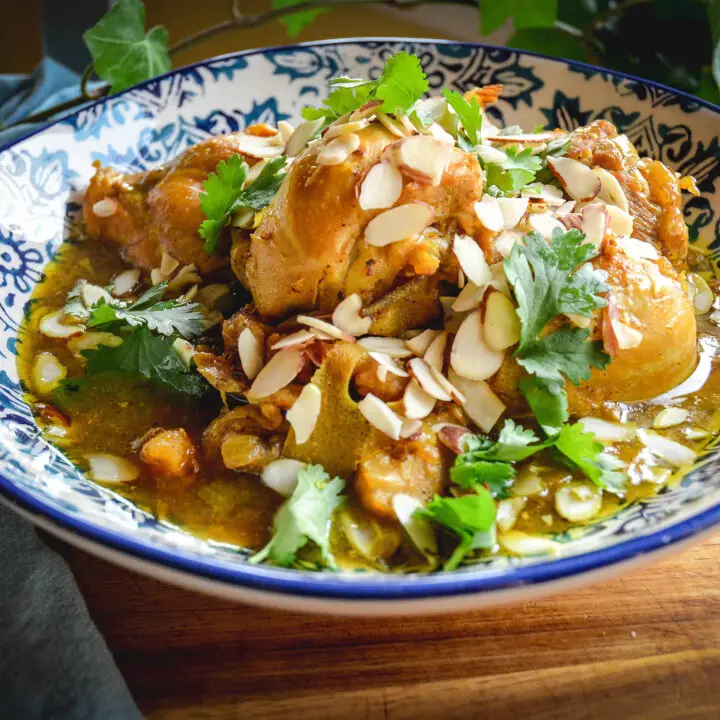 Chicken Tagine with Lemon, Dates and Apricots
Be transported to another place with this Chicken Tagine with Lemon, Dates and Apricots as Moroccan flavors are brought right to your table.
Ingredients
1.5 lbs chicken thighs
1.5 lbs chicken legs
1 onion, chopped
3 tablespoon olive oil divided
3 garlic cloves, minced
½ teaspoon ground turmeric
1 teaspoon ground cumin
1" knob fresh minced ginger
¾ teaspoon ground cinnamon
½ teaspoon salt divided
¼ teaspoon pepper
rind from one lemon
4 medjool dates chopped
8 dried apricots chopped
2 tablespoon fresh cilantro chopped
2 cups chicken broth
1 tablespoon arrowroot starch
2 tablespoon sliced almonds
Instructions
Preheat pan over medium heat. Add 2 tablespoon olive oil and chicken to pan. Cook chicken for 2-3 minutes per side. You may have to cook chicken in 2 different batches. When chicken is cooked, set aside on a plate.
Meanwhile using a vegetable peeler, cut the rind off lemon. Then cut each peel into thin long strips and set aside. 
Next add the other tablespoon olive oil, onion and ¼ teaspoon salt. Sauté for 5-8 minutes until onion is translucent. Add garlic and spices and cook stirring continuously for 2 minutes. 
Return chicken to pan along with broth, dates, apricots and lemon peel. Cover, lower heat and cook for about 30-35 minutes until chicken is fully cooked. 
Add arrowroot starch, cilantro and sliced almonds and give a good stir.
Serve over rice or cauliflower rice or rice with additional cilantro and sliced almonds. 
Recommended Products
As an Amazon Associate and member of other affiliate programs, I earn from qualifying purchases.