Chicken Tetrazzini with Rutabaga Noodles is a Paleo take on the classic dish. It's dairy-free, grain-free, and delicious.
Jump To
Does everything happen for a reason or does a haphazard thing merely set something in motion making it appear as though it does? I don't have the answer to that but I will say rutabaga is amazing. Okay perhaps a rather bizarre way to start a blog post but it always fascinates me when one seemingly insignificant event leads me to make a dish that turns out to be a favorite - maybe of all time.
If you follow this blog or my Instagram stories, you probably know all about my infatuation with produce; my need to obsessively photograph what I see. A rutabaga, which I would often pass over as not being particularly striking, on that day, caught my attention. The details and subtle colors of this large root demanded to be captured. There was something about it…a depth I hadn't before noticed.
That evening while looking for ways to use leftover chicken, I came across a recipe for chicken tetrazzini - the classic style, which includes milk, flour, butter, breadcrumbs…in essence all the things I cannot have. It was something I didn't give a second thought to and moved on until I woke up the next morning convinced that I had to make chicken tetrazzini the paleo and whole 30 way and not only that but that I would be using rutabaga noodles instead of pasta.
I admit, I'd never made rutabaga noodles prior to this dish but thought, why the hell not? And so an idea was born and I couldn't stop thinking about it. At 8 am I was at the market buying rutabaga, shiitake mushrooms and chicken with vehement determination to make my version of paleo chicken tetrazzini come to fruition.
It is so very rare that something I envisioned so clearly actually turns out to match the idea. The earthy flavor of the rutabaga works incredibly well with tender chicken thighs and creamy mushroom sauce finishing the whole dish with almond crumble, which gives it depth.
Since milk is out of the equation, I opted for coconut milk. I wasn't sure how this would work out as I didn't want an overly coconutty flavor but the salt and lemon cut through the forward coconut taste, leaving only the creaminess behind.
I knew I was going to love this dish the second I smelled the shallots, garlic, wine and mushrooms and I hope you will love this creamy chicken tetrazzini just as much.
This Chicken Tetrazzini with Rutabaga Noodles is: 
Dairy-Free
Keto
Paleo 
Gluten-Free
Dairy-Free
Whole 30 approved
Easily customized with noodles instead of rutabaga
What do you need to make Chicken Tetrazzini with Rutabaga Noodles
Chicken Thighs 
I'm a firm believer that certain cuts of meat just work better than others in particular recipes. While this recipe can be customized, I prefer using boneless, skinless chicken thighs as they cook much faster than chicken breast and are much more tender. But if you prefer the breast, I recommend using thinly sliced chicken or chicken tenders. 
Rutabaga
Rutabaga is a versatile root that provides the base for the chicken tetrazzini. When spiralized and slightly cooked, the rutabaga noodles take on a linguine like consistency, pairing perfectly with the sauce and the almond crumble.
Coconut milk
Since classic Tetrazzini is made with cream and butter, I wanted a creamy substitute that could challenge the traditional. And I know you're thinking it would taste like coconut but once you add lemon juice to the sauce, it actually cuts down on the coconut flavor neutralizing it. 
Shallots and Garlic
If you can't get your hands on shallots, feel free to substitute for sweet onion or even yellow. But shallot is my first choice in this dish. 
Mushrooms
I experimented with two kinds of mushrooms, cremini and shiitake but if you can't kind shiitake, stick with all cremini or even white sliced mushrooms or the mushrooms of your choice. 
Lemon juice
This is essential to the dish. Though you're not using much of it, it's necessary for neutralizing the coconut taste. While coconut is amazing in other dishes, I don't want the forward taste in this dish.
Wine or broth
Classic Chicken Tetrazzini is made with either dry white wine or Sherry but if you don't want to use wine or follow a whole 30 lifestyle, feel free to use broth. 
Fresh Herbs
Thyme and Italian Parsley add depth and flavor to the sauce, bringing out the intensity in the mushrooms and creamy sauce. 
Almonds
The almond crumble may just be one of my favorite foods. Instead of breadcrumbs, I've taken an alternate route and finely ground roasted almonds, combined them with salt and a little olive oil and created a perfectly crunchy and flavorful topping. Whatever you do, don't skip this step - it completely ties in the dish! 
What equipment do you need to make Chicken Tetrazzini with Rutabaga Noodles?
Food processor or blender
Spiralizer
Large cast-iron skillet or whatever you have available
Medium Frying pan
Mixing bowl
Small frying pan
Tips and substitutions
If you wanted to keep this dish vegan, you could skip the first step and forgo the chicken.
You can use dry herbs instead of fresh if fresh are not available. Use the ratio 3 to 1. It takes 3 times as much fresh as it does dry to obtain the same balance. 
When making the almond crumble, be sure your almonds are not freshly roasted and still hot. The consistency of the crumble may end up mushy instead of...well crumbly. 
For the dry wine, I recommend using a Pinot Grigio, Dry Riesling, Chardonnay, or Sauvignon Blanc. Whichever you choose, be sure that it's dry and not sweet. 
📖 Recipe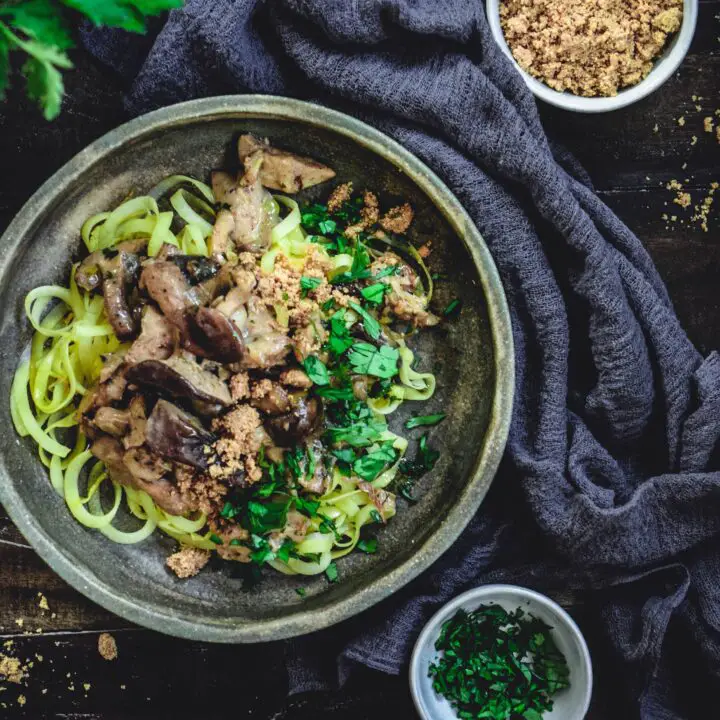 Chicken Tetrazzini with Rutabaga Noodles (Paleo, Whole 30)
Chicken Tetrazzini with Rutabaga Noodles is a Paleo take on the classic dish. It's dairy-free, grain free and delicious.
Ingredients
1.5 lbs skinless boneless chicken thighs
½ teaspoon ground pepper 
½ lb shiitake mushroom, sliced
½ lb cremini mushrooms, sliced
2 large shallots, chopped finely
2 large garlic cloves, minced
1 teaspoon fresh lemon juice
1 rounded teaspoon fresh thyme, chopped
2 tablespoon fresh Italian parsley, chopped
½ cup dry white wine (or use broth)
1.5 cups full fat coconut milk
¼ cup toasted ground almonds
Instructions
1. Spiralize rutabaga and set it asides.

2. In food processor or blender add toasted almonds and grind finely. Add to small bowl with 1 teaspoon olive oil and a pinch of salt and set aside.

3. Remove chicken from package and pat dry with paper towels and season with ½ teaspoon salt and ¼ teaspoon pepper. Heat cast iron skillet over medium heat.

4. Add 2 tablespoon olive oil and chicken and cook for 7-8 minutes per side until cooked through. Cover with foil and set aside to rest.

5. In the same pan, add 1 tablespoon olive oil, shallots and a pinch of salt. Cook for 2-3 minutes until shallots are translucent. Add garlic and cook for 30 seconds.

6. Increase heat to high, add wine or broth (if Whole 30) and deglaze pan by scraping off the brown bits.

7. Reduce heat back to medium, add mushrooms, ¼ teaspoon salt, ¼ teaspoon freshly ground pepper thyme and parsley and cook for 10 minutes until mushrooms are soft but still have a bite.

8. Add coconut milk and lemon juice, turn heat down and simmer for 10 minutes.

9. Cut chicken into bite size pieces and add it back to sauce and heat through for 5 minutes.

10. Meanwhile, heat medium frying pan, add oil and rutabaga noodles and cook stirring continuously for 3-5 minutes until noodles have softened.

11. To plate, add rutabaga noodles, chicken and mushrooms sauce, sprinkle with almond crumble and top with additional fresh chopped Italian parsley.