This post is a paid partnership with Naturacentric. All opinions expressed are my own.
If you want a tasty, calm, yet energizing way to improve your mood and vitality, you will love these coconut cashew matcha honey energy bites.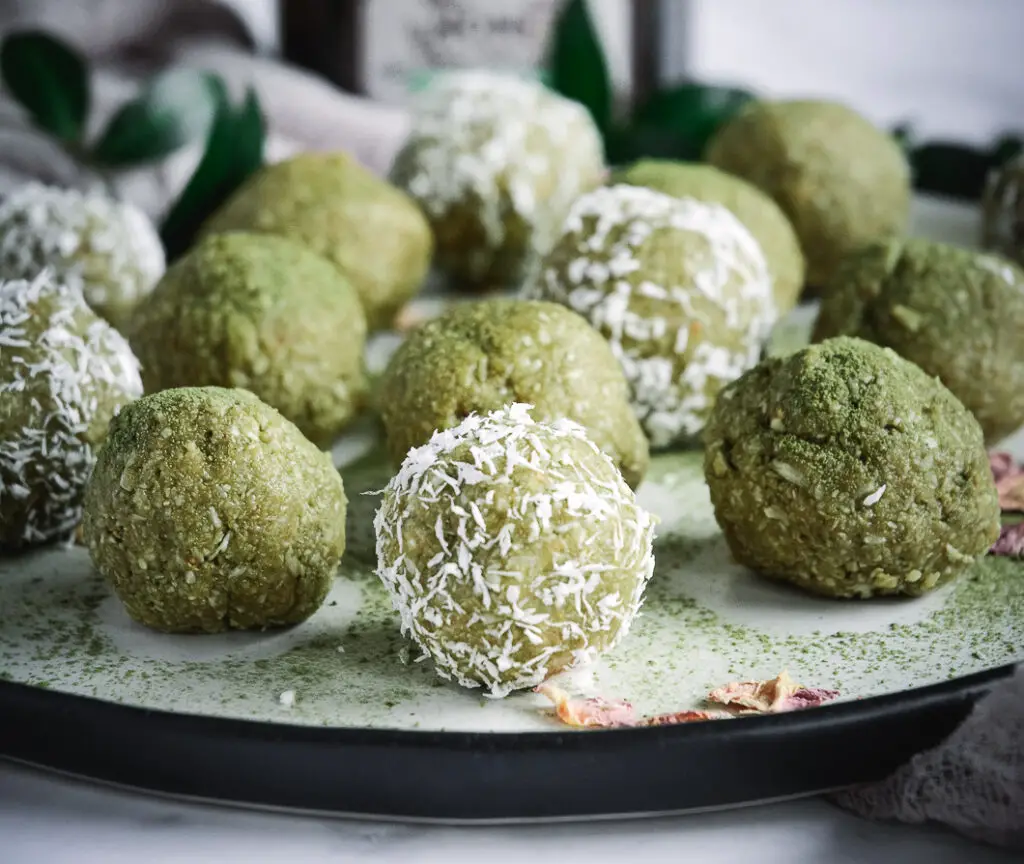 Jump To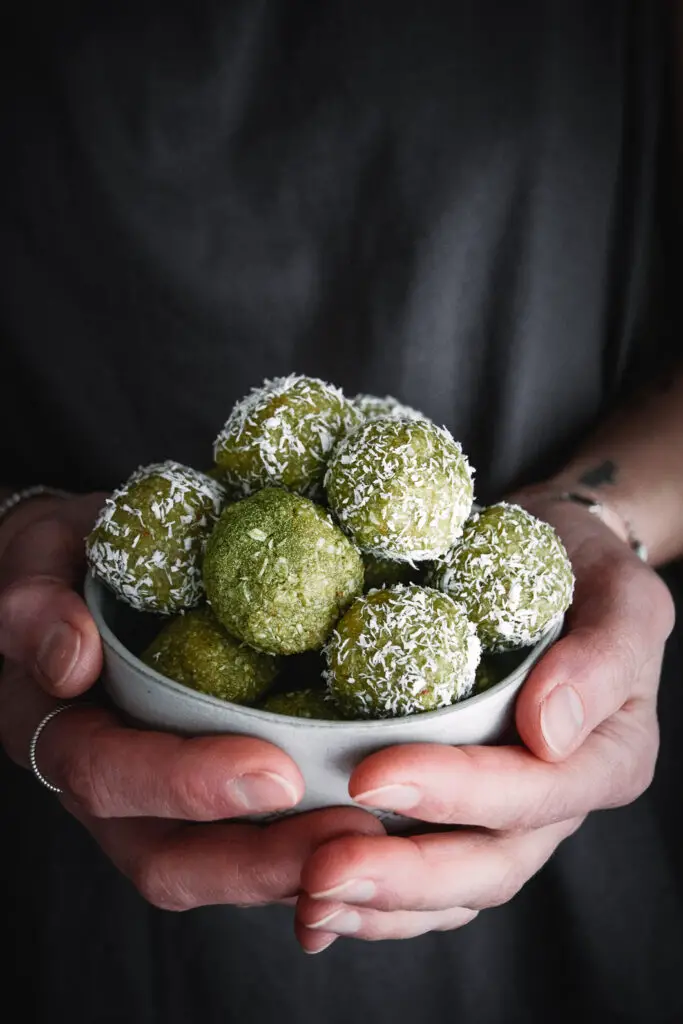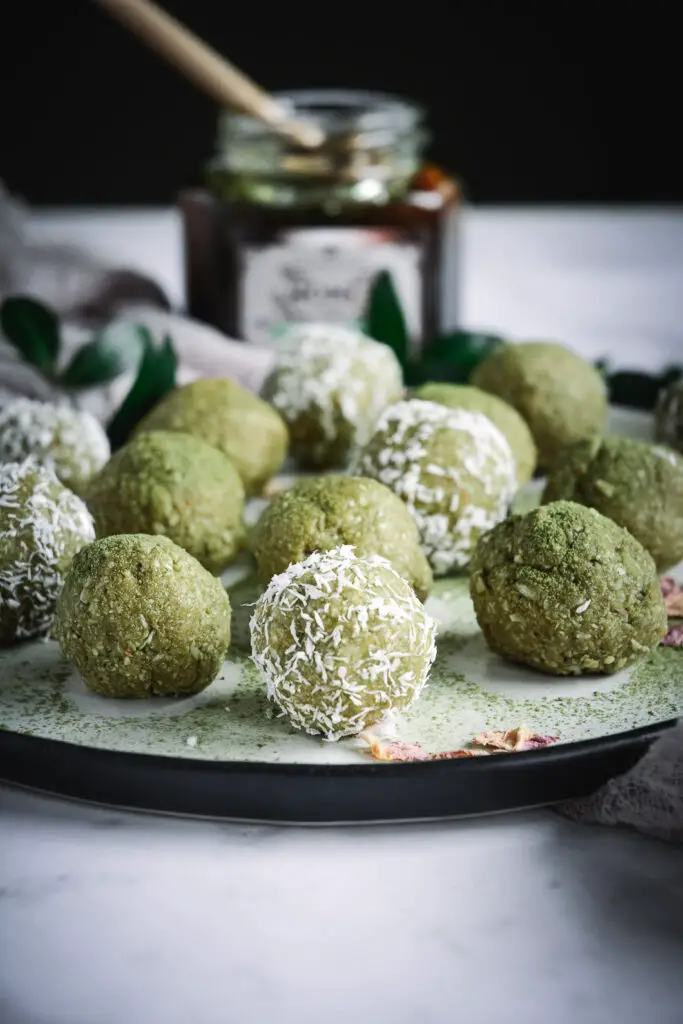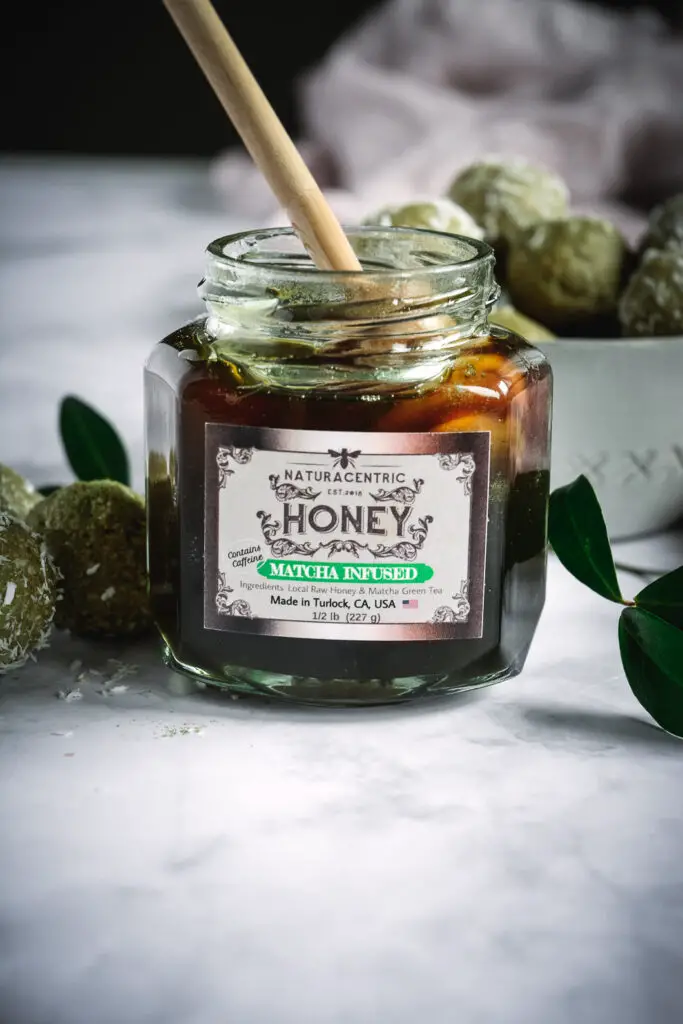 I have some strengths but a whole lot of weaknesses too. Among those is baking. I'll admit, it's just not something I gravitate to. At no point in the day, do I think: "maybe I should bake something". But it is something I deeply desire to master and hope to eventually dive as deep into as I do with cooking.
Don't get me wrong, once in a while, I test myself to see if I can manage to whip up a recipe. It's enough to either get an ego boost or a punch in the pocket (because gluten-free/paleo baking is not cheap!).
But what I do often gravitate to is making no-bake treats. I have an insatiable desire for them. I think this mainly stems from my need to have full control over ingredients as they come together; much like they do in cooking. I revel in the ability to adjust as I go along - figure out what works and what doesn't. I like the fluidity and flexibility of making no-bake desserts.
And I thought of no better way of entering into one of my favorite months, than with these no-bake Coconut Cashew Matcha Honey Energy Bites. They're delicious, easy to make and offer a perfect energy boost whenever you need one!
For this recipe I've partnered once again with my friends at Naturacentric! They're a Zero-Waste company that puts nature at the center of everything they do. All their products are handcrafted, wholesome and reliable! And to make them even more phenomenal and the kind of company I very much admire, they offer a discount when you return 6 jars.
So I was delighted at the opportunity to experiment with one of their trusted and reliable products - Matcha Infused Honey. It is an energizing, yet calming honey, delightful and full of antioxidants.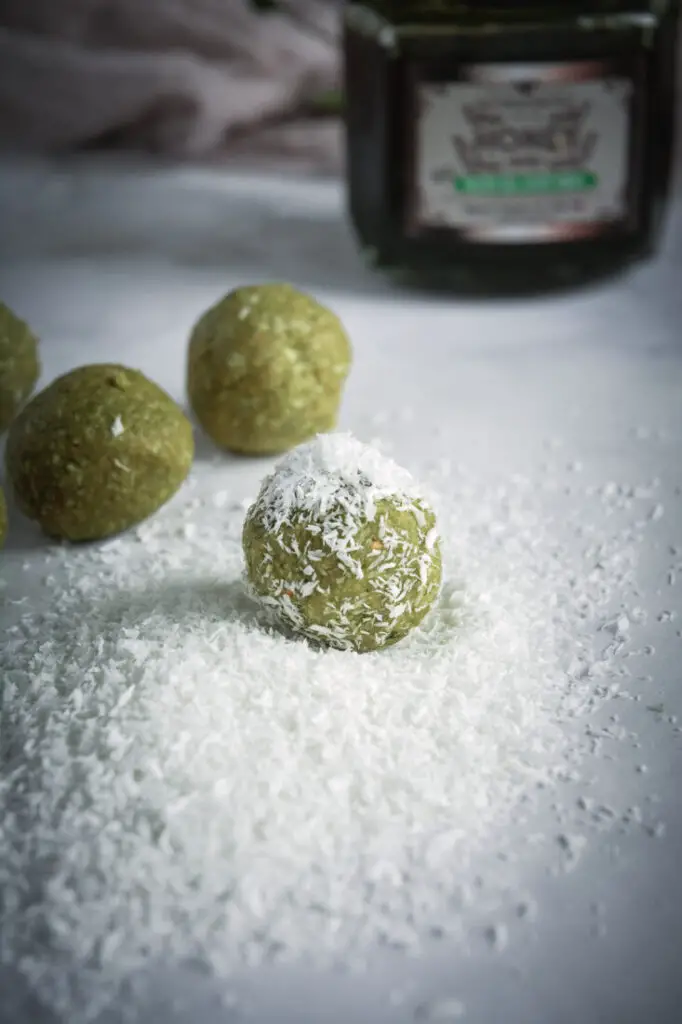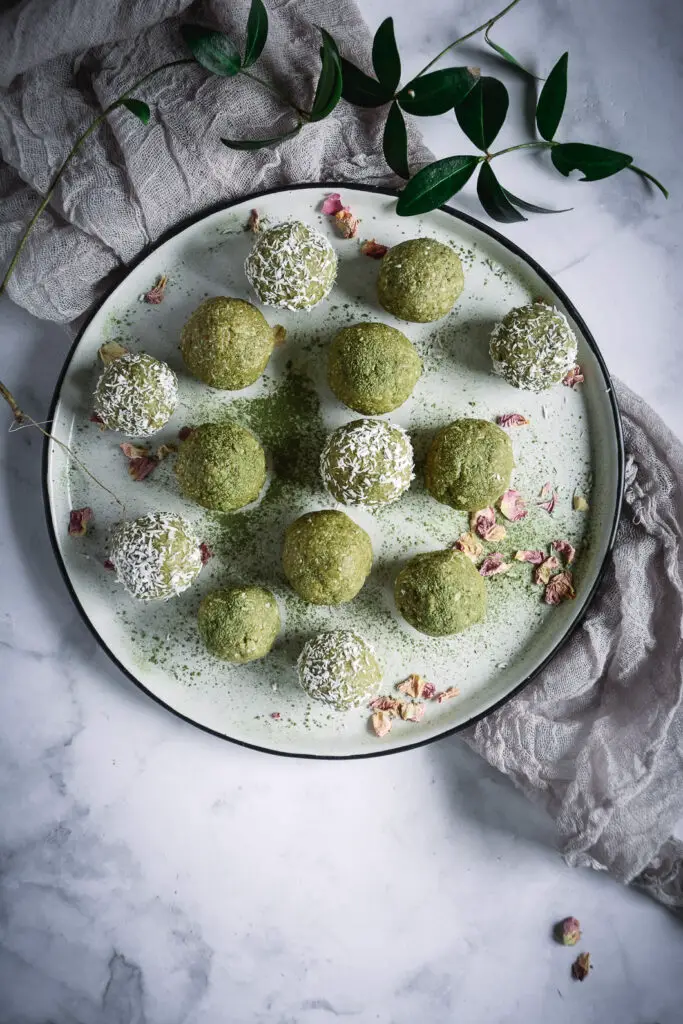 What is matcha?
I'm certain you've heard of green tea as it is one of the most popular teas in the world. But matcha has only recently started becoming more mainstream in the US. Matcha comes from the green tea plant that has been ground into a very fine powder.
What is the difference between matcha and green tea
While both green tea and matcha come from the same plant, green tea is using only the leaves that are steeped in water, while matcha uses the whole plant, finely ground. This makes matcha higher in caffeine, antioxidants, and chlorophyll (which is detoxifying, anti-inflammatory and immune-boosting. Additionally, matcha over 100 times the amount of antioxidants that are found in green tea.
Benefits of matcha infused honey:
This matcha infused honey offers a good dose of antioxidants, improves mood and mental clarity, while simultaneously encouraging relaxation. This matcha infused honey:
is antioxidant-rich
improves mental clarity
promotes relaxation
boost mood
helps to fight free radicals
So let's get right to today's recipe and talk about these Coconut Cashew Matcha Honey Energy Bites (Say that 10 times fast).
These Coconut Cashew Matcha Honey Energy Bites are:
gluten-free
vegan
grain-free
dairy-free
low in sugar
easy to make
no-bake
energizing yet calming
antioxidant-rich
How to make coconut cashew matcha honey energy bites
Besides the matcha honey, this recipe requires just a handful of ingredients you likely already have in your pantry. And if you don't, I'll provide links to everything you need below. You need Naturacentric matcha infused honey, melted cocoa butter, cashew butter, shredded coconut, vanilla, a teaspoon of matcha.
Everything is combined in a food processor, fully incorporated and then rolled into balls.
Do you need a food processor to make coconut cashew matcha honey energy bites?
You can use a food processor or a high-speed blender, but I find the food processor to be the best option for this recipe.
Can you use peanut butter or almond butter instead of cashew butter?
Absolutely - I made a batch with peanut butter and loved them. I haven't tried Almond but I would imagine you would get a slight almond-y flavor which is also nice.
Do you have to add the additional matcha?
That is entirely up to you. You can make these with just the matcha infused honey or add more as well. Adding more matcha will give you the green color and also will increase the caffeine level in the energy bites.
Refrigerate the energy bites before eating
While you certainly could eat the coconut cashew matcha honey energy bites right away, they're best when they've had at least an hour in the refrigerator to harden. Cocoa butter is solid at room temperature and when refrigerated, so they taste best once they've hardened.
Storing coconut cashew matcha honey energy bites
This brings us to the next part - storing them. The best way is in the refrigerator in an air-tight container. They will keep for up to two weeks, though mine haven't made it past a few days.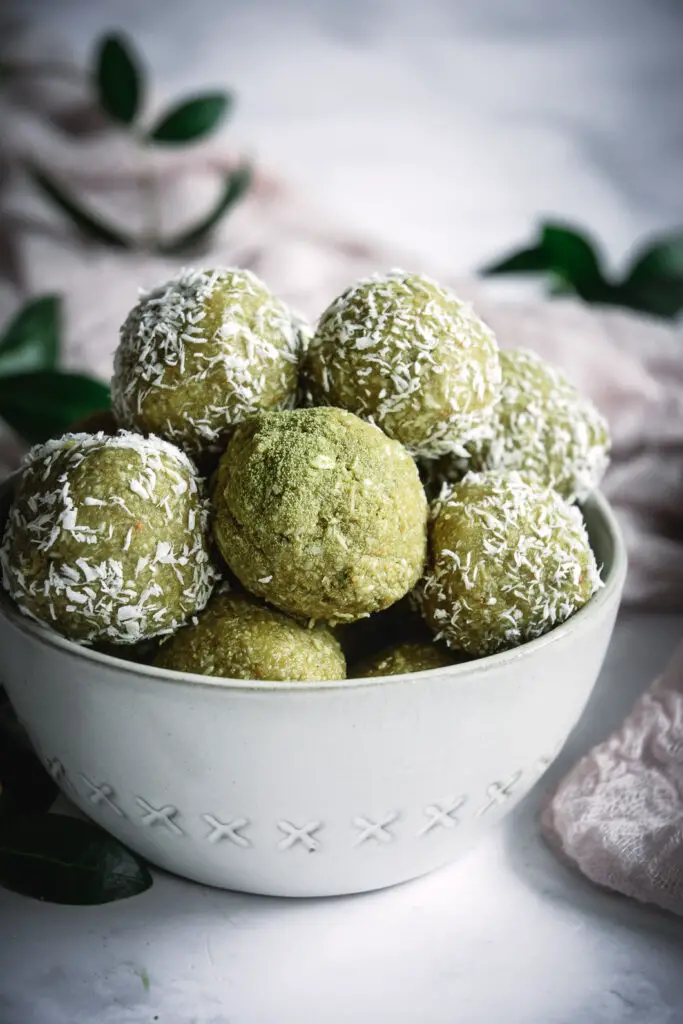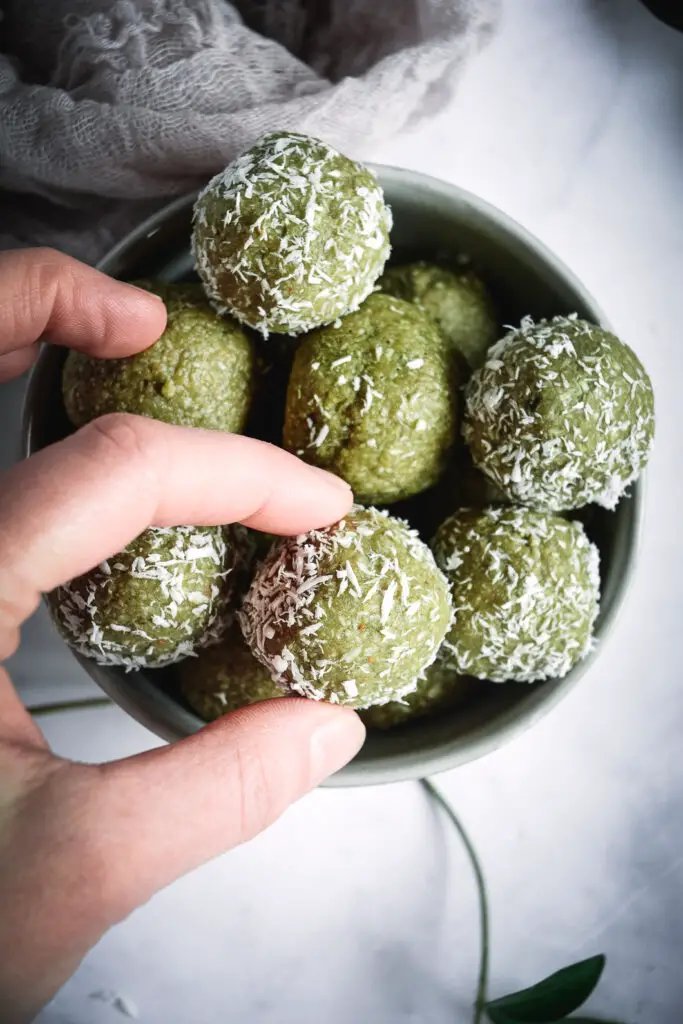 📖 Recipe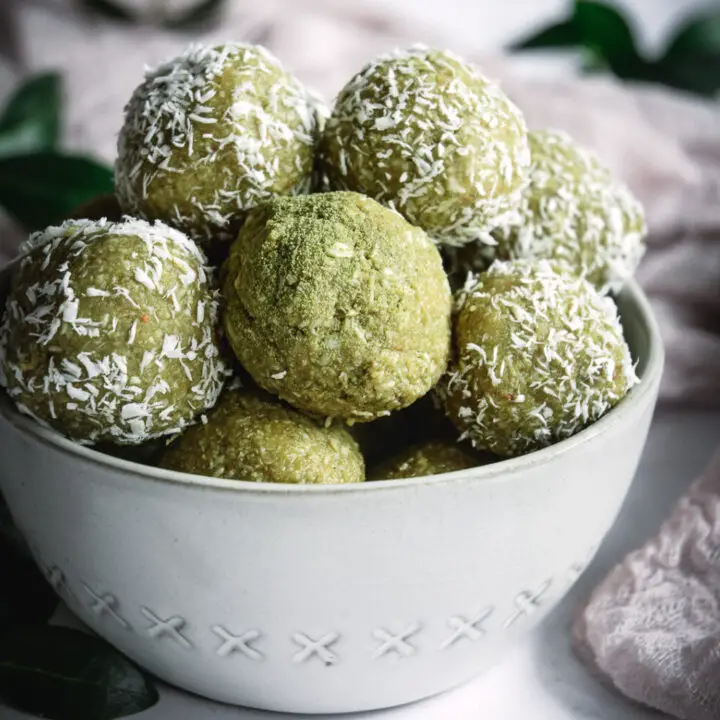 Coconut Cashew Matcha Honey Energy Bites
Total Time:
2 hours
10 minutes
If you want a tasty, calm yet energizing way to improve your mood and vitality, you will love these coconut cashew matcha honey energy bites.
Ingredients
1 ¼ cups shredded coconut plus extra
¼ cup coconut flour
½ cup cashew butter
2 tbsps melted cocoa butter
1 teaspoon matcha plus extra
2 tablespoon matcha infused honey
1 teaspoon vanilla
Instructions
Melt cocoa butter in a small pan over low heat.
Once melted, add all ingredients to a food processor and process for 2 minutes.
Scrape side to ensure all ingredients are well combined.
Chill the mixture in freezer for 5 minutes.
Roll into 1" balls and either dust with additional matcha or roll in additional shreddded coconut.
Refrigerate for 2 hours before eating.
Store in air-tight container in the refrigerator for 1-2 weeks.
Notes
* Not intended for children. Contains caffeine.
Recommended Products
As an Amazon Associate and member of other affiliate programs, I earn from qualifying purchases.