This Coconut Cilantro Vegan Sweet Potato soup is warming, filling and delicious with flavors of masala and coriander. It's perfect any time you need a little comfort.
Jump To
Sunday is my cooking day. I generally try to take a good chunk of the day and focus on making at least one recipe, get a shoot in and maybe if I'm lucky even get some editing and writing in. My plan was to work on a coconut cilantro sweet potato soup. That was until my kids decided to re-write how my day would go. As a parent, I've learned to roll with things as much as I possibly can. I used to get pretty frustrated when things didn't work out as I'd hoped but I'm slowly learning that it will not get me anywhere. 
Something I have been thinking about lately is my sense of self. When I was young, I had this idea of who I was, what I liked and what defined me. Admittedly I also thought it was something unwavering. I suppose it was a naive way of thinking as I now believe that experiences can shape us. I'm not the woman I was 10 years ago and will not be who I am today, 10 years from now. 
One thing that proved my identity to be fluid and far from fixed, was having children. You see, before I was a parent, I didn't really understand kids. Not that I didn't like them, but had no exposure to them. Then came the day I found out I was pregnant. All experiences up until that point just moved past me and while significant in their own way, they just skimmed the surface. The moment I learned I was carrying a human being inside me, my sense of self became rocky. I went through weeks and weeks of not just relentless nausea but constant questioning and wondering how I was supposed to fit into this role that changed me in the blink of an eye. I'm sure if you're a parent, you can probably relate to having experienced something similar. 
Then came the actual parenting part, which is as much humbling as it is trying. Being a parent has forced me to put on hold my selfish tendencies, at least in some respect. As much as I hate admitting it, on most days, I'm at the mercy of my kids. Using rational thought and persuasion does not work on a 18 month old and a 4.5 year old. I'm forced to bend and twist in all sorts of ways in order to get actual adult stuff done. 
But once in a while I'm caught off guard when my son runs for his step stool, parks it next to me and says: "I'm going to help you cook, mama". If only for a brief moment it feels like my adult self and my mother self can coexist and be one. So little hands, busy peeling sweet potatoes, helped to make soup.
The idea for it came from the broth of a curry I'd made. The combination of flavors was spot on. So I decided to take those flavors and turn them into a soup. It's by far one of my favorites and not just because it's sweet potato but because it has coconut milk in it. And if there's one food that brings me to my knees, it is coconut. It's simply spectacular in my book. 
This Coconut Cilantro Sweet Potato Soup is: 
Vegan
Vegetarian
Dairy-free
Gluten and grain-free
Easy to make
Nutritious and delicious 
Full of flavor
Tips for making vegan sweet potato soup:
This recipe is uncomplicated and if you're a spice lover, you're probably already sitting on most of these. All you need for this soup are sweet potatoes, coconut milk, onion, broth, spices, and cilantro. I have most of these ingredients on hand at all times, so it's a great one to whip up when you want a warming lunch. 
What sweet potatoes work best?
Yams and sweet potatoes are often used interchangeably but I find the orange sweet potatoes to be ideal in this recipe. If you can get your hands on Jewel sweet potatoes, even better. I also recommend using organic as they taste significantly better.
Make sure your sweet potatoes are cut into small cubes so they boil quickly and are very soft before blending, otherwise you'll end up with hard pieces.
What's the best coconut milk?
I find full fat to be the best and only coconut milk I use. Lite coconut milk will be watery and won't give you the creamy, rich consistency that works so well in this soup. As far as brands, that's entirely up to you but I find organic with the least amount of additives to be best.
Does the broth matter?
Not really as long as you use a quality broth that's not full of sodium. I like to go low sodium for this sweet potato soup and adjust the salt myself. I find the salt in regular sodium to be far too intense for this soup and cutting into the natural sweetness of the potatoes and coconut too much.
Best toppings
You don't have to use any toppings at all and enjoy this sweet potato soup on its own. But if you wanted to take it up a little, you could use roasted crushed cashews, roasted pumpkin or sunflower seeds or really any other nut or see you enjoy as a crunchy topping for soup.
📖 Recipe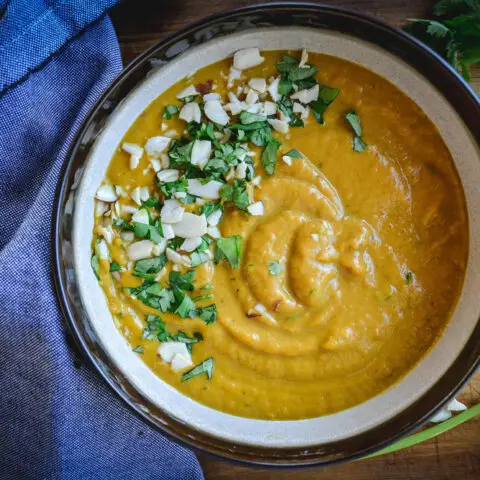 Coconut Cilantro Vegan Sweet Potato Soup
Additional Time:
5 minutes
This Coconut Cilantro Sweet Potato soup is warming, filling and delicious with flavors of masala and coriander. It's perfect any time you need a little comfort.
Ingredients
4 large sweet potatoes, peeled and cubed
1 large onion, chopped
4 cups low sodium broth 
¾ teaspoon salt, divided
¼ teaspoon ground pepper
1 tablespoon fresh cilantro
optional: sliced almonds or cashews
Instructions
1. Preheat a large soup pot on medium heat. Add coconut oil, onion and ¼ teaspoon salt. Sauté until onion is translucent – about 8 minutes.

2. Add sweet potatoes, garam masala, coriander, ginger, turmeric, cumin, remaining ½ teaspoon salt and pepper and cook stirring frequently for 5 minutes.

3. Add broth and bring to a boil. Next reduce heat to low and cook for about 25-30 minutes. 

4. Once sweet potatoes are soft, add coconut milk and chopped cilantro. Let cool for a few minutes before adding to food processor. 

5. Once pureed, you can serve with additional cilantro and almond slices. 
Notes
Be sure to not add piping hot soup to food processor, as it may end up all over.
Nutrition Information:
Yield:

6
Serving Size:

1
Amount Per Serving:
Calories:

423
Total Fat:

26g
Saturated Fat:

16g
Trans Fat:

0g
Unsaturated Fat:

9g
Cholesterol:

5mg
Sodium:

575mg
Carbohydrates:

39g
Fiber:

7g
Sugar:

12g
Protein:

12g