These Coconut Crusted Chicken Tenders with Honey Mustard Sauce are a family favorite. They're low-carb, paleo and super simple to make.
Jump To
When I was pregnant with my son, I read a lot about parenting and I mean a lot. I know, this is not a mommy blog but stick with me. One of my favorite books was "French Children Don't Throw Food". I've always had a thing for French culture, this book was about kids and food so it sounded like I could get something out of it. And I did. I devoured it in days. 
Once finished, I felt like I would be able to raise my child just like the French. I would be a master at it. Well, I was wrong about the master part - a novice at best. But what I did take away is something that has always stuck with me and that's doing away with the term "kid food". I know some people swear by kid food and that's cool - do what works but I've never used it and don't believe that food needs to be anything other than "food".
After all children are not sub-human. They're just little versions of the adults they will someday become. Pains in the ass at times sure, but nonetheless just the same as you and me. So I feel like referring to something as kid food is drippy, isolationist, inflexible...whatever you want to call it.  So I'm proposing we get rid of the term and raise kids to simply eat food...all food. 
And why did I go on this tirade? Well, chicken tenders are generally considered to be kid food but that's so not the case in my house. We all love them just as much without there needing to be an assigned term to them. Just plain chicken tenders.
But the trouble with traditional chicken tenders is that they're typically made with flour and breadcrumbs. And while I make them for my family all the time, I decided this time, I want in and I'm changing things up. It was a last minute decision where I literally just traded out almond flour for regular and coconut flakes for breadcrumbs. I was hesitant thinking the change wouldn't necessarily fly, but to my surprise, my husband dug right into one the second it was out of the frying pan. And once the kids were on board, I knew I had something. 
It's a pretty good substitution when you still want that familiar taste but without the familiar bloating and pain. So check out this quick coconut crusted chicken tender recipe you could easily use for meal prep too. And since it needed a little something extra, I whipped up a quick honey mustard sauce for dipping. 
These Coconut Crusted Chicken Tenders with Honey Mustard Sauce are: 
paleo 
grain-free
gluten-free
dairy-free
a perfect stubstoiute for classic chicken tenders
easy to make
low carb
whole 30 (if you leave out the honey)
What do you need to make Coconut Crusted Chicken Tenders with Honey Mustard Sauce? 
If you love Chicken Tenders, you're going to love this coconut crusted version. It's an excellent alternative to the traditional recipe. For this recipe we'll be using: 
Tips for making coconut-crusted chicken tenders
When it comes to making these coconut-crusted chicken tenders, good ingredients are key. I've tried this recipe with several variations and settled on this one as it gives the best results. 
Should you use coconut flakes or shredded coconut?
They both work for this recipe. The Flakes will give you more texture and the shredded kind will be more like breadcrumbs if you're trying to minimize texture. Children in particular seem to gravitate towards shredded as opposed to flakes. 
Can you use regular almond flour or do you need finely ground?
If all you have on hand is regular almond flour, that's perfectly fine but I find that finely ground coats the chicken tenders a little better - much like regular flour would. In general I try to look for finely ground as it seems to work better in most grain free recipes. 
What's the best oil for frying these chicken tenders?
If I had a choice, I would go with avocado oil if you have it. But as most households don't generally stock a wide array of oils, if you have extra virgin olive oil, that's perfectly fine to use. As is regular olive oil. 
The reason avocado oil works well in general for frying is because its smoke point is quite high. In other words, your oil will not burn when frying. 
📖 Recipe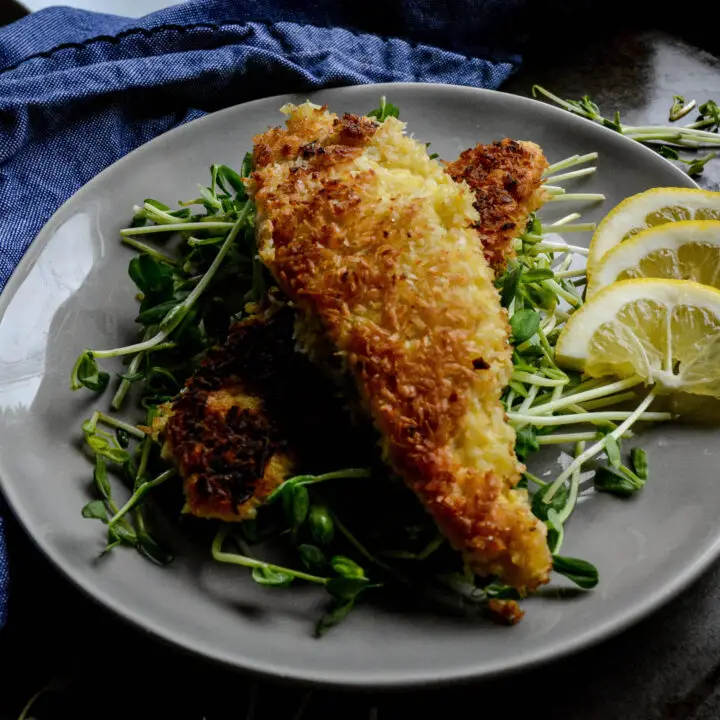 Coconut Crusted Chicken Tenders with Honey Mustard Sauce
These Coconut Crusted Chicken Tenders with Honey Mustard Sauce are a family favorite. They're low carb, paleo and super simple to make.
Ingredients
½-1 cup shredded coconut
½-1 cup fine almond flour
½ teaspoon salt
¼ teaspoon ground pepper
⅛ teaspoon garlic powder
2 eggs, beaten
1.5 lbs chicken tenders
3-4 tablespoon olive or avocado oil
3 tablespoon mayo (home made or store bought)
3 teaspoon Dijon mustard
½ teaspoon organic honey
1 teaspoon red wine vinegar
pinch of salt
optional: pinch of cayenne pepper
Instructions
1. In a small mixing bowl, combine mayo, mustard, garlic powder, vinegar, garlic honey salt and optional - cayenne. Set aside.

2. Next, lay chicken in one layer on top of plastic wrap and lay another layer of wrap on top of the chicken. Beat chicken with tenderizer until it's about ¼″ thick. Season with salt, pepper and garlic powder.

3. Pour almond flour and coconut flakes in separate plates. In a shallow bowl, beat eggs until thoroughly incorporated.

4. Create an assembly line of chicken, almond flour, egg and coconut flakes. Dredge chicken through each respectively and set on a clean plate.

5. Preheat frying pan on medium, add oil and cook chicken on each side for 3-4 minutes until brown and cooked through. You may need to work in batches to avoid overcrowding the pan.