This is a paid partnership with Casablanca Market. All opinions are my own.
Moroccan Chickpea Tagine with Preserved Lemons is a light stew that's perfect for any time of year. It's sweet, salty, aromatic, and mouthwatering!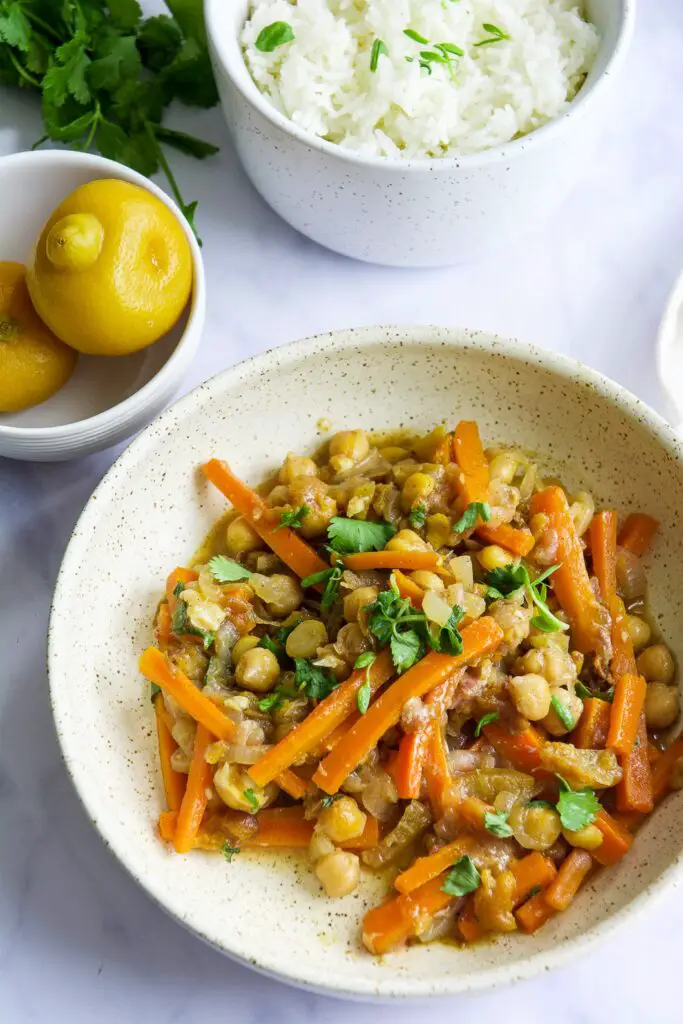 Jump To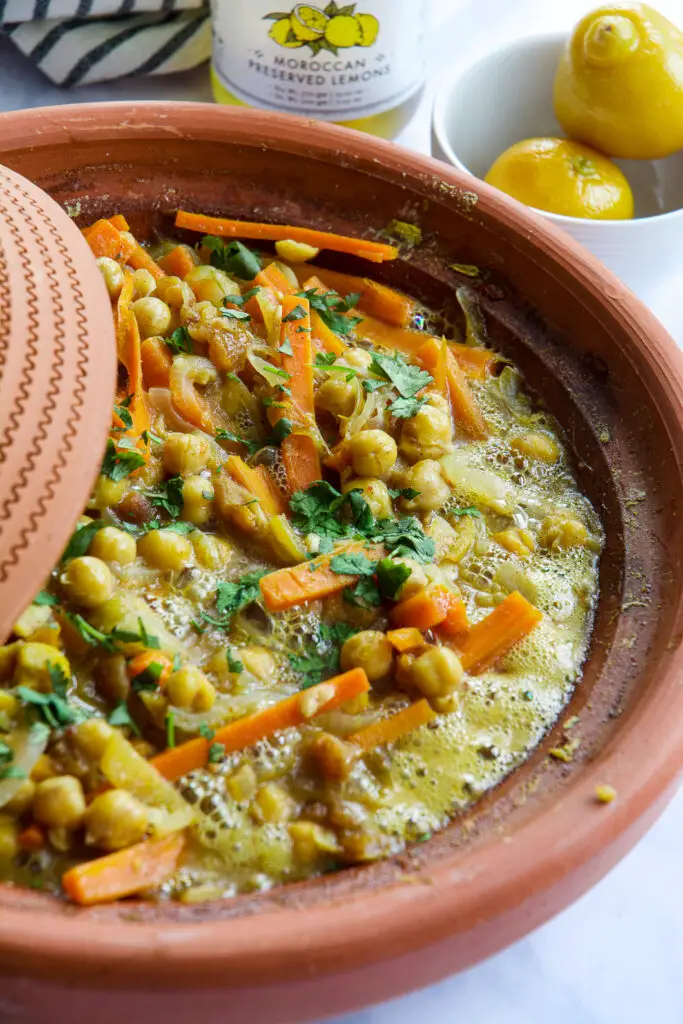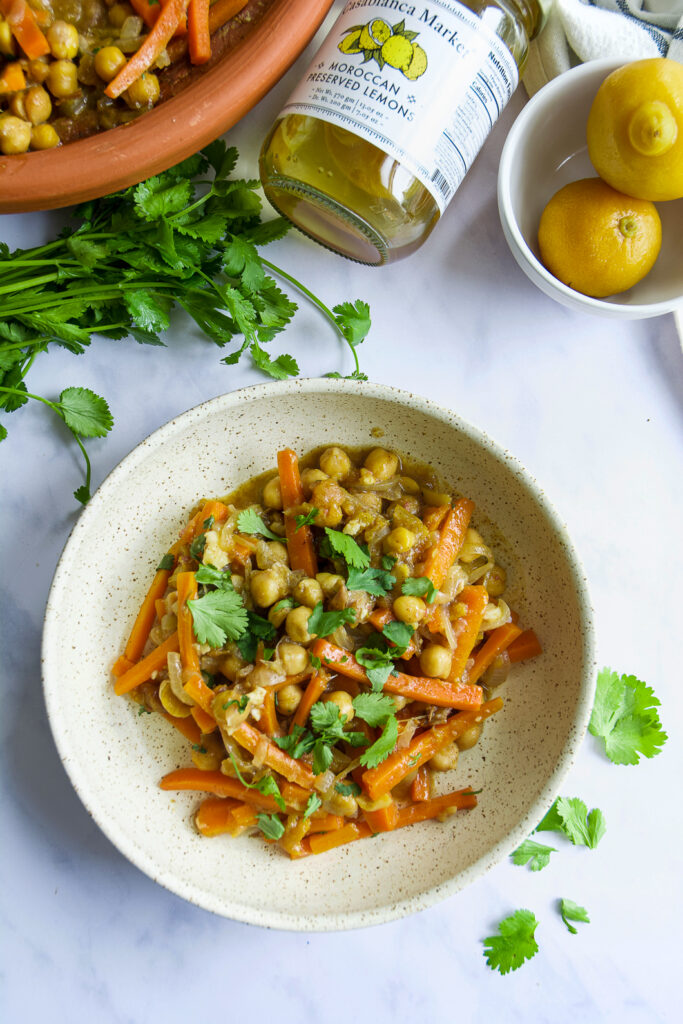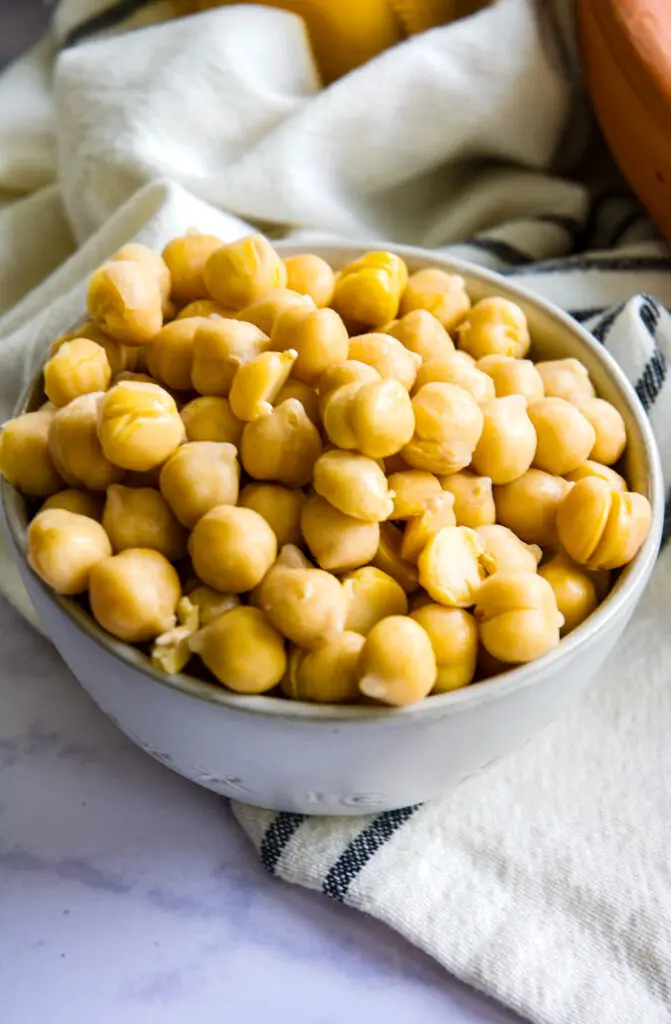 For the last few months I've been on autopilot; going through the motions and feeling rather uninspired and dull. In times of stress, some people become incredibly creative and innovative but for me, creativity was just out of reach. That is until a package from Casablanca Market showed up at my doorstep containing a clay tagine pot and a jar of preserved lemons. Now at first, I was a little intimidated because I had no idea what to do with a tagine pot and never even tasted preserved lemons.
But things quickly changed the moment I put a tiny slice of preserved lemon in my mouth. It was floral, bright, intriguing and unlike anything I had tasted before. And no, it wasn't a classic lemon taste - it was so much more. So I imagined Moroccan flavors infused with tender vegetables, in a sweet, salty, tangy and aromatic sauce. A light and comforting but certainly not heavy Moroccan chickpea tagine. A perfect dish for spring, summer, and colder seasons alike.
The next challenge was figuring out how to cook in a Tagine! Luckily the good people at Casablanca Market included prep instructions which were incredibly easy to follow (I'll take you through the steps as well).
And as far as cooking in the tagine, well that part was surprisingly easy too. It felt exotic, different and a complete change from my normal ways. It was refreshing and inspiring.
But if you're intimidated by using a tagine (which you shouldn't be), I'm also going to include a stove-top option you can use. So let's get right to talking about this Moroccan Chickpea Tagine with Preserved lemons in a traditional tagine.
This Moroccan Chickpea Tagine with Preserved Lemons is:
Vegan
Dairy-free
Gluten and Grain-free
Vegetarian
Easy to prepare
Full of antioxidant rich spices
Flavorful and delicious
Preparing the Tagine
If you've never cooked in a tagine pot, you're not alone. I was right there just a few weeks ago. I had seen them, was fascinated by them but also compeltely intimidated. But not to worry, I can take you through the process.
Step 1. Soaking
Remove the tagine from the package and fully submerge in water for 12 hours.
Step 2. Air-drying
Let the tagine dry in open air for 12-24 hours.
Step 3. Cooking
Now that you're ready to cook, take it slow. Start the tagine on low heat and gradually increase heat to medium. Keep the temperature of the tagine consistent throughout the cooking process. Remember a tagine is meant to cook slower than a regular pot.
Tip: Do not add cold water to a hot tagine as the temperatures can be shocking and can result in cracks. Also, make sure you don't leave your tagine submerged in soapy water.
Now that we got the preparing process down, let's move on to making our Moroccan Chickpea Tagine with Preserved Lemons.
FAQs, Tips and Substitutions
Chickpeas
Whether you're using soaked and cooked or canned, you'll need either 1 can or approximately 2 cups of cooked chickpeas. If using canned, I recommend using low sodium.
Carrots
Since carrots are our main vegetable, I'd recommend using fresh, organic carrots you can. They're sweet and flavorful. You'll need 4 large carrots or 6 medium.
Onion
If you're able to find sweet onion, I prefer it in this dish but if you're only able to find yellow, that will be perfectly fine.
Preserved Lemons
These preserved lemons from Casablanca Market are the most unexpectedly flavorful ingredient I've ever used. This stew wouldn't be what it is without the preserved lemons. They add brightness and depth of flavor that's unparalleled.
Spices (Ginger, Cumin, Coriander, Cinnamon)
Classic Moroccan spices are essential in this recipe. Ground ginger, ground cumin, coriander and cinnamon add ample flavor to the sauce, but without weighing it down.
Garlic
I like smashing the garlic for this recipe so it really infuses the stew as opposed to chopping it finely. If you don't love garlic, feel free to pull it out at the end to avoid biting into large bites or alternatively, chop it finely if you wish.
Broth
To keep this dish vegan, you can use vegetable broth but if you don't have a preference, chicken broth works as well. My recommendation is to use low sodium regardless of which one you choose to use.
Dates and Apricots
This is where our sauce becomes sweet and intense due to the natural sugars found in both dates and apricots. Look for unsulfured apricots so you're only getting the actual fruit and no artificial additives. I use Deglet Noor dates for this recipe but if Medjool is what you prefer, that works beautifully too.
Tapioca Flour
This is not a requirement but in order to thicken the sauce and have a stew-like consistency, I add 1 tablespoon of tapioca flour to get just the right consistency. If you can't find tapioca flour, arrowroot powder will work fine too or also corn starch. Essentially any thickening agent of your choice will do.
Cilantro
I can't live without it. But I know not everyone feels this way! Feel free to go for fresh parsley if cilantro doesn't work for you.
Making Moroccan Chickpea Tagine in Tagine pot
Now we get to the fun part. Cooking in the tagine. If you're feeling intimidated don't be! Once you've seasoned your tagine (which means nothing more than soaking and drying it as mentioned in the above instructions), you're ready to cook.
You essentially add all ingredients, aside from chickpeas and cilantro to the tagine, put the lid on and let everything cook for 45 minutes. It's really that simple.
Making Moroccan Chickpea Tagine in dutch oven or regular pot
If you want to start slowly, you can experiment with this recipe in a dutch oven or regular pot.
In this case, not a whole lot would change, aside from cooking the onions first until soft. Adding the carrots and letting them soften as well, and lastly broth and spices and simmering the tagine for about 20-30 minutes. The stew will taste similarly but I do have to say, there is a very distinct richness the food takes on when cooking in a tagine pot. Regardless of which one you choose, I will have the instructions in the recipe card!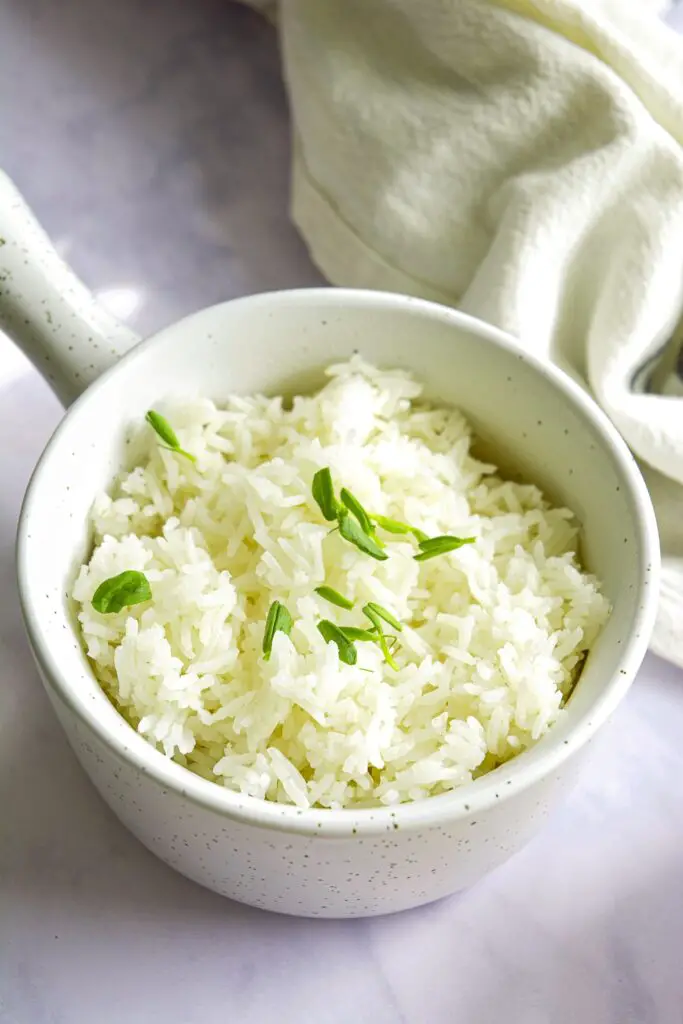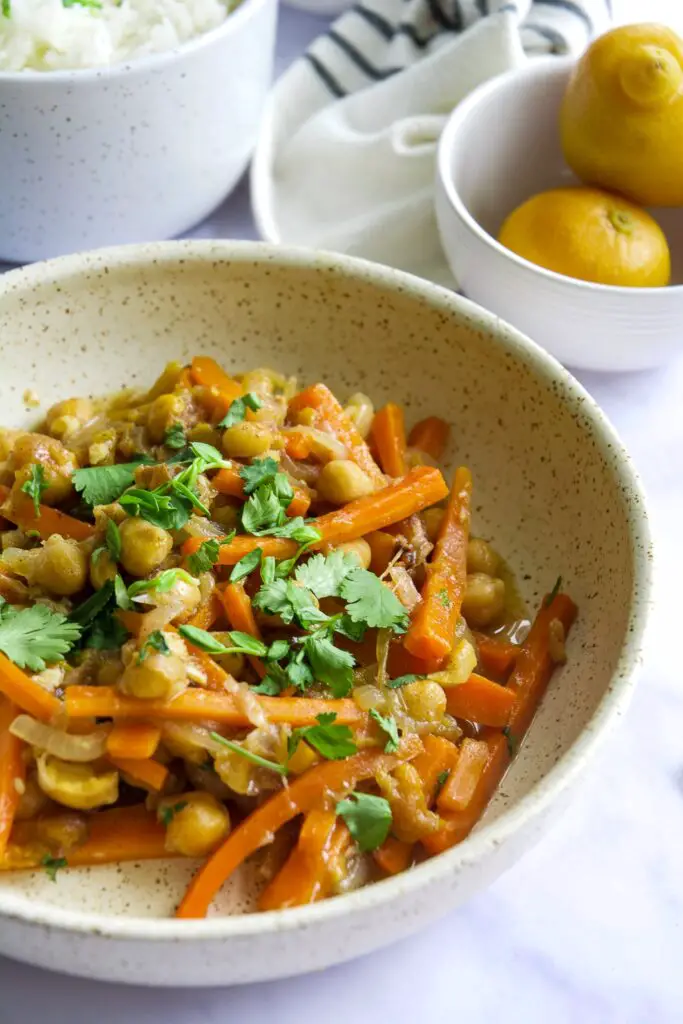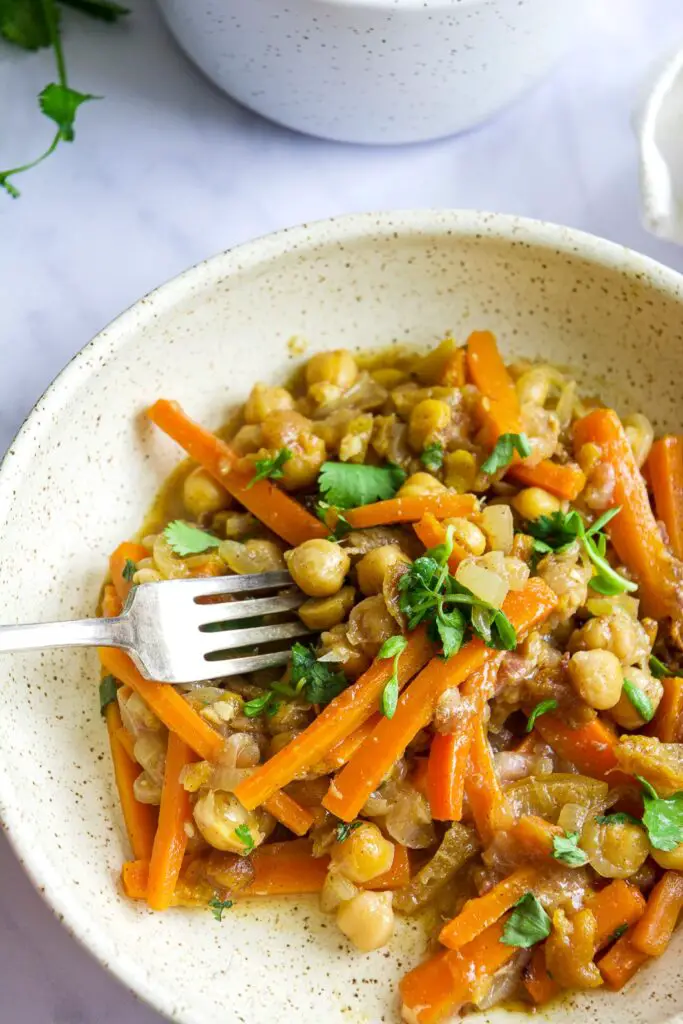 📖 Recipe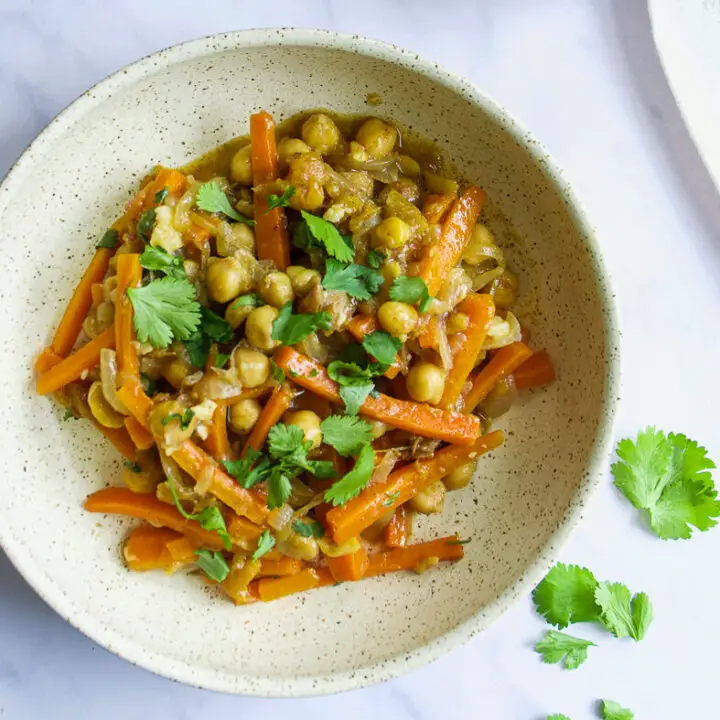 Moroccan Chickpea Tagine with Preserved Lemons
Moroccan Chickpea Tagine with Preserved Lemons is a light stew that's perfect for any time of year. It's sweet, aromatic and mouthwatering!
Ingredients
2 tablespoon extra virgin olive oil 
1 large onion, sliced 
1 can low sodium chickpeas, drained
4 large carrots
2 cloves garlic, smashed 
1 teaspoon ground cumin
1 teaspoon ground coriander
½ teaspoon ground cinnamon 
½ teaspoon ground ginger
2 cups vegetable or chicken broth
¼ teaspoon salt
1 tablespoon tapioca flour 
¼ cup chopped dried dates
¼ chopped dried apricots 
optional: 2 tablespoon chopped cilantro or parsley 
Instructions
After seasoning Tagine, preheat Tagine on low heat. Or if you're cooking the stew in a pot, preheat pot.
Increase heat to medium and add olive oil and onion and cook for 5 minutes. Add the rest of the ingredients aside from chickpeas, tapioca and cilantro, cover with tagine lid and cook for 30 minutes, stirring occasionally.
If cooking in a pot, cook for about 20 minutes or until carrots are soft.
Add chickpeas and cook for another 10-15 minutes.
Lastly, add tapioca and cilantro and stir well.
Serve right away with additional cilantro over cooked rice.
Recommended Products
As an Amazon Associate and member of other affiliate programs, I earn from qualifying purchases.
Nutrition Information:
Yield:

4
Serving Size:

1
Amount Per Serving:
Calories:

258
Total Fat:

10g
Saturated Fat:

1g
Trans Fat:

0g
Unsaturated Fat:

8g
Cholesterol:

1mg
Sodium:

514mg
Carbohydrates:

38g
Fiber:

11g
Sugar:

14g
Protein:

9g