This is a paid partnership with Casablanca Market. All opinions are my own.
Spaghetti with Olive Tapenade, Tomatoes and Herbs is a quick dinner you can have on the table in 10 minutes. It's simple to make, vegan, grain-free, and delicious.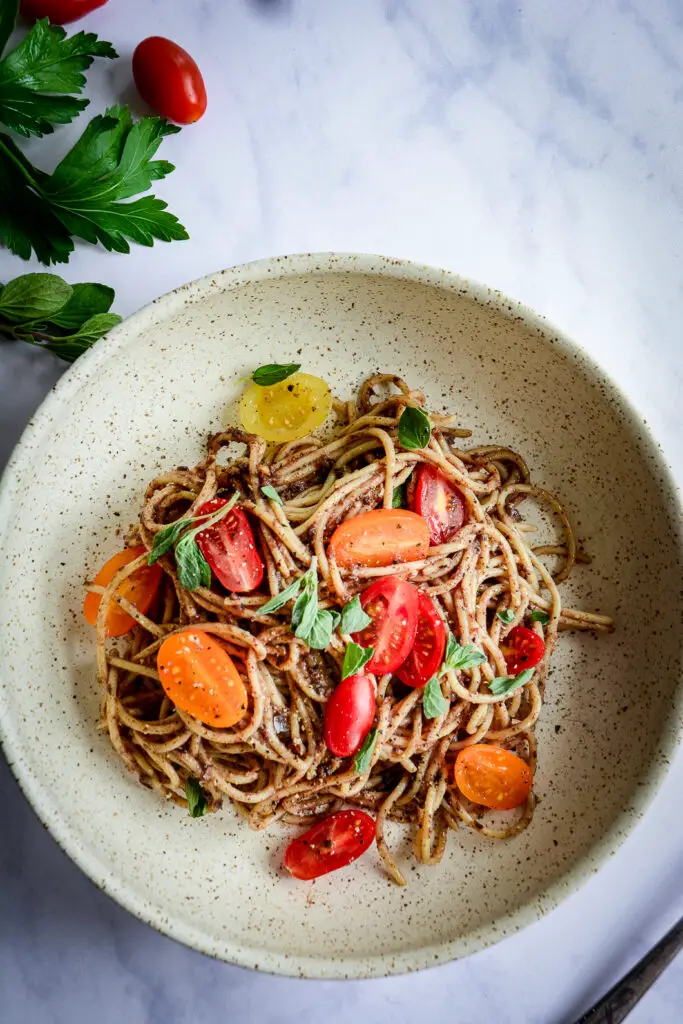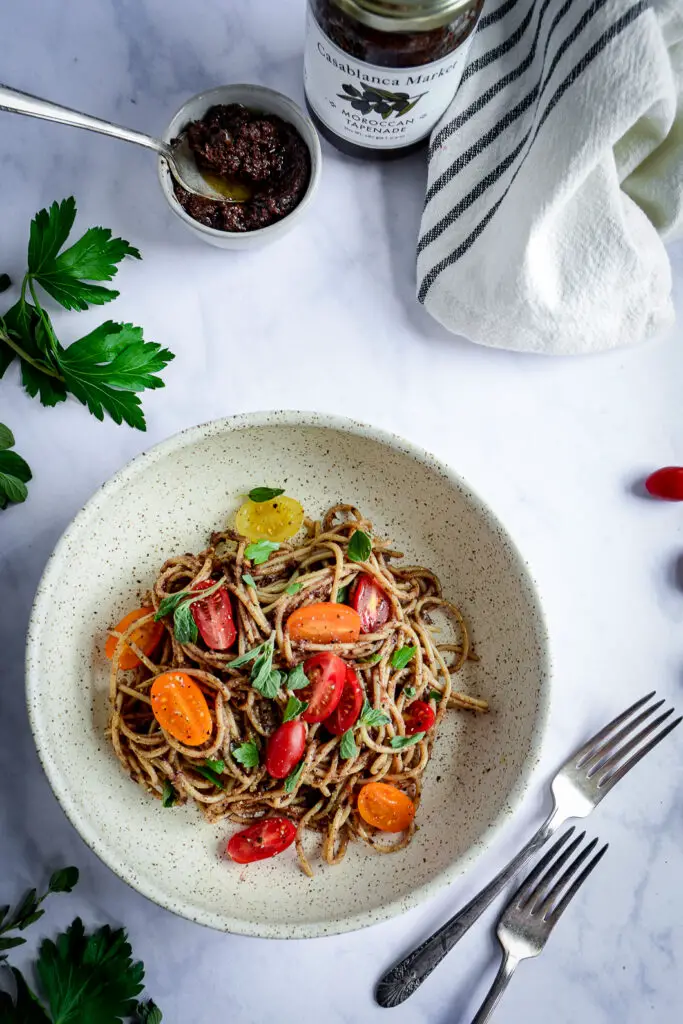 Jump To
Once in a while, I stumble upon an ingredient that surprises me with its versatility, taste, and ease. This was certainly the case for the Moroccan Tapenade I recently discovered from Casablanca Market.
Casablanca Market works directly with artisans in Morocco, providing them a stable market place, fair labor and a good source of income. This instantly attracted me to Casablanca Market because in a world where everything is mass-produced, holding an authentic product or food in my hands is incomparable.
And tasting an authentic Moroccan food transports me to another time and place - if only for a little while. And if you're suddenly thinking of Humphrey Bogart and Ingrid Bergman, I don't blame you! I am too. But off topic...
So, given everything that's happening around us and my naturally anxious nature, I've been on a rollercoaster ride of creativity and also lack thereof. With some days being better than others. I go through phases where I'm eager to spend copious amounts of time in the kitchen. Then others, where I'd rather just sit on my front porch with a glass of wine, watching my children tumble in the grass.
But with a jar of Moroccan Tapenade I can have a meal in under 10 minutes. Truly, this tapenade creates the most delicious salty and flavor-packed base for this sauce. I simply toss gluten-free spaghetti with the Moroccan tapenade sauce, add a simple almond crumble to it, some baby tomatoes and herbs. Et Voila! That's it.
So let's get to the details, tips and making of this simple and delicious Moroccan Tapenade spaghetti with Tomatoes and Herbs.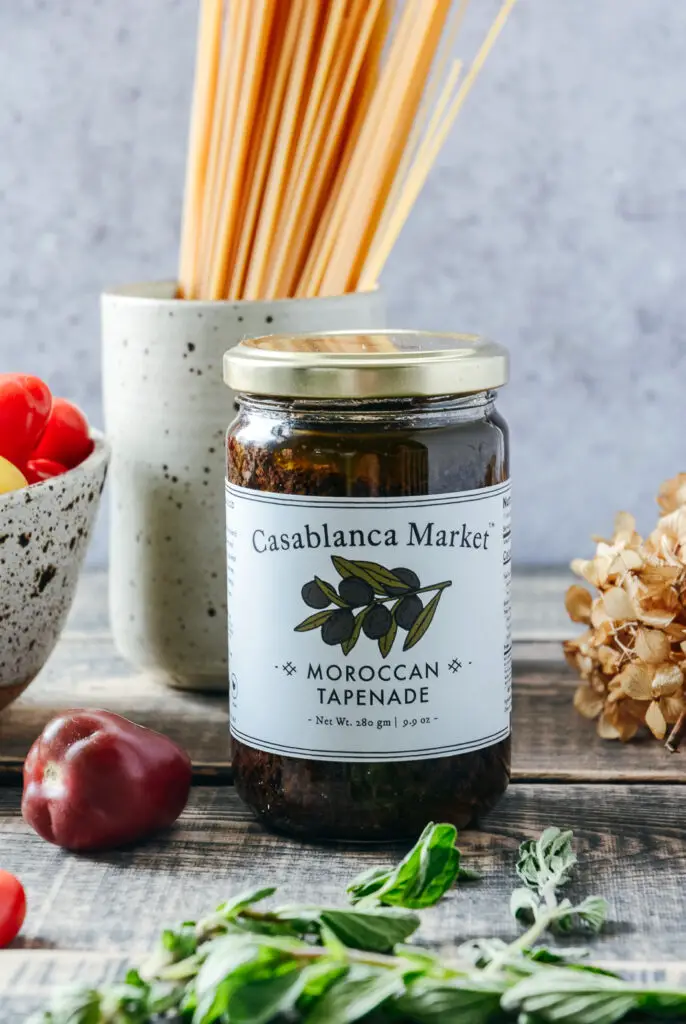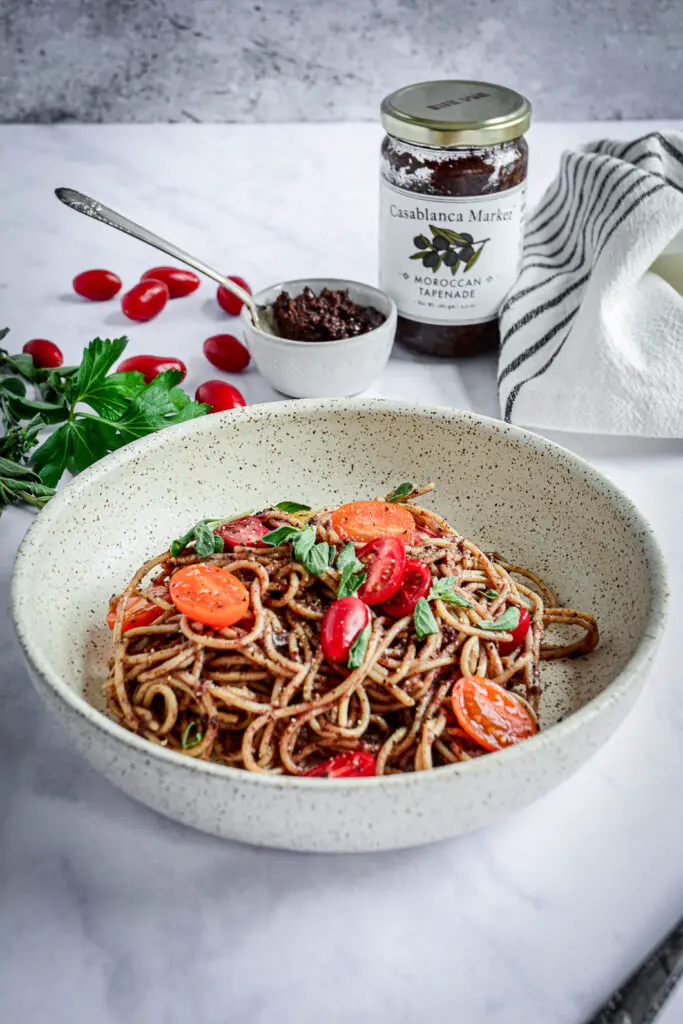 This Moroccan Tapenade Spaghetti with Tomatoes and Herbs is:
Guten-free
Grain-free
Vegan
Vegetarian
Dairy-free
Ready in 10 minutes
Simple to make
Delicious and satisfying
Ingredients for Moroccan Tapenade Spaghetti with Tomatoes and Herbs?
This spaghetti is incredibly simple and requires just a few staple ingredients. For this dish you will simply need:
Almonds
Salt
Extra Virgin Olive Oil
Dried Oregano
Gluten-Free, grain-Free or regular spaghetti
Cherry or Grape Tomatoes
Fresh Italian Parsley (optional)
Fresh Oregano (optional)
If you have fresh herbs and tomatoes, they work perfectly with this dish but they're not required. The pasta is spaghetti is delicious on its own.
What equipment do you need for making Moroccan Tapenade Spaghetti with Tomatoes and Herbs?
Other than a large pot for boiling the spaghetti, you just need either a high-speed blender or food processor for finely grinding the almonds.
For the Almond Crumble
Making Almond Crumble is incredibly easy and versatile. All you need is ¼ toasted almonds - finely ground, ¼ teaspoon salt (or to taste) and 1 teaspoon olive oil. Mix everything in a small bowl and you're set.
How to make Moroccan Tapenade Spaghetti with Tomatoes and Herbs
And here comes the easy part. The only cooking this dish requires is boiling the spaghetti. And while the spaghetti cooks, you'll simply toss together the Moroccan Tapenade, Olive oil and dried oregano in a small bowl. When finished, you're going to be making your almond crumble in another and set aside.
Once the pasta has finished cooking you simply toss everything together, add tomatoes and herbs and you have a delicious tasty meal that's bursting with flavor.
Tips and substitutions
Tapenade - you can find the tapenade at Casablanca Market. It is the richest, most delightful tapenade I've tried.
Spaghetti - This dish can be customized to work for those who are following a gluten-free as well as a grain-free diet by simply using gluten or grain-free pasta.
Almonds - If you don't have almonds to make the almond crumble you can use cashews or feel free to skip it entirely. But I like the earthy rich flavor the toasted almonds add to the sauce.
Tomatoes and Herbs - This sauce is perfect on its own but I find adding tomatoes and fresh herbs to finish it beautifully. If you don't have them, however, it's perfectly fine. If you're not a fan of tomatoes, a good alternative would be strips of roasted red peppers or really any other vegetable that you like.
If you don't have fresh oregano or parsley, feel free to use dried. Dried oregano is particularly good so feel free to add a good pinch if you don't have fresh on hand.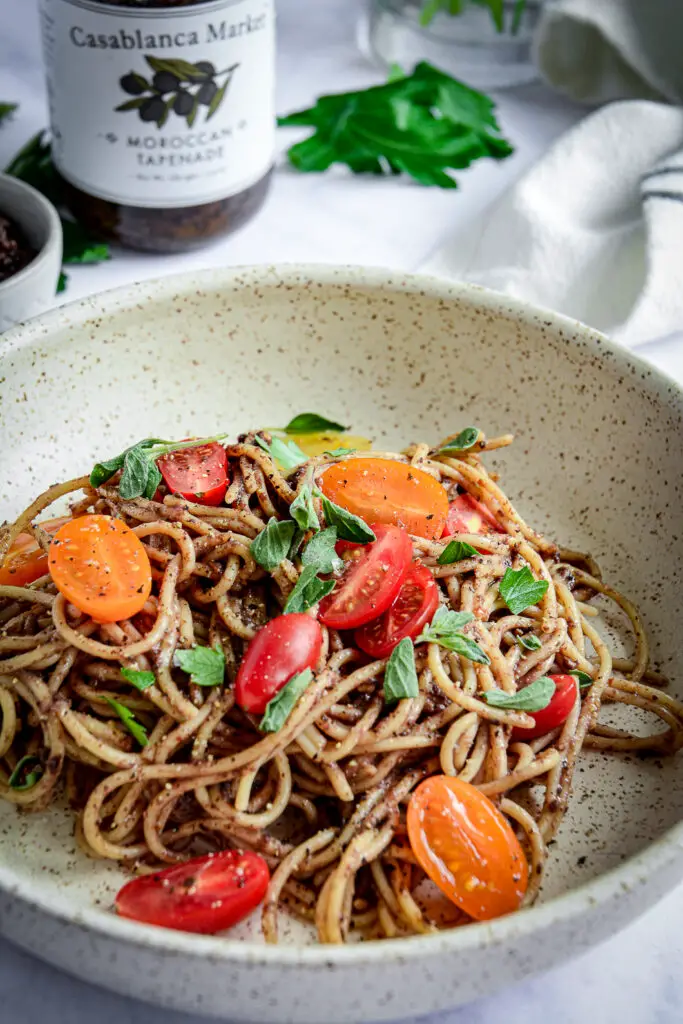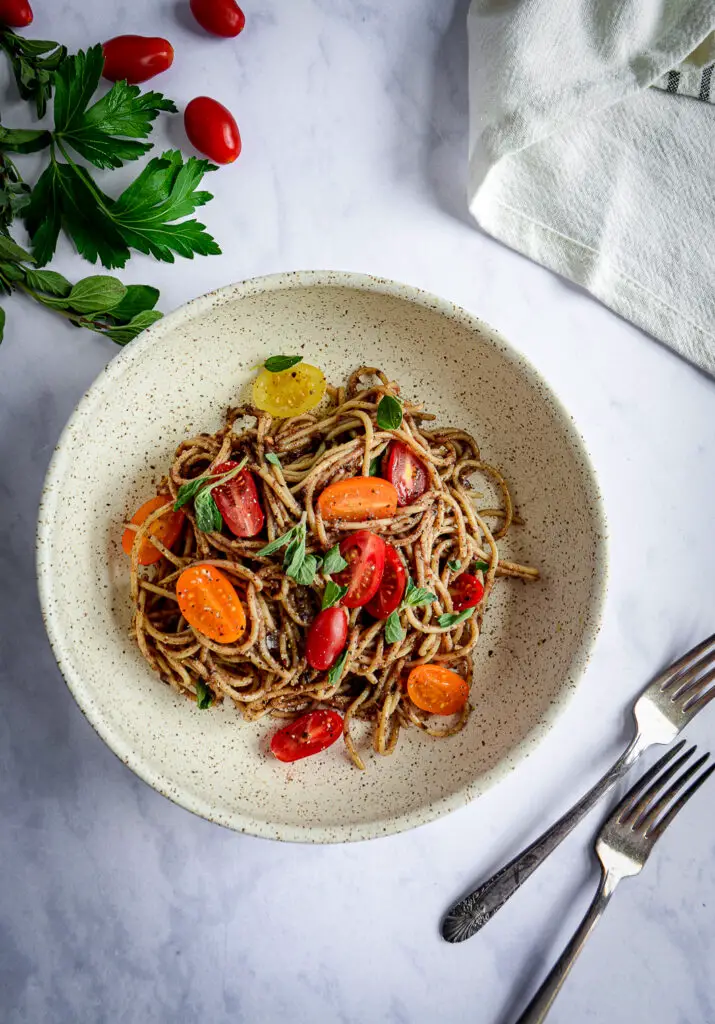 📖 Recipe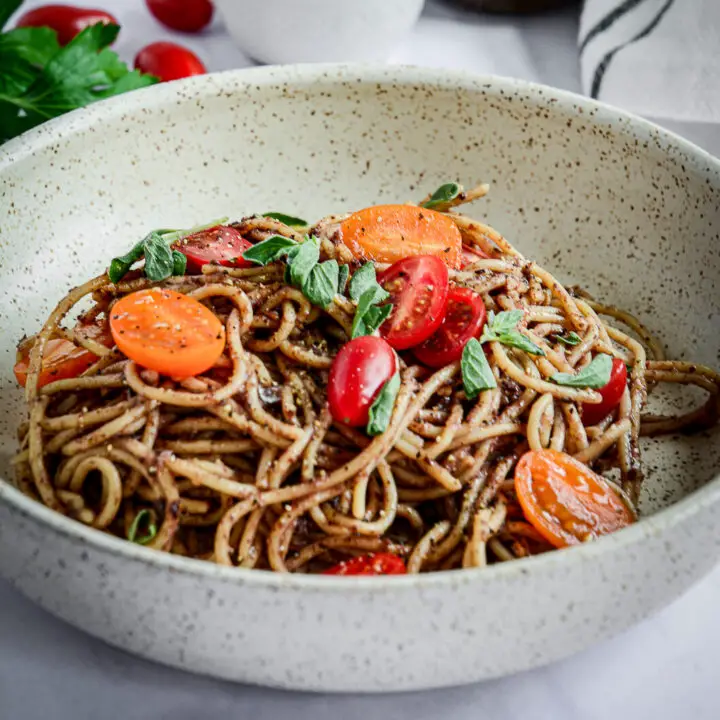 Spaghetti with Olive Tapenade, Tomatoes, and Herbs
Moroccan Tapenade Spaghetti with Tomatoes and Herbs is a quick dinner you can have on the table in 10 minutes. It's simple to make, vegan, grain-free and delicious.
Ingredients
2 tablespoon Extra Virgin Olive Oil + 1 tsp
½ teaspoon Dried Oregano
¼ cup toasted Almonds
1 ¼ teaspoon salt, divided
1 cup halved baby tomatoes 
fresh parsley and oregano (optional) 
8 oz grain-free or gluten-free spaghetti 
Instructions
Bring a large pot of water to boil
Add 1 teaspoon salt, spaghetti and cook according to package instructions
Meanwhile, in a food processor or blender, add almonds and process until they're finely ground. Add to bowl along with ¼ teaspoon salt and 1 teaspoon olive oil.
Combine remaining olive oil, tapenade and dried oregano and stir well.
When pasta has finished cooking, toss together spaghetti, tapenade sauce, and almond crumble. Finish with tomatoes and optional herbs.
Recommended Products
As an Amazon Associate and member of other affiliate programs, I earn from qualifying purchases.
Nutrition Information:
Yield:

4
Serving Size:

1
Amount Per Serving:
Calories:

165
Total Fat:

9g
Saturated Fat:

1g
Trans Fat:

0g
Unsaturated Fat:

7g
Cholesterol:

0mg
Sodium:

832mg
Carbohydrates:

20g
Fiber:

5g
Sugar:

2g
Protein:

4g