Some foods simply belong together. This one-pan Greek lemon chicken with baby potatoes dish is easy to make and requires hardly any cleanup. Everything is transferred from the stovetop to the oven and you will end up with moist, tender chicken and flavorful lemony potatoes.
Jump To
A few years ago my father mentioned that I'm 1/16th Greek. He currently resides in Romania but is completely enthralled with Greece and its culture. So much so that he used my grandmother's maiden name (which is Greek) on one of his poetry books and does so for most of his writing. He visits Greece as much as possible and likes to share all his adventures and stories through photos, writing, or in person. I'm certain that given the opportunity, he would live there permanently.
I see a lot of similarities between Greeks and Romanians. They're often very honest (even if you don't like it), loud, talkative, passionate, they love to sing, dance, and are all about their food and wine. Though I never had an obsession with Greece to the extent of my father's, I can relate on a food level and wine level.
On his side of the family, I grew up eating food that was heavily steeped in traditional Greek cooking. My grandmother, a culinary whiz, would spend a good chunk of her day in the kitchen whipping up delicious stews that left the tiny apartment smelling divine. Though meat was often a challenge to obtain, my grandparents had no problem waiting in line for hours only to return home and cook for several more. It's just how things were done.
Two weeks ago, while doing my weekly shopping, I spotted some beautiful potted thyme. I had no idea what I would make with it but decided it was coming home with me regardless and I would figure it out later. But while watching an episode of Parts Unknown about the Greek Isles several days later, I had my answer. I would without a doubt whip up something Greek-inspired - an homage to the 16th of my heritage.
I wanted something simple yet flavorful, involving lemon, oregano, and obviously thyme. And also something that required little cleanup. The answer was a one-pan Greek lemon chicken with baby potatoes. The flavors of thyme and oregano take me right back to my grandparent's little kitchen.
Tips for making the perfect Greek lemon chicken with baby potatoes
There are a few simple steps you can take to make sure this dish turns out perfectly every single time. While simple to make, the chicken can quickly dry.
The best chicken for Greek lemon chicken
I like using chicken thighs with skin on them as the skin will add a lot of extra flavor and moisture to the chicken. Skinless chicken thighs will work just as well but you will not get that crispy skin you're after. I've made it with both so if you're unable to find thighs with skin on, no problem - go for skinless.
Marinate chicken for at least 1 hour
I've read that marinating any meat particularly chicken for extended periods of time isn't necessary. I agree but also disagree with this statement. I like to give myself whenever possible at least one hour to let the flavors sit with the chicken. They infuse under the skin, making it particularly crispy and delicious. If I have more time to work with it, I don't have a problem letting the meat sit with the flavors.
Cooking chicken in a cast iron skillet
I love cooking in cast iron. I'm a firm believer that it enhances nearly every food that's cooked in it. It adds that certain je ne sais quoi.
Make sure your skillet is nice and hot prior to adding chicken, which should go in the skin side down first and get a nice sizzle.
If you don't have a cast iron pan yet, I highly recommend it. It's without a doubt one of the best investments I've ever made and use it nearly every day. It's also ideal for transferring the cooking process from stove-top to oven. You may need a pair of strong hands to move it but it's most certainly worth the weight.
Baby potatoes make a difference
If possible, always look for fresh, organic baby potatoes. They will get a nice crispy outer layer from the lemon, oil and herbs, while the center will remain nice and creamy. Baby potatoes don't need peeling beforehand, which makes them ideal candidates for this greek lemon chicken dish. Nearly every market sells baby potatoes so you shouldn't have any trouble finding them.
Dried or fresh oregano?
This is entirely up to you. Oregano is one of the healthiest herbs and I have an abundant stash of dried oregano in my house at all times. Fresh is a bit harder to come by as it's not always available at my local market. But if you have fresh oregano and wish to use that instead of dried, go for it. The ratio will be 6 teaspoon fresh instead of the 2 dried.
📖 Recipe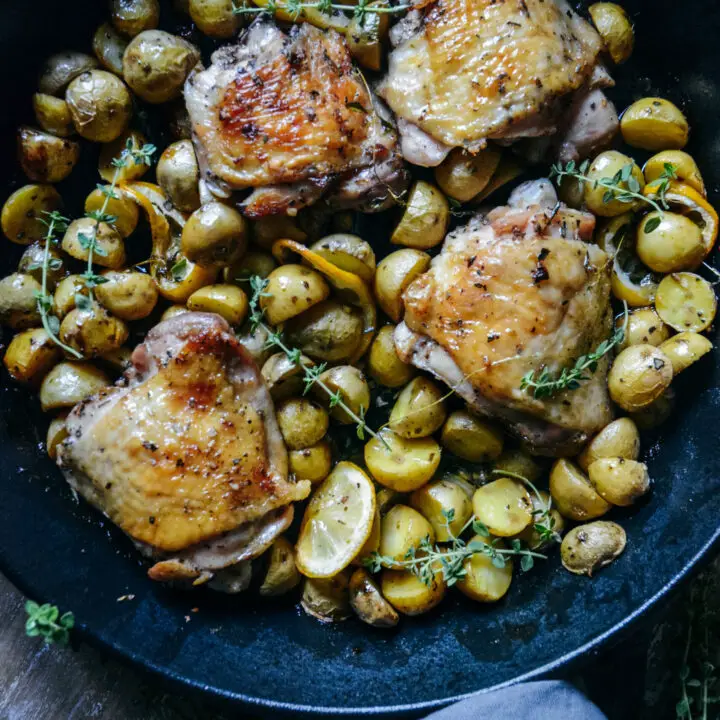 One Pan Greek Lemon Chicken with Baby Potatoes
Additional Time:
50 minutes
Total Time:
1 hour
40 minutes
Some foods simply belong together. This one pan Greek lemon chicken with baby potatoes dish is easy to make and requires hardly any clean up. Everything is transferred from stove top to oven and you will end up with moist, tender chicken and flavorful lemony potatoes.
Ingredients
4-5 fresh sprigs of thyme
1 tablespoon lemon juice
2 teaspoon dried oregano (or 6 teaspoon fresh)
2 cloves garlic, minced
1 ¼ teaspoon salt divided
¼ teaspoon freshly ground pepper
¼ cup olive oil + 1 tbsp
5 lemon slices
1.5 lbs chicken thighs
1 lb baby potatoes cut in half
Instructions
In container or bag, combine lemon juice, oregano, minced garlic, ¾ teaspoon salt, ¼ cup olive oil pepper and chicken and mix well. Place in refrigerator and marinate for at least one hour or up to 12 hours.
Preheat oven to 400 degrees.
In cast iron pan heat 1 tablespoon olive oil. Remove chicken from bag and add to pan, reserving the marinade. Cook chicken on both sides for 3 minutes.
Meanwhile, add potatoes to marinade bag along with ½ teaspoon salt, mix well and let sit until chicken has finished searing.
Add potatoes and remaining marinade to chicken and arrange them evenly around chicken thighs. Add thyme sprigs and nestle lemon slices between chicken and potatoes. Cover pan with a piece of foil to keep chicken moist.
Add to preheated oven and let roast for 40 minutes giving potatoes a stir once halfway through cooking. Remove foil for the last 5-10 minutes of cooking.
Drizzle with additional olive oil and a squeeze of lemon juice and salt and pepper to taste. Serve with a side of crunchy green beans.
Nutrition Information:
Yield:

4
Serving Size:

1
Amount Per Serving:
Calories:

507
Total Fat:

27g
Saturated Fat:

8g
Trans Fat:

0g
Unsaturated Fat:

19g
Cholesterol:

218mg
Sodium:

1036mg
Carbohydrates:

26g
Fiber:

3g
Sugar:

2g
Protein:

43g