Paleo Cardamom carrot muffins are grain free, bursting with flavor, nutritious, and sweetened only with maple syrup.
Jump To
I'm often astounded at how much there is to learn about cooking and how I've only just begun scratching the surface. So many ingredients to explore and numerous spices still yet to be tasted. Admittedly it's a slow process. But cooking with new ingredients is an exploration. Not everything will turn out but it's in the process where the fun and frustration lie.
It took me some time to come around to cardamom. If you've not ventured into the cardamom world yet, I highly recommend you do. Before I started getting fairly serious about cooking, I had no idea what it was about. It sounded intimidating and certainly not a spice I thought I'd be using in my cooking. 
Well, I was wrong. Cardamom is a surprisingly versatile spice and works in sweet and savory dishes. Its smell and taste sets it apart in the spice world. My first attempt at playing around with cardamom was curry – an obvious one. I was shocked at just how distinct and flavorful the sauce was. It was one of those: "why didn't I know about this sooner?" moments.
Since then I experimented with it a handful of times and was burning to use it in a new recipe. With a surplus of almond and coconut flours, I decided maybe some baking would be in order. 
I rummaged through the cabinets and fridge in hopes that something would inspire me. While tearing things out and shoving them back in, I caught a glimpse of a carrot so I it dawned on me - cardamom carrot muffins. Everyone loves muffins, so why not? They're perfect as breakfast food or snack. I figured carrots would keep the batter nice and moist and add some texture as well. Plus, vegetables in baked goods are always a good idea.
It worked beautifully with the cardamom and while I was at it, decided some raisins might work well too. So that's how cardamom carrot muffins were born and quickly became a favorite treat. 
Chances are, if you're following a gluten-free/paleo lifestyle you likely have all these ingredients already on hand. Coconut and almond flour are absolute staples in my house and I always have them in my pantry. 
These Paleo Cardamom Carrot Muffins are: 
Grain-free
Paleo
Gluten-free
Dairy-free
Refined sugar-free
Sweetened with only maple syrup
Healthy 
Perfect for little mouths
What do you need to make Paleo Cardamom Carrot Muffins? 
To make these flavorful muffins you need only a few fresh ingredients and the rest, pantry staples you likely already have in your gluten-free, dairy-free pantry. 
Grated Carrots
Eggs
Plant milk 
Top Tips + Substitutions
Whether you're a regular paleo baker or new to it, I highly recommend keeping a pantry stocked with various flours you can have on hand, as well as coconut oil, maple syrup, and spices. 
Do You Need Cardamom?
The answer is yes and no. Yes because cardamom plays a big role in providing depth and flavor to the muffins. But if for whatever reason you cannot find cardamom, you can double up on the cinnamon. These muffins are flavorful and the spices pair very well with the moist carrot. 
Can You Use A Substitute For Carrots?
If you don't have carrots on hand, a cup of shredded zucchini will work too. Just be sure to squeeze out excess moisture. But ideally carrots will really be the best option. They also add a nice natural sweetness which zucchini does not. 
Why Bring Everything To Room Temperature?
If you don't have a few hours to let your eggs come to room temperature, add the eggs to a bowl filled with warm water (not hot) and the eggs will come to room temperature. Same for maple syrup and milk. You could microwave those for a few seconds to warm them up some. I also recommend letting your carrots come to room temperature as well. This way everything incorporates much easier. 
Equipment Needed
📖 Recipe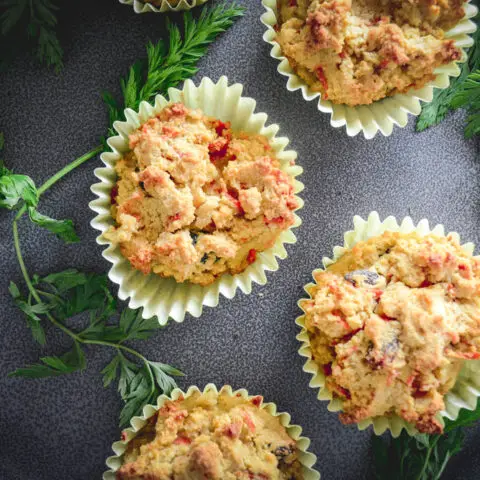 Paleo Cardamom Carrot Muffins
Paleo Cardamom carrot muffins are grain free, bursting with flavor, nutritious, and sweetened only with maple syrup.
Ingredients
1 cup almond flour
½ cup coconut flour
5 tablespoon melted coconut oil
½ teaspoon cinnamon
½ teaspoon cardamom
4 organic eggs at room temperature
1 cup organic shredded carrots (about 2 medium)
¼ cup unsweetened almond or cashew milk
1 teaspoon vanilla extract
¼ cup maple syrup
½ teaspoon baking soda
½ teaspoon baking powder
¼ teaspoon salt
2 tablespoon organic raisins
Instructions
1. Preheat oven to 350 degrees. 
2. Combine all ingredients in bowl and mix well. You can use a whisk but I found that just using a spatula and mixing everything well is enough. 
3. Line muffin tin with liners and pour in batter ¾ of the way full. Bake for 25 minutes on middle rack
4. Let cardamom carrot muffins cool completely before serving. They taste even better the next day!
Nutrition Information:
Yield:

12
Serving Size:

1
Amount Per Serving:
Calories:

203
Total Fat:

15g
Saturated Fat:

6g
Trans Fat:

0g
Unsaturated Fat:

7g
Cholesterol:

62mg
Sodium:

170mg
Carbohydrates:

13g
Fiber:

2g
Sugar:

8g
Protein:

6g