Paleo Chocolate Crepes with Salted Caramel is a delicious grain-free, gluten-free and dairy-free dessert that's easy to make and ready in under 30 minutes.
Jump To
I believe in the timing of things. My impatience often being put in its place by the realization that things happen when they're supposed to - in their own time.
I toyed around with caramel sauce two years ago and for one reason or another abandoned the endeavor. But a few weeks ago I woke up on a blustery Friday morning determined to make caramel. I'm not exactly sure why this strong need, but I'm not one to question inspiration so I listened.
Typical caramel requires cream and sugar and since none of those are part of my diet, I set up camp around the stove determined to find the right substitutes to make my caramel dreams come true. I wanted a sticky, luscious consistency; sweet, salty, with a certain depth. I have to admit it's not a bad job sitting near the stove with a spoon continuously adjusting and tasting, lips sticky from the concoction.
Then to my utter surprise, the caramel sauce I had dreamed of was becoming a reality before my eyes. Something so simple, with so few ingredients, yet so velvety and rich. A sprinkle of flaked salt and there it was, caramel sauce in all its glory.
With a jar of caramel sauce on my hands, I wondered what I could put it on. Sure, I could use my finger as a spoon and slowly make my way through the jar over the coming days, but I thought a more appropriate vehicle would be in oder and one that everyone could enjoy. Chocolate crepes were an obvious choice.
And so a little French paleo magic happened in my kitchen when chocolate crepes and salted caramel sauce met. I could go into detail about how delicious the combination is but I'll let you try it for yourself.
These Paleo Chocolate Crepes with Salted Caramel are:
paleo 
gluten-free
grain-free
dairy-free
easy to make
a perfect dessert or breakfast
Tips for making Paleo Chocoalte Crepes with Salted Caramel
If you're intimidated by the idea of making crepes at home, don't be! They're incredibly easy to make. As is the caramel sauce. Below you'll get all the answers you may have to making this recipe, tips and ingredient swaps. 
How to make Paleo Chocolate Crepes
The surprising ingredient that helps to make the paleo crepes pliable like regular ones, is cassava flour. Without it, you will not get that elastic like feel and texture you expect in a crepe. 
Can you replace tapioca flour for cassava?
I've made these paleo crepes with tapioca flour and while it does work, the consistency isn't quite the same. You're going to get thin crepes but they may not be as pliable as when using cassava flour.
Why do you need fine almond flour? 
It's a personal choice and whether you care about the crepe having a super smooth consistency. Some almond flour can be more corse than others and I find that fine almond almond flour provides the consistency I come to expect from delicate crepes. Fine almond flour is available at nearly every supermarket or online. 
How to make salted caramel sauce? 
If you've never made your own caramel sauce, don't worry, this recipe is extremely easy and requires hardly any effort. All you need is condensed coconut milk, coconut sugar, vanilla extract and salt. Everything gets added to a pan and 25 minutes and a few stirs, you have a rich, sticky caramel sauce. You can skip the salt if you want it sweet, but the salty sweet combination is pretty spectacular in my opinion! 
Can you save leftover salted caramel sauce?
Yes! A little goes a long way when it comes to caramel sauce and you'll likely end up with a leftovers. You can store the caramel in an air tight jar in the refrigerator for several weeks. You can warm it up when ready to serve or use it cold. 
Should you use cacao or cocoa powder?
While both cacao and cocoa powder will give you pretty much the same taste, cacao is better as it is packed with minerals (particularly magnesium) and antioxidants as it is made from cold pressing the raw pant. Cocoa powder on the other hand has been roasted at high temperatures losing most of its benefits. 
That said, cacao is more expensive than cocoa powder, so the decision is yours to make. The taste will not be impacted regardless of what you choose to use.
📖 Recipe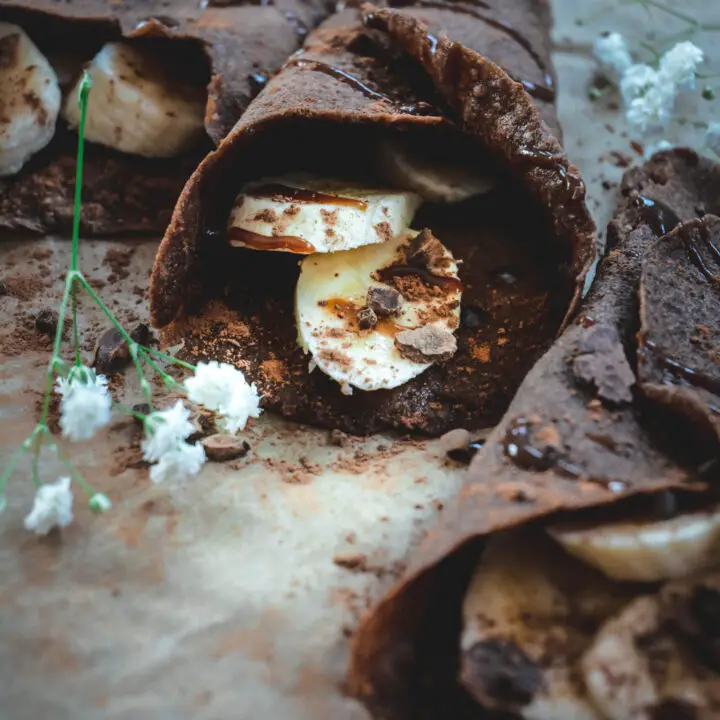 Paleo Chocolate Crepes with Salted Caramel
Paleo Chocolate Crepes with Salted Caramel are a grain-free, gluten-free and dairy-free dessert that's easy to make and ready in under 30 minutes.
Ingredients
3 room temperature eggs
½ cup fine almond flour
2 tablespoon cassava flour
7 tablespoon cashew or almond milk
¼ cup melted coconut oil
2 tablespoon cocoa powder
1 ½ teaspoon vanilla extract
¾ cup condensed coconut milk
½ cup coconut sugar
pinch of flaked salt or regular sea salt
Instructions
1. In a small sauce pan, add coconut sugar, coconut cream and ½ teaspoon vanilla and bring to a boil. Reduce heat to low and simmer caramel for 25 minutes, stirring regularly.

2. When caramel has thickened, add a pinch of sea salt (or to taste) and pour into glass jar. Can be stored in the refrigerator for up to 2 weeks.

3. In large bowl combine eggs, almond flour, almond milk, coconut oil, cacao, cassava flour and 1 teaspoon vanilla and mix well.

4. On medium heat coat crepe pan with a little coconut oil. Add ¼ cup of crepe batter and tilting pan, distribute evenly until you have the desired thickness. Cook for 1-2 minutes per side or until you start to see bubbles.

5. Continue with with the rest of the batter.

6 Serve with salted caramel sauce and optional, add banana slices as well.

7. You can store leftover crepes in the fridge for up to a week and re-heat for a few seconds in the micro or dry frying pan.
Nutrition Information:
Yield:

10
Serving Size:

1
Amount Per Serving:
Calories:

198
Total Fat:

14g
Saturated Fat:

9g
Trans Fat:

0g
Unsaturated Fat:

5g
Cholesterol:

56mg
Sodium:

106mg
Carbohydrates:

15g
Fiber:

1g
Sugar:

11g
Protein:

4g