Paleo Collagen Mini Muffins make the perfect bite-size snack. They're gut-healthy, grain-free, and make a great snack or breakfast.
Jump To
Head heavy, body in slow motion. I stumbled down the steps much earlier than I would have liked. Irrelevant of when I go to bed I seem to wake at the same time on most mornings without an alarm. My body's got it figured out so I suppose I should be grateful.
Looking out the window, I zoomed in on the dewy grass; each blade splendid, vibrant green and unique in its own way. I stared at it for a while, wanting to run my hands over it's a smooth surface and feel drops of dew running down my arm. The massive headache pulsing through me, interrupted my thought, as did my growling stomach.
I like wine a lot! I usually have a glass daily and on occasion two but last night we had company and buzzing with excited energy, I lost track. There was champagne, food, wine, and more wine. The night got away from me and there I was, on a dreary Sunday morning, nursing a hangover I hadn't experienced in some time. It was comical in some ways and brought me back to my college days. Days of waking up in the morning (or noon) after partying all night and eating cooked macaroni with shredded mozzarella, salt, and olive oil for breakfast. My best friend's specialty.
But times have changed. For the most part, I do believe in moderation but frankly, it felt good to give myself over to the evening and leave the calculated, responsible me behind for a while.
And as far as breakfast, I felt infinite gratitude for the paleo collagen mini muffins I'd made the day before (no macaroni for me). They came in at just the right time and saved me from having to think about making breakfast. And not only that, but they were seriously delicious. Even better than on the first day.
For me, breakfast is essential. By essential I mean, I wake up starving. So these little muffins make the perfect ready-to-go breakfast I can have with coffee. They're loaded with collagen, are grain-free and you can use the fillings of your choice. I went with blueberries, walnuts, and allergy-friendly chocolate chips.
These little muffins make an ideal snack or breakfast and aside from one tablespoon of maple syrup, are sweetened only by one banana. It's the perfect little bite for when you want something sweet, whether you've had too much wine or not.
Tips for making delicious collagen mini muffins 3 ways
Paleo baking was seriously intimidating when I started. Everything was quite different from the traditional. The ratios and ingredients differed. While not substantially, enough to throw me for a loop. But I've come to fully embrace the beauty that can come out of using ingredients that are delicious and gut-healthy.
Adding collagen to muffins
Well first, collagen rocks! And second, why wouldn't you want to add a dose of the gut and skin-healthy collagen in something that you would be eating anyway? I started using collagen in baking as much as possible and it was a bit like killing two birds with one stone, especially if you're not a fan of adding it in drinks.
Collagen helps to improve gut health, digestion, visibly improves skin and nail health, reduces inflammation, and helps to support healthy joints. And when it's baked in mini, bite-size muffins, how could you go wrong?
Do you have to use collagen?
Most certainly not. There have been times when I've been out (gasp - it happens) and have made the muffins without collagen and they taste delicious - you're just not going to get that extra dose of gut-healthy goodness from them. But they're still going to be grain and gluten-free and most importantly easy on the gut.
Mini muffins 3 ways
I like options. I like walnuts. I like blueberries and I REALLY like chocolate. So why limit to just one right? I mean, if you like one over the other stick with just one of them but if you like to keep things interesting, add whichever you like! All of them work incredibly well in these muffins. Besides, it's extra rewarding to bite into the one you really love.
If for some reason you don't like these options (hey, I don't judge), you can forgo them all and stick with plain muffins, which will be just as moist and delicious!
One note about the chocolate chips. If possible, make sure you're using allergy-friendly chocolate chips. The ones I have found to be consistently good are these.
If you don't like maple syrup
I'm quite intentional about keeping my sweetness in check when baking. I find that too much sweetness to actually take away from the food. If something is cloyingly sweet, it's not for me. So I'm only using a little maple syrup, to sweeten the muffins. But if you're someone who can't do maple syrup, no problem, you could use honey instead as a substitute in the muffins.
📖 Recipe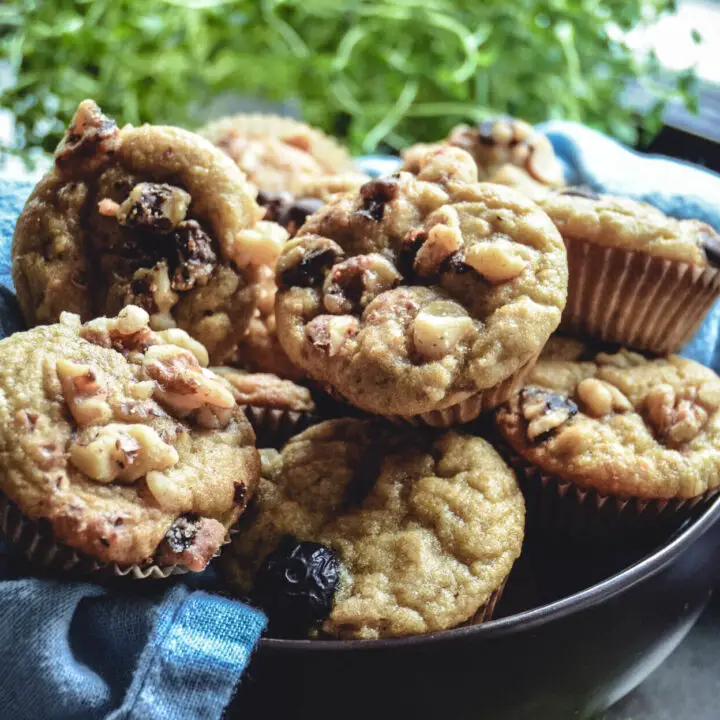 Paleo Collagen Mini Muffins 3 Ways
Paleo Collagen Mini Muffins make the perfect bite size snack. They're gut healthy, grain free and make a great snack or breakfast.
Ingredients
zest of 1 orange
½ cup coconut flour
½ cup almond flour
½ teaspoon baking soda
pinch of salt
4 eggs at room temp
1 tablespoon maple syrup
1 ripe mashed banana
½ cup melted coconut oil
2 tablespoon cashew, almond or coconut milk
1 teaspoon vanilla extract
optional: blueberries
optional: walnuts
optional: allergy friendly chocolate chips
Instructions
1. Preheat oven to 350 degrees with middle rack inserted.

2. In medium bowl combine, flours, salt, collagen, orange zest, baking soda. Combine and set aside.

3. In large bowl, mash banana with fork, combine the rest of the wet ingredients aside from the optional ones and combine well.

4. While whisking the wet ingredients, slowly add the dry ingredients, while continuously mixing.

5. Line your muffin tins and fill each almost to the top.

6. Bake for 18-20 minutes on the middle rack.