Maple Cardamom Candied Walnuts are perfect for entertaining or as an everyday snack. They're sweet, salty, and flavorful.
Jump To
I always liked swimming. When I was in 5th grade, I decided to try out for the team. I loved it but sucked at the competition part. Recreationally I could have done it for hours, but I in a competition was a bad scene. I would literally choke and sink. Anxiety gripping even back then hindered me from ever successfully going through with competing long term, so I eventually stopped that affair. Though admittedly, I truly enjoyed the practice and hanging out with friends.
But what I liked most was the ritual that took place after nearly every practice. There was a bit of time before our bus trip back to our tiny German village so my friends and I would hit up the, I guess what Americans would refer to as, a penny candy store. It was thrilling. The anticipation, the lively debate over which gummy candy was best, and which ones would be the choices du jour. Little gummy coke bottles, multicolored worms, sugar-covered bears, and spaghetti strings would make for a buzzy return trip home. I still wonder how the bus driver put up with us time after time.
But things have changed. These days I'm hardly the candy person I once was. And no it's not just because I eat in a healthier way. Even prior to my paleo ways, one could put an entire bowl of gummy or other candy in front of me and they would be left untouched to eventually dry out and end up in the garbage. Candy just doesn't do what it used to.
Nowadays what gets my brain doing a happy dance involves a combination of fat, sweet and salty, in the form of roasted sweet and salty nuts, particularly walnuts. I mean I have some self-control but when it comes to candied walnuts, all hope is lost. So many nooks and crannies where the delicious sweet and salty goodness can sneak into, that even as I write this my dopamine levels are on the rise.
You may think I'm exaggerating but I'm not. I recipe tested these maple cardamom candied walnuts several times and tried really hard not to eat them all. I was marginally successful. What I love about them is just how simple they are to make and truthfully, compared to conventional candied nuts, are far less sweet and use only quality ingredients. You need maple syrup, coconut sugar, cardamom, cinnamon, salt, and obviously walnuts. The rest of the magic happens in the oven. I also recommend letting them cool completely before eating them (all).
These Maple Cardamom Candied Walnuts are: 
Paleo
Vegan
Dairy-free
Gluten and Grain-free
Delicious and easy to make 
Perfect for entertaining
What do you need to make Maple Cardamom Candied Walnuts
Walnut Halves
Maple Syrup
Coconut sugar
Cardamom 
Cinnamon
Salt
Tips and substitutions: 
Walnuts 
Walnuts are available in nearly every grocery store but if you can't find walnut halves and pieces, you're welcome to use chopped though I recommend if possible sticking with the bigger pieces. 
Maple Syrup
You can use any maple syrup you'd like but I recommend using a quality brand. I like the walnuts sweet but not cloyingly so I stick with 1-2 tbsp. I find it to be just the right balance. 
Coconut Sugar
Coconut sugar acts as a binding agent in this recipe and keeps the walnuts together. Feel free to add more than 1 teaspoon if you want additional sweetness.
Cardamom and Cinnamon
Cardamom is truly what gives this recipe its flavor and intensity, but if for some reason you don't like cardamom, you can just replace it with additional cinnamon. The walnuts won't be cardamom anymore but this is a perfectly fine substitution. 
📖 Recipe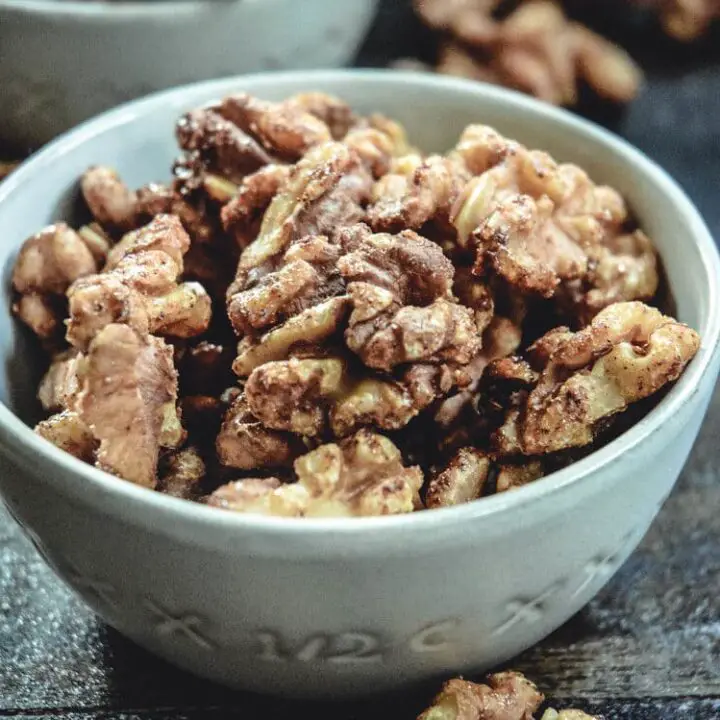 Maple Cardamom Candied Walnuts
Maple Cardamom Candied Walnuts are perfect for entertaining or as an every day snack. They're sweet, salty and flavorful.
Ingredients
2 cups walnut halves
1-2 tablespoon maple syrup
1 teaspoon coconut sugar
½ teaspoon cardamom
¼ teaspoon cinnamon 
⅛ teaspoon salt
Instructions
1. Preheat oven to 350 degrees.
2. In mixing bowl combine all ingredients aside from walnuts and stir well. Add walnuts and stir until evenly coated.
3. Spread walnuts on parchment paper lined roasting sheet and roast for 10-15 minutes on top rack stirring once.
4. Let cool completely before eating.
Nutrition Information:
Yield:

8
Serving Size:

1
Amount Per Serving:
Calories:

186
Total Fat:

17g
Saturated Fat:

2g
Trans Fat:

0g
Unsaturated Fat:

15g
Cholesterol:

0mg
Sodium:

36mg
Carbohydrates:

8g
Fiber:

2g
Sugar:

4g
Protein:

4g