This Vegan No-Churn Strawberry Ice Cream with Raspberry Swirl is super simple to make, requires only a food processor, and is the perfect summer or any time treat. It's vegan, paleo and dairy-free.
Jump To
I would like to dedicate this post to my food processor. Funny as that may sound, out of all the kitchen gadgets, besides my trusted knife and cast iron pan, this one holds a lot of weight in my kitchen. Some of my favorite recipes involve the food processor and yes, you can certainly achieve the same texture by chopping your vegetables, but when it's time to create silky-smooth soups, a perfect mayo or ice cream of any kind, nothing can take the place of a food processor. 
A food processor is your best friend
It took a bit to convert me. I was stubborn and couldn't quite comprehend why a food processor would be life-changing. After all, I had a mediocre blender that could do some mediocre blending in times of need. This was years ago until I heard that you could make no-churn ice-cream in a food processor. What? How? Sold! That's all it took and I became a convert. But not just a convert - I preach the food processor's glory wherever I go. I even hand out leaflets in public places trying to get people to get on board the food processor train. Speaking of, Cuisinart really should have picked me up as a spokesperson. Oh well. 
All joking aside though, it's summertime and strawberries and raspberries are in their peak season. Right now is the time to gorge on them, make some delicious dishes, and freeze whatever you can't eat. 
So now that I've warmed you up a bit and you know my true feelings about the food processor, let's talk about this no-churn ice cream. I don't think there needs to be much convincing when I say that ice cream is amazing, right? Kind of obvious. But ice cream was one of those things that I would eat with such fervor only to be left in pain a half-hour later. And I did it summer after summer. But I learned.
This Paleo No-Churn Strawberry Ice Cream is: 
Vegan
Paleo
Dairy-free
Gluten and grain-free
Easy to make
A perfect summertime dessert
Ingredients for Paleo No-Churn Strawberry Ice Cream
Full fat coconut milk
Frozen Strawberries
Frozen Raspberries
Honey
Vanilla extract
Equipment Needed
Besides a food processor, I recommend a loaf pan unless you have an ice cream storage container. 
Making Paleo No-Churn Strawberry Ice Cream
The process for making this ice cream is absurdly easy. Everything pretty much just gets dumped in the food processor and you sit back and watch the magic happen. Then store it in a loaf pan and freeze. There you have it - paleo no-churn ice cream. It really is that simple. 
Tips for Making Paleo No-Churn Strawberry Ice Cream
One thing you want to try and avoid when making homemade ice cream in the food processor is ice chips. 
Freeze Everything
Keeping the loaf pan in the freezer for a few hours prior to making the ice cream as well as refrigerating your coconut milk, will ensure that you don't have drastic temperature differences which will allow for the buildup of condensation and your ice cream will freeze nice and smooth. 
Cover The Ice Cream Right Away
Also, covering the ice cream as soon as you've poured it in the loaf pan with cling wrap or any other kind of wrap helps. The wrap should touch the ice cream directly and create a seal on top of it. 
Once Frozen, Bring To Room Temperature
My recommendation is that once frozen, you actually let the ice cream sit out for a bit until it gets slightly soft as it will be easier to scoop out and the creamy goodness.
Can You Make This Ice Cream Vegan?
You can. You can use either vegan honey in place of regular honey or maple syrup. If you're going to use maple syrup, make sure you chill it while all other parts are chilling.
Is There A Low-Carb or Keto Option?
There is. Instead of using honey or maple syrup, you can use Keto Honey.
📖 Recipe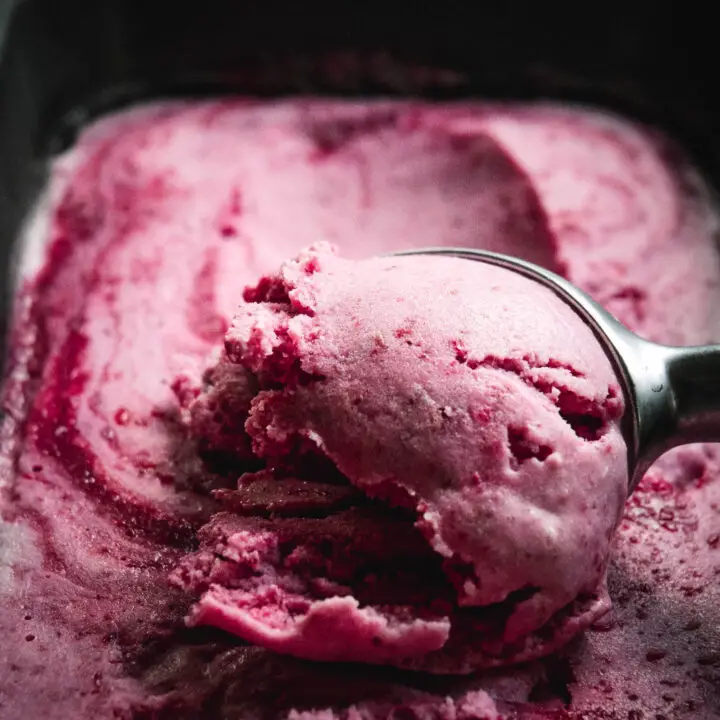 Vegan No-Churn Strawberry Ice Cream with Raspberry Swirl
Total Time:
4 hours
10 minutes
This Vegan No-Churn Strawberry Ice Cream is super simple to make, requires only a food processor, and is the perfect summer or any time treat. It's vegan, paleo and dairy free.
Ingredients
10 oz organic frozen strawberries (or 1 bag)
½ cup organic frozen raspberries divided
5 tablespoon maple syrup or honey (if not vegan)
1 teaspoon vanilla extract
1 can full fat organic coconut milk
Instructions
Make sure your coconut milk is chilled and your loaf pan has been in the freezer for at least 1 hour.
Simmer ¼ cup raspberries with 1 tablespoon honey (or maple syrup) in a small sauce pan on low and whisk gently until smooth. Strain If you don't want any seeds and set raspberry sauce aside.
In a food processor combine frozen strawberries, ¼ cup frozen raspberries, 4 tablespoon honey (or maple syrup), 1 teaspoon vanilla, and chilled coconut milk and puree until everything is smooth.
Pour mixture into chilled loaf pan and swirl in the raspberry sauce.
Place cling film or reusable wax paper directly on ice cream to create a seal, then cover the entire loaf pan with foil or another reusable wax wrap and freeze for 4-6 hours. Be sure to try to remove as much of the air as possible so few or no air bubbles are left.
Let ice cream come to room temperature for 20-25 minutes before serving to allow it time to soften some.
Notes
1. Be sure to chill all your equipment prior to starting, including the ingredients. *This will ensure that you have fewer ice chips as the transition from room temperature to frozen will create condensation and in turn ice chips.
2. Make sure you remove all air bubbles when you place the cling film on top of the mixture. No air means less chance of ice chips.
3. Letting the ice cream stand a little will allow its full flavor and taste to come out.
Nutrition Information:
Yield:

8
Serving Size:

1
Amount Per Serving:
Calories:

158
Total Fat:

11g
Saturated Fat:

9g
Trans Fat:

0g
Unsaturated Fat:

1g
Cholesterol:

0mg
Sodium:

8mg
Carbohydrates:

17g
Fiber:

2g
Sugar:

13g
Protein:

1g