This paleo and vegan pumpkin fudge is incredibly easy to make and requires just 5 ingredients. It's an indulgent and luscious Fall treat.
Jump To
I still remember the first time I tried cashew butter. I was living in New York City at the time, about a hundred years ago. Kidding, more like 14. Damn it, that's still a long time ago. Anyway, cashew butter...oh my god. Seriously one of the best things I've ever tasted. 
Now if you haven't read my bio; I'm Romanian. While growing up in Europe, like every other child, I had a thing for American TV shows. And one thing that fascinated me, was the mention of peanut butter. I distinctly recall Theo Huxtable making a pb&j sandwich and having no idea what the brownish stuff was. It blew my mind. What was that??? Why is it called butter? Does it taste like butter? It was a mystery food. Then I arrived in the US and was finally introduced to the elusive spread. 
But then came the memorable day of trying cashew butter. The clouds parted, a single ray of sunshine shone down and glistened off the metal spoon. And for a mere moment, everything stopped. Thump, thump, thump...cashew butterrrrrr. 
Okay, I'm going overboard here. But, yeah, I really like cashew butter. 
So naturally, what do you use to create a paleo caramel-y fudge that's not caramel or fudge? Cashew butter! Indeed. This recipe is easy to make but awfully addicting. And while we're in the fall season, I decided to play around with some fall flavor and add a little pumpkin spice to it for a little something special. 
This pumpkin fudge is: 
Vegan
Paleo
Super easy to make
Dairy-Free
Gluten and Grain-Free
A delicious healthy dessert
Tips for making vegan pumpkin fudge
When a recipe requires just 5 ingredients, there are a few things to keep in mind when making this quick and easy vegan, paleo pumpkin fudge.
Use runny cashew butter for pumpkin fudge
The most important ingredient in this recipe is the cashew butter. You want to have the creamiest and runniest cashew butter you find. Some butters have stabilizers and are already pre-stirred so make sure you look for a cashew butter that needs to be stirred. I like this brand.
Do you have to use chocolate chips?
Absolutely not! The fudge will be perfectly delicious without the chocolate chips. I like the addition of chocolate but if you want to keep the fudge very smooth, leave out the chocolate chips.
Best way to store vegan pumpkin fudge
Freezer all the way. Once the fudge is set and frozen, remove it from the parchment paper and cut it into little squares. It's up to you how big or small you want them. Then store them in a freezer-safe container. They will hold up for some time but I don't think they will make it that long.
If you don't have pumpkin pie spice mix
Here is a quick recipe you can make at home!
📖 Recipe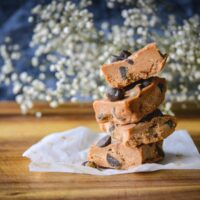 Vegan Pumpkin Fudge
Total Time:
1 hour
5 minutes
A super simple freezer vegan pumpkin fudge, that's low in sugar, quick to make and finger-licking good!
Ingredients
Instructions
1. Combine all ingredients except for chocolate chips in a medium bowl. Mix well until everything is evenly combined. Fold in the chocolate chips.

2. Layer parchment paper in a loaf pan and add the mixture. Freeze for at least 1 hour, then cut into small chunks. You can store them in a freezer-safe container.
Notes
*They're best when they can sit at room temperature for a minute or two*
Nutrition Information:
Yield:

8
Serving Size:

1
Amount Per Serving:
Calories:

258
Total Fat:

21g
Saturated Fat:

7g
Trans Fat:

0g
Unsaturated Fat:

13g
Cholesterol:

0mg
Sodium:

96mg
Carbohydrates:

17g
Fiber:

1g
Sugar:

9g
Protein:

4g