These Rutabaga Noodles with Tahini Sauce and Cashew Crumble are a perfect quick lunch when you want something filling yet healthy. It's a low-carb meal, paleo, whole 30, and vegan.
Jump To
I grew up only a sea away from a country rich in flavors and spices. Some traditional recipes made their way onto our table but not nearly enough given the proximity.
My mom would frequently travel to Turkey for work and would come back baring delicious foods that we'd never dream of having access to in Romania. One of them was halva. Funny because I'd had it my whole life but Romanians always made it with pressed sunflowers and never tahini.
That was my very first introduction to a flavor I would come to revere as an adult. It is unmistakable - an ingredient used in Middle Eastern and Asian dishes alike. Truthfully one that can't be substituted.
So a few moths ago while stocking up on tahini I had a burning desire to make a quick sauce. The only problem was, I now had a tasty sauce on my hands but hadn't quite thought about what I'd do with it. Sure, roasted carrots or sweet potatoes would always be good options for dipping but I was in the mood for something new. Something that would wake up my taste buds.
Rutabaga already had its moment in a previous post where I gushed about its versatility and distinctive taste, but I feel the need to reiterate just how delightful this unassuming root is. While raw it tastes somewhere between a turnip and cabbage, when cooked its essence is revealed. Everything that's been hidden beneath the waxy surface comes to life when this noble root has just a few minutes in the heat.
To top it all off, I wanted something to complete the taste I was after - something intense but not overpowering. A sprinkling of cashew crumble is exactly what this dish needed. It is one of the simplest and most delicious ones I've had. Flavorful, intense and satisfying.
These Noodles are:
vegan
paleo
whole 30
grain-free
gluten-free
dairy-free
a speedy meal
healthy
low-carb
Why use rutabaga?
I know zoodles are a crowd favorite. They are the star of the show when it comes to vegetable noodles but in my opinion, rutabaga makes for the best noodles. What makes rutabaga particularly great is that they're low in moisture and when cooked, take an almost noodle like consistency without being watery. They're also ideal for any kind of sauce as it sticks to them beautifully.
Top Tips
My favorite part of this dish has got to be the cashew crumble. It's the perfect companion for the rutabaga noodles, sauce and vegetables. To achieve a fine grind, I use my NutriBullet Pro but a food processor will also do the trick and give you a super fine consistency.
When cooking your noodles, adding a pinch of salt to them will bring out some of the moisture and soften the noodles without making them soggy.
When making the sauce, make sure all your ingredients are fully incorporated prior to tossing the noodles in it.
The veggie toppings are a personal choice. If you don't like scallions or cucumbers, feel free to leave them out, but I find these add additional flavor and texture to the noodles.
What do you need to spiralize rutabaga?
If you have a small handheld spiralizer, unfortunately that will not do for a big root like rutabaga but don't worry, you can find inexpensive spiralizers that will do the job beautifully.
📖 Recipe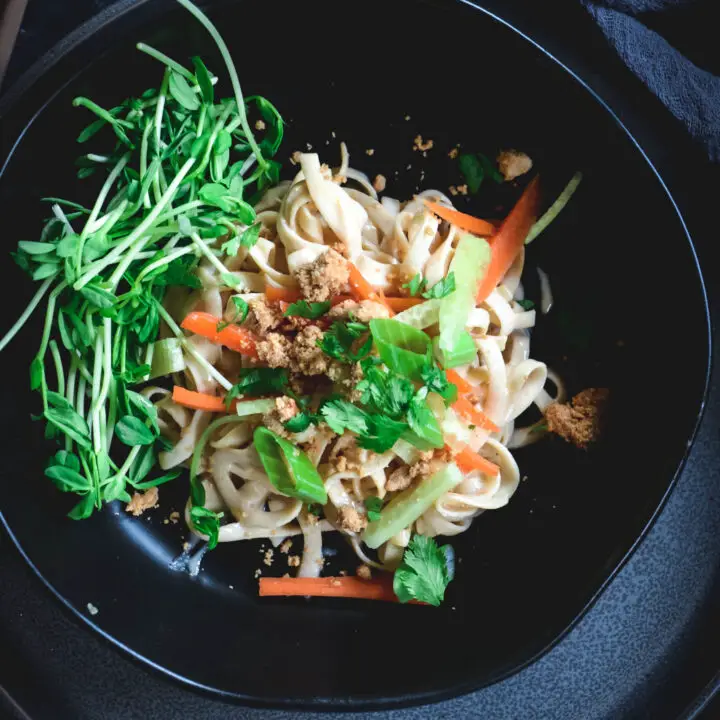 Rutabaga Noodles with Tahini Sauce and Cashew Crumble
Rutabaga Noodles with Tahini Sauce and Cashew Crumble is a quick vegan lunch you can whip up in just a few minutes. It's flavorful, filling and healthy.
Ingredients
1 large rutabaga, peeled and spiralized
½ cup runny tahini
½ cup roasted unsalted cashews
2 teaspoon olive oil, divided
¼ teaspoon sesame oil
2 teaspoon coconut aminos
½ cup water
2 teaspoon lemon juice
½ teaspoon salt
a handful of very thinly sliced carrots
handful of very thinly sliced cucumber
1 tablespoon finely chopped cilantro (optional)
1 green onion, green parts only (optional)
Instructions
Combine tahini, water, lemon juice, coconut aminos, salt and sesame oil in large bowl and set aside.
In blender finely grind cashews until they're fine. In small bowl, combine them with 1 teaspoon olive oil and a pinch of salt and mix well with your fingers by pinching the mixture until it becomes crumbly – set aside.
Preheat pan on medium heat. Add 1 teaspoon olive oil and rutabaga noodles and toss frequently for 5 minutes until they begin to soften but are not mushy.
Remove from heat and add to bowl with tahini sauce. Toss to combine.
Place noodles on plates and add carrot and cucumber slices along with as much cashew crumble as you wish. Top with cilantro and green onion and serve.
Nutrition Information:
Yield:

4
Serving Size:

1
Amount Per Serving:
Calories:

284
Total Fat:

19g
Saturated Fat:

3g
Trans Fat:

0g
Unsaturated Fat:

15g
Cholesterol:

0mg
Sodium:

380mg
Carbohydrates:

26g
Fiber:

6g
Sugar:

10g
Protein:

8g