Spiced Turkey Burgers with Peach Chutney are the perfect light dish when you want nutrition and flavor. They're easy to make, paleo and whole 30 approved too!
Jump To
I rolled over and looked at my phone, 5:32. I quickly tossed the covers aside and stumbled around the room in search for a long sleeve and some shorts. It was quiet. I peaked out the window and a pang in my chest told me to rush. A quick scan of my surroundings and I determined it was clear - they were still sleeping. I made a beeline for the door, grabbing the key along the way. 
The air was thick and salty, seagulls happily announcing the morning's arrival and searching for whatever food was left from the previous evening. It was a welcoming symphony. I made my way down the steps, sleep still tugging at me or perhaps that extra glass of wine I'd had the night before, but no matter. 
Crossing the near empty street, aside from the occasional deterministic runner, I was alone making my way from the promenade on to the beach. The shift from asphalt to cool freshly combed morning sand, felt exhilarating. As I made the trek across the beach, the sound of crashing waves intensified. It never ceases to amaze me just how beautiful the beach is early in the morning. 
I climbed up the lifeguard stand, skimming the beach. A few surfers, hungry for good waves held my attention for a moment. So did the elderly man with his oversized hat and peach colored shirt, serenely and rhythmically moving his metal detector from side to side as he searched the beach for treasure. Were they as happy as I was at that moment? Few things feel as complete as this place. I felt a jolt of sadness trying to make its way into my head. This won't last, this won't last. I tried to chase it away and just observe what was in front of me. 
I held on to the moment for as long as I could before making my way back to the condo where they would likely be buzzing with energy, ready to get outside and get the day started. 
A bike ride to a local farm on the agenda for the day complete with lunch outside. Beach Plum Farm is one of the most beautiful places I've seen and a favorite in Cape May. The food is made with only local ingredients and offers some unusual pairings. We sat in the shade of a big oak tree on a damp picnic bench. Lost in thought, I looked over the red cabbages, scallions and fresh herbs, remembering the recipe I'd made shortly before we left. 
Turkey burgers with peach chutney, red cabbage, scallions and spicy mayo was maybe something I would be able to find on the menu here. I thought about what it would be like to live simply and work on a farm by the beach, growing and making food, being close to the ocean. I was quickly jolted out of my daydream when our food arrived but what did remain is this spiced turkey burger recipe. 
It's a delicious sweet and spicy combination with flavors and textures aplenty. Since turkey burgers can often be plain and boring, I wanted to give them life and infuse them with plenty of spices and top them with a fresh peach chutney and sliced cabbage. 
I may not get the chance to live at the beach anytime soon but at least I can sink my teeth into these delicious burgers while day dreaming of the ocean. 
Tips for making Spiced Turkey Burgers with Peach Chutney
What is the best turkey for Turkey Burgers? 
While some people prefer the light taste of lean turkey meat, I actually prefer the darker meat as it results in a juicer and more flavorful burger. That said though, you can use whichever one you prefer as I've tried both version and both turned out delicious. 
Can you use frozen peaches for the peach chutney? 
You most certainly can. Since peaches taste best in season, out of season, frozen are best. You would just use about 3 cups frozen peaches and let them thaw naturally. If you thaw them under water, you may end up with too much liquid. 
Do you need a grill to make spiced turkey burgers? 
You can make these burgers right on the stove top if you don't have a grill. If you have a grill pan, great, but if not, a skilled will do just fine. You would just cook them for about 5 minutes per side until the meat is fully cooked. 
Do you need to add chipotle lime mayo to the turkey burgers? 
You do not. While it adds depth and flavor, you could use just the chutney or any other condiment that you like. Dijon mustard or spicy brown mustard would also work well in this case. 
📖 Recipe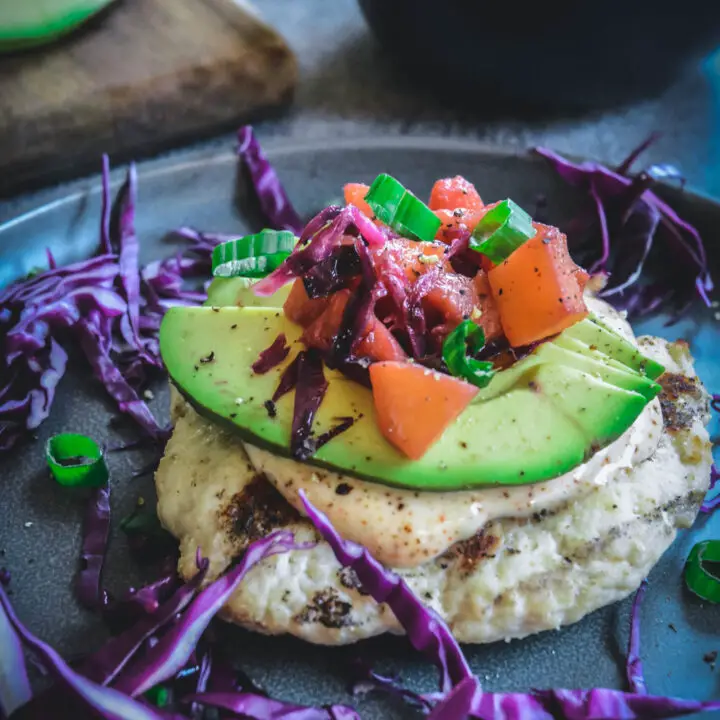 Spiced Turkey Burgers with Peach Chutney
Spiced Turkey Burgers with Peach Chutney are the perfect light dish when you want nutrition and flavor. They're easy to make, paleo and whole 30 approved too!
Ingredients
3 peaches peeled and cut into cubes
1 scallion sliced (separate white and green part)
½ cup purple cabbage sliced
1 tablespoon extra virgin olive oil + extra for brushing the burgers
1 lb ground turkey (I use 85/15)
2 tablespoon mayo
2 teaspoon coconut flour
¼ teaspoon ground coriander
¼ teaspoon ground cumin
¼ teaspoon garlic powder
¼ teaspoon onion powder
½ teaspoon salt
¼ teaspoon pepper
chipotle lime mayo (store bought or a speedy recipe)
sliced avocado
extra purple cabbage
Instructions
Preheat grill or grill pan. In a mixing bowl, combine ground turkey with mayo, coconut flour, ground coriander, ground cumin, garlic and onion powder, salt and pepper. Mix well and form into 4 patties. Brush both sides with olive oil and set aside. 
Preheat frying pan to medium. Add olive oil, white part of scallion and a pinch of salt and cook for 2 minutes stirring regularly. Add purple cabbage and cook 3 minutes. Lower heat, add peaches a pinch of salt and cook for 5 more minutes, stirring regularly until peaches are soft.
Grill turkey burgers for 3-5 minutes per side until fully cooked (internal temperature of 165 °F).
To assemble, place turkey burgers on plate and layer with chipotle lime mayo, sliced avocado, peach chutney and sprinkle with additional cut up scallion.