Making homemade taco seasoning mix is simple and requires spices you likely already have in your pantry. It has no additives or preservatives.
Jump To
I walk through the door. It's a peaceful Tuesday evening. I had a remarkably easy day at the office. No stress, no emails or timelines - a smooth day all around. The smell of food makes my mouth water. The gentle sound of Bach becomes more audible with every step I take. I notice my children are quietly reading books. They're too enveloped in them to notice I'd stepped in. The house is in order, no toys in sight and my husband declares that dinner is nearly finished.
No, this never happened. I hallucinated from exhaustion as I've been awake since roughly 2:45 am. Sleep deprivation is something I've come to accept as a fact of life right now.
Life is messy and chaotic and while we try to keep things in some sort of order, it's nearly impossible to do so for more than 10 minutes..okay 5...more like 2. Things are unpredictable. My 19-month-old biting her brother's marker and staining her mouth and fingers blue earns a parenting award. My son flushing house keys down the toilet is another gem. 
So yes, things are anything but orderly with a 4.5-year-old and a 19-month-old. It's usually an incessant chorus of whining over not being allowed to have snacks before dinner or fighting over the same toy. But it's my life and I wouldn't change a thing. I lovingly gaze at my glass of wine and thank it for its magical powers. I do say, one glass of wine a day, keeps the insanity at bay. Plus all the polyphenols, am I right? 
But back to dinner. Yes, dinner has to be made and quickly. Tonight it's tacos. I make them often. Whether pulled pork, chicken, or just good old ground beef tacos, I need to have taco seasoning on hand. The store-bought version contains too many unpronounceable words for my liking and the 2 billion grams of sodium, generally, leave me feeling like a blow-up doll in the morning. So I make my own.
It's a good one to keep on hand whenever you need a quick homemade taco mix and it also keeps well.
About This Taco Seasoning Recipe
It's easy to make
Vegan
Paleo
Whole 30
Gluten and Grain-free
Free of artificial ingredients
Ready in minutes
Why Should You Make Taco Seasoning At Home?
The biggest reasons are that it's easy and convenient but also far healthier than the store bought stuff that's filled with artificial ingredients and tons of sodium.
What Spices Do You Need?
If you're a spice lover like I am, you likely have these spices in your house.  For this simple taco seasoning mix you only need: 
Chili powder
Garlic powder
Onion powder
Dried oregano
Ground paprika
ground cumin
Salt
Pepper
Can You Customize This Recipe? 
If you wanted to play around with this recipe or are missing an ingredient, no problem. If you can customize and play around with this recipe as you see fit. 
To give this recipe extra flavor,  you can substitute chili powder for chipotle chili and add boldness and kick. And if you like your food spicy, feel free to add ¼ teaspoon of cayenne pepper to the mix. 
Can You Double The Recipe: 
If you want to make extra taco seasoning to have for next time, just double up on the spices and you should have plenty left over. 
How To Store Taco Seasoning Mix?
You can store the taco seasoning in an airtight container and it will stay fresh for months. 
📖 Recipe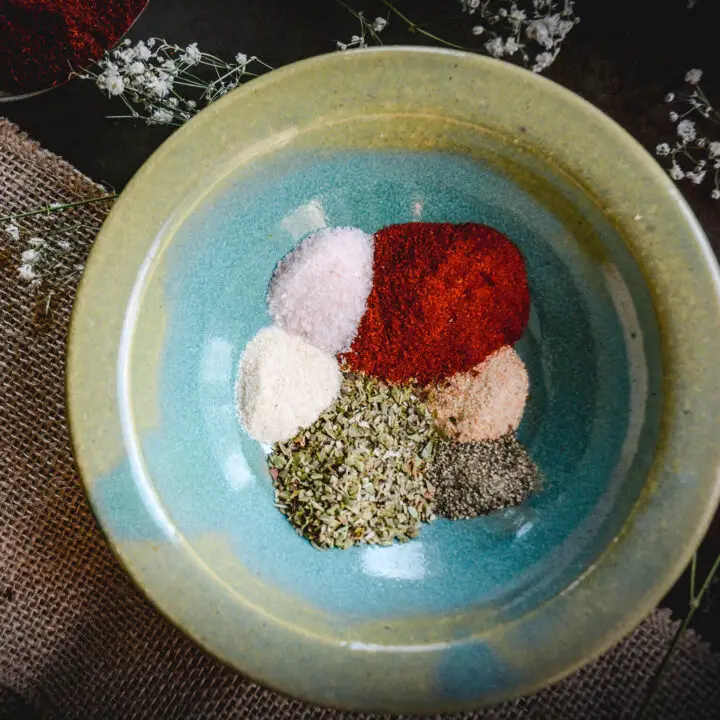 Homemade Taco Seasoning Mix
Making homemade taco seasoning mix is simple and requires spices you likely already have in your pantry. It has no additives or preservatives.
Ingredients
Instructions
Add all ingredients to small container and mix well.
Store at room temperature for several months.