This Mediterranean herbed tahini sauce is my ultimate go-to dressing for salads, roasted vegetables, fish, chicken, and anything you'd like. It's a perfect blend of fresh herbs, lemon, and tahini with a hint of garlic. A great way to use fresh herbs.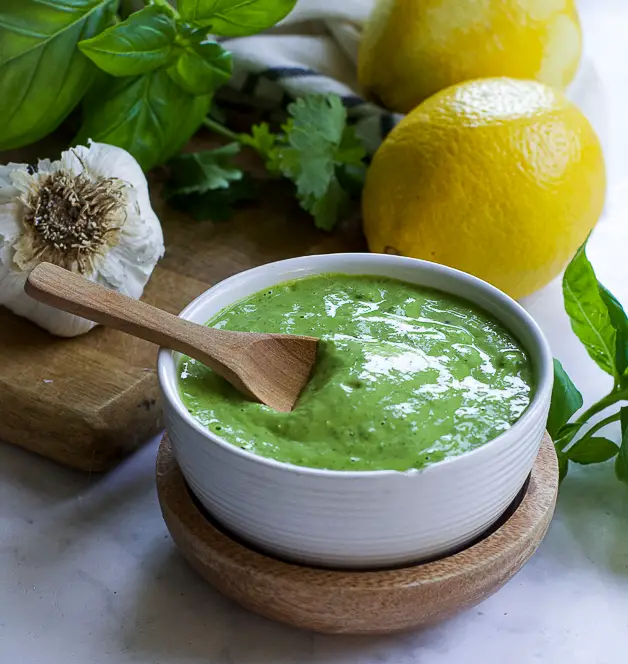 I recently acquired an indoor herb garden which will allow me to grow herbs all year long. But there is just something unmistakably special about herbs growing outside in the Summer, under the care of sun and rain (and the occasional hose, of course).
And in order to pay homage to my wonderful herb garden and my health, I whipped up an easy and delicious herby green tahini dressing that's rich in flavor, wonderful on grilled or roasted vegetables, chicken, fish, salads, grain bowls, and more. It's an all-around favorite. So if you ever wonder what to do with all your fresh herbs this Mediterranean herbed tahini sauce is your answer!
And if you're someone who's been on the blog for some time, you know my sheer appreciation for taste and function. While I'm tempted to go crazy and add a bunch of different herbs and spices, I wanted to keep things in line with my other popular Lemon Tahini Dressing and keep things minimal. That's also very much the approach to the Mediterranean diet.
You can toss this herbed green sauce on Sauteed Sweet Potatoes With Kale And Caramelized Onions, Rutabaga And Zucchini Fritters, Oven-Roasted Vegetables, Mediterranean Grilled Vegetables, raw cut-up vegetables, and so much more!
Jump To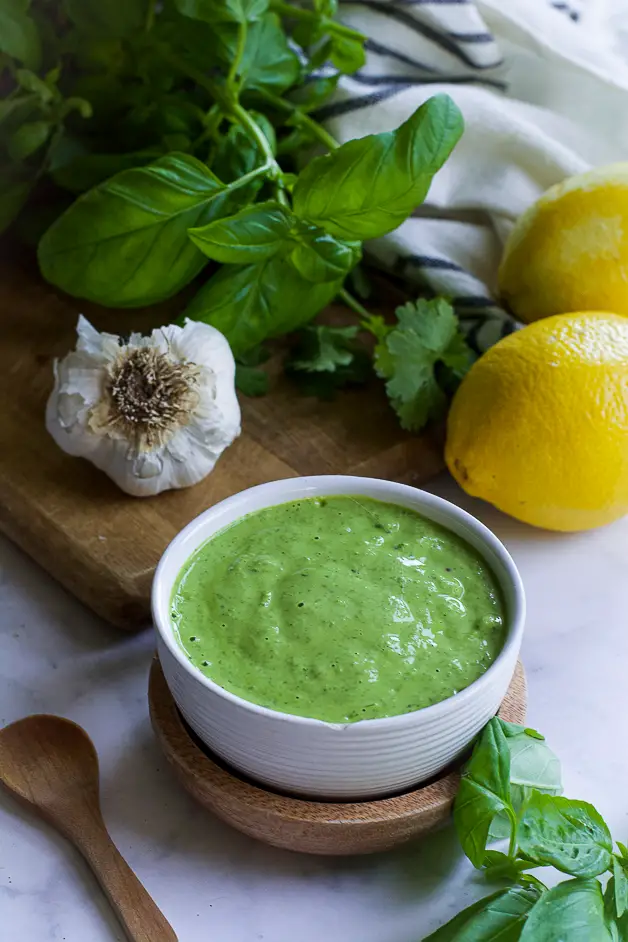 Why You'll Love This Mediterranean Sauce
It's vegan, paleo, whole 30, gluten-free
Also low-carb and keto
Can be made LOW-FODMAP
Is a good source of healthy fat
Requires only a few ingredients
Takes minutes to make
Is an easy and healthy Mediterranean diet recipe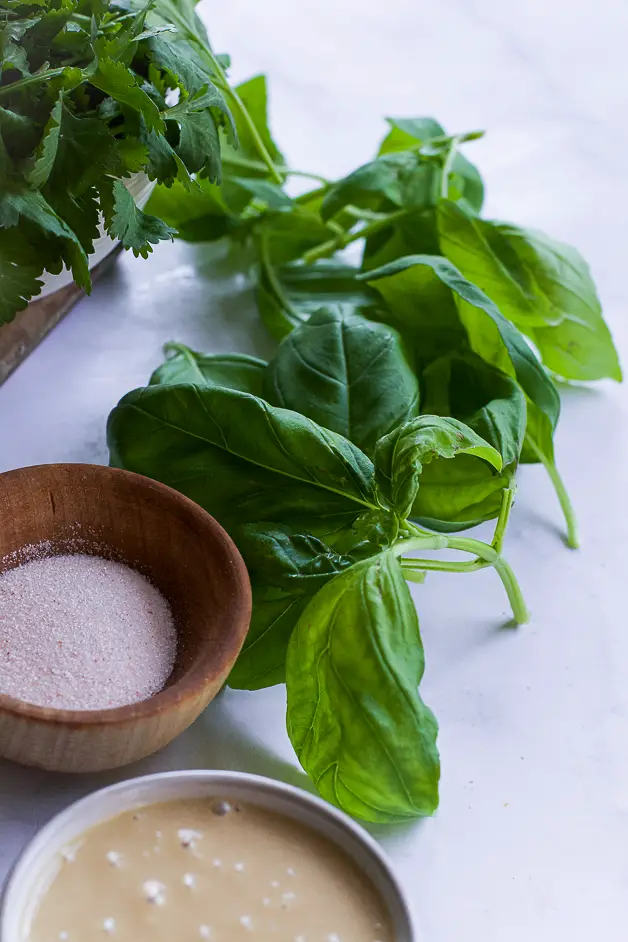 Ingredients
Tahini - Look for tahini that contains only sesame seeds and nothing else. If possible, organic is the best way to go.
Lemon - You'll need the lemon zest as well as the whole lemon, juiced.
Herbs - While you have flexibility with the herbs, I prefer cilantro, parsley, and basil. I find the combination to be quite delicious and invigorating. But microgreens also work beautifully here. I've tried it with micro arugula, sunflower sprouts, and more!
Garlic - If you like garlic, feel free to add as much as you want. I prefer sticking with ½ clove, but if garlic is your thing, go wild.
Extra virgin olive oil - Good, fruity olive oil works very well in this Mediterranean dressing recipe.
Salt - As always the make-or-break ingredient, salt, balances out all flavors.
See the recipe card for quantities.
Instructions
This sauce is so easy to make but it does require a very good blender. I love my Vitamix beyond measure and use it every single day.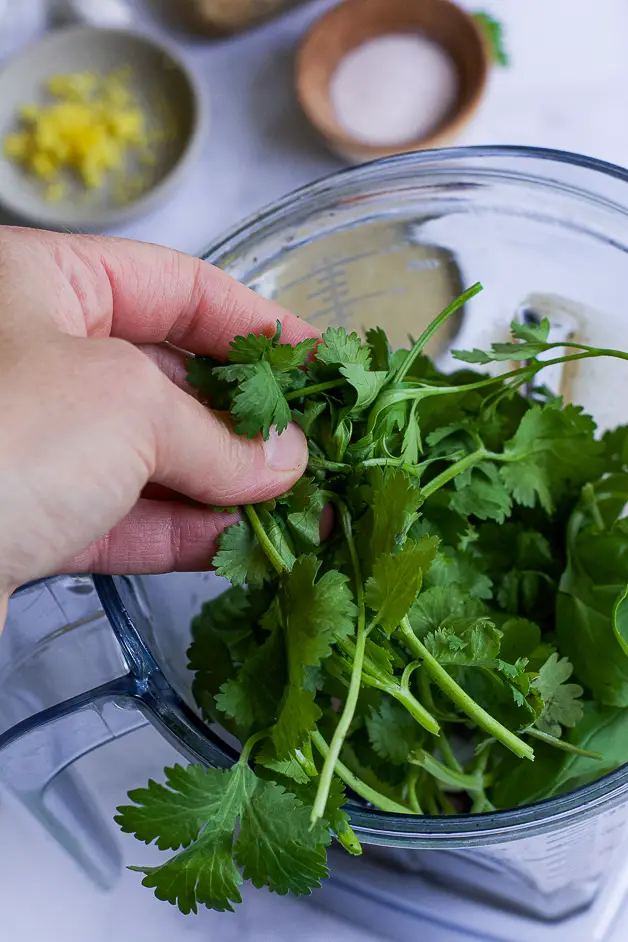 Add the herbs first and then the rest of the ingredients to a strong blender.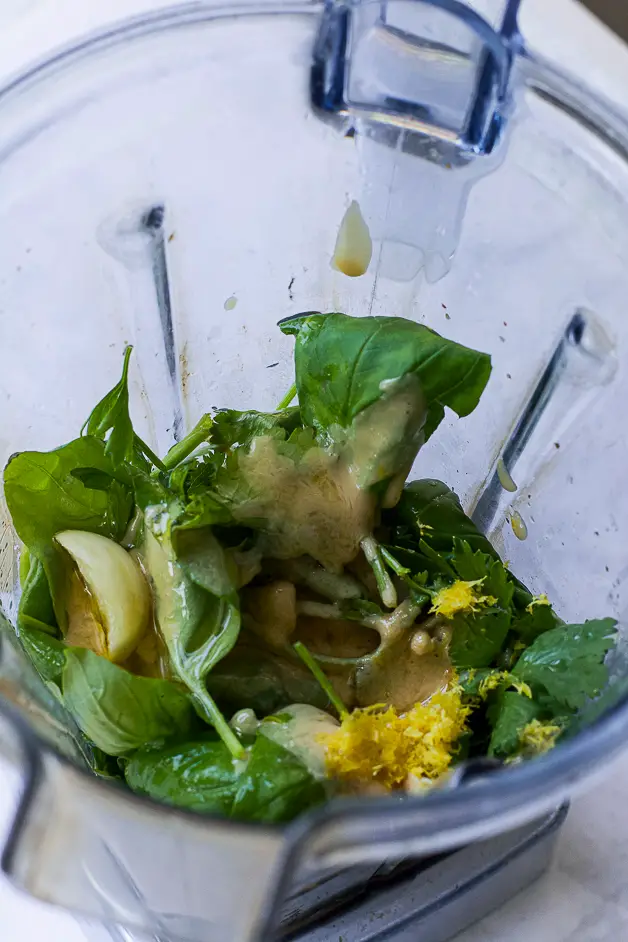 Blend on low then high speed, scraping down the sides if needed for at least 1 minute or longer.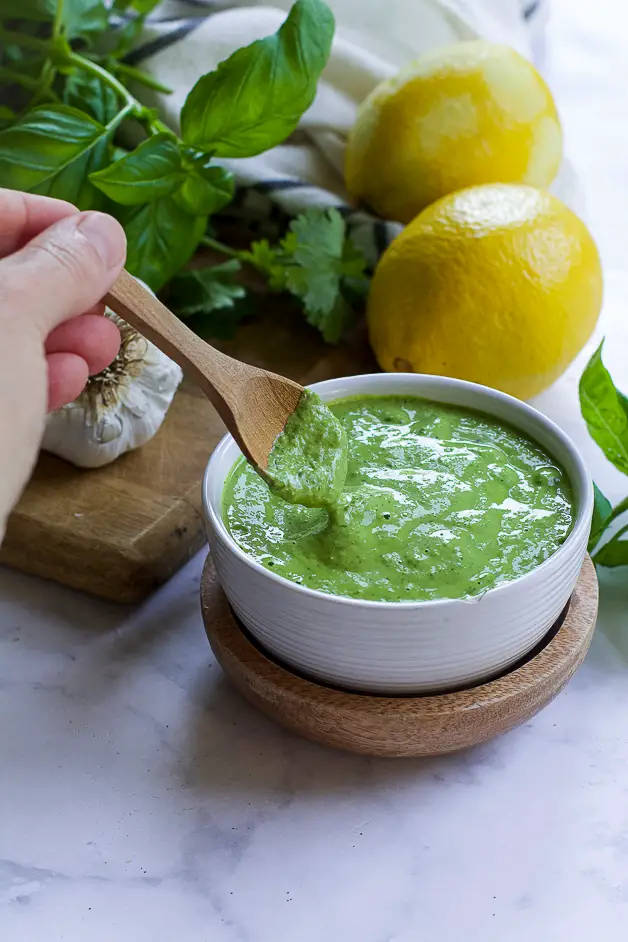 Add the herby green sauce to a bowl and serve right away.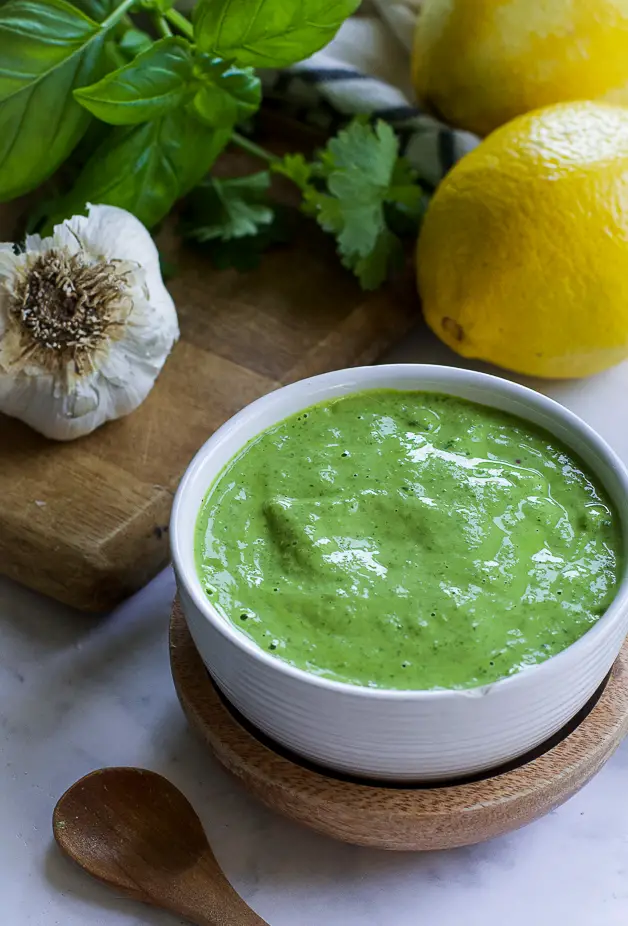 Store leftovers in the refrigerator for several days.
Hint: When you store the sauce in the refrigerator, it will harden because of the tahini and olive oil. You can easily bring it to room temperature when you're ready to use it, and it will also soften once you add it to your favorite recipes.
Substitutions
Herbs - feel free to get creative with the herbs but go easy with anything that's too potent, like too much marjoram or rosemary.
Supercharge it - You can also add microgreens such as micro arugula, sunflower sprouts or any other sprouts you'd like.
Garlic - if you're low-FODMAP, feel free to skip the garlic or garlic-infused extra virgin olive oil.
Variations
You can change this recipe up and make it less dense or more, depending on your preference.
Make it creamier - add only 2 tablespoon water or no water at all.
Make it runnier - if you prefer a Mediterranean dressing as opposed to a sauce, then add a little more water at a time.
Give it a spicy kick - you can add some chopped-up pepper of your choice such as jalapeno, serrano, or habanero.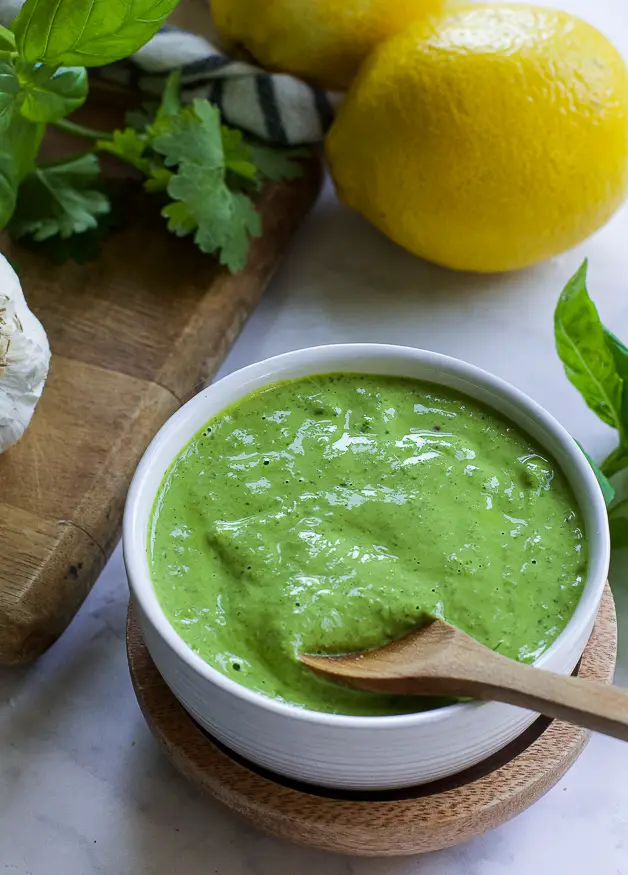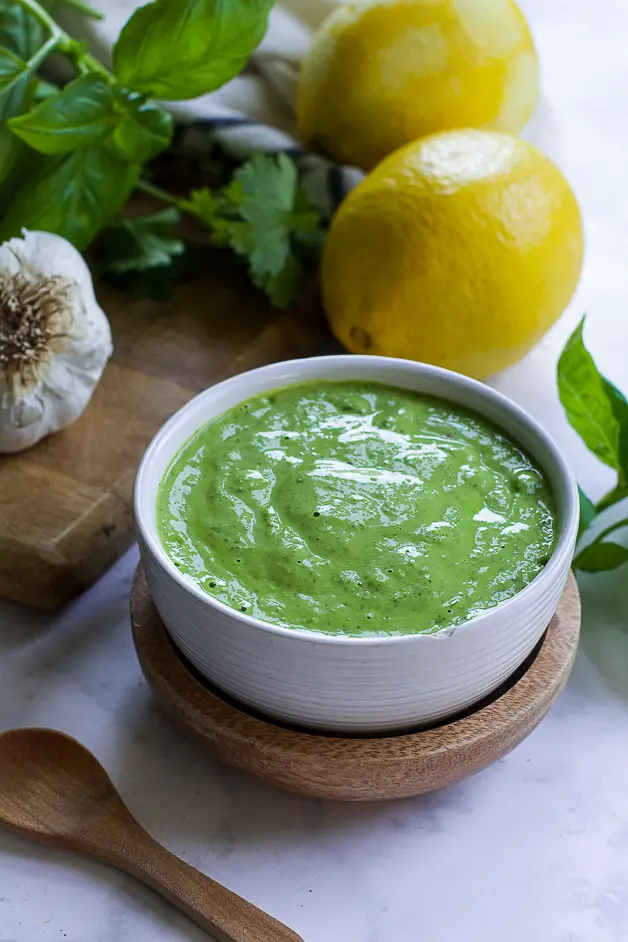 Equipment
As I mentioned earlier, for this recipe a strong blender is going to do the trick. Alternatively, you can use a food processor too.
Storage
Store the herby green dressing in an air-tight container for up to a week.
Top tip
You can get as creative as you want with your herbs but I find the combination of parsley, cilantro, and basil to work very well.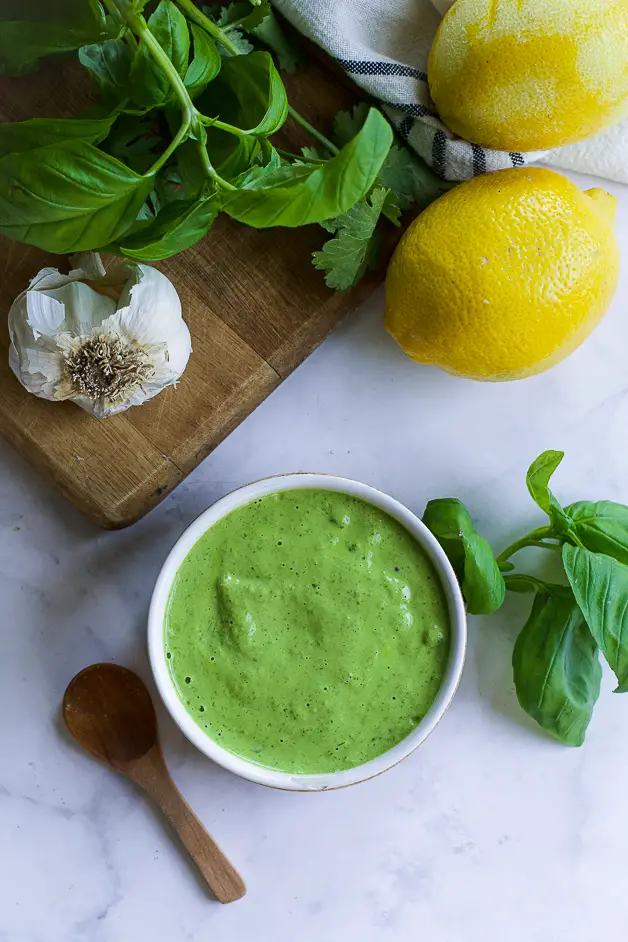 FAQ
Why Does Tahini Separate?
Tahini naturally separates at room temperature with the oil on top. Being very careful, you can mix it with a butter knife. If you go too fast, you'll be covered in oil. Alternatively, you can add the oil and then the tahini into a blender and let it do the work for you. I've done it, and it's magic!
What Are The Best Herbs For This Mediterranean Dressing?
As I mentioned, cilantro, parsley, and basil were my choices, but you can use any fresh herbs you have available and change the flavor of your green sauce as you wish. You can get as creative as you want!
How Do You Store The Mediterranean Tahini Sauce?
You can store the sauce for up to a week in the refrigerator. When you're ready to serve, let it come to sauce temperature and give it a good mix or alternatively, just add it directly to any warm food and it will soften.
Related
Looking for other inspiring recipes? Try these:
Pairing
These are my favorite dishes to serve with this Mediterranean Tahini Sauce:
📖 Recipe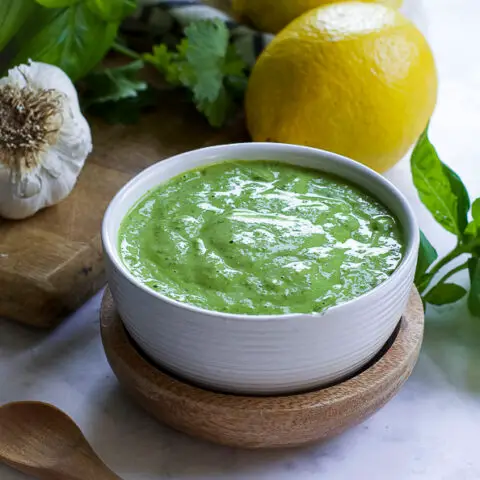 Mediterranean Herbed Tahini Dressing
This herby green tahini dressing is my ultimate go-to dressing for salads, roasted vegetables, fish, chicken, and anything you'd like. It's a perfect blend of fresh herbs, lemon, and tahini with a hint of garlic. A great way to use fresh herbs.
Ingredients
2 lemons zested and juiced
2 small garlic cloves
5-6 cups of cilantro, parsley and basil, packed
½ cup tahini
½ cup extra virgin olive oil
¼ cup water
¼ teaspoon salt or to taste
Instructions
Combine all ingredients in a strong blender and blend. Scrape down the sides and continue blending until all ingredients are fully combined. About 1 minute.
Notes
1. You can use any herbs that you want but those are the herbs I chose to go with basil, Italian parsley, and cilantro.
2. Microgreens are also a beautiful addition.
3. Store the leftover Herby Mediterranean Dressing in an airtight container in the refrigerator.
4. See the above suggestions for serving options.
Recommended Products
As an Amazon Associate and member of other affiliate programs, I earn from qualifying purchases.
Nutrition Information:
Yield:

16
Serving Size:

1
Amount Per Serving:
Calories:

112
Total Fat:

11g
Saturated Fat:

1g
Trans Fat:

0g
Unsaturated Fat:

9g
Cholesterol:

0mg
Sodium:

21mg
Carbohydrates:

3g
Fiber:

1g
Sugar:

0g
Protein:

2g