Thai Coconut Chicken Soup with Lemongrass is a perfect, simple weeknight dinner, that's keto-friendly, low-carb, and ready in under 30 minutes.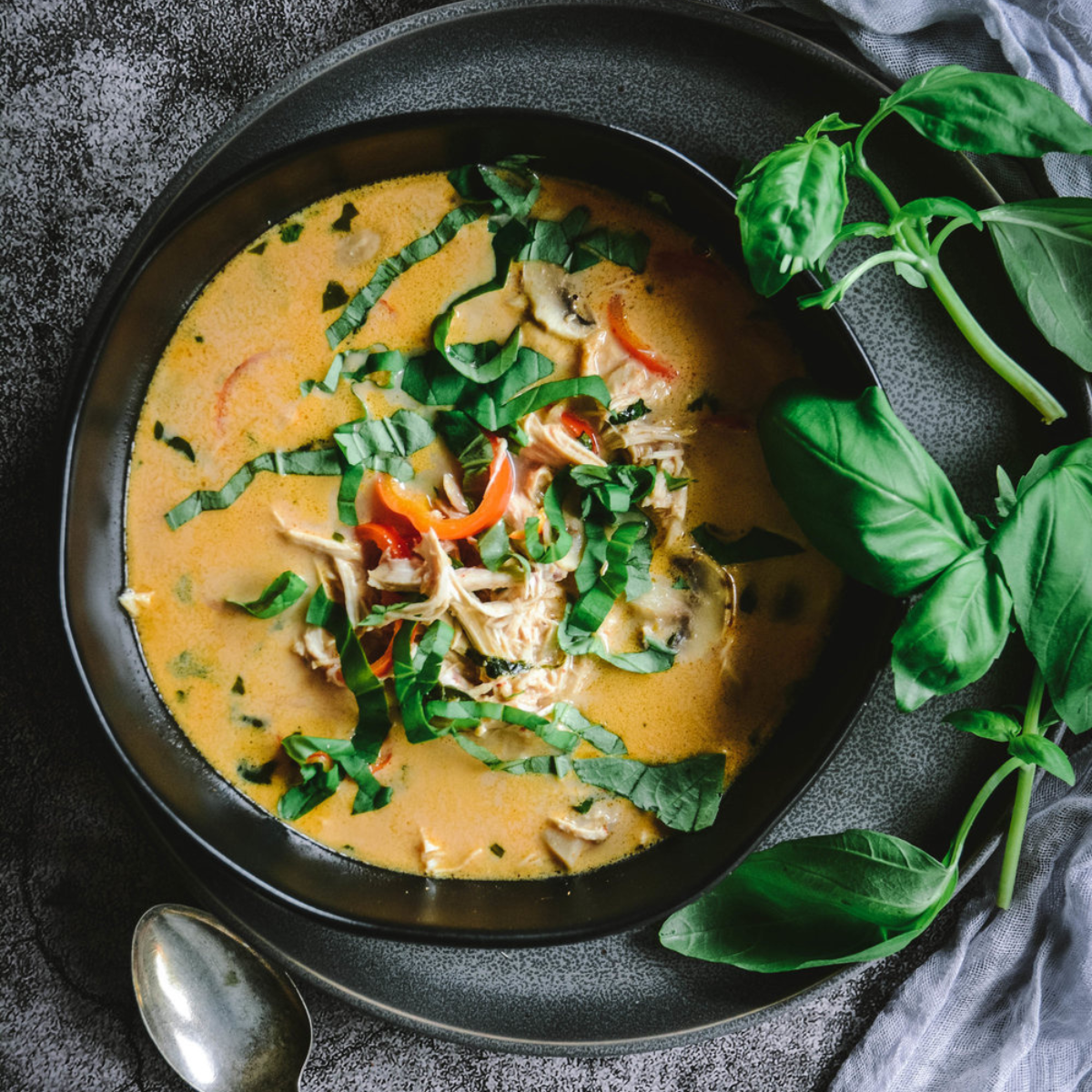 Jump To
Sometimes I see things quite clearly but it takes a bit for them to fall into place. At times I want to rush the process but when it's not quite solid in my mind, it gets tucked away. And when I least expect it, it hits me like a pile of bricks. I can't stop thinking about it and want it more than anything.
So this recipe took shape. I wrote the name of it months ago and did nothing with it. I'd glance at it occasionally in my reminders and ignore it. I knew I wanted to make it but the details were blurry. However, several days ago, as I sat at my grey desk at work, surrounded by fluorescent lights, emails dinging away, I saw it all before me; colorful, each ingredient pouring out of my thoughts as though I'd made it before. I feverishly wrote, seeing it unfold in my mind's eye.
I don't question these moments. They can't be chased, sought out or wished for. They happen as if by divine intervention. They feel real, raw and gratifying.
But the truth is, this recipe is anything but miraculous - it's just really damn good. Saying that about my own food makes me sound slightly if not quite narcissistic but I'll be honest, I loved it. It took one try - because I knew what I wanted it to be. I sat over the pot with spices at the ready…adding steadily until it became a reality. For this coconut soup, the broth is everything.
The beauty is that you most likely already have these ingredients in your pantry and fridge. You need coconut milk, broth, spices, a few veggies and rotisserie chicken. That's right - I wanted to keep it simple and find that rotisserie chicken adds a unique flavor to the broth.
But there's one ingredient that makes this whole dish - and that's lemongrass. It seems insignificant, considering that it's just a stalk but I assure you, it's where the flavor lies. Most grocery stores carry it and if not, good old Amazon is always a good option. I promise, you won't regret making the effort to obtain it as it will truly make the soup.
This Low-Carb Thai Coconut Chicken Soup with Lemongrass is: 
Paleo 
Dairy-free
Whole 30 
Grain-free
Gluten-free
Easy to make 
Ready under 30 minutes
FAQs + Top Tips
Do you need rotisserie chicken?
If you don't want to use rotisserie chicken, any shredded cooked chicken will work in this soup. If you have leftover grilled chicken breast, that will be perfect too. 
Do you need Red Thai curry paste?
Most grocery stores sell Thai red curry paste. The likely place you can find this is in the international foods section. If your store does not carry it, you can always find it on Amazon. 
Do you need Lemongrass for this Thai Soup?
You can make the soup without it but I find that Lemongrass really is the one ingredient that takes this soup to another level. My local market carries fresh lemongrass stalks but there are times when they don't. In this case, I always have a stash of dried lemongrass on hand. One teaspoon of dried is equivalent to one stalk. 
Can you add potato?
If you're strictly paleo and want to keep this soup lower in carbs, skip the potato. I find it is wonderful with and without it. I've made it both ways numerous times. It all depends on what mood you're in.
Can you eat this thai soup with rice?
If you're not grain-free, rice works beautifully with this soup. I like taking a ¼ measuring cup, pressing freshly cooked rice into it, and adding in the center of the bowl right before serving. 
This is truly one of my all-time favorite soups and I sure hope you enjoy it! 
📖 Recipe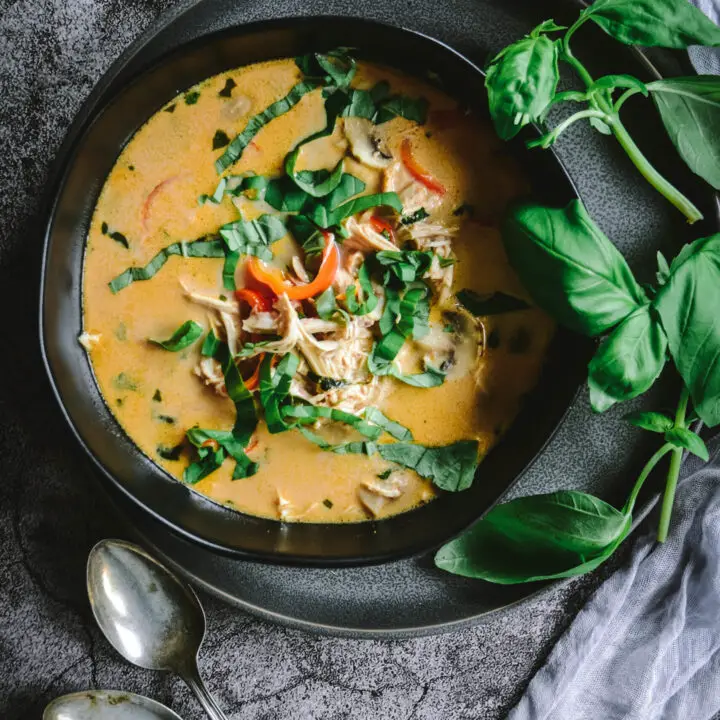 Thai Coconut Chicken Soup with Rice and Lemongrass
Low-Carb Thai Coconut Chicken Soup with Lemongrass is a perfect, simple weeknight dinner, ready in under 30 minutes.
Ingredients
4 cups reduced sodium chicken broth
2 smashed peeled cloves of garlic
1 stalk of lemongrass snapped in several spots
1 can full fat coconut milk
1" knob fresh ginger, grated
4 teaspoon Thai red curry paste
1 teaspoon ground coriander
1 tablespoon coconut sugar (skip for w30)
1 tablespoon fresh lime juice
1 red pepper or 6 mini peppers, finely sliced
1 pint thinly sliced white mushrooms
2-3 cups shredded rotisserie chicken breast
1 tablespoon chopped Thai or regular basil + extra for garnish
1 tablespoon chopped cilantro
½ teaspoon salt
optional: 1 russet potato peeled and cubed
Instructions
Bring chicken broth, coconut milk, red Thai red curry paste, coriander, smashed garlic, ginger and lemongrass to a boil. Reduce heat and cook on low for 10 minutes.
Add mushrooms, red pepper, sugar, salt and chicken and (potato optional) and cook for another 15 minutes on low until veggies have softened.
Lastly, add basil and cilantro, lime juice, remove lemon grass and if you wish garlic cloves and serve with additional chopped basil.
I like to serve this with a ¼ cup white rice in the center or simply on its own.
Recommended Products
As an Amazon Associate and member of other affiliate programs, I earn from qualifying purchases.