*This post may contain affiliate links. The earnings go back to supporting the content created on this site.
These grain-free cardamom orange pancakes are the perfect way to start your day. Drizzle them with Maple Syrup or smother them in almond butter and honey and you have a delicious breakfast.
Every once in a while, life throws us the most unexpected and marvelous things, maybe even life changing. Okay, okay perhaps not life changing but certainly unexpected and most definitely marvelous. I speak of none other than orange blossom water.
I first read about orange blossom water in Mimi Thorisson's books A Kitchen In France and French Country Cooking. At first glance it hardly impressed me but over time I kept going back to those pages, intrigued by the role of this mysterious water in sweet dishes. What could be so impressive about it? Of course I imagined it would simply be orange flavor which is fine but I certainly wouldn't attach the adjective unexpected to it.
So this orange blossom water sat in my Amazon cart for some time until I decided that I had nothing to lose and would just order it and see if I'd ever use it. Well, the moment it arrived and I unscrewed the cap, put a bit on my finger and dabbed it behind my ears and wrists and just sat with the scent for a while.
It was unlike anything I had smelled before – sweet, warm, deeply intense. I knew that I would this smell and flavor in my life often. And so it occurred to me – I would add it to paleo pancakes, which I eat every day. And to go along with the orange blossom water, another ingredient that's deserving of praise and that's cardamom.
And so these cardamom pancakes with orange blossom water have been my staple morning companions for the last 2 months. Truth be told, I'm not adventurous when it comes to breakfast. I know what I like and I stick with it so when I find something new, I'm usually ecstatic. And since I prefer sweet to savory in the morning, these pancakes topped with almond butter, a pinch of salt, drizzle of honey and chia seeds, became a perfect match for my morning coffee. I look forward to breakfast every morning.
I like making a big batch of pancakes and storing them in the refrigerator all week. All they need is just a minute in the micro, if you like them warm. If you're not a micro person, toaster oven will work just fine to warm them through.
These Grain Free Cardamom Pancakes with Orange Blossom Water are:
grain-free
gluten-free
dairy-free
vegetarian
flavorful
low in carb
paleo
Where can you find Orange Blossom Water?
Honestly, I've never seen orange blossom water in any stores in the US. As it is a French product, some specialty stores may have it, but I buy mine online.
Can you leave out the Orange Blossom Water?
You certainly can – but if you do, just add one more tbsp plant milk to the mixture to get a similar consistency. You won't have the same flavor intensity but they will still be delicious with the cardamom and lemon zest.
The best skillet for these grain-free cardamom pancakes
If you have a very well seasoned cast iron pan, feel free to use that. Otherwise a non stick ceramic pan works best in this instance as the pancakes will not stick.
How to serve Grain Free Cardamom Pancakes with Orange Blossom Water
My favorite way of eating these pancakes is to smother 2-3 with almond butter and honey. If you want syrup, feel free to use syrup but if you're keeping your sugar intake lower, feel free to stick with the former. A cup of hot tea or coffee also work wonderfully to accompany these pancakes.
Yield: 12
Grain-Free Cardamom Pancakes with Orange Blossom Water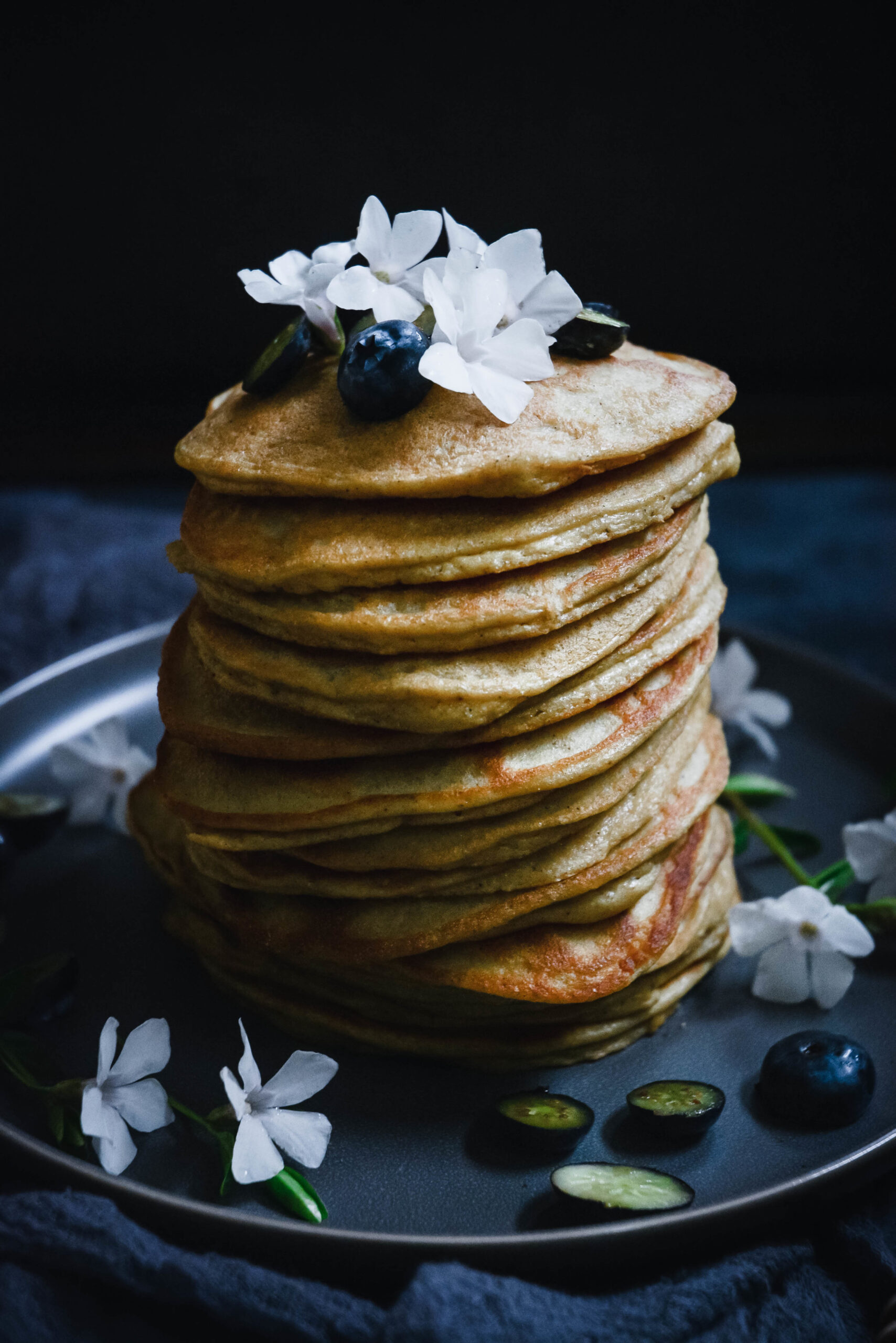 These Grain-Free Cardamom Pancakes with Orange Blossom Water are a flavorful way to start your day.
Ingredients
4 pastured room temperature eggs
1 tbsp orange blossom water
1/4 cup almond flour + 2 tbsp
1/4 cup coconut flour + 2 tbsp
3/4 tsp baking soda
2 tbsp coconut oil plus extra
1 tsp ground cardamom
3/4 cup almond or cashew milk
1 tbsp coconut sugar
1 tsp vanilla extract
zest of 1 lemon
Instructions
Combine all ingredients in large mixing bowl and whisk well. Let batter sit for 5 minutes.
Preheat skillet on medium heat and add a little bit of coconut oil. Add roughly a 1/4 cup of batter to skillet (I can usually fit 3 pancakes at once) and cook until pancakes start to bubble (about 1-2 minutes), then flip and repeat. Continue with the rest of the batter.
Serve with suggestions: peanut or almond butter and honey or keep it classic with just maple syrup.
Pancakes can be stored in the refrigerator for up to a week and reheated as needed. (I do 1 minute in micro for 3 of them)
Notes
Because grain free flours can differ in consistency, if you find your batter is too thick, add a little more milk.