Start a fresh week with this simple-to-follow 7-day gluten and dairy-free gut-healthy meal plan. You can easily mix and match the recipes as you would like.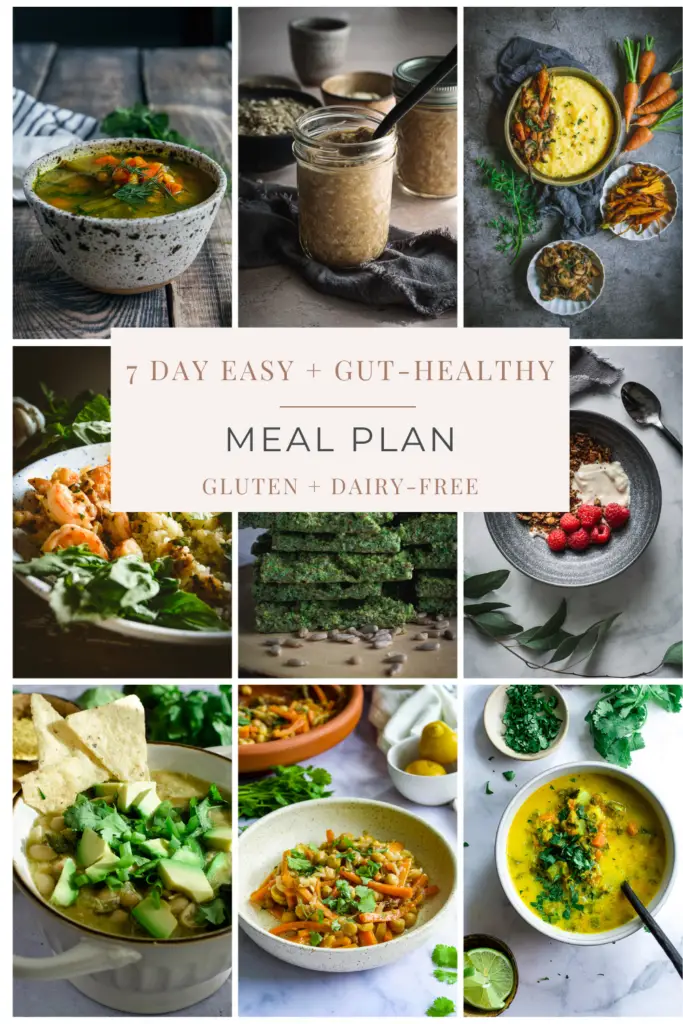 The beginning of a new year to me is less about resolutions than it is about a reset. It's an opportunity to start fresh, to fully embrace that it is possible to stick to eating in a way that supports our gut and overall health. I'm a firm believer that when we support the health of our gut, we reduce inflammation in the entire body.
This is why I wanted to share 21 gut-healthy recipes you can easily incorporate into your life. Not feeling like making 3 different recipes every day? No problem, you can repeat any of them and mix and match them as you see fit. The key to supporting the health of our gut is to limit processed foods as much as possible and to increase the variety of food we eat each week...particularly plant foods.
But before we dive into the recipes, I wanted to also mention how important it is to allow our digestive system to rest between meals and also take longer breaks overnight. I personally try not to eat for at least 12 hours each day. That means that if I finish dinner at 7, I will wait until at 7 or 8 to have my next meal. You can read all about intermittent fasting in this post and see if it is suitable for your life. This is also a lot easier once you get into the habit of it.
In addition to supporting the health of the gut with good, nourishing food and intermittent fasting, I highly recommend a broad-spectrum probiotic to improve the integrity of your gut lining and so much more.
So now let's get to this simple 7-day easy gut-healthy meal plan. As always, all recipes are 100% gluten and dairy-free.
7 Gluten and Dairy-Free Gut Healthy Breakfasts
7 Gluten And Dairy-Free Gut Healthy Lunches
7 Gluten And Dairy-Free Gut Healthy Dinners