When you want something warming, Paleo Chicken Tikka Masala is the go-to meal during cooler weather. It's hearty, comforting, and full of healthy spices.
Jump To
I paused, the feverish clicking of keys coming to a halt. I listened closely, almost in disbelief. It was the second morning I heard its song; a lonely bird chirping outside the window. Only a few chirps and it was gone. I waited for more but was satisfied to have gotten even a prelude. We're still in the dead of January and yet its spring song made my heart flutter.
Where I live, winter is long and unforgiving. Not as long as in other parts of the country but too long for my liking. Everything is grey, silent, and rather sleepy. It's not a bad thing per se but I find myself yearning for more light and warmth. But I know my wanting and the reality of winter are two very different things.
As we're on the cusp of temperatures in the single digits and perhaps even as low as 0 Fahrenheit, I can't help but want to curl up in a blanket and hibernate for the remainder of this season. But as that's neither feasible or physically possible, I'll do the next best thing, which is cook comfort food - in the form of curry. Warming, satisfying, hearty curry.
This curry is one I've taken through more testing than perhaps any other recipe. It needed to be just right and I was hung up on the textures and consistency of the sauce (because after all, it's the sauce that's everything).
Chicken Tikka Masala is a surprisingly easy recipe to make, filled with loads of spices and flavors, with Garam Masala being the star of them all. I put a little spin on this curry by making it even heartier and adding carrots and potatoes. You can eat it on its own, serve it with rice or cauliflower rice.
Easy and Hearty Paleo Chicken Tikka Masala Recipe
Flavorful, filling, and delicious
The perfect meal for cooler weather
Paleo approved
Gluten-free, dairy-free, grain-free (if you skip the rice)
Ready in under an hour
Equipment Needed
Large dutch oven or other heavy large pot
Large soup pot
Ziplock bag or container with lid
Small mixing bowl
Ingredients For This Easy and Hearty Paleo Chicken Tikka Masala Recipe
While the list may seem long, don't worry, the majority of ingredients are mostly spices, which you will want in this hearty and satisfying dish.
Boneless chicken breast
Ground turmeric
Garam masala
Ground pepper
Ground ginger
Ground coriander
Ground cumin
Ground paprika
Salt
Extra Virgin Olive Oil
Sweet or yellow onion
Garlic
Fresh ginger
Tomato Paste
Full fat coconut milk
Tomato Puree
Coconut Sugar
Lime juice
Carrots
Russet potato (optional)
Fresh cilantro
FAQs + Top Tips
Can You Use Chicken Breast Instead Of Thighs?
You most certainly can. If you don't want to use chicken things, chicken breast will work as well, though in my opinion, chicken thighs work far better than chicken breast because the things are a more tender cut.
What About Whole 30?
The only change you would have to make is simply omitting the coconut sugar. Because the tomato sauce does need sweetness to balance them out, you can make a date paste, which only requires about 6-8 dates and ¼ cup water. Blend well and use about 1 tablespoon of the date paste.
Do You Need To Add Vegetables?
You do not. If you just want the chicken masala without vegetables, skip the last part and serve the chicken on its own, over rice or cauliflower rice. And you can also just keep the carrots and skip the potato if you want to keep the masala lower in carbs.
Why Do You Need Coconut Sugar?
Whenever I make any dish with tomatoes, I like to add sweetness to balance out the acidity of the tomatoes. If you don't want to use coconut sugar, you're welcome to add the above date paste or simply use maple syrup. If you're not paleo, plain table sugar will work just as well, keeping the ratio the same.
📖 Recipe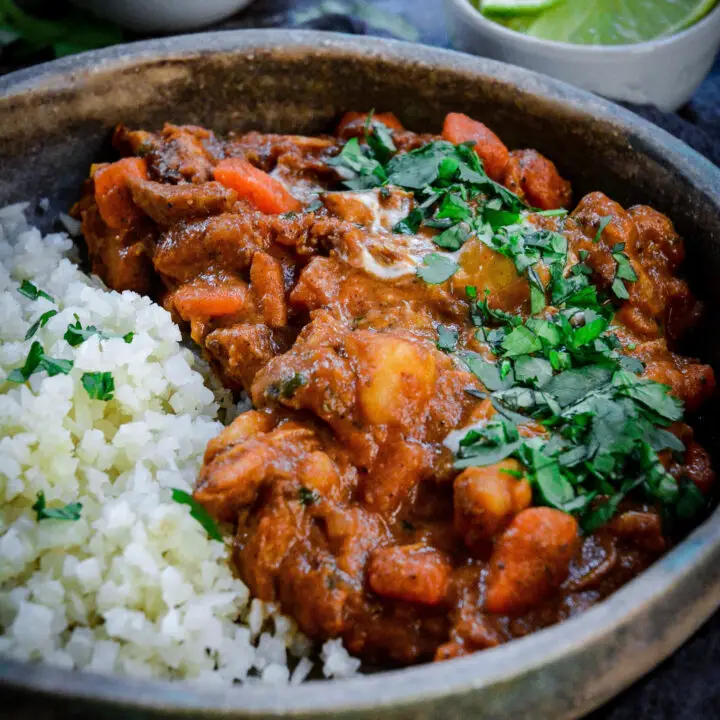 Easy and Hearty Paleo Chicken Tikka Masala Recipe
Additional Time:
15 minutes
Total Time:
1 hour
25 minutes
When you want something warming, Paleo Chicken Tikka Masala is the go-to meal during the cooler weather. It's hearty, comforting, and full of healthy spices.
Ingredients
2 lbs boneless, skinless chicken thighs
¾ teaspoon ground pepper, divided
½ teaspoon ground paprika
1 teaspoon salt, divided
¼ cup extra virgin olive oil + 1 tbsp
1 large sweet or yellow onion, chopped
3 cloves garlic, minced
1" knob ginger, grated
1 tablespoon tomato paste
1 can full-fat coconut milk
2 cups tomato puree
2 tablespoon coconut palm sugar (skip if whole 30)
squeeze of lime
4 medium carrots peeled and sliced
1 large russet potato peeled and chopped into cubes
1 rounded tablespoon freshly chopped cilantro
Instructions
1. In a small mixing bowl, combine 1 tablespoon garam masala, turmeric, ginger, cumin, coriander, ½ teaspoon salt, and ¼ teaspoon pepper, and set aside.
2. Reserve half of the spice mix and add the other half to a ziplock bag or marinating container along with ¼ cup olive oil and mix well. Add chicken and let marinate for 15 minutes to overnight.
3. Heat a dutch oven or large pot over medium-high heat. Add 1 tablespoon olive oil or coconut oil and chicken and brown chicken for 5 minutes on each side. Set aside on a plate. (Feel free to add additional oil, if you don't have enough in the pan).
4. In the same pan, add onion and ¼ teaspoon salt and cook for 8 minutes until translucent. Next add garlic, grated ginger, reserved spice mixture, 2 teaspoon garam masala, ¼ pepper, and paprika, and cook for 30 seconds.
5. Add in coconut milk, tomato puree, tomato paste, coconut sugar, and chicken, and let simmer on low heat for 40 minutes with a lid on. Stir occasionally.
6. Meanwhile, add cut-up carrots and potatoes to a large pot of water and bring to a boil. Cook for 8-10 minutes until tender but not falling apart. Check them occasionally with a fork. Drain and set aside.
7. When the sauce has thickened and chicken is cooked through, add cilantro, squeeze of lime vegetables and simmer for another 5 minutes.
Serve over rice or cauliflower rice with additional cilantro if desired.
Recommended Products
As an Amazon Associate and member of other affiliate programs, I earn from qualifying purchases.
Nutrition Information:
Yield:

8
Serving Size:

1
Amount Per Serving:
Calories:

397
Total Fat:

21g
Saturated Fat:

12g
Trans Fat:

0g
Unsaturated Fat:

8g
Cholesterol:

138mg
Sodium:

537mg
Carbohydrates:

24g
Fiber:

4g
Sugar:

8g
Protein:

31g
---
---