Chorizo and Littleneck Clams in Red Pepper Broth is a delicious appetizer or entree that will bring the taste of the ocean right to your plate.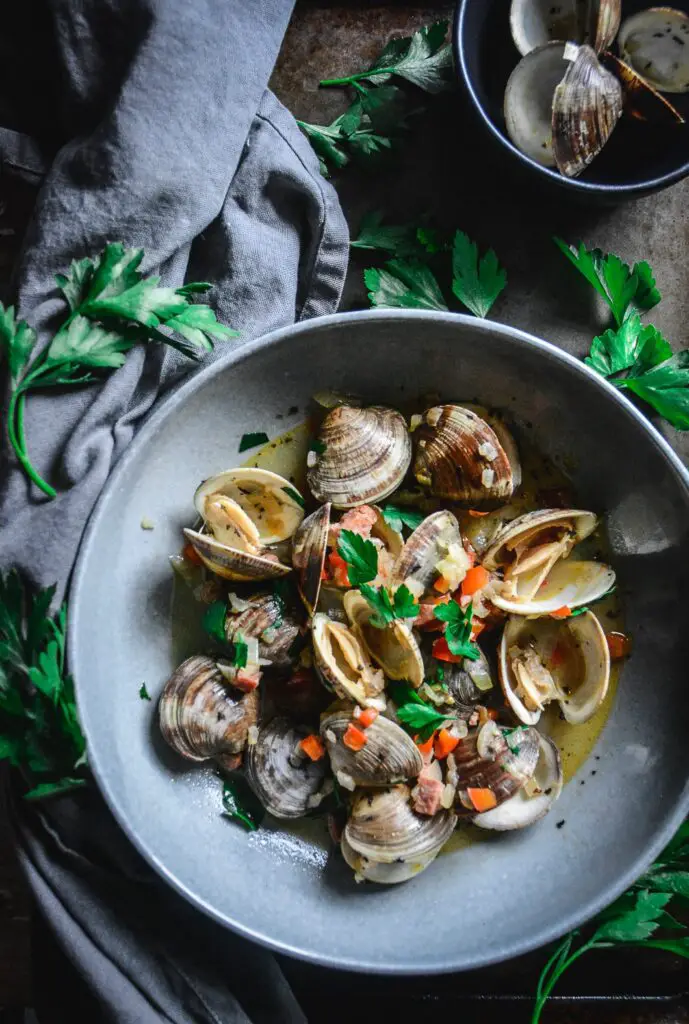 Jump To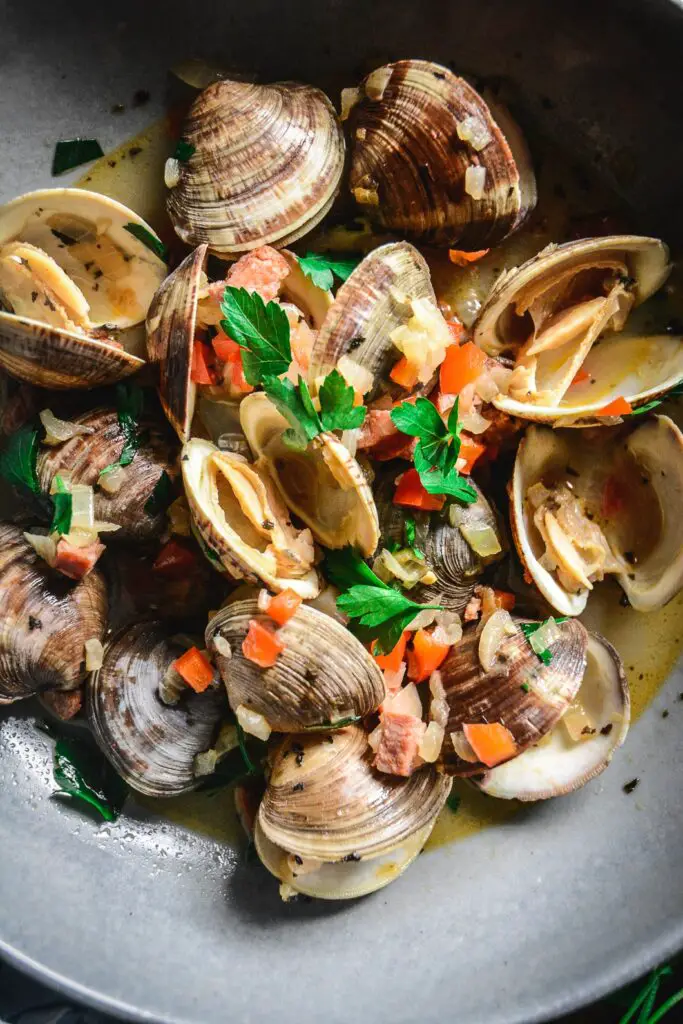 It was early. A strip of red visible on the horizon. I made my way out the door with anything I could throw on. I didn't want to miss it. Out of breath and still trying to shake off the nights' sleep, the ground beneath shifted from pavement to a soft crunching. Transfixed, I stood watching the subtle shift in clouds as they gave way to the morning sun. There's nothing like a beach sunrise. A winter beach sunrise to be exact.
I did a 360 sweep and noticed I was the only one on the beach. I sat in the sand oblivious to the cold, lost in the rhythmic lapping of waves. The beauty of this place bewitches me, leaves me tormented and euphoric every time. I wanted to take it in as much as I could in the short time available.
Emotions flowed through me ranging from elation to melancholy, knowing that in just a few short hours, I'll have nothing more than videos and photos of this place. I tried shaking off the woeful feeling and started walking. Naturally, the thing that comes up most in my repertoire of thoughts, is food. Last night's food. In particular the chorizo and littleneck clams appetizer that left me wanting more. It was one of the best I've had in a long time.
One of the obsessive things I do when going out to eat is trying to figure out how the chef made a certain dish. What's the key ingredient? What makes it stand out? I decided to seek validation…I wanted to know; was it dry basil? When the waitress returned nodding cheerfully, I nearly exploded with excitement. Perhaps it was the two glasses of wine that made me chattier than normal, but I had an entire discussion with her about basil. My husband half-embarrassed, took advantage of my being deep in conversation to polish off the last of the chorizo and littleneck clams.
So there I was, frozen on the beach and hardly realizing it, about a mile from the hotel, thinking about chorizo with littleneck clams. The only good thing about leaving would be getting to recipe test this thing at home. I was excited about its simplicity and rich taste.
This Chorizo and Littleneck Clams in Red Pepper Broth recipe is: 
Paleo
Whole 30
Gluten-free
Grain-free
Dairy-free
Ready in 20 minutes 
Perfect as an appetizer or entree
Ingredients for Chorizo and Littleneck Clams in Red Pepper Broth?
Chorizo Sausage
Littleneck clams
Extra virgin olive oil
Onion
Red pepper
Garlic
Dried basil
White wine or broth
Italian parsley 
Tips and substitutions 
Littleneck Clams 
You can usually find clams at any seafood store or local market and my experience has been that they come in a 50 count bag. So for this recipe, you'll need roughly 50 of them. 
Chorizo sausage 
You can find chorizo sausage pretty much anywhere and for this recipe, you'll need a fully cooked sausage that just needs some warming through. 
If you're following a paleo or whole 30 lifestyle, be sure to look for a brand that is marked compliant or that does not have any added sugar.
Dried Basil
While I absolutely love fresh basil, this recipe needs the earthy taste you can only get from dried basil. It's a key ingredient in this simple dish and available everywhere. 
An appetizer or entree? 
That's for you to decide! You can use this Littleneck clam dish as an appetizer or convert it to a main dish by simply adding the pasta of your choice. I find it works wonderfully with chickpea spaghetti or angel hair pasta. It needs a delicate noodle to go with the delicate flavors.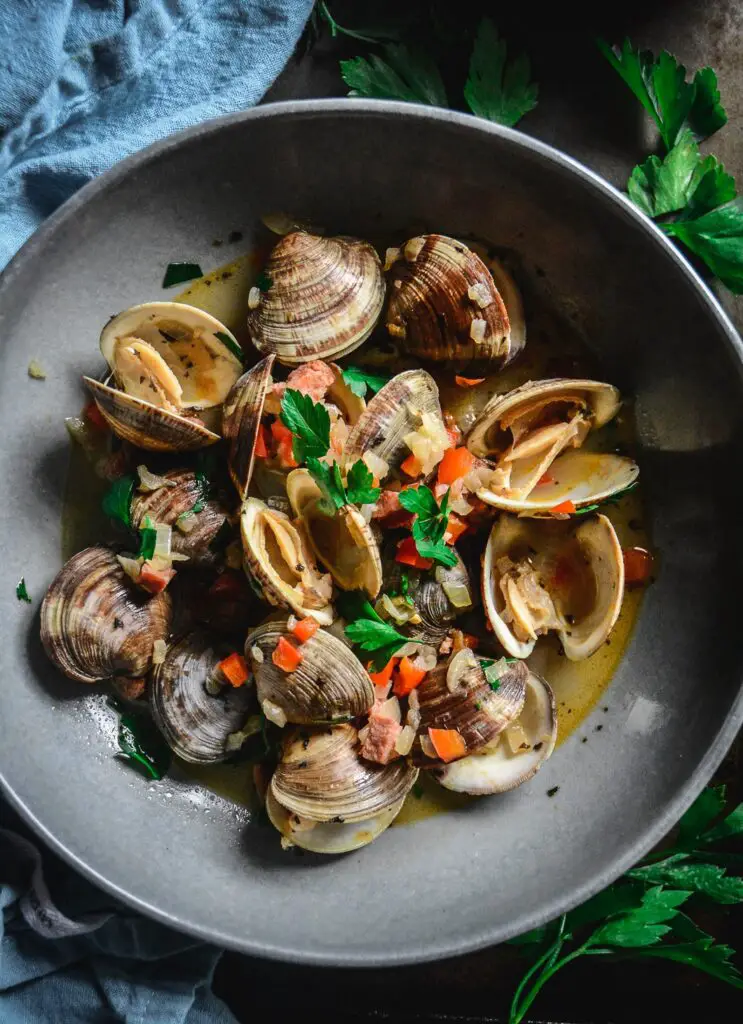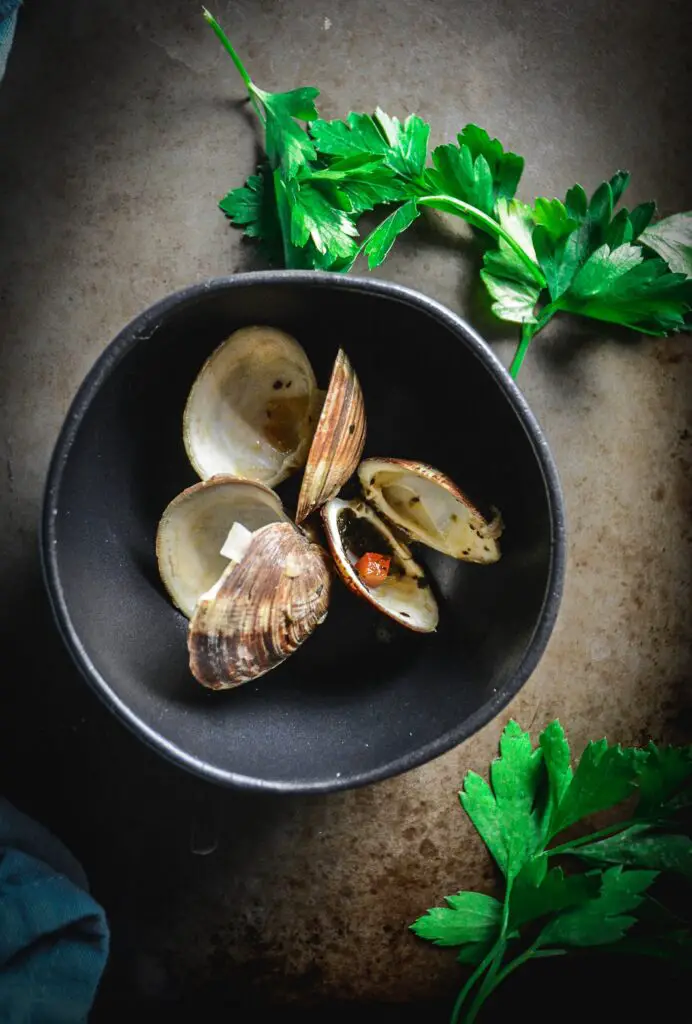 📖 Recipe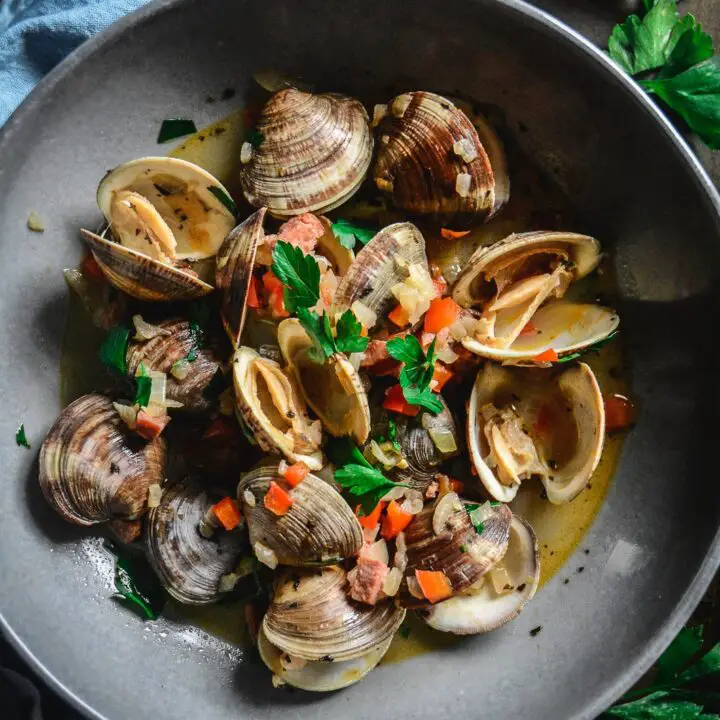 Chorizo and Littleneck Clams in Red Pepper Broth
Chorizo and Littleneck Clams in Red Pepper Broth is a delicious appetizer or entree that will bring the taste of the ocean to your plate.
Ingredients
1 tablespoon extra virgin olive oil 
1 link organic cured chorizo cut into small pieces
50 littleneck clams
1 medium sweet onion finely chopped
½ organic red bell pepper
1 clove garlic, finely mined
¾ teaspoon dried basil
¼ teaspoon salt
1 cup dry white wine or 1 cup broth if whole 30
1 tablespoon fresh Italian parsley
Instructions
1. Preheat dutch oven. Add olive oil, onion, red pepper, and salt and cook on medium heat for 8 minutes until onion is slightly caramelized and pepper is soft.

2. Add garlic and cook for 30 seconds.

3. Next, add dried basil, chorizo, and cook for 2 minutes. Add wine, increase heat to high, and clams. Cover and cook on high heat for 7-8 minutes. Do not open the lid during this time. Once cooked, discard any clams that haven't opened.

4. Sprinkle with fresh parsley and serve immediately. Pairs very well with an Albarino.