*This post may contain affiliate links. The earnings go back to supporting the content created on this site.

This post is a paid partnership with Naturacentric. All opinions expressed are my own.
Adzuki Bean Hummus with Lemon Honey makes for a perfect sweet and savory appetizer dip or spread.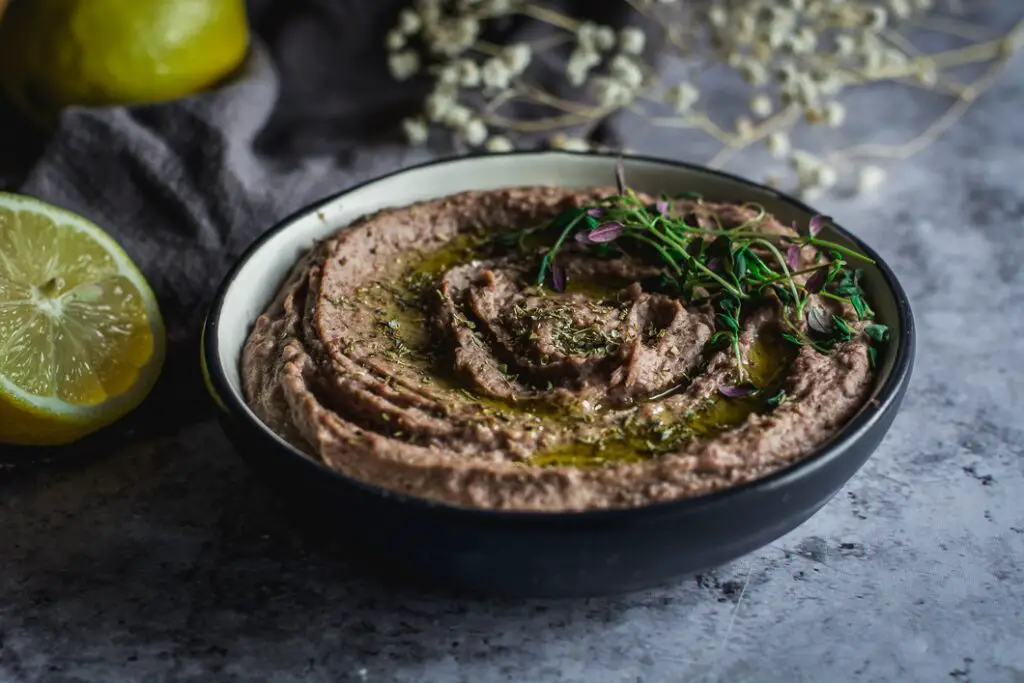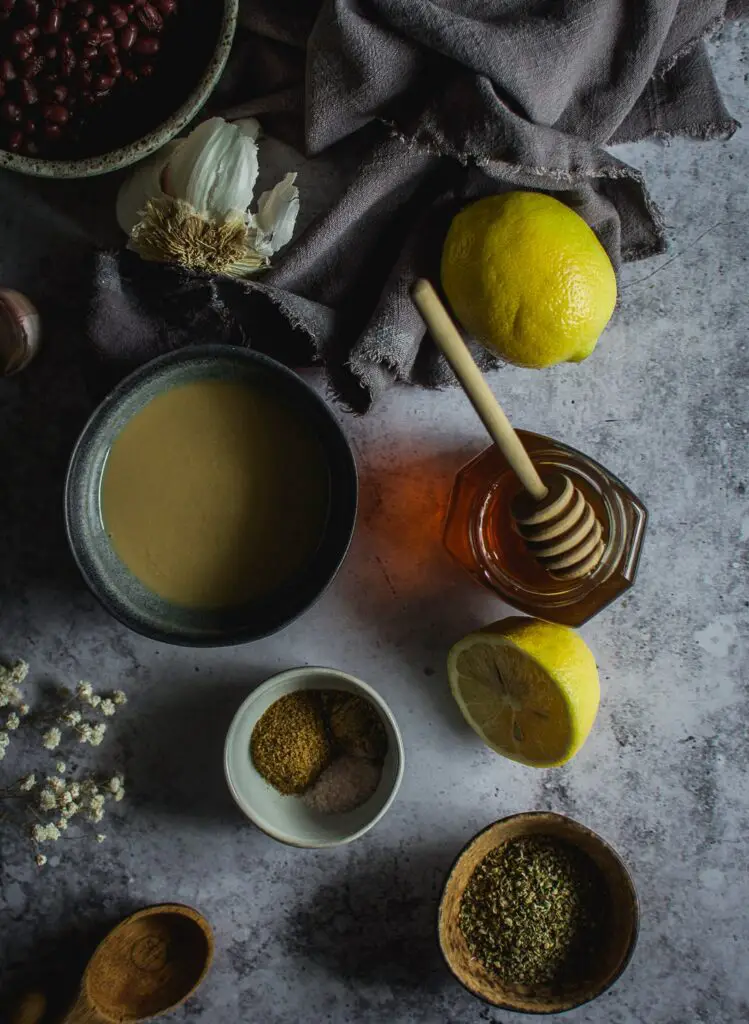 Adzuki beans – an underrated variety – small, and red yet packing lots of flavor and nutrition.
I have to be honest, I had seen canned adzuki beans at the market but often walked right past them, simply because they intimidated me. But earlier this year, I finally decided to buy a can. Without an actual plan in mind, the can sat and sat some more in the pantry. Until the day I finally decided to put it to good use by making a quick and simple Adzuki bean hummus.
It turns out adzuki beans make a creamy and delicious hummus because their skin is quite thin and they become extremely soft when cooked. But what I love most about adzuki bean hummus is how easily it can be made into a savory, sweet or sweet and savory hummus.
For this recipe, I've partnered once more with my friends at Naturacentric to create this easy Adzuki bean hummus, using their Lemon Infused Honey. The combination of the lemon-infused honey with the silky Adzuki beans gives the hummus a velvety sweet taste.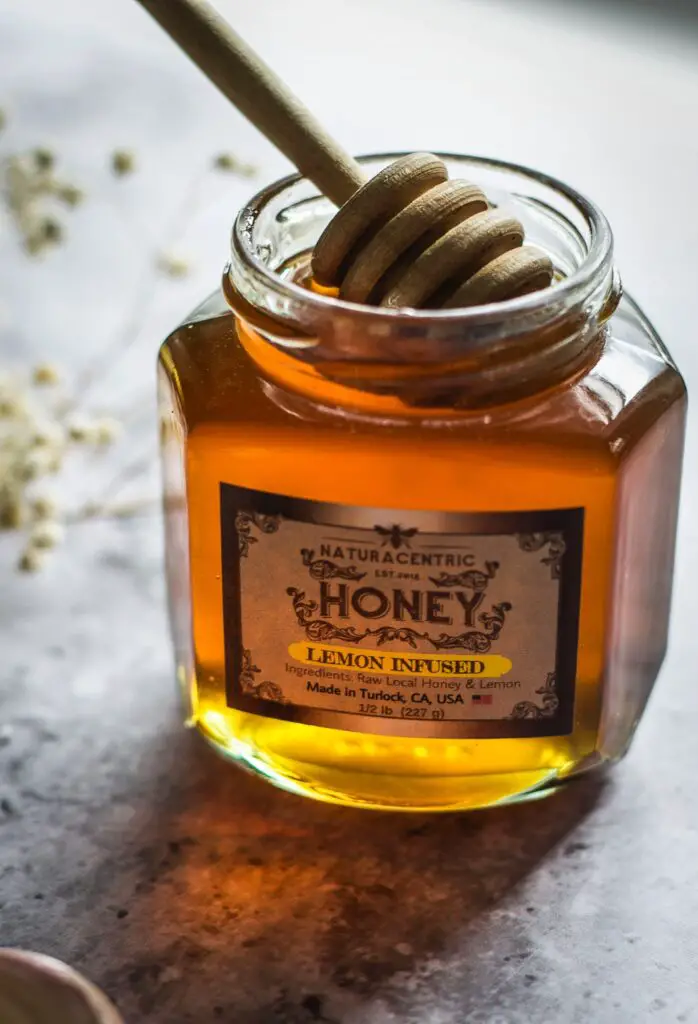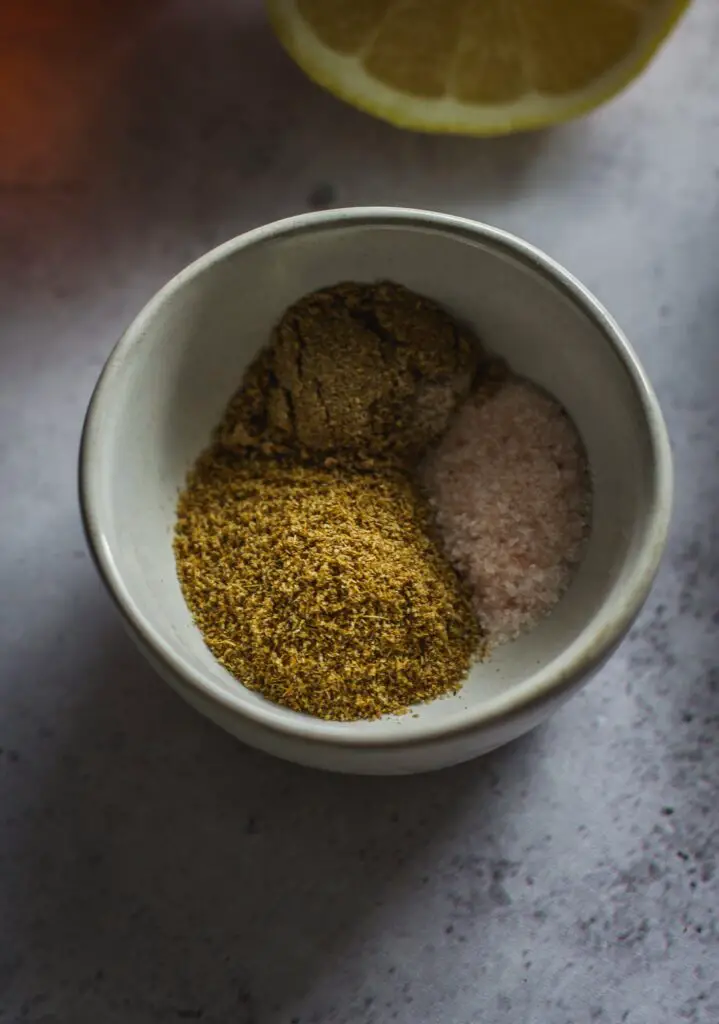 Why Adzuki Beans?
Adzuki beans are one of the healthiest beans on the planet, packed with 29 types of different of antioxidants. They're rich in manganese, phosphorus, and potassium, packed with fiber, and have high amounts of folate.
When cooked properly, they're may help to improve digestion, heart health, weight management and stabilize blood sugar.
Are Adzuki Beans the Same Thing As Red Kidney Beans?
They are not. Adzuki beans are twice as small, and contain more protein, antioxidants, iron, and fiber. They also cook a lot quicker than kidney beans. Though Adzuki beans are a lot harder to find in conventional grocery stores than kidney beans.
Canned Or Cooked Adzuki Beans?
That's entirely up to you. If you're looking for ease, canned are definitely the way to go. If you're looking to make sure they're gut healthy and you're removing most of the anti-nutrients, then soaking 1 cup of beans overnight and cooking them for 45-50 minutes is the way to go.
Lemon Infused Honey
The sweet and fragrant combination of honey and lemon zest makes this fragrant honey perfect for balancing out the earthiness of the Adzuki beans. Lemon Infused Honey is naturally antioxidant-rich, has anti-viral and anti-bacterial properties, and is always raw.
Quick and Simple Adzuki Bean Hummus with Lemon Honey
Easy to make
Versatile
Gluten, Dairy, and Grain-Free
Healthy and delicious
A perfect appetizer dip or spread
Ingredients for Adzuki Bean Hummus with Lemon Honey
Tahini
Adzuki Beans
Naturacentric Lemon Infused Honey
Coriander
Cumin
Oregano
Garlic
Olive oil
Salt
Lemon juice
Water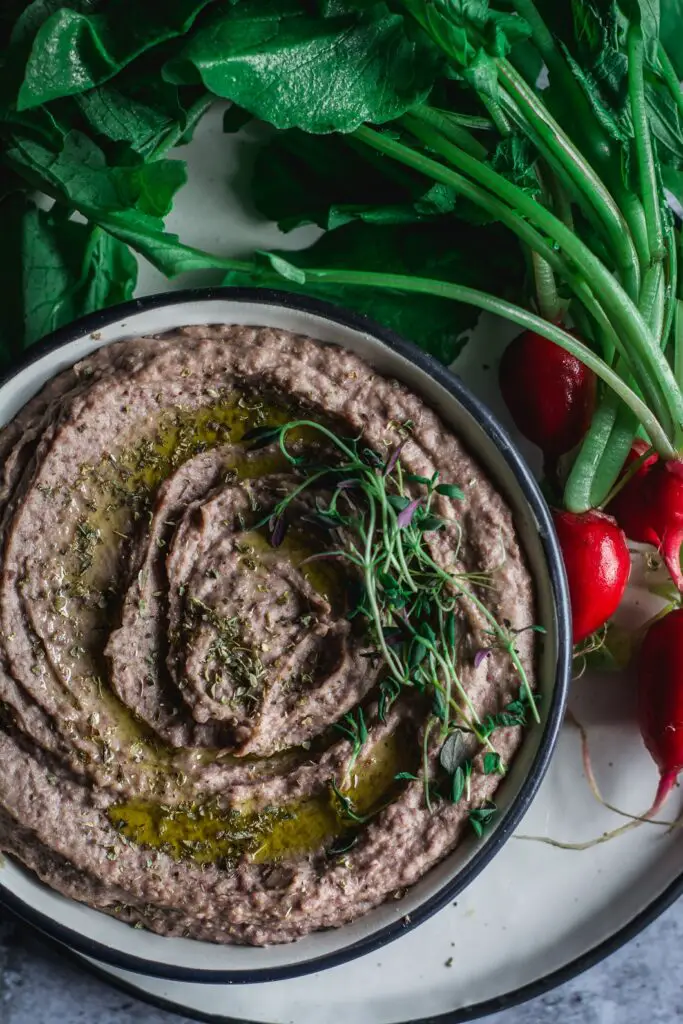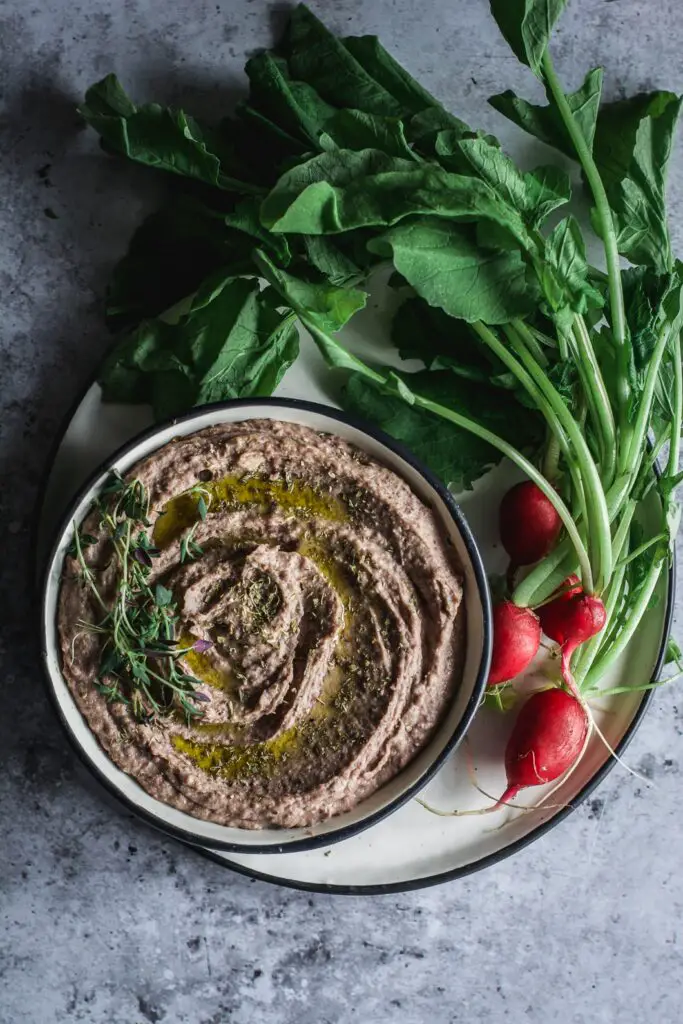 Tips + Tricks For Making Adzuki Bean Hummus
Cooked vs. Canned
If you're using cooked beans, hold off on adding any additional water when blending and ensure that most of the water is drained from the beans. You could end up with watery hummus if that's the case. If you feel the beans are too wet after cooking, dab them with a kitchen or paper towel until most of the moisture is absorbed.
Food processor vs. High-Speed Blender
I rely on my food processor to do all the work but if you only have a high-speed blender, that will most certainly work too. I find regular blenders not to work well because they simply can't blend all the ingredients as well.
Adding Water
If you're using canned Adzuki beans, adding just a little bit of warm water will puree the hummus beautifully. If you're using cooked beans that still have some water in them, hold off until you've started blending and can test the consistency. You can always thin out the hummus if you think it's too thick but not so much the other way around.
Where Can You Find Adzuki Beans?
You likely won't find them in the bean/legume aisle of the grocery store but likely have to look in the special organic section. If you can't find them there, then online is the way to go. I use this brand in canned and this one for dried Adzuki beans.
More Hummus Recipes You May Like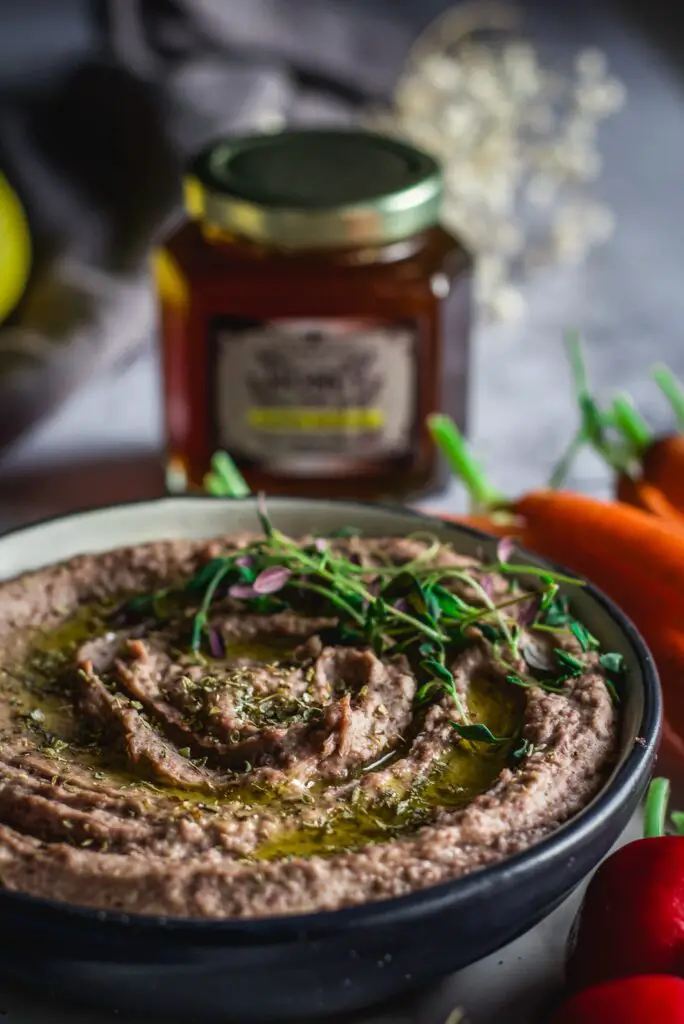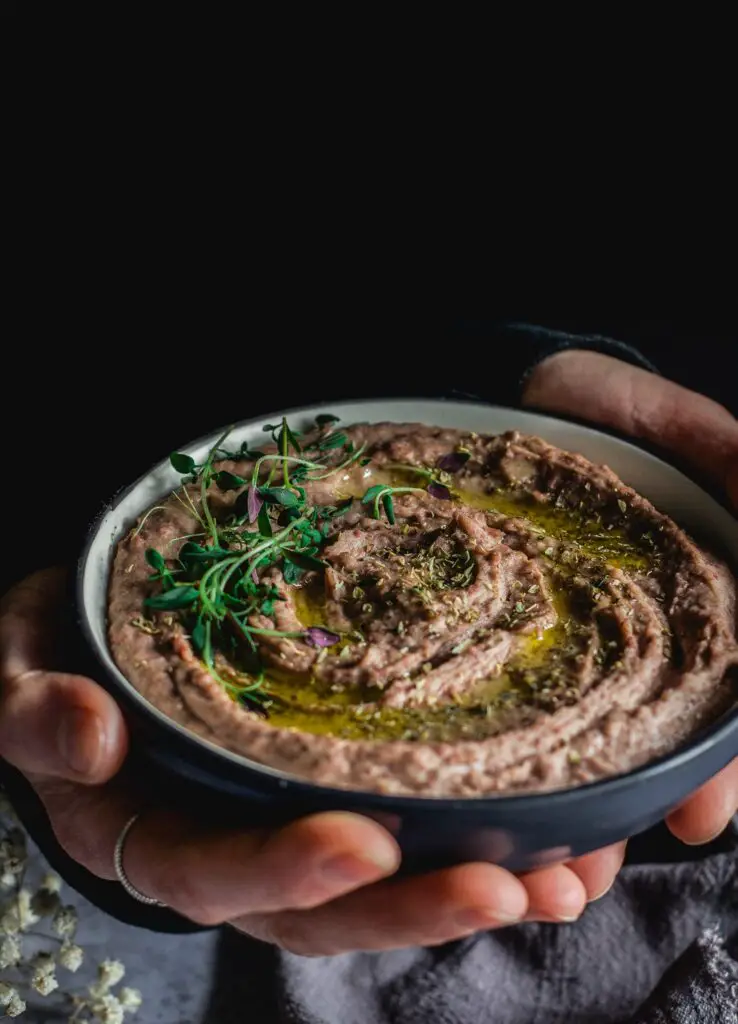 Quick and Simple Adzuki Bean Hummus with Lemon Honey
Total Time:
8 hours
55 minutes
Adzuki Bean Hummus with Lemon Honey makes for a perfect sweet and savory appetizer dip or spread.
Ingredients
1/4 cup runny tahini
1 small clove garlic
1/2 tsp salt
1/2 tsp lemon juice
1/4 cup extra virgin olive oil plus extra
1-2 tbsp lukewarm water (or more)
Instructions
Drain beans and rinse in a colander under cold water.
Add all ingredients to the food processor aside from olive oil and water. Puree for 30 seconds, slowly drizzling in the olive oil. Check the consistency. If the hummus is too thick, add 1 tbsp water at a time.
Serve with extra olive oil, honey drizzle, and oregano if you like.
Notes
If you're going to boil the Adzuki beans. Soak 1 cup overnight. Discard water. Add 4 cups fresh water and bring the beans to a boil. Optional, add 1 tsp salt.
Reduce heat and simmer for 45 minutes until soft. Follow the above instruction.
**For this and any other Naturacentric honey, use the code CALMEATS to receive 20% off your order**
Recommended Products
As an Amazon Associate and member of other affiliate programs, I earn from qualifying purchases.
Nutrition Information:
Yield:

24
Serving Size:

1
Amount Per Serving:
Calories:

51
Total Fat:

4g
Saturated Fat:

1g
Trans Fat:

0g
Unsaturated Fat:

3g
Cholesterol:

0mg
Sodium:

50mg
Carbohydrates:

4g
Fiber:

1g
Sugar:

1g
Protein:

1g