Here is a compilation of 20 easy and delicious gluten and dairy-free Mediterranean diet-inspired recipes along with some tips to help you eat more plants, better food, and feel better inside and out.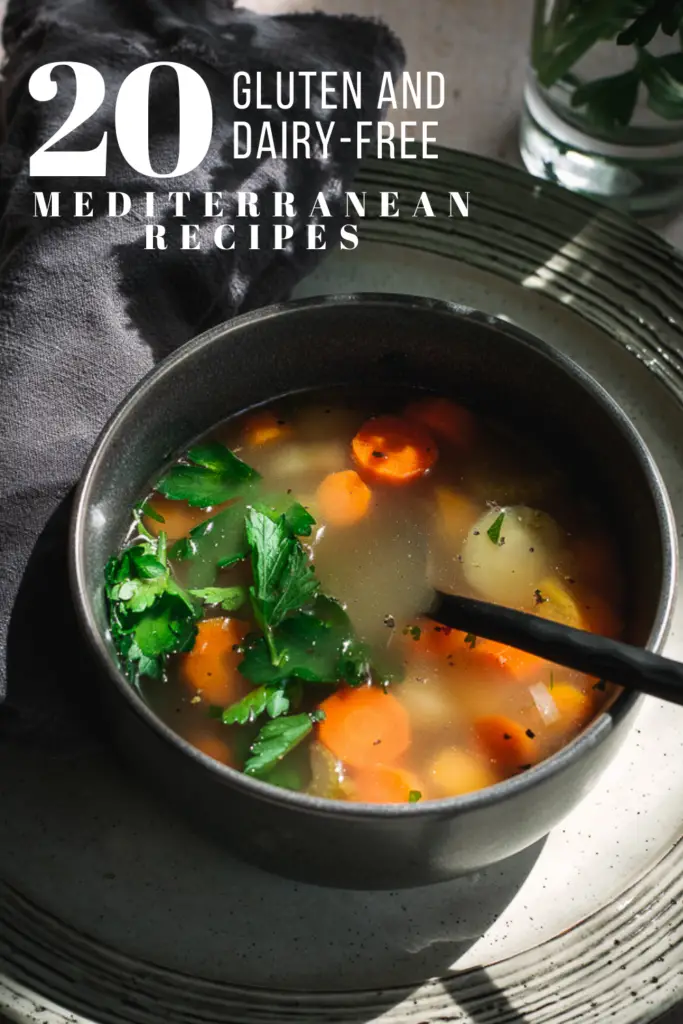 Since I started this food blogging journey in 2017, I've mainly been after one thing - how to balance my gut health with food and bring what I discover to you. And while I've experimented with numerous variations of gluten and dairy-free living, including paleo, keto, and low-carb, one phrase continued to stick with me from the moment I read it: "Eat food. Not too much. Mostly plants" - Michael Pollan. A simple concept, if you think about it, but in our seemingly never-ending supply of artificial food, that may be a lot easier said than done.
Though, one lifestyle that I've been drawn to, (perhaps even without realizing it) is the Mediterranean way of eating, which very much aligns with that concept. I hesitate to call it the Mediterranean diet, although that is the actual coined term, because, to me, a diet symbolizes deprivation - taking on a negative connotation. So I'm using "lifestyle" as well as "diet" interchangeably because this is a way of living rather than a quick, temporary fix.
However, if you want to go the extra step in taking charge of your health, I highly recommend using Lasta Meal Planning App to customize meal plans in order to achieve your health and weight loss goals.
In today's post, I want to share some of my favorite Mediterranean-inspired recipes, but before that, let's dive a little into what the Mediterranean way of eating actually involves.
*All opinions are my own and should not be used as medical advice.
Staple Foods Of The Mediterranean Diet
While I'm a firm believer in not being awfully rigid with anything (aside from gluten and dairy, of course), these are some basic foods that are staples when following a Mediterranean way of eating.
Extra virgin olive oil
Whole grains like quinoa, rice, and oatmeal
Vegetables, fresh (strong focus on seasonal and local) and frozen
Fruits, fresh (strong focus on seasonal and local) and frozen
Beans and lentils
Nuts and seeds
Spices
Herbs (fresh and dried)
Fish and seafood, canned and frozen are okay
Wine in moderation
Foods To Eat In Moderation
According to the Mediterranean Diet Pyramid, these are the foods to eat in moderation:
Poultry
Eggs
Meats
Sweets
Some Basic Concepts Of The Mediterranean Diet
Make vegetables the main part of your meal
Use extra virgin olive oil as your primary source of fat
Add a green salad to your meal
Swap processed snacks for nuts and seeds
Trade sodas and juices for water
Drink wine primarily with your meals (If you don't drink, do not start)
Eat processed meats occasionally
Keep meat portions to about 4 ounces per serving
Eat fruit for dessert
Incorporate movement into your life every day
The Gluten And Diary-Free Version Of The Mediterranean Diet
As gluten and dairy are part of the traditional Mediterranean diet, the recipes you will find here are 100% gluten and dairy-free so you can rest assured that changing the diet a little bit will not vary all too much from the classic.
With that said, let's get right to the recipes.
20 Simple Gluten and Dairy-Free Mediterranean Recipes
Other Helpful Posts You May Enjoy