You can drastically improve your blood sugar by adding apple cider vinegar and cinnamon to water before meals.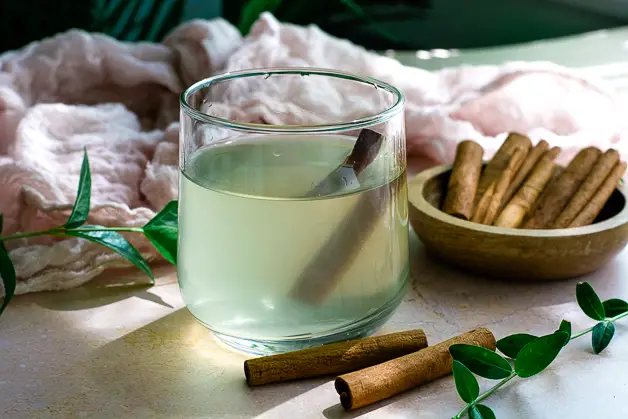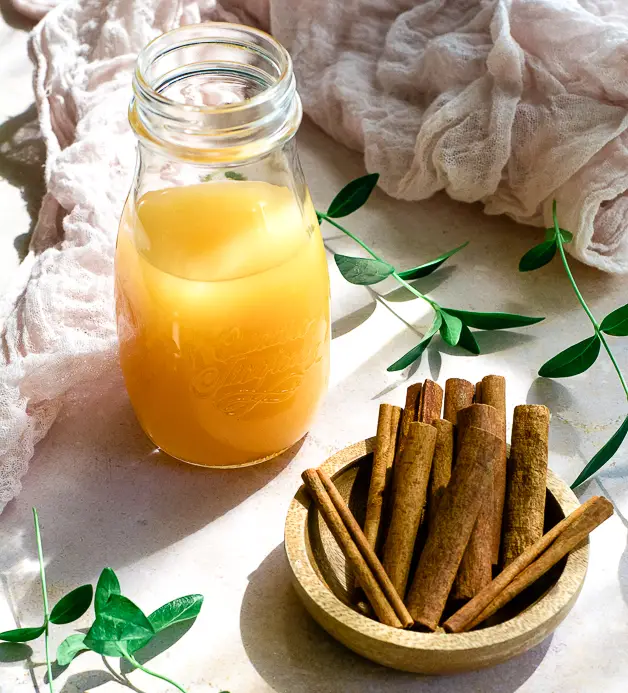 It's difficult to overstate just how impressive apple cider vinegar is when it comes to our health. But then you add cinnamon to it, and it becomes a powerful health tonic that is incredibly beneficial for managing blood sugar levels.
In this post, you'll find out how to balance your blood sugar with this simple cinnamon-infused apple cider vinegar.
Since the data on apple cider vinegar and cinnamon is pretty impressive, I wanted to create a drink that incorporates them both. And not just that but use myself as a guinea pig to test the results. The way I measured this was simply to wear a continuous glucose monitor for two weeks and take the apple cider vinegar and cinnamon drink before the same meals and then not take it and eat the same thing. The data was remarkable and frankly, I was pretty blown away. But you don't have to wear a CGM to see the results, just make this simple drink and see how you feel.
This recipe was primarily inspired by my gut-healing fire cider recipe but obviously a stripped-down version of it. And if you like that, you might want to check out this ginger and turmeric digestive shot as well as this post on improving digestion and all other gut-health posts.
Jump To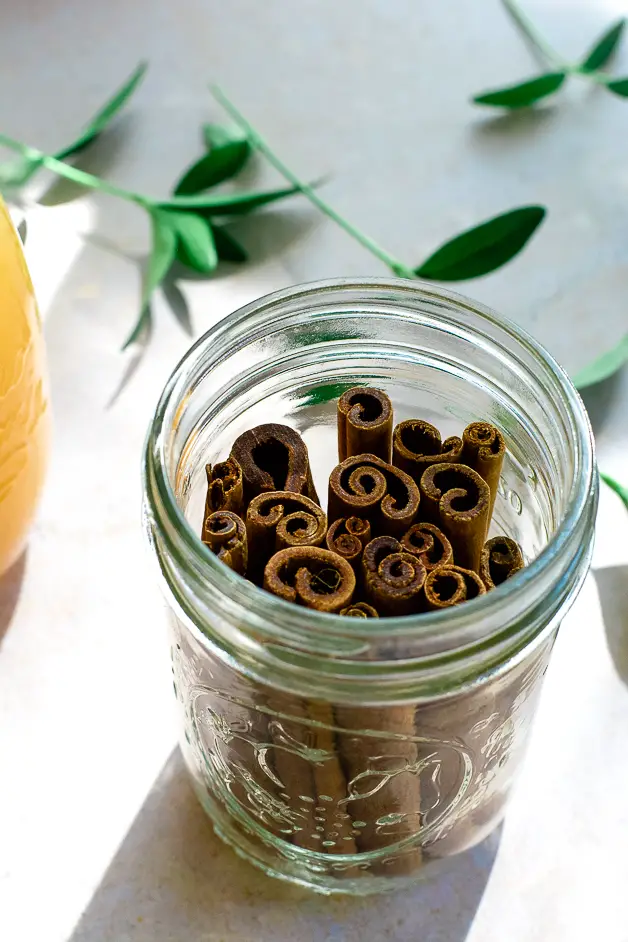 What Is Apple Cider Vinegar?
Apple cider vinegar is made by fermenting apples. The apples are crushed and then mixed with yeast, which converts the sugars in the apples into alcohol. The alcohol is then converted into acetic acid, which is the main active ingredient in apple cider vinegar.
Acetic acid has a number of beneficial properties, including antibacterial, antifungal, and antioxidant effects. These properties may help to explain some of the health benefits of apple cider vinegar.
How Does Apple Cider Vinegar And Cinnamon Balance Blood Sugar?
Acetic acid, which is converted from the fermented alcohol in apple cider vinegar, can help to lower blood sugar (or glucose) by storing excess blood glucose in the liver. This in turn helps to reduce the production of glucose as well as the absorption of glucose.
Cinnamon controls blood sugar by increasing insulin sensitivity, regulating insulin, and balancing it all at once.
What Are The Benefits Of Apple Cider Vinegar And Cinnamon?
Besides being amazing for balancing blood sugar, apple cider vinegar and cinnamon together are beneficial for:
Weight loss
Controlling insulin levels
Cholesterol reduction
Heart health
Digestive health
Skin health
Hair health
Immune system support
Why Is Being Insulin Resistant Bad?
Having high insulin levels or being insulin resistant, is tied to inflammation in the body and brain, weight gain, hormone imbalances, mental health problems, heart issues, Type 2 Diabetes. It causes a cascade of problems that affect all systems in the body.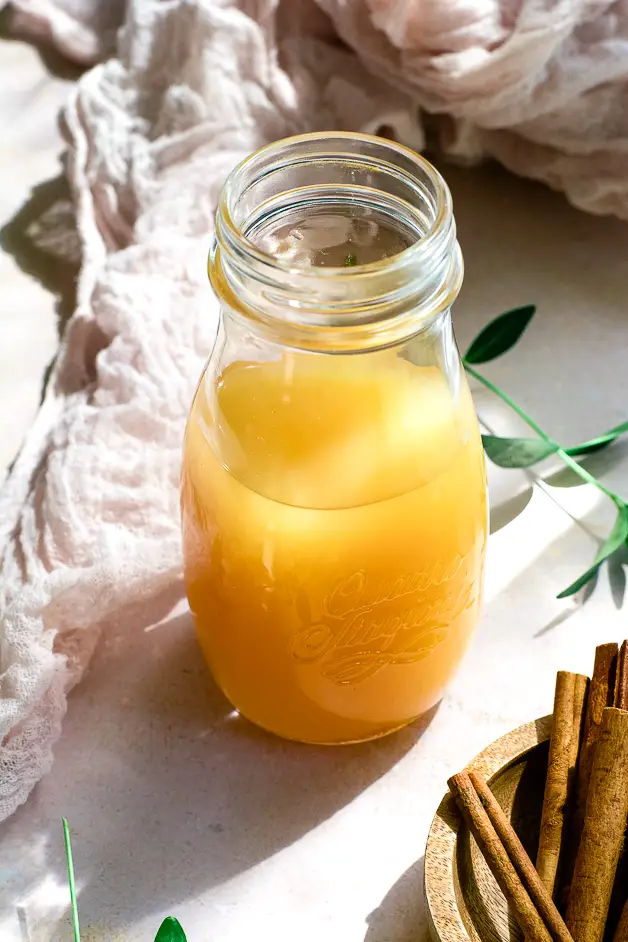 Why You Want Unpasteurized Apple Cider Vinegar
Unpasteurized Apple Cider Vinegar also known as Apple Cider Vinegar with the mother, contains gut-friendly bacteria that help to improve digestion and maintain healthy balance in your gut. It also helps to neutralize stomach acid and keep the bad bacteria in check.
Now let's get to the recipe.
Ingredients
See recipe card for quantities.
Instructions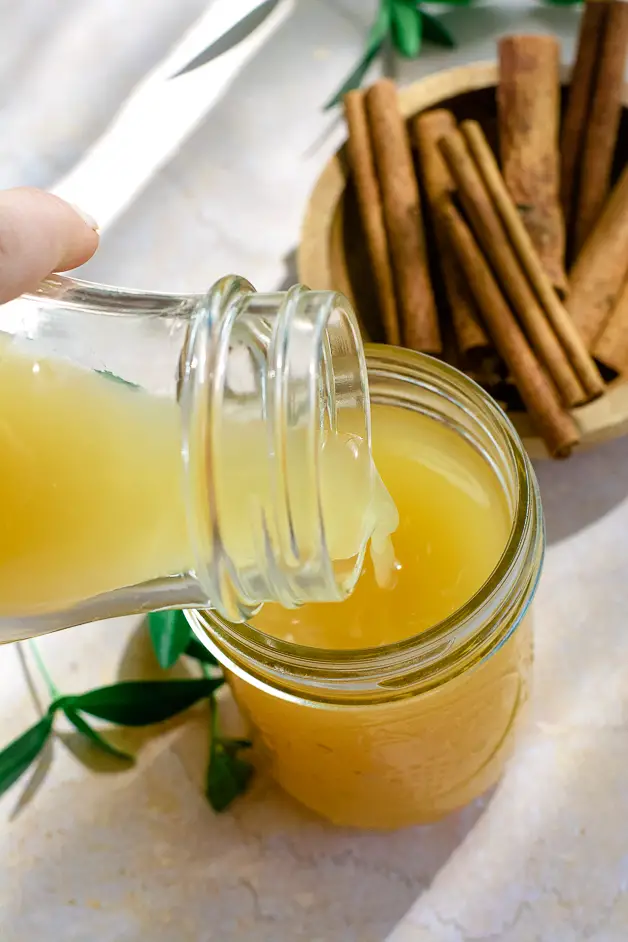 Pour apple cider vinegar into a jar.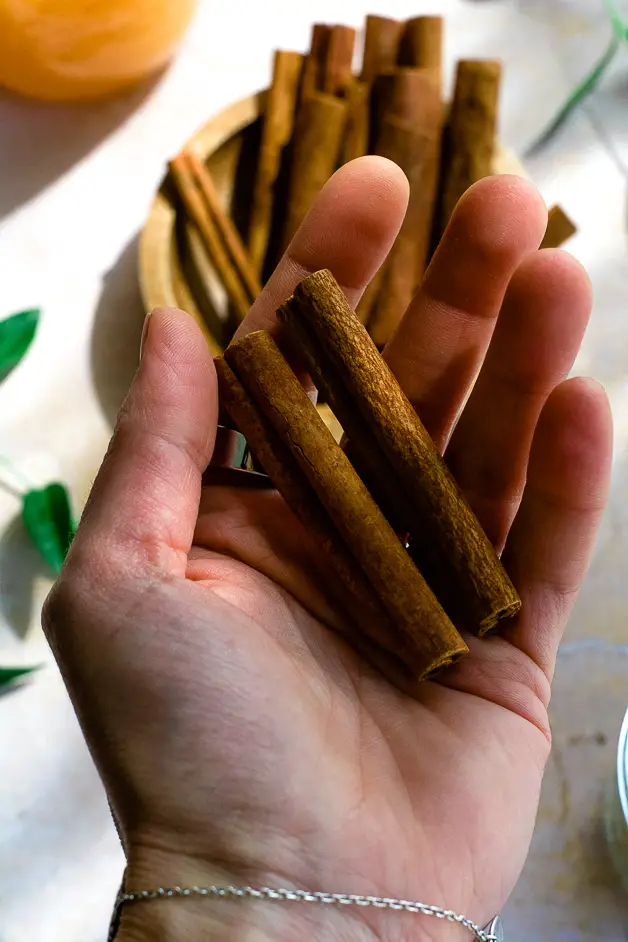 You can use cinnamon sticks or ground cinnamon.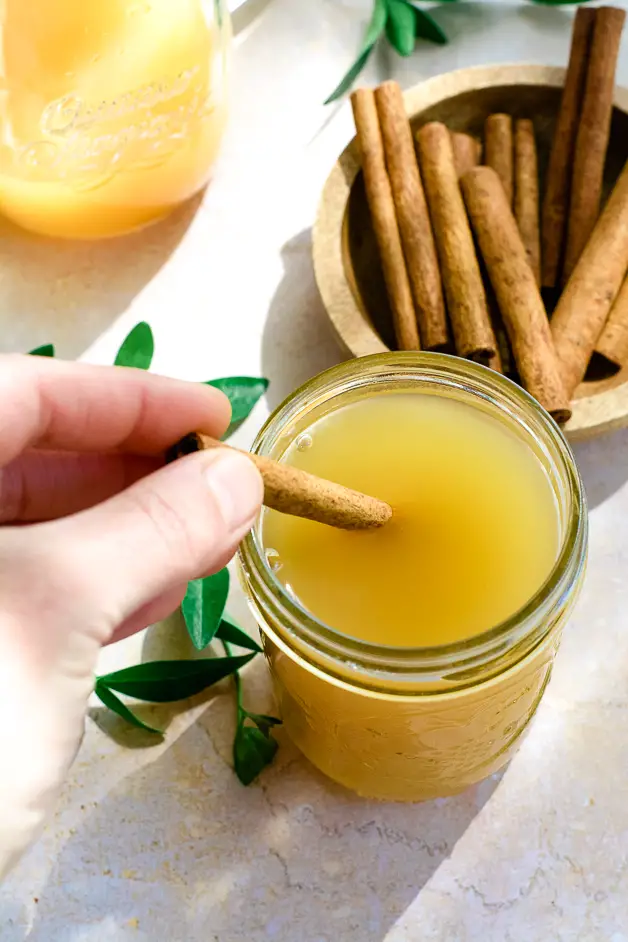 Add 2-3 cinnamon sticks (or 1 teaspoon ground cinnamon).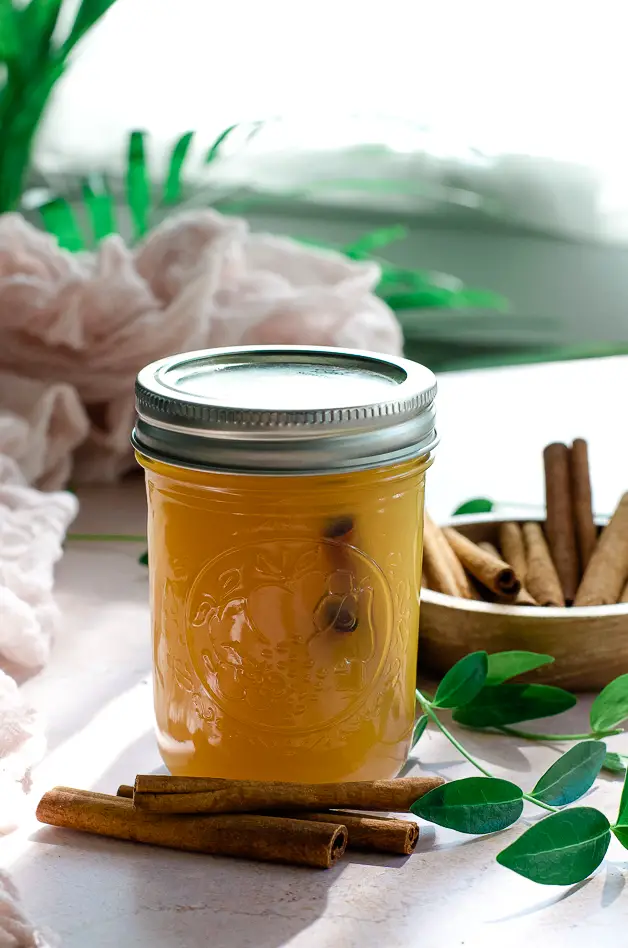 Place the lid on the cinnamon-infused apple cider vinegar.
Hint: You can start using the cinnamon-infused apple cider vinegar right away. It will only get sweeter and more flavorful as it infuses.
Equipment
The only equipment you need for this recipe is mason jars with lids.
Storage
You can store your cinnamon-infused apple cider vinegar for several weeks or months. The cinnamon sticks will open up and the cinnamon will further infuse the apple cider vinegar. A darkening in color is perfectly natural.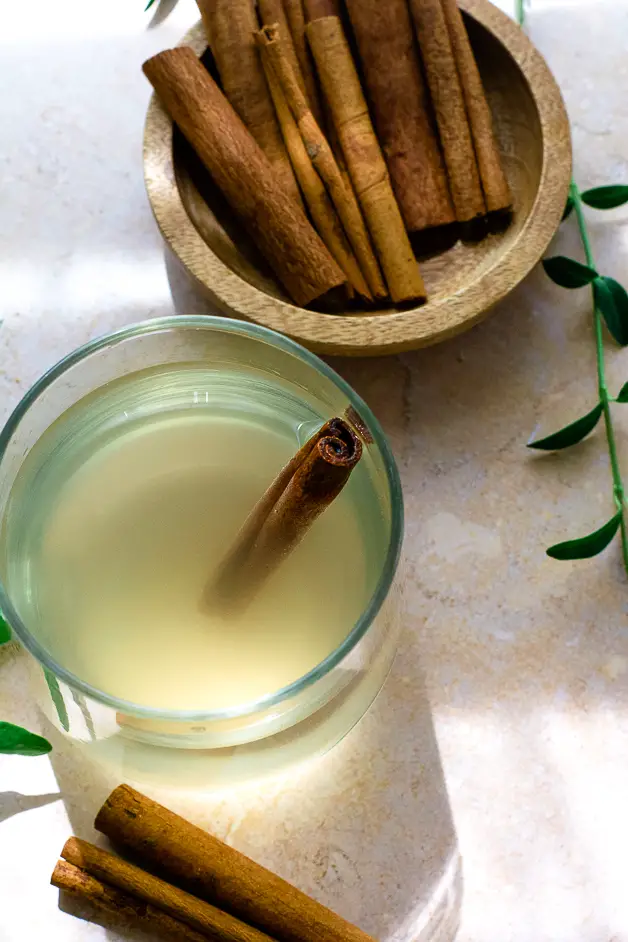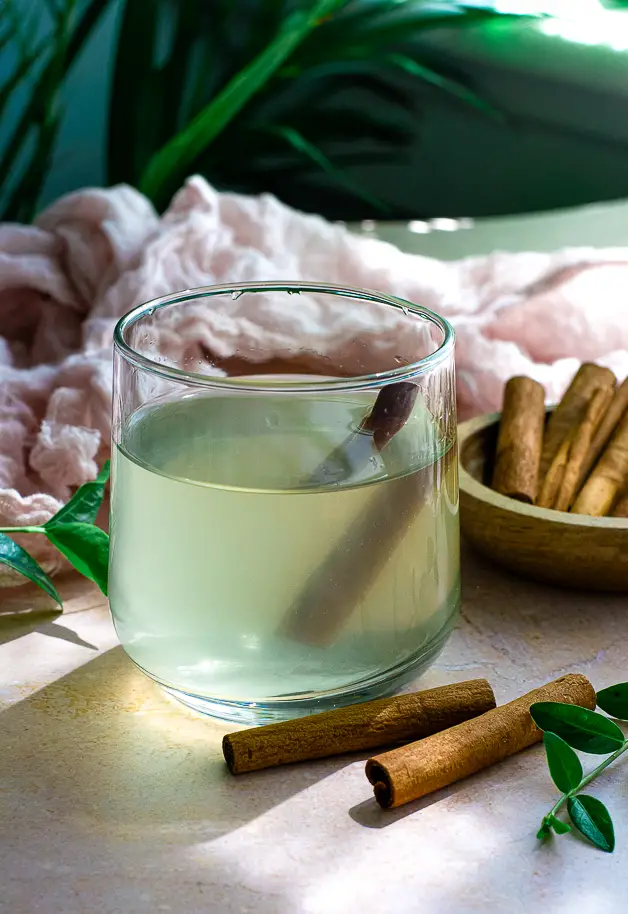 Top tip
Use 1 tablespoon of cinnamon-infused apple cider vinegar before meals mixed in a large glass of water.
FAQ
What Kind Of Apple Cider Vinegar Should You Use?
The most important thing to know is always looking for unpasteurized apple cider vinegar. It should say "unpasteurized" or "with the mother". My favorite apple cider vinegar is Bragg Organic Apple Cider Vinegar. It is without a doubt the best, and the one I've been using for years.
Where Can You Find Cinnamon Sticks?
Cinnamon sticks are quite easy to find and most grocery stores and health food stores will carry them. In grocery stores, look for them in the spice aisle next to the ground cinnamon. Alternatively, you can buy them in bulk online.
Can You Use The Cinnamon Infused Apple Cider Vinegar Right Away?
Absolutely! You can use it right away and as it sits it will become more infused and flavorful.
How Much Do You Take?
I typically take 1 tablespoon in a large glass of water before meals.
What If You Forget To Take It Before A Meal?
No worries, just take it when you remember! You'll still get the benefits!
Additional Hacks For Balancing Blood Glucose
I've recently come across some pretty impressive tips from a glucose expert, Jessie Inchauspé which she pulled from verified research studies that she shares in her book, and thought I would share some here with you. And my final one on hydration, which is essential.
Eat your vegetables first - eating your veggies provides fiber and helps to stabilize your blood sugar before anything else can spike it.
Start your day with a savory breakfast - in order to keep your blood sugar in check all day, eat a savory breakfast to keep your blood glucose level in check.
Eat carbs with fats - in order to minimize glucose spikes, eat protein and fat with carbohydrates.
Move after your meals - muscles utilize glucose so even something like a 10-minute walk after meals, calf raises, or dancing in your kitchen (guilty of this one) counts as movement.
Stay hydrated - drinking plenty of water helps keep things moving, flushing excess sugar out of your kidneys. Did you know that the average adult should be drinking anywhere from half a gallon to a gallon of water per day? (Depending on lifestyle.) Here's a helpful guide for how many ounces are in a gallon, including a free conversion guide and tips on staying hydrated. 
Related
Looking for other recipes like this? Try these:
📖 Recipe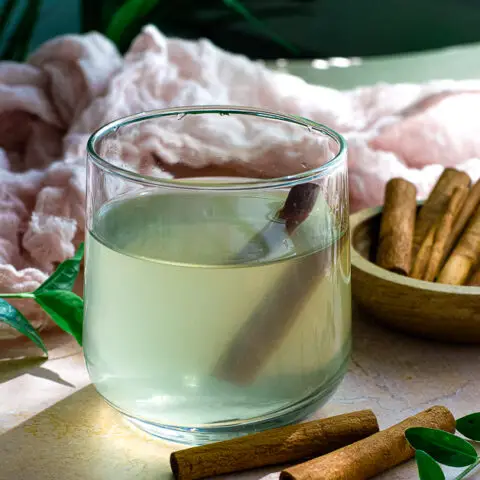 Cinnamon Infused Apple Cider Vinegar
You can drastically improve your blood sugar by adding apple cider vinegar and cinnamon to water before meals.
Instructions
Add apple cider vinegar to a mason jar.
Add cinnamon sticks.
Seal the jar.
Take one tablespoon in a glass of water before meals.
Notes
1. The cinnamon will continue to infuse the apple cider vinegar making it turn a little darker.