Homemade Keto Mayonnaise takes just 2 minutes to make and tastes far better than store-bought. It's also whole-30 approved and of course, cheaper too!
Jump To
The name of my blog is calm eats and the images shared are carefully curated to represent a life of calm, slow moments, and lots and lots of free time. This is exactly what I'm dreaming of when I suddenly see a minion toy fly in my direction and quickly snap out of it.
Yes, it's ideal but it's not reality. Anyone who has young kids and says otherwise is a liar, a lunatic, or has discovered nirvana. No, as any parent knows, life is packed with toys, chaos, crying, fighting, and the like along with being wondrous.
It was a day like any other day, going about the usual stuff and preparing lunches when it dawned on me that I was missing the key ingredient - mayo. Yes, I could have gone the vegan route and worked on making a vegan version with avocado but my son, after years of loving it decided he's done with avocado "forever". So plan B. Make my own.
The problem though? I didn't have 2+ hours to let an egg come to room temperature and had about 20 minutes to work with. But, I took a shortcut. I placed an egg (please only use pasteurized eggs) in a cup of warm (not hot) water and let it sit for 10 minutes. It was the exact consistency I was looking for.
So I got to work. Well, correction, my food processor got to work. This paleo mayo recipe is uncomplicated and there's hardly any effort involved. I used Dijon mustard, lemon juice, red wine vinegar, salt, a sprinkle of paprika, the room temperature egg, and slowly drizzled a cup of light tasting olive oil. I have to add that I prefer light tasting olive oil over avocado oil or regular olive oil as the taste is just too intense. I've tried it with both in the past and just wasn't impressed.
This mayo is foolproof and takes only a couple minutes to whip up. Needless to say, lunch was saved.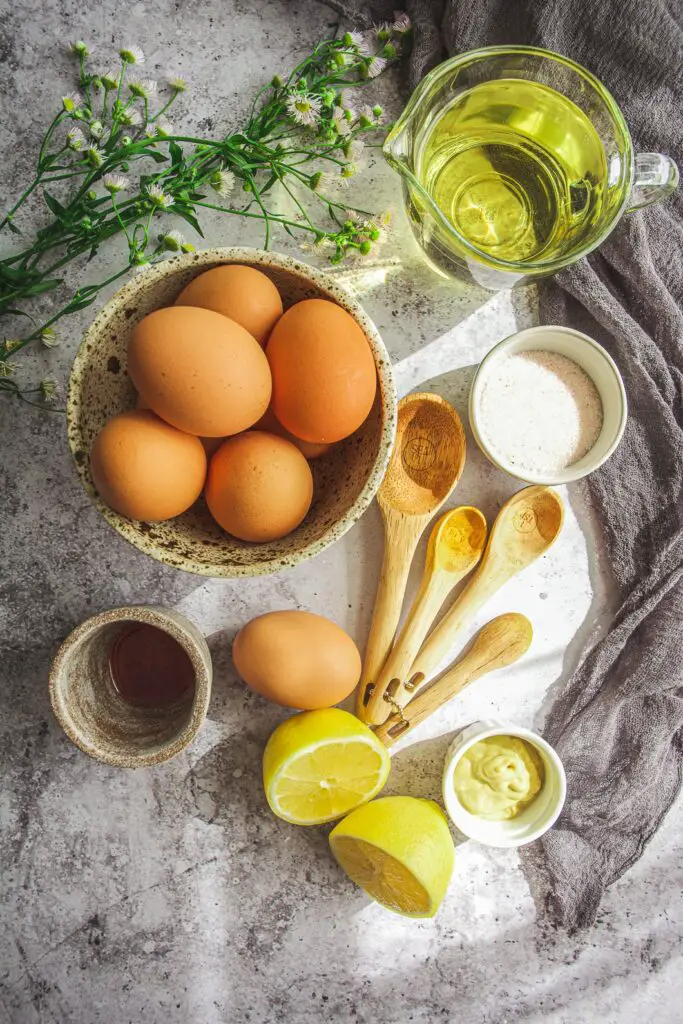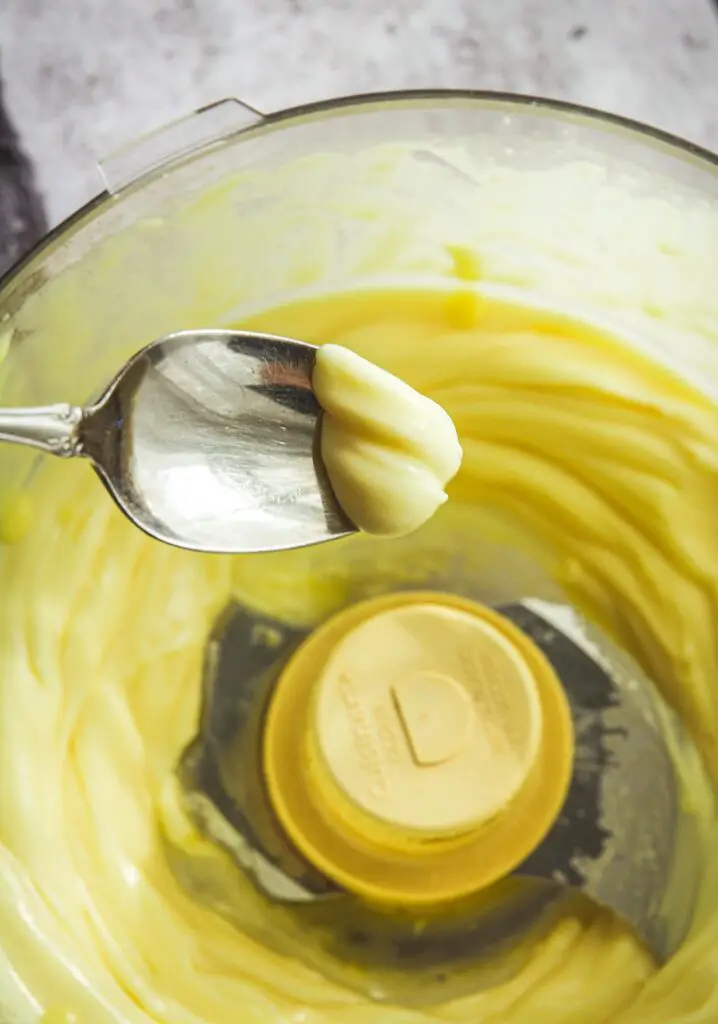 About This Easy Homemade Keto Mayonnaise 
It's Keto, Paleo, and Whole 30 
Gluten-free
Grain-free
Dairy-free
Vegetarian
Ready in 2 minutes 
Versatile
Better than store-bought
Why make Keto Mayonnaise at Home? 
Paleo mayo is far healthier than store-bought and tastes infinitely better. Regular mayo typically contains canola oil or soybean oil, which is not allowed on the paleo diet. Once you taste home made mayo, you'll see the difference it makes!
Paleo mayo is also a lot cheaper than store-bought! Win-win in my book! 
Ingredients needed
Pasteurized egg
Why do I say pasteurized? Well, if you're getting your eggs from the market, you don't have to worry about them being pasteurized but if you're shopping at your local farm or farmers market, those may not be. Consuming raw unpasteurized egg may not be safe so make sure you have pasteurized.
Lemon Juice
Whether you have fresh or bottled lemon juice, either should work just fine but I prefer fresh lemon. 
Red Wine Vinegar
If possible look for a quality brand because you're going to be consuming it raw and it does make a flavor in the way the mayo tastes. 
Dijon Mustard
Again, when you're using only a few ingredients, I highly recommend using the best possible quality. Look for a trusted brand you enjoy, with balanced flavors.
Best Oil
This is where you have a little freedom. I prefer using a light tasting olive oil that doesn't add a lot of flavor but if you want intensity in your mayo, feel free to use regular extra virgin olive oil or avocado oil. 
Equipment Needed for Making Keto Mayonnaise
Personally, I prefer a food processor but if you don't have one, you could use a submersion blender. Just add all ingredients in a wide enough container and then insert your submersion blender and blend until creamy and smooth. 
FAQs + Top Tips
Why Should All Ingredients Be At Room Temperature?
Just as you would with baking, you want all your ingredients to be at room temperature so they adequately incorporate.
How To Quickly Bring An Egg To Room Temperature?
If you're strapped for time and forgot to leave your egg out, just put it in a glass of warm water (Never hot). Let the egg sit for 7-10 minutes until it comes to room temperature, then you're ready to use it. 
Why Should You Use a Pasteurized Egg For Mayonnaise?
Although farm-fresh eggs are wonderful, whenever you use a raw egg, it needs to be pasteurized. Unpasteurized eggs are not advised for this recipe as they can contain bacteria that can make you sick. You're safe with pasteurized eggs.
Do You Need A Food Processor For Making Mayonnaise?
If you only have a handheld mixer, you can use that in place of a food processor. Add all your ingredients in a shatter-proof cup and bled them up for 2 minutes or until the mayonnaise has thickened.
How Do You Get A Silky Mayonnaise Consistency Every Time?
Slow and steady is your best bet when it comes to pouring the oil. Don't rush it. Allowing the oil to slowly drizzle in, will create the silky smooth texture of the mayo.
If you're using a food processor, and there is oil still gathered at the center of the food processor, just use a spatula to mix everything up and give the mayo another few pulses until fully incorporated. 
Recipes Using Homemade Keto Mayo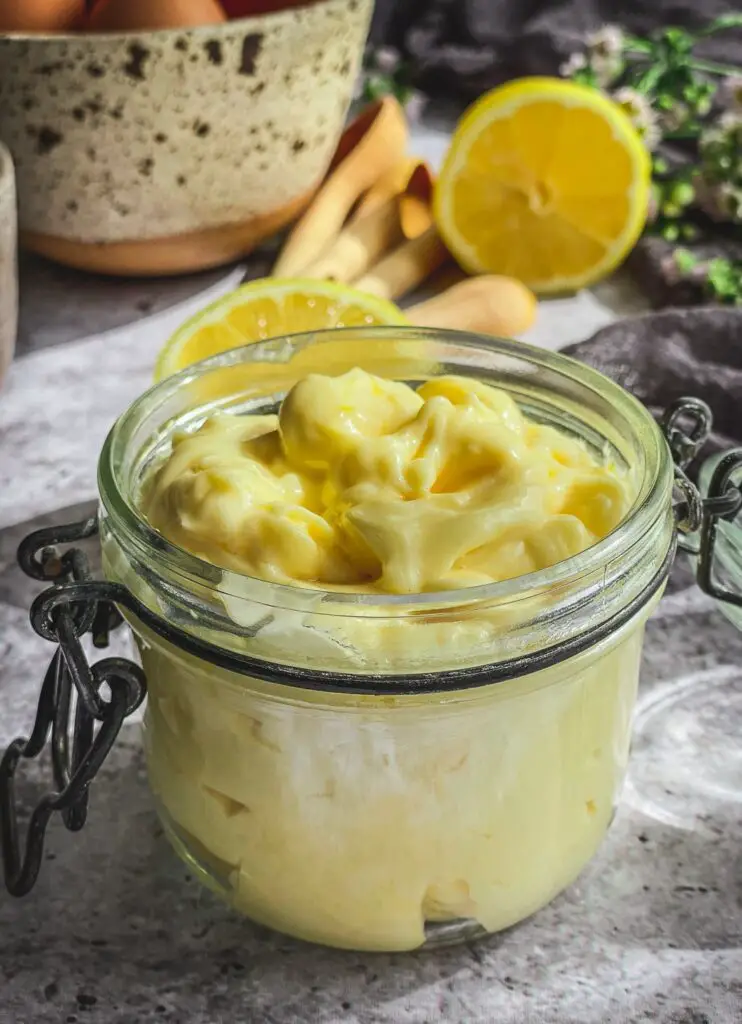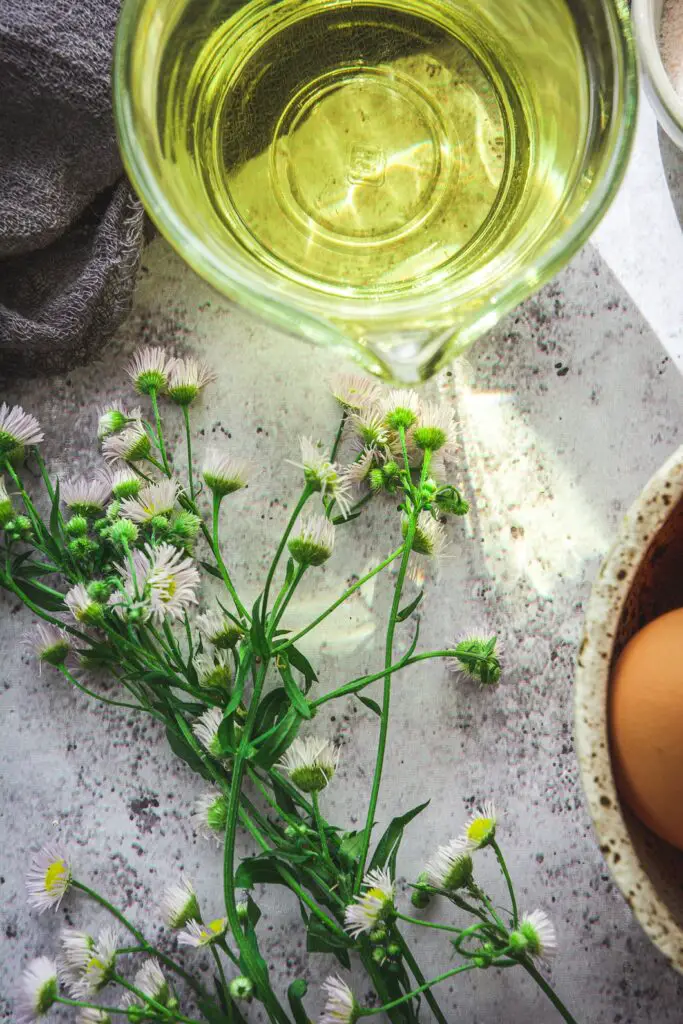 📖 Recipe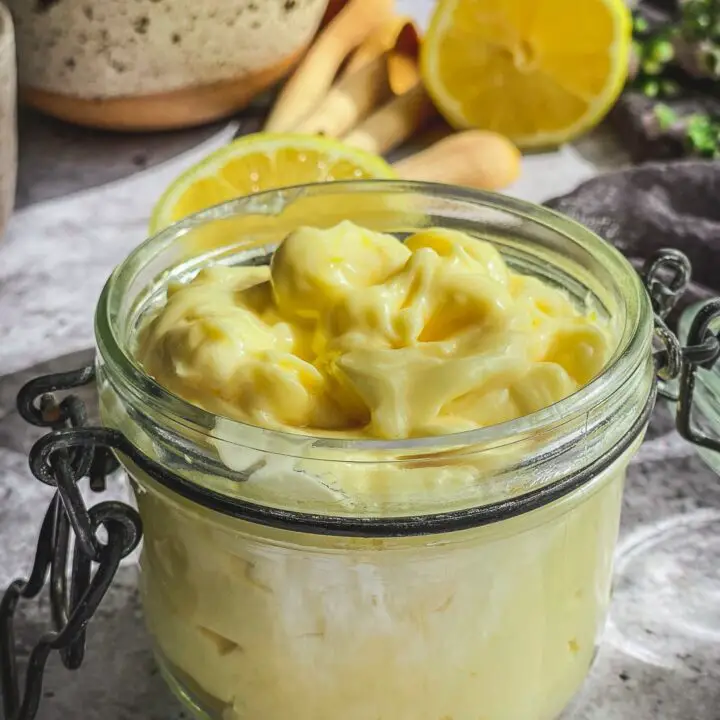 Easy Homemade Keto Mayonnaise
Homemade Keto Mayonnaise takes just 2 minutes to make and tastes far better than store-bought. It's also whole 30 approved and of course, cheaper too!
Ingredients
1 pasteurized egg at room temperature
1 teaspoon lemon juice
Instructions
1. If you don't have a room temperature egg, simply take a refrigerated, pasteurized egg and place it in a cup of warm water for 10 minutes. This will bring it to room temperature.

2. Add all ingredients to the food processor, aside from olive oil.

3. Turn on the food processor and very slowly drizzle in the oil.

4. Turn off the food processor when the mayo has reached consistency. The whole process should take about 2 minutes.

5. Store in an airtight container in the refrigerator for 2 weeks.
Notes
1. Be sure you're always using a pasteurized egg for making mayonnaise.
2. To bring an egg to room temperature quickly, fill up a cup with warm water (never hot). Let the egg sit for 7-10 minutes until it comes to room temperature, then you're ready to use it. 
Nutrition Information:
Yield:

16
Serving Size:

1
Amount Per Serving:
Calories:

124
Total Fat:

14g
Saturated Fat:

2g
Trans Fat:

0g
Unsaturated Fat:

11g
Cholesterol:

12mg
Sodium:

50mg
Carbohydrates:

0g
Fiber:

0g
Sugar:

0g
Protein:

0g