*This post may contain affiliate links. The earnings go back to supporting the content created on this site.
A delicious and simple fish taco bowl with mango salsa that's fresh and light and perfect for any weeknight.
I'm a sucker for tacos. At the time when I was living in Europe no one was eating them and I'm not even sure anyone had ever heard of them. So when I was introduced to tacos for the first time in the US, I was kind of blown away. But it was a progression. First, it was tacos with ground beef – all good. Delicious and flavorful with toppings galore.
Then came the pulled pork tacos which I randomly had in the parking lot of a Spanish specialty grocery store. It was one of those mind blowing experiences that made me grateful to be alive. I wanted to hug the woman running the truck and thank her for opening my eyes to something entirely new.  
But then another thing happened – fish tacos. 
Blazing hot sun, skin salty. A single bead of sweat traveled down the length of my spine depositing on my bathing suit bottom as we waited patiently for our names to be called. The space, too tiny for any actual tables and chairs, had only outdoor room for four picnic tables and umbrellas but it was wondrous. Unpretentious and mellow with Caribbean music playing in the background, I decided Key West Tacos was going to be my new favorite taco place without having even tried the tacos. I forgot to mention they were BYO so that probably added to the charm, but no matter, the food arrived. 
I had no words. No seriously, I didn't speak for about 10 minutes. I just wallowed in the moment, devouing my fish tacos and occasionally nodded to my husband in approval. My mind was racing, trying to compare it to something I'd had before but I couldn't. It was one of the single best experiences of my life. I couldn't figure out how to make it last. I made my husband go there 3 more times before vacation ended. And that's experience let me to experimenting with fish tacos at home.
FAQs + Top Tips
What's The Best Fish For Fish Tacos?
The great thing about fish tacos is that they're easy to prepare, quick to cook and versatile. You can use whatever white flaky fish you can find that holds up well in the frying pan. You can experiment with flounder, mahi-mahi, halibut, grouper or tilapia. 
I found wild-caught tilapia at my local store and went with that for this recipe. But again you can play around with the fish of your choosing. Alternatively, if you're looking for a variation, you can make this bowl with shrimp too.
Why Should You Pat The Fish Dry?
Regardless of what fish you use, make sure you pat your fish well and remove most of the moisture so your spices stick to the fish and you get a nice crust on the fish. Otherwise, the extra liquid will end up in your frying pan.
Can You Skip The Bowl?
Most certainly. You can either choose to keep everything in a bowl or if you're not a fan of the bowl, serve the fish tacos with some quality cassava tacos. 
What Are The Best Toppings?
When it comes to making fish tacos, fish is key but so are the toppings. I'm a sucker for chipotle lime mayo, plenty of avocado, boatloads of cilantro, and crunchy radishes and cabbage. You can of course mix and match and go with anything that you like. 
If you don't like cilantro, feel free to skip it entirely or substitute it with another herb of your choice. 
More Recipes You Might Like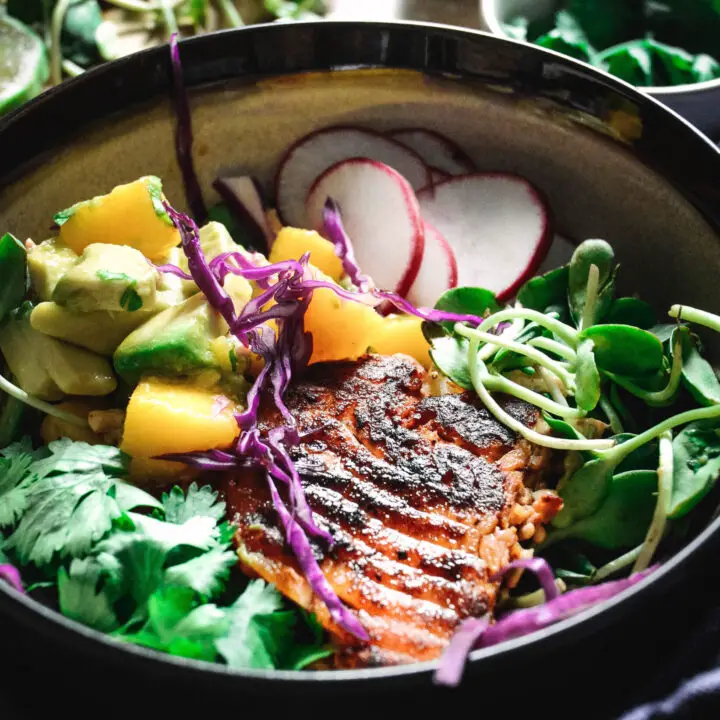 Easy Fish Taco Bowl with Mango Salsa
A delicious and simple fish taco bowl with mango salsa that's fresh, light, and perfect for any weeknight.
Ingredients
2-3 wild caught tilapia, halibut or cod filets 
1/4 cup extra virgin olive oil divded
1 tsp paprika 
1/4 tsp ground pepper
3/4 tsp salt, divided 
1 tsp chili powder
1/8 tsp garlic powder 
1 ripe mango cubed
1 ripe avocado cubed
1 tbsp fresh chopped cilantro 
1/2 lime, juiced
1/2 tsp honey (skip if whole 30)
optional, finely chopped scallions
optional: salad greens, avocado, radish slices, red cabbage and any other toppings you wish
Instructions
1. In medium bowl, add lime juice, honey, 2 tbsp olive oil, salt and whisk together. Add cubed avocado, mango, cilantro, and scallions if using, and toss everything together. Set aside.

2. Rinse and pat your fish fillets with a towel. In small mixing bowl, add chili powder, paprika, garlic powder, salt and pepper and mix well. Rub the fish fillets with the spice mix.

3. Preheat pan on medium high heat. Add 2 tbsp olive oil and fish. Fry fish for 5 minutes per side, depending thickness. It should be fully cooked, white and flaky. Break up fish into desired size.

4. To assemble. Add greens of your choice to bowl and layer with fish, mango and avocado salsa and any toppings of your choice.
* Alternatively put everything in a tortilla and enjoy!