Homemade salsa is super simple to make and requires only a few ingredients you likely already have in your pantry.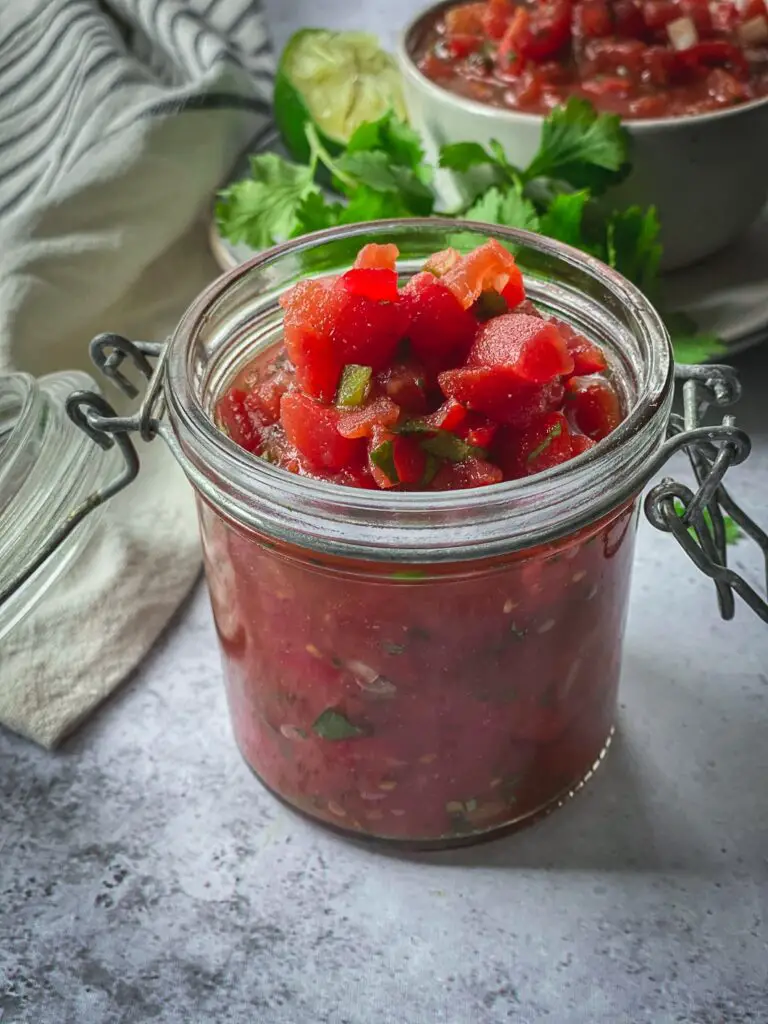 Jump To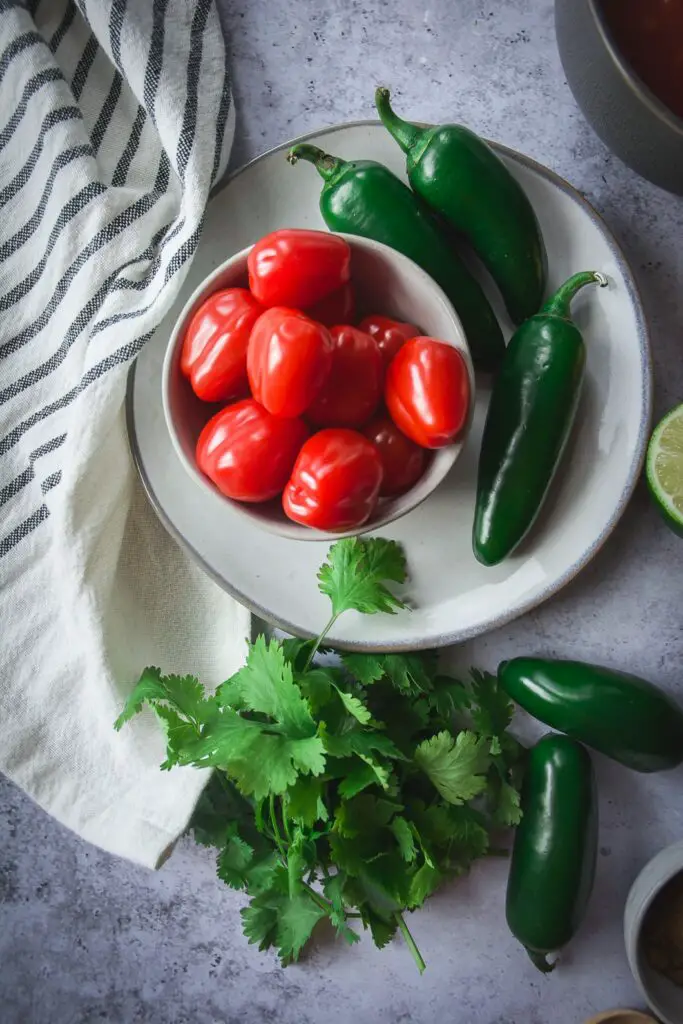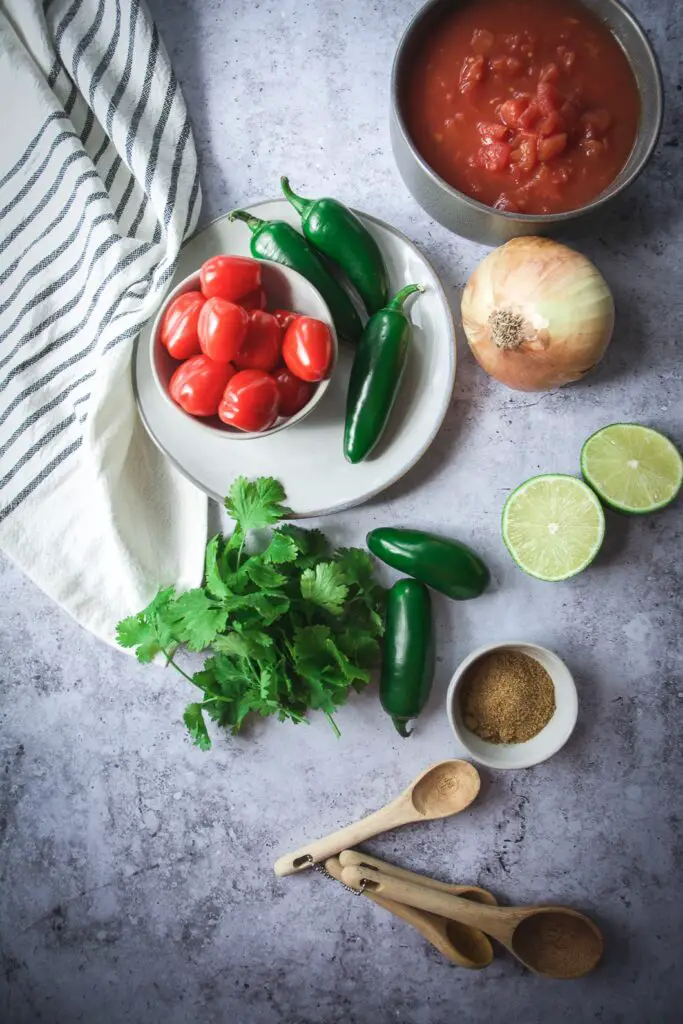 Taco night is holy in this house. I don't have a specific day like the hashtag on Instagram dictates, so taco night is usually whenever I feel like it. I'm not very particular about the day but I am very particular about the toppings. There is some leeway when it comes to meat - I can roll with turkey, beef, or meat substitute. I can also roll with the shell - crunchy, soft, corn, cassava. Either are great.
But nothing can spiral me into a panic like realizing last minute that I don't have salsa in the house. I always have salsa! If I don't have salsa, I don't have tacos. I mean, tacos need salsa. Otherwise, it's a bit like PB without the J, like cinnamon toast without cinnamon (or something). Either way, after a mild freak out, my husband called out from the living room: "Just make your own". Hmmm, make my own...of course! I make everything else, so why not make my own salsa!?
After a quick search on the internet and recipes with about 20 ingredients, I decided to just play around with a few ingredients I had in my pantry. And you know what? To my surprise, it turned out great. Like, really great and easy. Now I want to share it with you!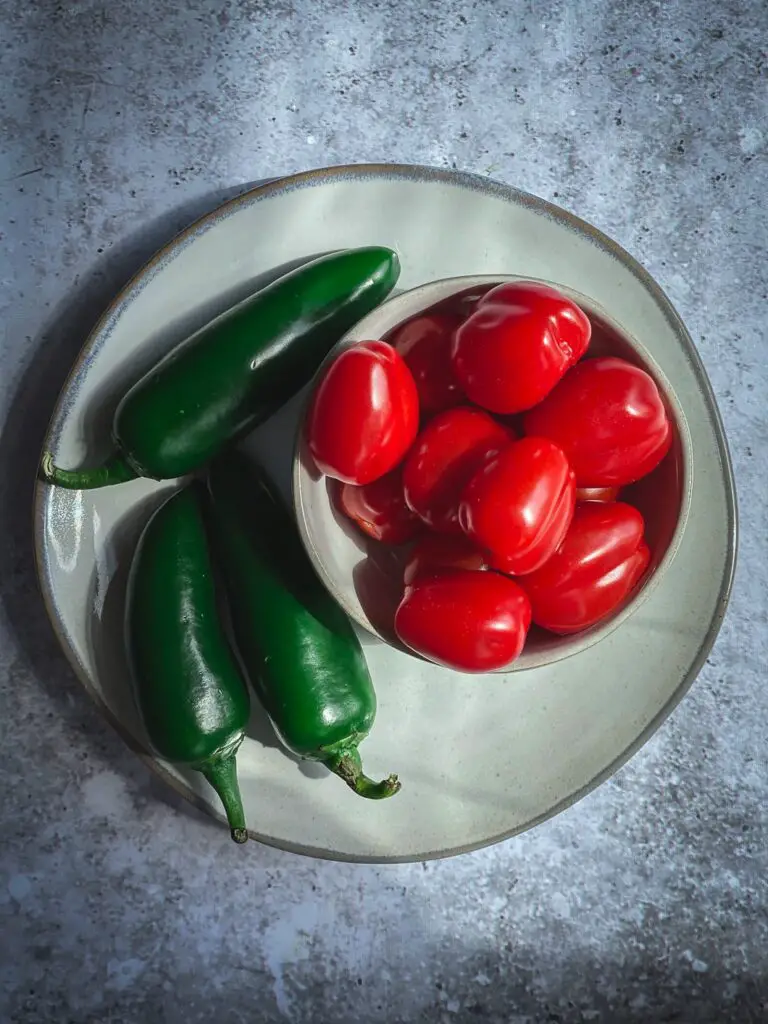 This homemade salsa is:
Vegan
Paleo
Gluten-free
Grain-free
Dairy-free
Ready in minutes
Super simple to make
Why make your own salsa?
Well, homemade salsa results in a lot more salsa for a lot less money. You also forgo all the additives and preservatives that are often included in jarred salsa.
Plus home made is just healthier all around, as you get to control exactly what goes into it. Which is precisely 9 ingredients!
What do you need to make homemade salsa?
This is the beauty of it; you likely already have most of these ingredients in your kitchen so it's only a matter of putting them together. You'll need:
Canned petite diced tomatoes
Fresh baby tomatoes
Sweet onion
Coconut sugar
Cumin
Lime Juice
Jalapeños
Cilantro
Salt
Tips and Substitutions
Petite diced tomatoes
The first time I made this recipe, I had didn't have jalapeños but had a can of petite diced tomatoes with green chilies I accidentally purchased years ago so I used it as my base. But if you can only find regular petite diced tomatoes, that's perfect.
Baby tomatoes
You can use any kind of small tomato, whether it's grape, cherry or any other small, sweet tomatoes. You want that freshness and sweetness from ripe baby tomatoes.
Onion
I prefer sweet onion (vidalia) for this recipe but if you have red onion, that would work as well. White would also do and last resort would be yellow if none of the other choices are available.
Coconut sugar
If you don't have coconut sugar, you can use regular sugar. The ratio is typically 1 to 1 but I find regular sugar to be a bit sweeter, so start out with ¾ teaspoon first and see if it needs any additional. I find adding sugar to be essential in balancing out the acidity of the tomatoes. I promise it makes all the difference!
Cumin
Cumin is essential in this recipe and cannot be replaced. It's he spice that gives the salsa the depth and flavor and is necessary.
Jalapenos
As I mentioned earlier, if you're able to find petite diced tomatoes with green chilies, you may not need the jalapeño, but otherwise, jalapeño plays an important role in the salsa.
Lime Juice
You can use bottled fresh lime juice or a fresh lime for the salsa, but there are no substitutions for lime as it offers a unique flavor profile that can't be obtained by any other citrus.
Cilantro
Salsa without cilantro just wouldn't work and there really isn't a substitute for it.
Other recipes you might like: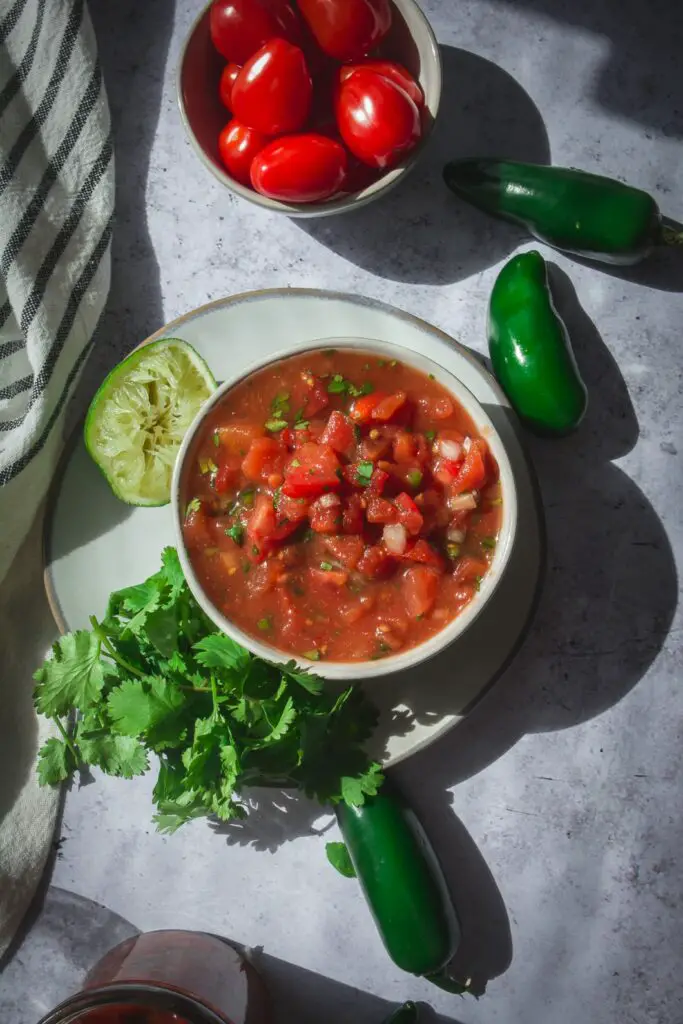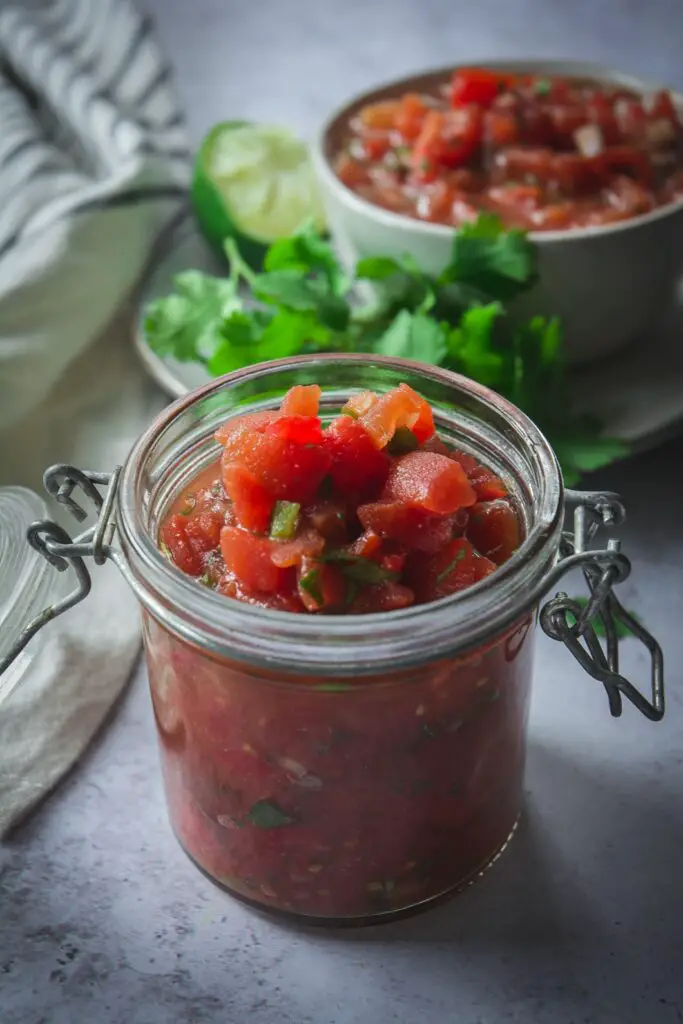 📖 Recipe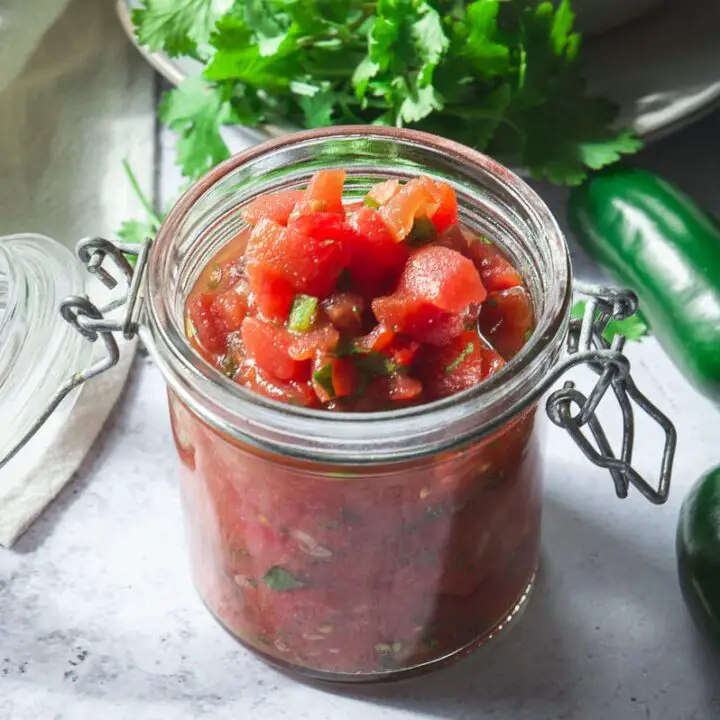 Homemade Salsa
Additional Time:
30 minutes
Homemade salsa is super simple to make and requires only a few ingredients you likely already have in your pantry.
Ingredients
2 cups canned petite diced tomatoes (regular or with green chilies)
¼ cup fresh diced baby tomatoes 
2 tablespoon sweet onion, finely chopped
1 teaspoon coconut sugar
½ teaspoon cumin
½ teaspoon salt
1-2 jalapenos 
2 tablespoon freshly chopped cilantro
1 teaspoon lime juice
Instructions
Combine all ingredients and mix well.
Let sit in the refrigerator for an hour (if you have time).
Store in air-tight glass jars for several weeks.
Notes
The salsa tastes best if it's made ahead of time.
Recommended Products
As an Amazon Associate and member of other affiliate programs, I earn from qualifying purchases.
Nutrition Information:
Yield:

20
Serving Size:

1
Amount Per Serving:
Calories:

7
Total Fat:

0g
Saturated Fat:

0g
Trans Fat:

0g
Unsaturated Fat:

0g
Cholesterol:

0mg
Sodium:

86mg
Carbohydrates:

2g
Fiber:

1g
Sugar:

1g
Protein:

0g