A delicious, fresh, and filling Mexican Tomato Salad with Black Beans, Corn, and Avocado that makes for a perfect summer salad or side dish.
Jump To
Today is my daughter's birthday - her second to be exact. My son's is in 2 days. A mix of crippling fear and excitement tends to pulse through me around birthdays. It's a celebration but also a reminder of the inevitable impermanence of life. It may be a rather pessimistic way of looking at things but it tends to simultaneously be a reminder of how fleeting life is and how appreciating small things can go a long way.
Yesterday we celebrated. Our children are born only 2 days apart and while still young, we take full advantage of the combined birthday party. We kept it small - family only. Everyone traveled from their respective locations and we congregated on a steamy afternoon for food, chats and a good amount of sweating.
My mom, who inevitably shows up loaded with food of various kinds, arrived with a pound of mixed baby tomatoes. Their lovely colors made them look a bit like little jewels and on the spot, I decided they had to make their way into the day's menu. And with just hours left before the party, I had to quickly come up with something everyone would enjoy. It had to be easy to throw together yet filling enough to act as a companion to burgers and pulled pork.
A quick look in the pantry and I had my recipe. I wanted a tomato salad but with a bit of a twist. A can of black beans, a can of corn along with red onion, a cumin honey-lime vinaigrette, plenty of cilantro, and some creamy avocado would do.
To my surprise, it was one of those recipes that needed little retesting. Everything just worked and after I decided to make another batch and eat if for every meal today, it was time for it to make its way onto the blog.
This Mexican Tomato Salad with Black Beans, Corn, and Avocado
vegan
gluten-free
dairy-free
nutritious
filling
delicious and flavorful
easy to make
the perfect summer side dish or salad
Tips and substitutions
For the beans
Sometimes I take shortcuts and used canned but it's not ideal for gut health so if you want to make this salad easier on digestion, soak and cook black beans yourself and use nearly 2 cups to get the equivalent.
For the corn
If you don't want to used canned corn, feel free to use an ear of corn and just remove the kernels and cook them a bit longer until soft and cooked through.
No matter which way you decide to go, I hope you love this salad as much as I did!
📖 Recipe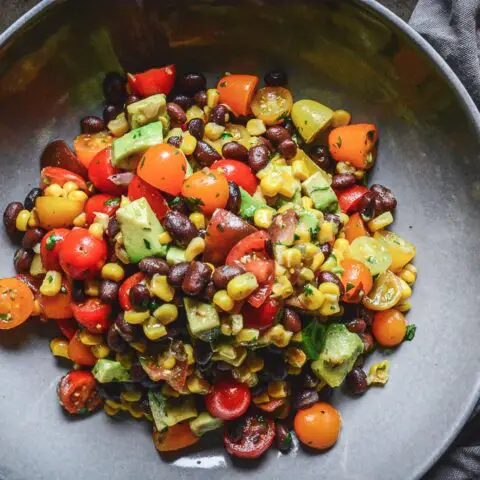 Mexican Tomato Salad with Black Beans, Corn and Avocado
A delicious, fresh, and filling Mexican Tomato Salad with Black Beans, Corn, and Avocado that makes for a perfect summer salad or side dish.
Ingredients
4 tablespoon extra virgin olive oil
1 can organic corn, drained and rinsed
2 can organic black beans, drained and rinsed
1 tablespoon finely chopped red onion 
1 lb baby tomatoes, cut in half or quarters
1 avocado, cut into chunks 
juice of one lime
½ teaspoon honey
½ teaspoon cumin
1 rounded tablespoon chopped cilantro 
½ teaspoon salt
¼ teaspoon freshly ground pepper 
Instructions
1. Drain and rinse corn and beans, separately.

2. In a large bowl, add 3 tablespoon extra virgin olive oil, honey, lime juice, cumin, salt, and pepper and whisk well. Set aside.

3. Preheat frying pan on medium and add 1 tablespoon extra virgin olive oil. Add corn and cook stirring regularly until all the liquid is drained and the corn starts to get some color – about 10 minutes.

4. Add finely chopped red onion and cook for 1 minute. Remove corn and onion from pan and add to bowl with dressing.

5. Add beans, tomatoes, cilantro and combine everything well until the salad is coated with dressing. You can refrigerate until ready to serve.

6. Lastly, add the avocado and additional cilantro and adjust seasoning.
Notes
You can make this salad in advance but wait to add the avocado until you're ready to serve as it will oxidize.
Nutrition Information:
Yield:

8
Serving Size:

1
Amount Per Serving:
Calories:

183
Total Fat:

11g
Saturated Fat:

2g
Trans Fat:

0g
Unsaturated Fat:

9g
Cholesterol:

0mg
Sodium:

151mg
Carbohydrates:

18g
Fiber:

6g
Sugar:

3g
Protein:

5g