These Jerk Chicken and Shrimp Tacos are a perfect summer recipe that's quick and easy and ready in minutes!
Jump To
I believe patience is something possessed by other people. Somehow this particular trait missed me from the start. I even decided to make an entrance into the world early. Virgo wouldn't have suited me, so I resolved that Leo would be a more appropriate sign. Therefore a month early it was. My mother tells me I wanted to escape much earlier which destined her to about 6 months of bed rest to ensure I'd cook all the way (no pun intended). Thank you, mom.
And while I'm terribly bad at waiting for things, the thrill is almost always in the anticipation, isn't it? I made these jerk shrimp and chicken tacos last month for a dinner we hosted. It was my first time experimenting with jerk seasoning and I decided, if I was doing this, I was doing this all the way. I wanted flavor explosions. Not necessarily spice, but depth. And depth is what I got. The chicken and shrimp were marinated for over 8 hours and the flavors married beautifully, creating some kind of magic.
I can't take the credit for the seasoning as I did purchase an already-made one. Sure, I probably could have made my own but by some divine intervention, I found this one which had no heat but all the flavor. While I love some heat, this mixture turned out an impressive marinade and jerk mayo to pour over the tacos. Adults and children were equally satisfied. If you want something a little spicier, a ¼ teaspoon of cayenne pepper will provide ample amounts if that's what you're after.
While there is some patience required for the chicken and shrimp to marinate, the grilling is merely a few minutes. And while I was already working on this patience thing, I decided to make my own tortillas as well with cassava flour. If corn doesn't bother you, go for the already-made ones but if you're strictly paleo, here is the recipe for paleo tortillas. Kind of a two-in-one if you will. I hope you enjoy these as much as I did!
Tips for making Jerk Chicken and Shrimp Tacos
There are some ways around this recipe that can save you time and can be customized however you would like! 
Where do you find Jerk Seasoning? 
Most grocery stores do carry  specialty seasonings like Jerk but if you cannot find it in your local market, Whole Foods, Trader Joes or Amazon are the best places to find it.
How long should you marinate the chicken and shrimp? 
I find something like 1-3 hours to be sufficient, but if you forget them in the refrigerator for longer than that, no worries - they'll be okay even if left to marinate for 8 hours. 
Are these Jerk Chicken and Shrimp Tacos very spicy? 
Contrary to what you might be thinking about Jerk seasoning, this one is not spicy at all. This is what surprised me about it. All the flavor without the spice, which makes if perfect for little mouths too. 
If you want to add your own heat, feel free to add ⅛-1/4 teaspoon cayenne pepper and this will give you ample spice. Start with a little and add if you feel you need more. 
What do you need for the Jerk Mayo?
To make jerk mayo, you only need good mayo; either store bought  or home made and jerk seasoning.  Its that simple! 
What if you don't have a grill? 
If you don't have a grill, you can easily use a grill pan or even a skillet. I'd recommend cooking the chicken and shrimp separately as the chicken will take longer to cook than the shrimp. 
What tortillas are best for these Jerk Chicken and Shrimp tacos?
I like making my own tortillas and find that they work wonderfully with the chicken and shrimp but if you prefer to buy paleo tortillas, you can try this brand. If you're not paleo, any corn tortillas will work.
📖 Recipe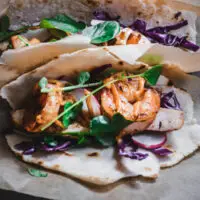 Paleo Jerk Chicken and Shrimp Tacos
Total Time:
1 hour
20 minutes
Super simple Paleo Jerk Chicken and Shrimp Tacos that are perfect for a busy weeknight or entertaining a large crowd.
Ingredients
5 teaspoon spicely organics jerk seasoning mix divided
1 teaspoon salt divided
½ cup extra virgin olive oil divided
1.5 lbs thinly cut chicken
1 lb large shrimp, peeled and deveined
½ cup mayo
optional toppings: sliced cabbage
optional toppings: radish
optional toppings: avocado
Instructions
In bag or air-tight container combine ¼ cup olive oil, 2 teaspoon spice mix, ½ teaspoon salt and chicken and mix well. Repeat process for shrimp. Massage oil and spice mix well into chicken and shrimp. Place in refrigerator and let marinate for 1-3 hours.
Preheat grill on medium low and grill shrimp and chicken for 4-6 minutes per side until cooked through.
Cut chicken into long strips and serve along with shrimp and your favorite toppings.
Serve with paleo tortillas or any tortilla of your choice.
Recommended Products
As an Amazon Associate and member of other affiliate programs, I earn from qualifying purchases.