This Paleo Pub Burger is a delicious pub-style burger that's perfect for any cookout or weeknight. This can be customized to be vegan as well.
Jump To
I've sort of become a snob when it comes to burgers. I used to be fine with just good meat and a little salt and pepper but now I just crave full on flavor. They have to be seasoned well and have a little je ne sais quoi...
This is where Dijon Mustard comes in, which I consider to be the key ingredient in this recipe as it elevates the burger to something special.
Since earlier this week I posted a sweet potato fries recipe with a spicy mayo sauce, I figured it would only be appropriate to add a companion to this paleo pub burger. It is hands down one of my favorites. It's basic and simple but the special something comes from Dijon mustard. It's a recipe I make often, regardless of time of year. I have no problem grilling with a flashlight.
When I close my eyes, the smell itself transports me to colorful sunsets, patio curtains blowing in the summer breeze and the sweet sound of cicadas. 
So let's pretend it's not 28 degrees out and have us a paleo pub burger! 
This Paleo Pub Burger is: 
Paleo 
Whole 30 approved
Low-carb
Keto friendly
Simple to make
Ingredients for Paleo Pub Burger
Organic Grassfed beef or meatless alternative
Quality Dijon mustard
Fresh parsley 
Fresh dill
Westchestershire sauce or coconut aminos
Salt
Pepper
So what makes it a Paleo Pub Burger? 
To me pub burgers have always had this distinct flavor and intensity. They tasted quite differently than the every day burgers I was used to. So I set out to experiment myself. The secret ingredient that always makes for a consistently awesome burger is dijon mustard. 
Can you make this burger vegan? 
You most certainly can! It won't be paleo but you can certainly make it vegan. I've been experimenting with meat free alternatives recently and really enjoy the change-up. If you want all the taste but want to skip the meat, use all other ingredients but substitute a meat alternative. 
Tips and substitutions for Paleo Pub Burger
Ground Beef
If you're paleo and not vegan, stick with organic grassfed beef. If you're vegan and not paleo, experiment with meatless ground beef substitute. My favorite is Beyond Meat (no affiliation).
Dijon Mustard
I highly recommend using a quality Dijon mustard as it will make all the difference in this burger. After making this burger with several kinds of mustard, I find a quality brand to make a difference.
Fresh herbs
If you don't have fresh herbs, you can easily substitute dried. Instead of 1 tablespoon fresh you would just use 1 tablespoon dried. 
Worcestershire sauce
Worcestershire sauce adds flavor and seasoning to the burger, but if you're strictly paleo or whole 30, go for coconut aminos, that will still add loads of flavor. 
Equipment needed:
A grill or grill pan will work perfectly for this burger. If you don't have a grill pan, feel free to use a cast iron skillet. 
📖 Recipe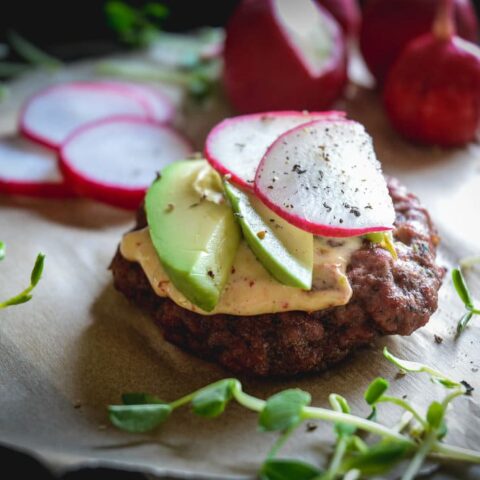 Paleo Pub Burger
This Paleo Pub Burger is a delicious pub style burger that's perfect for any cookout or weeknight. This can be customized to be vegan as well.
Ingredients
1 lb organic grass fed ground beef
1 tablespoon good dijon mustard
1 tablespoon finely chopped fresh dill
1 tablespoon finely chopped Italian parsley
1 teaspoon coconut aminos or Worcestershire sauce 
½ teaspoon salt
¼ teaspoon ground pepper
Instructions
1. Preheat grill on medium-high. Combine all ingredients in bowl. Don't overwork the meat. Form into 4-5 patties, depending on how big you want your burger. 
2. Grill for 2 minutes per side. If you want it well done, add another minute. 
Top with avocado, chipotle lime mayo, mustard or any other toppings you would like. 
*Note: If you're using lean meat, brush burgers with avocado or olive oil on both sides prior to grilling to avoid sticking.
Nutrition Information:
Yield:

4
Serving Size:

1
Amount Per Serving:
Calories:

164
Total Fat:

7g
Saturated Fat:

3g
Trans Fat:

0g
Unsaturated Fat:

3g
Cholesterol:

56mg
Sodium:

528mg
Carbohydrates:

1g
Fiber:

0g
Sugar:

1g
Protein:

24g