*This post may contain affiliate links. The earnings go back to supporting the content created on this site.
Peanut butter sesame balls are a quick dessert you can whip up in just 5 minutes. They're vegan, low in sugar, inexpensive and make the perfect after-dinner treat.
I don't have many weaknesses. Just kidding, I have too many to list, but one of the biggest has got to be peanut butter.
Peanut butter is one of the foods that takes a reasonable woman in her late 30s and turns her into something animal-like with little to no self-control. If you want a more colorful picture, think standing in the pantry, hiding from everyone, eating peanut butter (the only true and proper way), with my finger – because peanut butter makes me forget my manners, my willpower and my surroundings.
When I'm eventually discovered by one of my children, I distract them by wildly gesturing with my peanut butter-covered fingers, because I'm incapable of speaking due to my sticky peanut butter mouth. So that's generally when I realize that I've gone too far and need to put whatever is left of the peanut butter back in its place and move on with my day (half embarrassed, but mostly satisfied).
So that settles it, I like peanut butter…a lot.
But what makes peanut butter even better? Honey! So I wanted to create a simple dessert that centers around peanut butter and honey. Because everyone in my house feels much like I do about peanut butter (though probably not as excessively obsessed) it was an obvious choice. Keep things simple, without too many ingredients, and make it delicious.
So I've created these little treats for my family, but selfishly for me too. They have just the right constituency for a satisfying after-dinner indulgence. (Sorry chocolate, I'll get back to you soon – promise)
So let's get to some tips on how to make the best peanut butter sesame balls.
What's in peanut butter sesame balls?
The beauty of this recipe is just how absurdly easy it is to make. You need runny peanut butter, coconut flour, vanilla extract, honey (preferably raw and runny), sesame seeds and a pinch of salt.
How to make peanut butter sesame palls?
This recipe does not require baking so once peanut butter, coconut flour, vanilla extract and honey are combined, they just need some refrigeration time to harden, before rolling in sesame seeds. You don't need any special equipment besides a bowl.
Quality peanut butter is key
Because this recipe uses so few ingredients, it's important that you source the best possible ones. Since peanut butter is our main ingredient, look for a quality brand that requires stirring and doesn't contain much besides peanuts and salt. This peanut butter is my all time favorite and works perfectly every time for this recipe. If you can't find this brand, seek out a one that requires stirring. Pre-stirred peanut butters will not work as well in this recipe.
Can you make a paleo version?
If you're following a paleo lifestyle or just simply want to experiment with other nut butters, go for it! Cashew and almond butters are ideal substitutes. As is sun butter, though I think cashew will give you the closest taste and consistency to peanut butter.
Should you refrigerate the peanut butter sesame balls?
That's a must. The balls do have to be refrigerated in order to keep their shape. Otherwise you will end up with mushy pile of peanut butter. I've also stored them in the freezer if you want an extra hard treat. If you're looking to make a big batch, you can store them in an airtight container in the freezer for several months. Otherwise, they will be fine in the refrigerator for a few weeks.
Are the peanut butter sesame balls high in sugar?
They are not and that's the beauty of them. The whole recipe is using just 2 tbsp of honey, giving them just the right amount of sweetness. Alternatively, you can use maple syrup.
Do you have to toast the sesame seeds?
You don't have to but I find they add more flavors to the peanut butter balls. You can find already toasted sesame seeds or you can just toast your own in the oven for 5 minutes.
If you don't like sesame seeds
If you're not a fan of sesame seeds, you can use the same basic recipe and roll the balls in finely shredded coconut, cacao or even grind your own nut of choice and use that as an option.
I hope you will enjoy these little bites as much as I do. They make for a perfect little treat anytime you're craving something sweet!
Can you make them vegan?
Yes, simply replace the honey with 2 tbsp maple syrup.
Other no-bake desserts: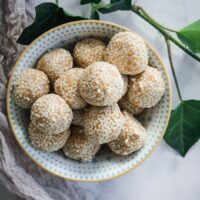 Peanut Butter Sesame Balls
These delicious vegan Peanut Butter Sesame balls require just 5 ingredients and are sweetened only with honey.
Ingredients
3/4 cup peanut butter
1/4 cup coconut flour
2 tbsp honey
1/2 tsp vanilla extract
1/4 cup sesame seeds
pinch of salt (optional)
Instructions
Combine all ingredients besides sesame seed in a medium bowl and mix well.
Freeze prepared mixture for 10 minutes (as this makes it easier to roll the balls) 
Form into 1" balls and roll in sesame seeds. 
Store peanut butter sesame balls in an airtight container in either the refrigerator or freezer. 
Recommended Products
As an Amazon Associate and member of other affiliate programs, I earn from qualifying purchases.