Roasted Artichokes with Lemon Aioli make an easy and delicious appetizer that's simple to prepare and very enjoyable to eat. This recipe is vegan, paleo, and whole 30 approved.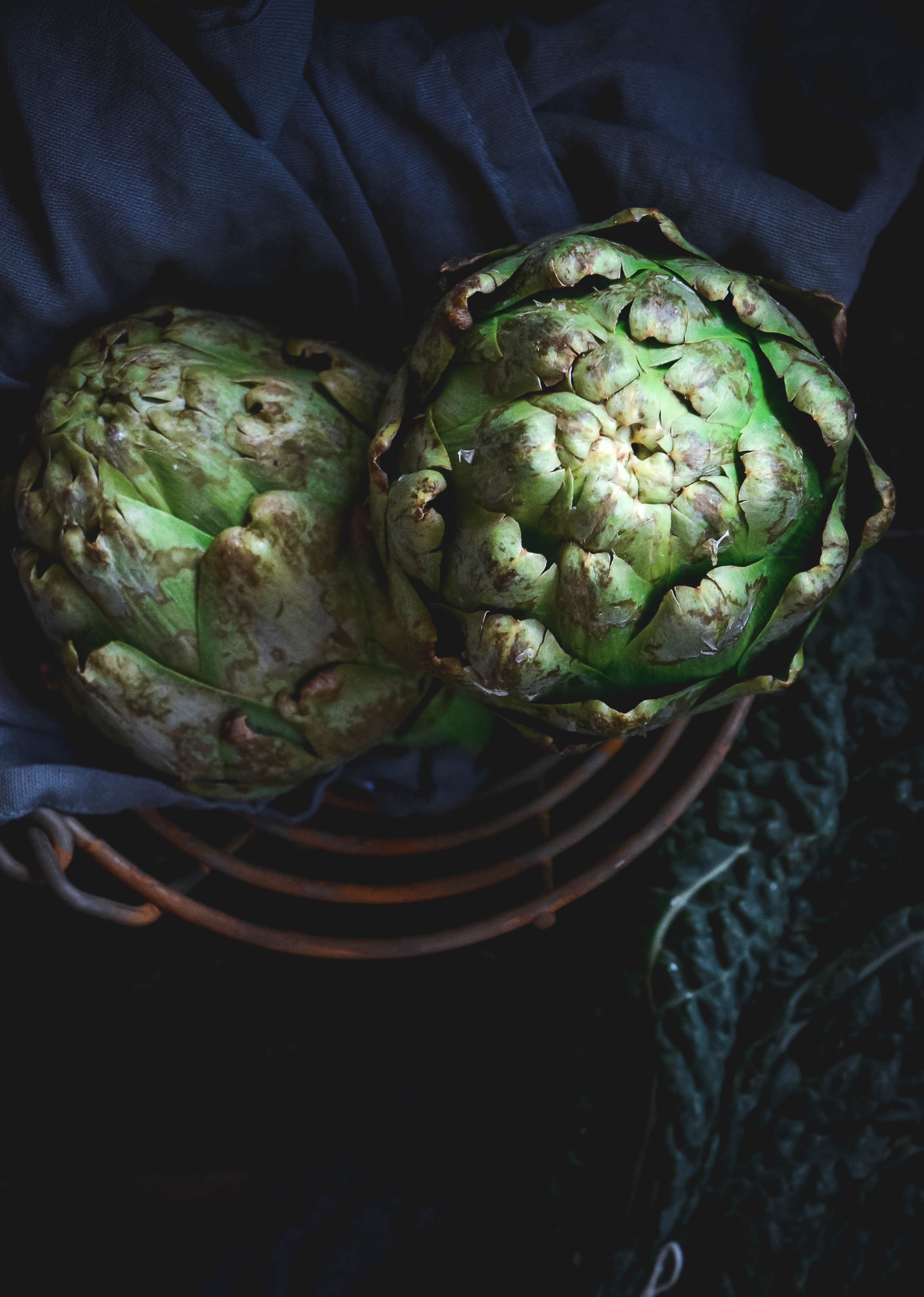 Jump To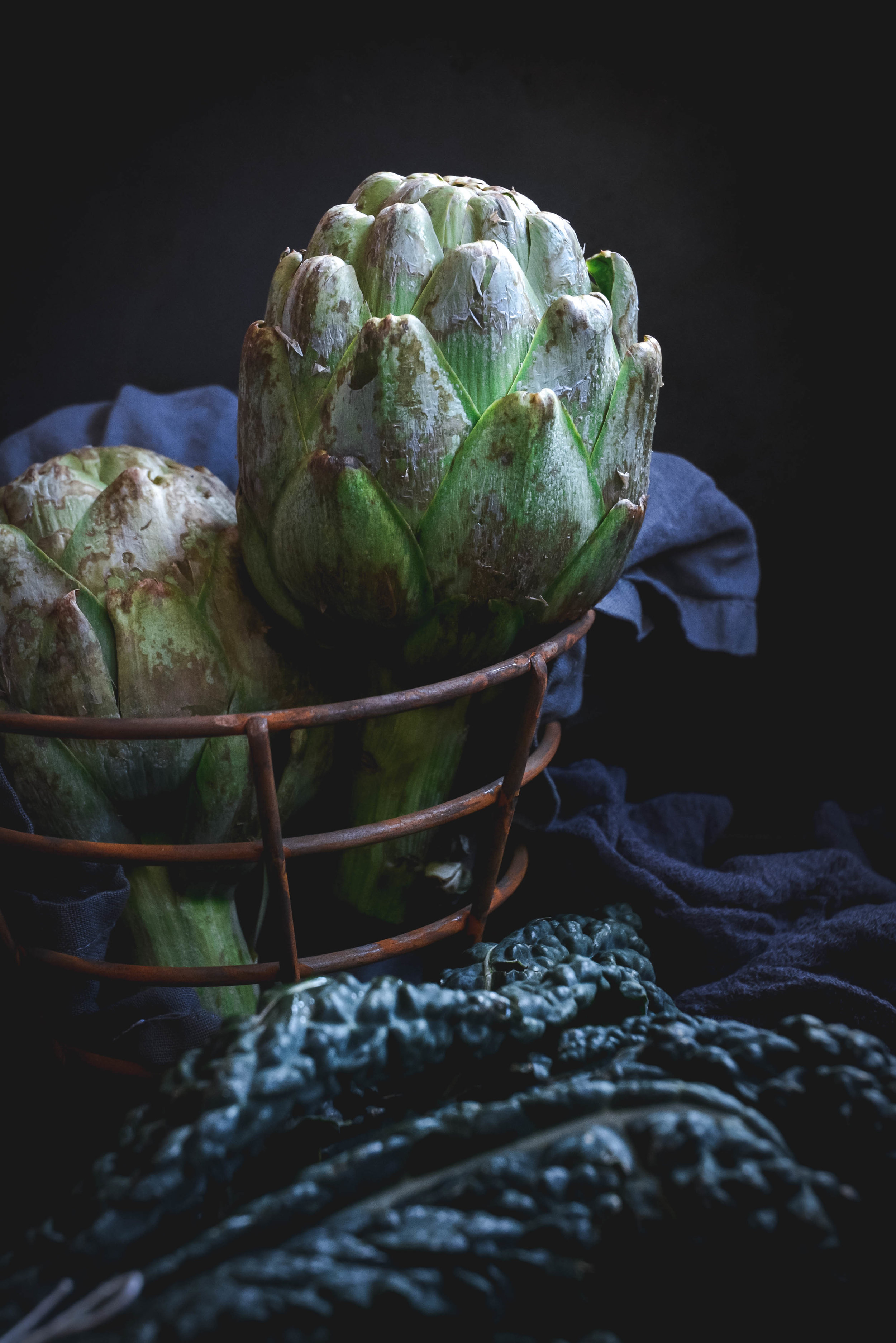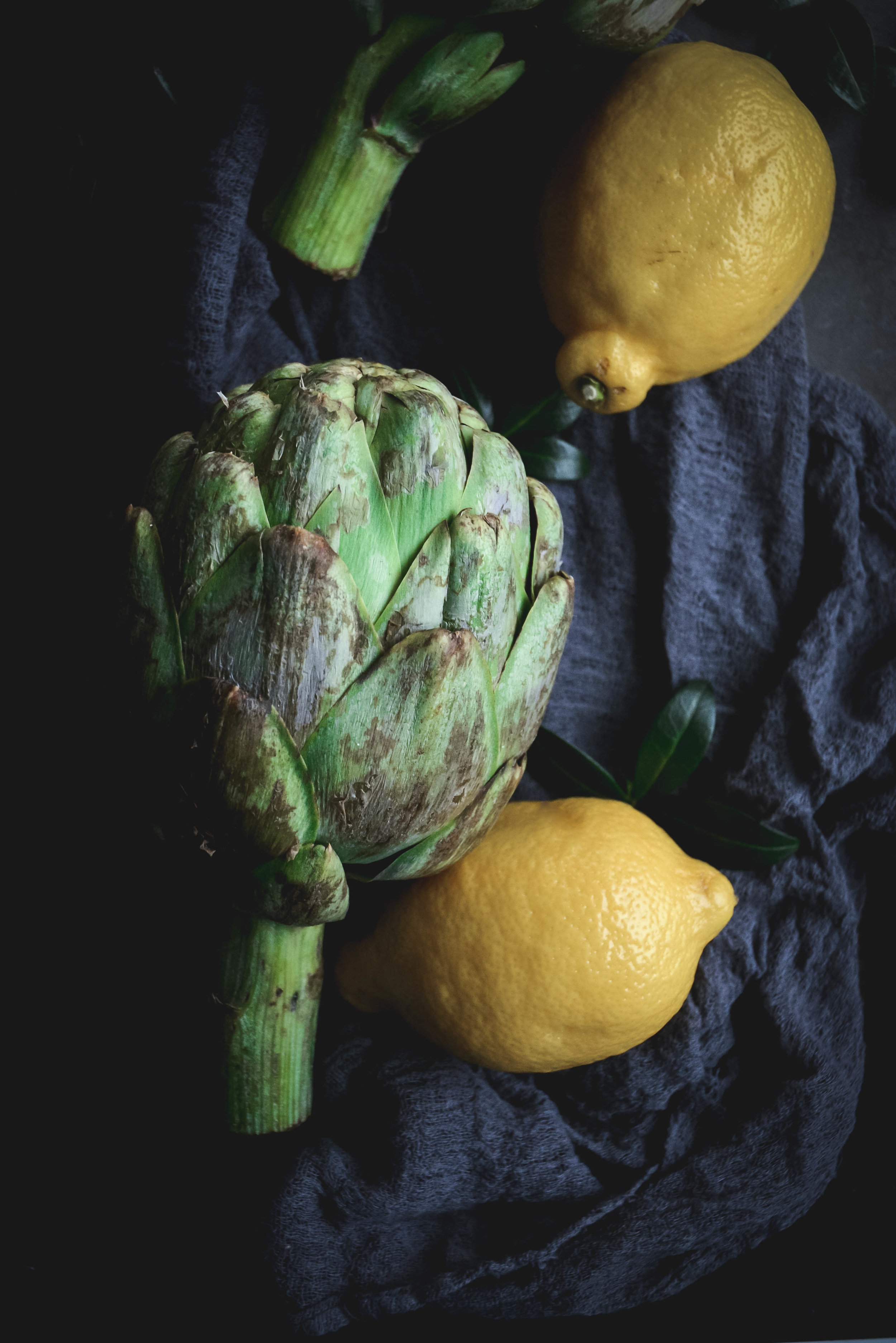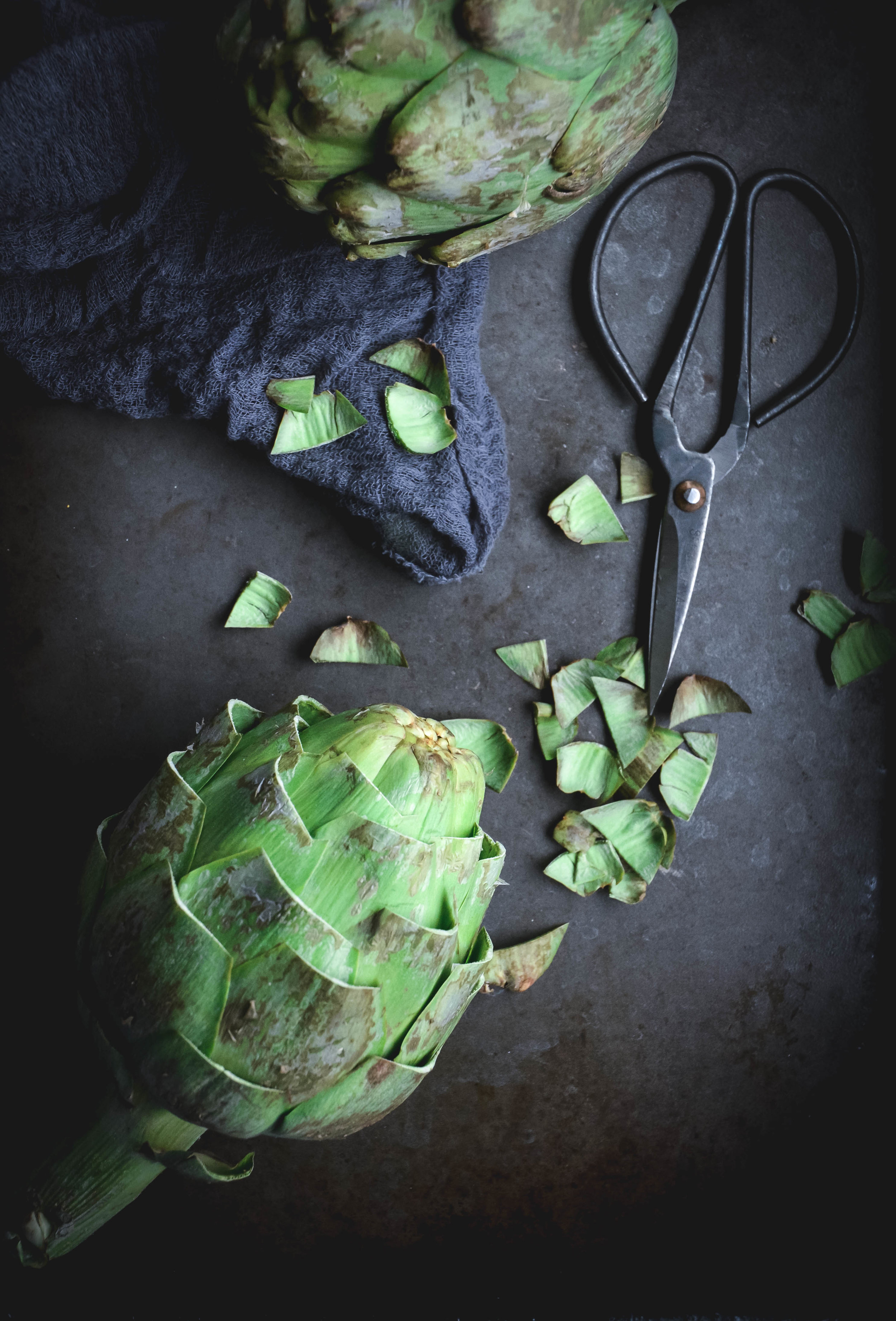 I'm no stranger to life's dark moods, to anxious thoughts, doubts, fears and unmet expectations. I'm no more or less human than anyone else. But I believe in pleasure too and love and the beauty of small things. Like watching a bee burrow itself into a flower, drinking the sweet nectar only to happily make its way out and buzz about to the next one. Small, beautiful, unnoticed.
Then there is the artichoke, maybe not necessarily small, but beautiful and previously unnoticed by my eyes. In my far too frequent trips to the market, I never stopped to pay much attention to it. I found it intimidating; those pointy leaves, a little closed off - perhaps a defense mechanism? After all, the goal is to just get to the very best part - the heart and the only way to do that is to peel layer after rough layer.
But one day, while making my typical rounds I suddenly stopped short when spotting the artichoke bin. I had one thought and one thought only. I want to photograph it! I never thought beyond that, like maybe I'd actually eat it? And like it…a lot?
I returned home, dropped my shopping and got to work. Nothing else mattered, just the beautiful artichokes. And so it began; one thing led to another and then next thing I know, I'm siting at my kitchen counter with a plate of artichokes, about to eat them for the first time. So I sat, mesmerized and sucked into the moment, enjoying bite after bite, slowly, meditatively even, dipping, and biting, dipping and biting until I got to the very best part, the essence of the choke.
As for the dip, since mayo and aioli are staples in my house, it wasn't a difficult decision. And a simple lemony aioli was the ideal companion for these mysterious, divine leaves.
I've eaten many things in my life, but I don't believe anything has brought me quite as much pleasure as photographing, preparing and eating an artichoke has. A true delight for the senses, a celebration of life's small pleasures all in one small, green, rough and yet so delicate vegetable.
These Roasted Artichokes with Lemon Aioli are:
vegetarian
low carb
gluten-free
grain-free
dairy-free
whole-30
easy to make
a great appetizer
nutrient dense
loaded with fiber
Tips for making Roasted Artichokes with Lemon Aioli
Honestly I was very much intimidated by Artichokes but it turns out they are incredibly easy to prepare, delicious, very nutritious and also quite fun to eat.
How to roast artichokes?
The most important part of roasting artichokes is to first trim the leaves with scissors. The leaves can be pointy and hard so be sure to remove about ½" of the leaf. Next, cut the stem about 1" from the base and cut the artichokes in half.
Cover the entire artichoke with lemon juice then drizzle with extra virgin olive oil. It's recommended to rub the entire artichoke well to make sure the oil gets in between the leaves and cooks evenly.
Place the artichoke face down on parchment paper and roast.
Why are the artichokes brown once roasted?
Rubbing the surface with lemon does help the artichokes to retain some of their color but due to oxidation, they turn brown-ish when roasted. Don't worry the taste will not be impacted!
Can you boil the artichokes instead of roasting?
You certainly can. If you choose to boil them, just trim the leaves, cut the stem, and cut off the top part of the whole artichoke exposing the inside of the leaves. Boil in 8 cups water for 30 minutes with the juice of one lemon and 1 tablespoon salt.
Boiling artichokes will help them retain some of the green color but I find roasting them to be much more flavorful.
What is Lemon Aioli?
Lemon aioli is nothing more than a mayo sauce made of quality mayo, dijon mustard, lemon zest, lemon juice, garlic and salt. If you're vegan, you could use vegan mayo and follow the below directions.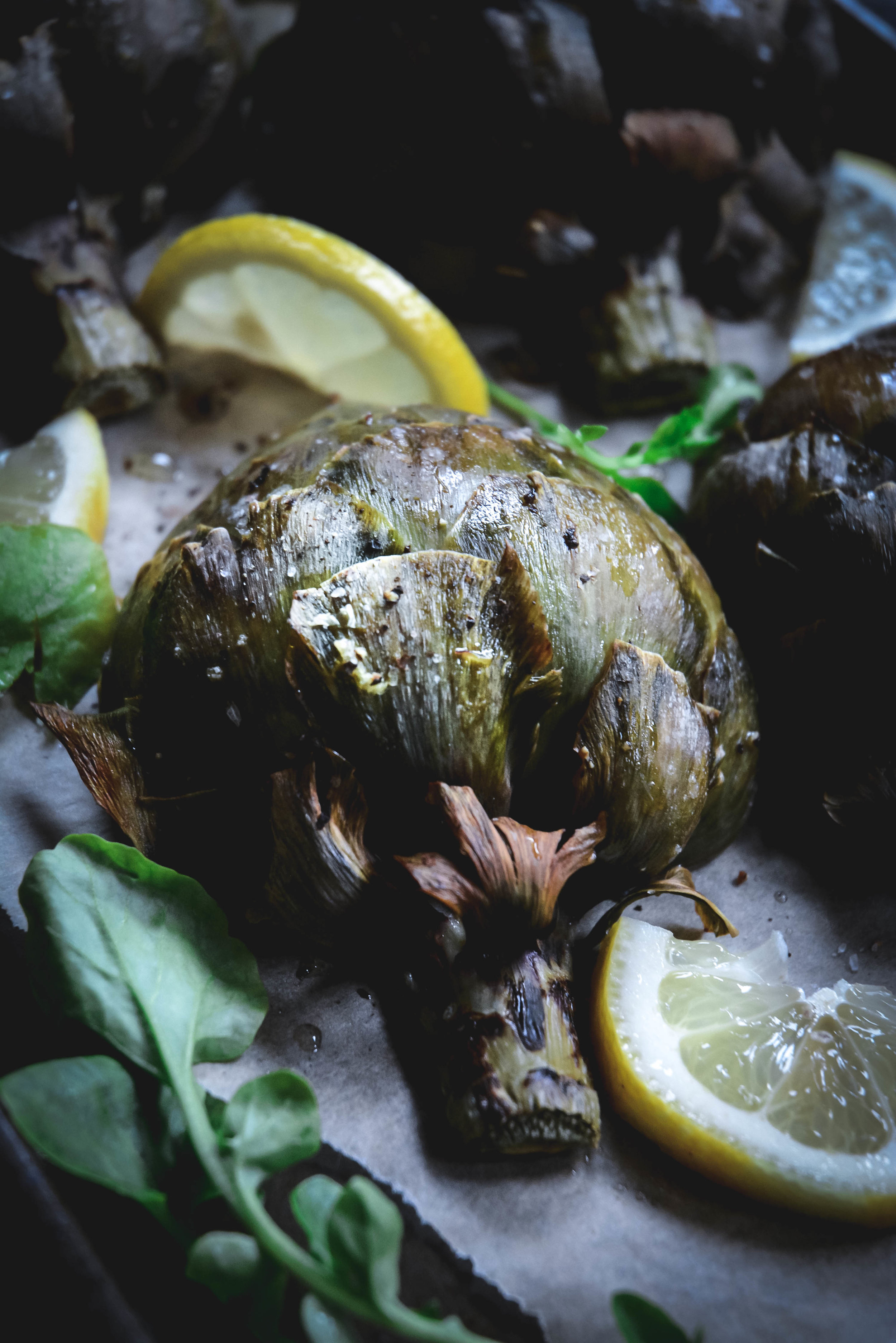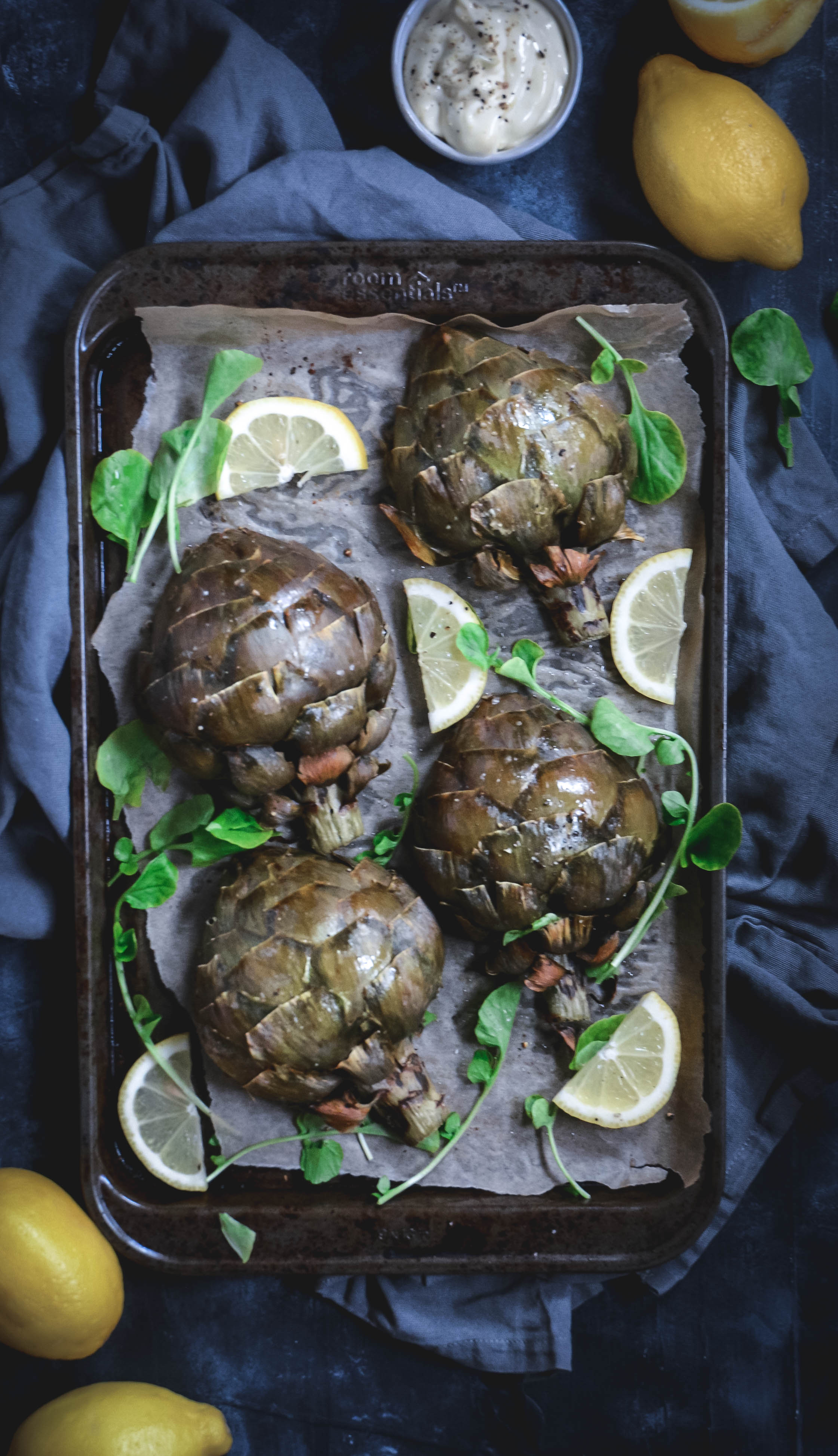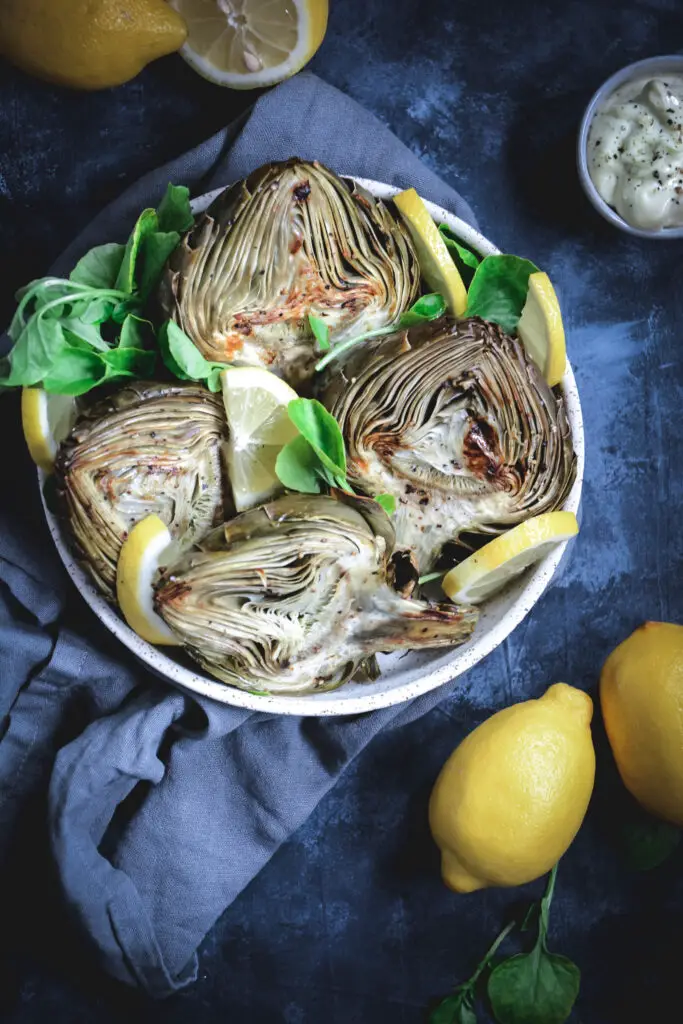 📖 Recipe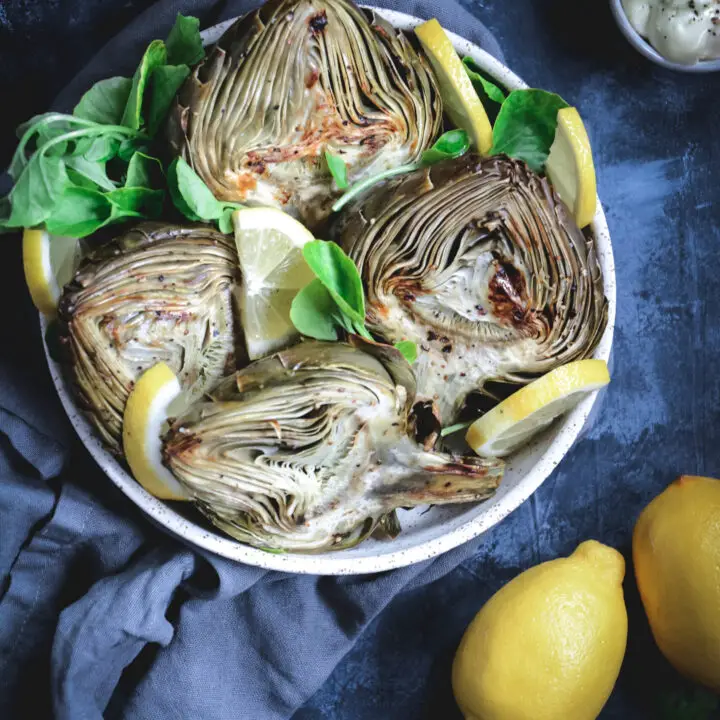 Roasted Artichokes with Lemon Aioli
Roasted Artichokes with Lemon Aioli make an easy and delicious appetizer that's simple to prepare and very enjoyable to eat.
Ingredients
2 artichokes
¼ teaspoon lemon zest
¼ cup good mayo (for vegan option use egg free mayo)
¼ teaspoon finely minced garlic
¼ teaspoon lemon juice
½ lemon
½ teaspoon dijon mustard
½ teaspoon salt divided
2 tablespoon extra virgin olive oil
Instructions
Preheat oven to 400 degrees.
Trim artichoke leaves by snipping just the tops with scissors. Cut stem and leave about 1-2". Cut artichokes in half and rub with lemon half and squeeze juice all over the artichoke halves. Sprinkle both sides with salt and pepper and drizzle with olive oil.
Lay artichokes face down on parchment paper lined roasting sheet and roast for 35-40 minutes until tender.
Meanwhile, combine mayo, mustard, pinch of salt, garlic, lemon zest and lemon juice in small mixing bowl and stir well to combine.
When artichokes have finished cooking, remove one leaf at a time and dip bottoms in aioli and enjoy!
Nutrition Information:
Yield:

4
Serving Size:

1
Amount Per Serving:
Calories:

189
Total Fat:

17g
Saturated Fat:

3g
Trans Fat:

0g
Unsaturated Fat:

14g
Cholesterol:

6mg
Sodium:

431mg
Carbohydrates:

8g
Fiber:

4g
Sugar:

1g
Protein:

2g