This Scallops Recipe with Butternut Squash Puree and Snow Peas is a decadent and delicious dish that's perfect for a special night or any weeknight. Ready in under 30 minutes.
I try to use the word perfect carefully. It's an absolute and my absolutes most certainly won't match up with your absolutes. But when it comes to scallops, I will drop that word left and right. They are perfect in my book - a utopian food. I mean that so much so that I'd even capitalize, bold, and italicize the word for emphasis.
This easy scallop recipe is ready in under 30 minutes and is lovely for a special night or if you just want a little something extra on a random weeknight.
For this dish, in order to not take anything nothing away from the scallops but compliment or even elevate them, I decided to go with a butternut squash puree and snow peas. The combination is wonderful! If you want to take this whole dish to an orgasmic level, I recommend pairing it with a Picpoul, Dry Riesling, Chablis or Sancerre.
And if you're looking to explore other seafood recipes, try this Chorizo and Littleneck Clams in Red Pepper Sauce, Lemon Shrimp with Asparagus, and Cauliflower Rice.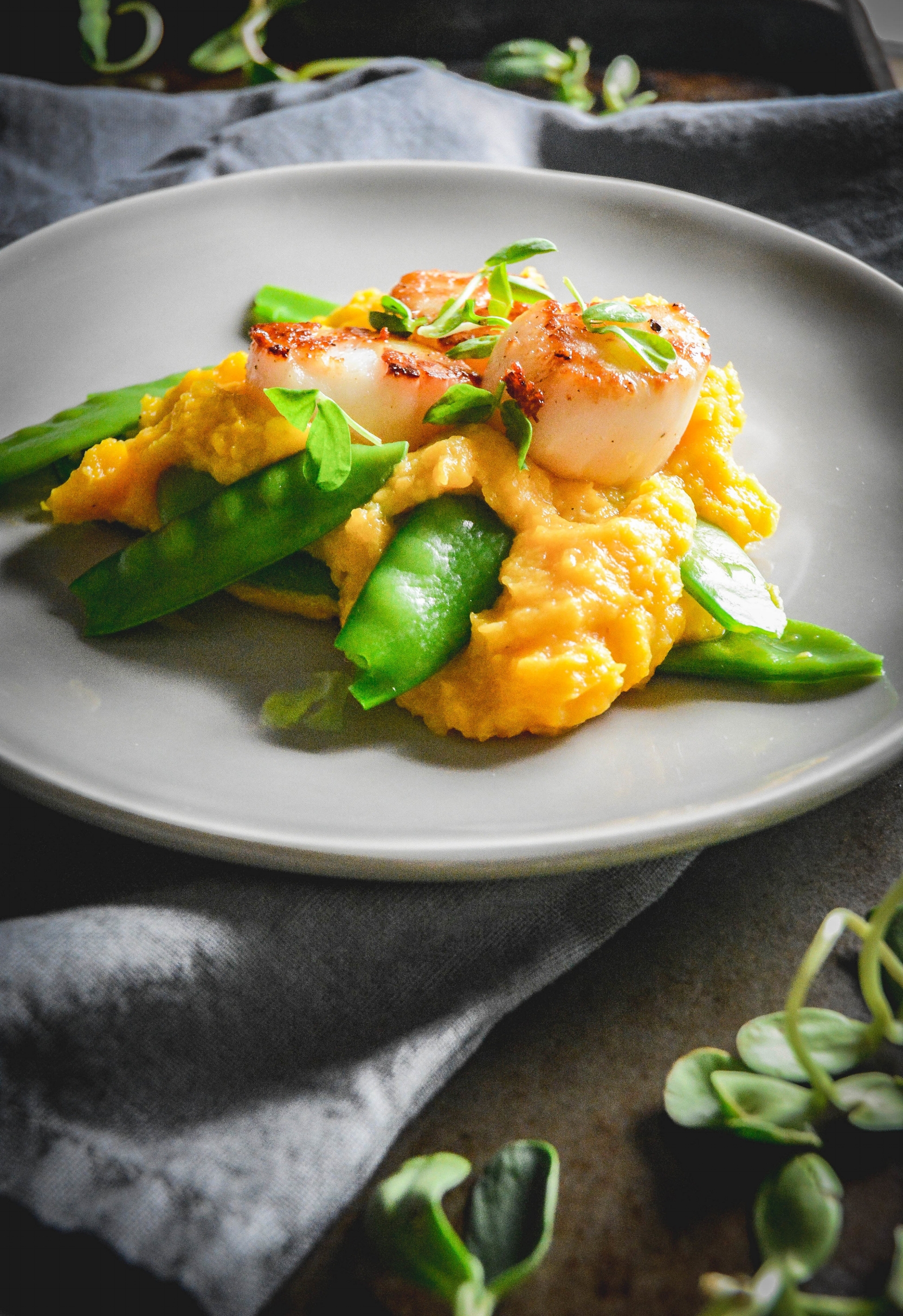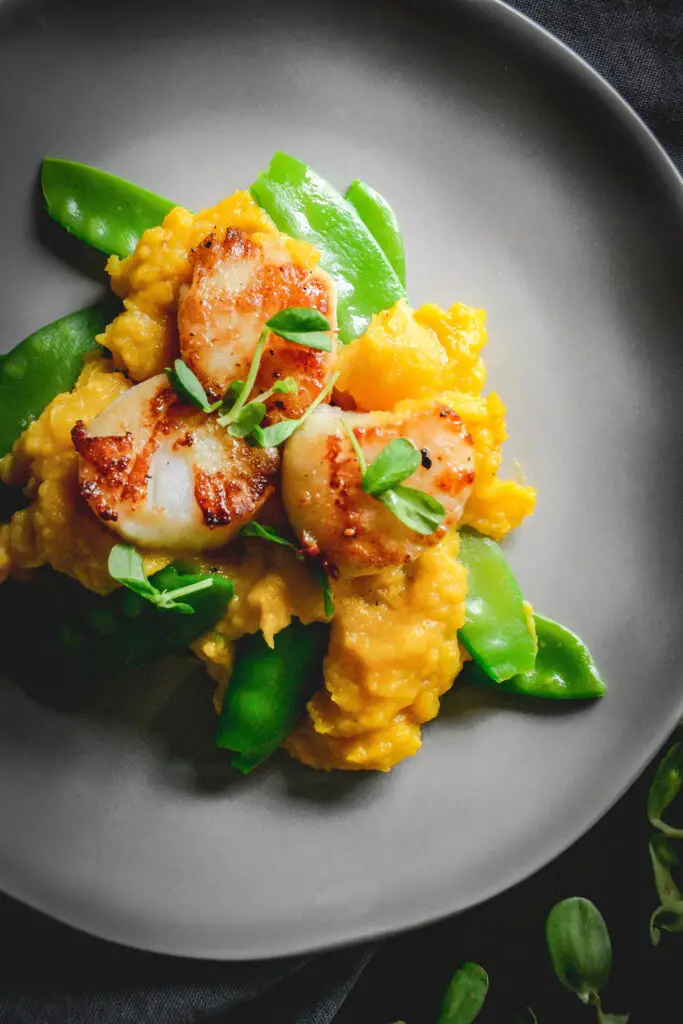 Why You'll Love This Recipe
It's gluten-free, dairy-free and grain-free
Healthy and delicious
Ready in under 30 minutes
It's perfect as a special occasion meal or any weeknight
Ingredients
Butternut squash
Scallops
Snow peas
Plant milk
Salt + pepper
Extra virgin olive oil
Coconut oil
Equipment
Large baking sheet

Large cast iron or nonstick frying pan

Parchment paper

Medium saucepan

Food process

or
Do You Need To Roast The Butternut Squash
I find roasting the butternut squash to make the recipe more decadent but you can easily steam the squash with a little bit of water and puree it.
Do Bay Scallops Work As A Substitute
While I find bay scallops to be good in pasta and rice dishes, bay scallops won't really work in this recipe. You want regular scallops. The bigger the better.
What Can You Substitute For Snow Peas
Several other vegetables can work such as green beans, sugar snap peas, or roasted cauliflower.
📖 Recipe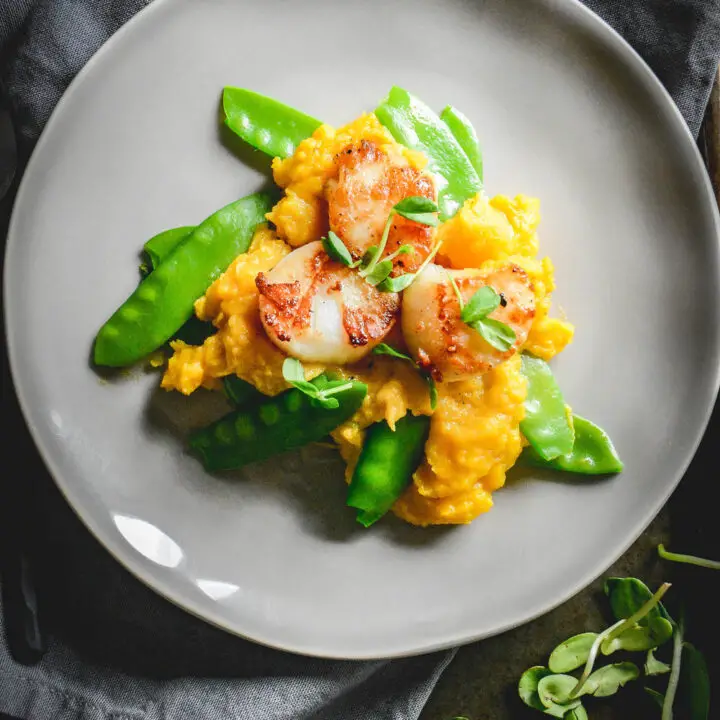 Scallops With Butternut Squash Puree And Snow Peas
Scallops with Butternut Squash Puree and Snow Peas is a decadent and delicious recipe that's perfect for a special night or any weeknight. Ready in under 30 minutes.
Ingredients
1 large butternut squash peeled and cubed
3 tablespoon extra virgin olive oil divided
1 teaspoon coconut oil
4 tablespoon unsweetened cashew or almond milk
½ salt plus additional for scallops
¼ teaspoon pepper plus additional for scallops
4-6 scallops per person
½ lb snow peas
½ cup water
Instructions
Preheat oven to 400 degrees. Line a baking sheet with parchment paper and spread the cut squash into an even layer. Combine with extra virgin olive oil and sprinkle with ½ teaspoon salt and ¼ teaspoon pepper. Mix well and roast for 25-30 minutes ensuring that you toss the squash from time to time.
Rinse scallops and pat dry with paper towels (This step is important otherwise you'll end up with excess water in the pan). Season both sides of the scallops with salt and pepper and set aside.
Once the butternut squash is fork tender, transfer to a food processor along with coconut oil, almond, or cashew milk and a pinch of salt and puree until creamy.
Meanwhile, trim your snow peas and add them to a saucepan along with water. Steam for about 5 minutes, drain and return to pan along with 1 teaspoon extra virgin olive oil, salt, pepper, and cover keep warm.
Preheat a cast iron pan over medium-high heat, add the remaining tablespoon olive oil and scallops, and cook for 3-4 minutes per side, depending on how well you like your scallops cooked. Near the end, add lemon juice and cook for another minute.
To assemble, layer the snow peas, squash puree, and scallops. You can top it with micro greens if you want it extra pretty.
Notes
1. It's very important that the scallops are as dry as possible so they get a nice sear on both sides.