This Easy and Healthy Vegan Cauliflower Mung Bean Curry is a hearty and filling curry perfect for any weeknight.
Jump To
Recently I've introduced legumes back in my life. In moderation of course and always after they've been through proper soaking. It turns out, legumes themselves are not necessarily the problem when it comes to digestion; but it's the conveniently canned variety that hasn't been through a good soak that generally wreaks havoc on the ol' gut.
A while back, a friend gave me a bag of mung beans as a gift (if you're a fan of The Office, you'll likely understand the reference). They sat on my pantry shelf for months and months and I'd occasionally pick them up, turn them over and place them right back next to the other bags of dried legumes.
But some weeks ago when I found myself uninspired and in need of some recipe ideas, I caught a glimpse of the mung beans and decided it was time. If you asked me to pinpoint a time in my life when I had actually eaten mung beans other than in sprouted form, I couldn't.
So, I threw the beans in a pot with water and let them soak overnight, hoping that overnight I would also come up with some sort of inspiring way to use them. I hadn't so I needed to see what they actually looked like when cooked. Surprisingly, they looked a lot like lentils, but the texture and consistency, somewhat different. There I was staring at a pot of boiled mushy mung beans when it dawned on me. Curry - how obvious!
I searched my fridge for ingredients that may work. ½ a head of cauliflower and a leek would do the trick. My pantry is forever stocked with every variety of canned tomatoes, so I threw in some tomato puree, spices, and voila, out came probably one of my favorite curries! It's an easy vegan cauliflower mung bean curry dish you may return to again and again.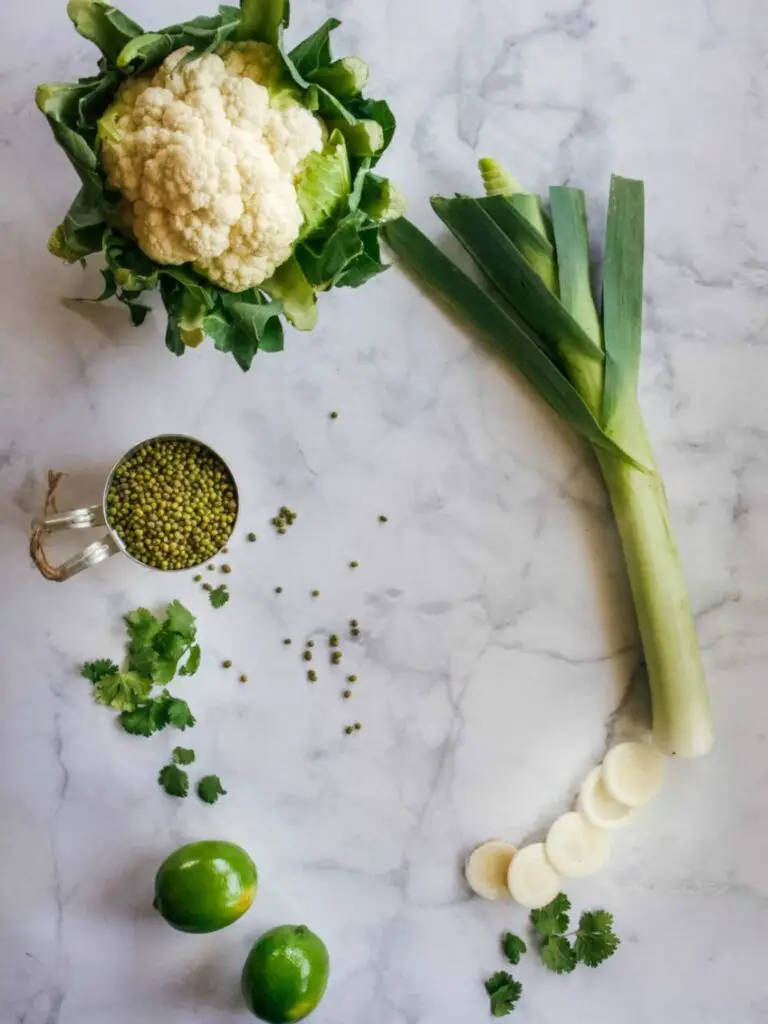 Ingredients For This Mung Bean Recipe
Mung beans
Coconut oil
Leek or onion
3 garlic cloves, minced
Ground turmeric
Garam masala
Ground paprika
Ground coriander
Ground cumin
Fresh ginger
½ teaspoon salt
¼ teaspoon pepper
1 tablespoon coconut sugar
Cauliflower
Full fat coconut milk
Tomato puree
Cilantro
FAQs + Top Tips
If you're new-ish to the mung bean world, don't worry, they're particularly easy to cook but don't expect them to be beautiful!
How To Soak And Cook Mung Beans?
When searching for the best way to soak mung beans, I wasn't quite able to come up with much. It seems popularity-wise, mung beans wouldn't stand a chance next to chickpeas and black beans, but I feel they're exquisite and much underused.
All you need is 1 cup of mung beans and 2 cups of water. Cover and let sit overnight.
When you're ready to cook the beans, drain in a colander, discard the water, give them a good rinse and add them back to the pot with 2 cups of water.
Cook for 30 minutes until mung beans are mushy and water has evaporated. Don't worry that's the consistency we'll need for this cauliflower curry as it will provide the creamy base.
Can You Substitute Lentils For Mung Beans?
If you cannot find mung beans or for whatever reason do not like them, you can easily substitute green lentils for it. Make sure you cook them really well so you end up with a rather mushy consistency and use them in the same way instructed below.
Should You Use Fresh Or Canned Tomatoes?
Canned tomatoes are a perfect option for this curry. I've tried this curry with a variety of different canned tomatoes, from chopped, to the diced, sauce, to puree and puree far out-tasted the other tomatoes. So find a good quality tomato puree in a BPA free can or jar and go for that.
Can You Substitute Onions For Leeks?
Right now is leek season. They peak from September through April and most markets will carry them. But if you're not able to get your hands on them, don't worry, you can use a sweet onion instead of the leek. You can follow basically the same instructions and it will not dramatically impact the taste of the cauliflower curry. If no sweet onion is available, yellow is perfectly fine.
What Can You Serve With Mung Bean Curry?
You can eat this curry on its own but it's also quite delicious over rice. I find rice that's been soaked for 30 minutes prior to cooking to be easy on digestion. But a great alternative if you want to keep it grain-free is cauliflower rice.
Why Should You Use Cilantro In Curry?
If you're not a cilantro lover, this part is not for you, but if you are, don't forget to add it at the end of the cooking and as you're serving it. It's going to add depth and flavor to every bite!
Making Curry In Advance
If you have the time to cook the curry in advance, I highly recommend letting it sit for an hour or two. If this is not possible, no big deal. You'll likely have leftovers and will see how the ingredients transform once they've had time to sit overnight. There's something spectacular that happens to curries when all the wonderful spices further infuse the food.
How To Best Store Leftovers?
You can store leftover curry in the refrigerator for up to 4 days.
Other Curry Recipes You May Like: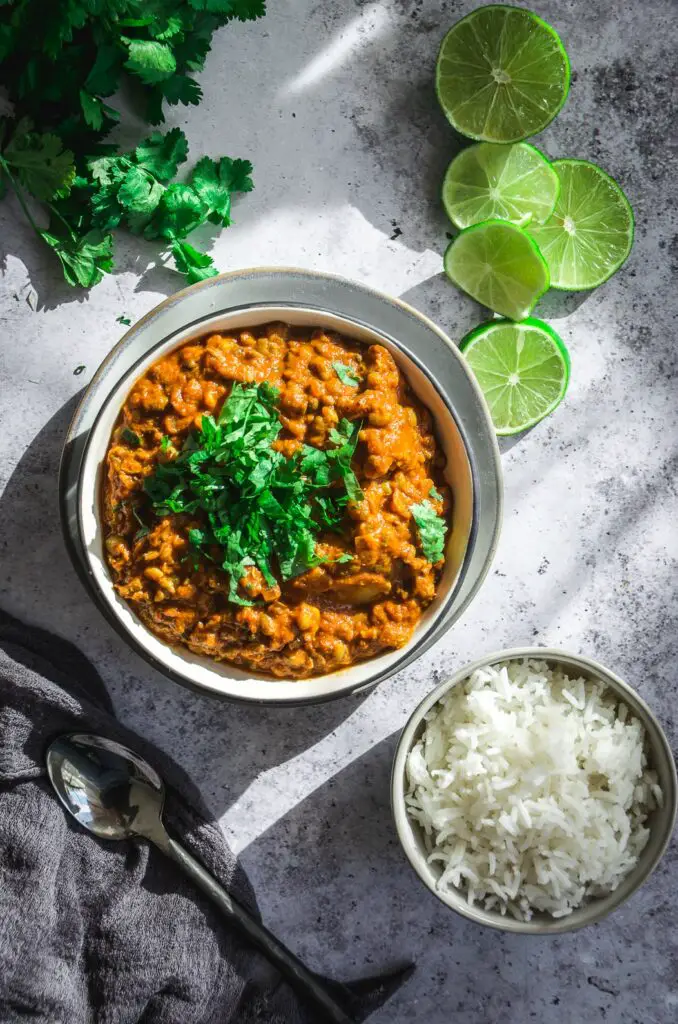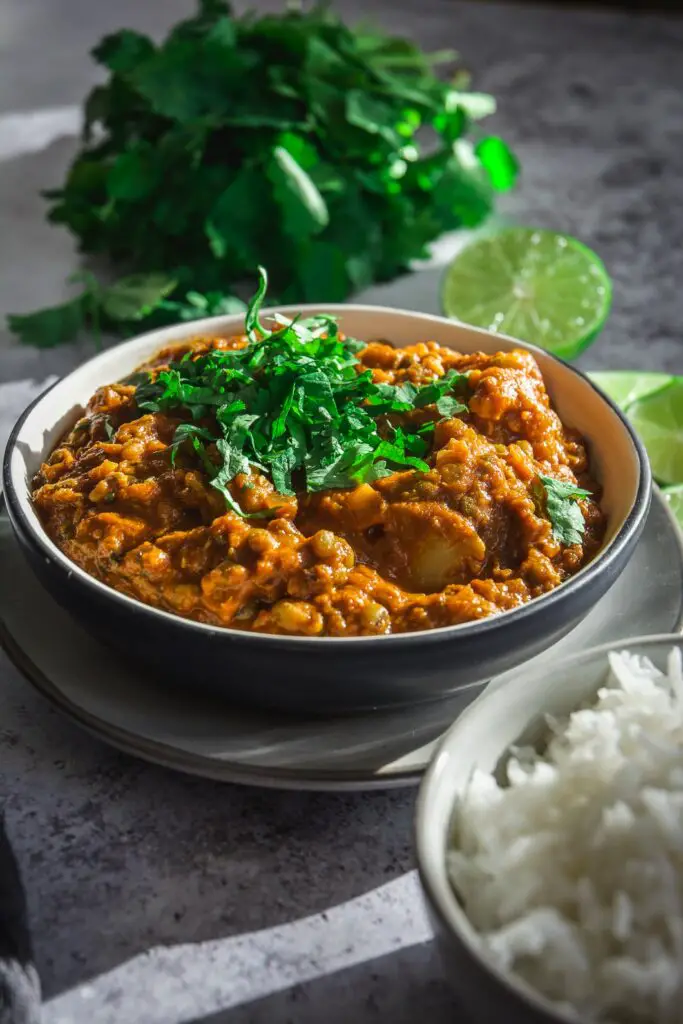 📖 Recipe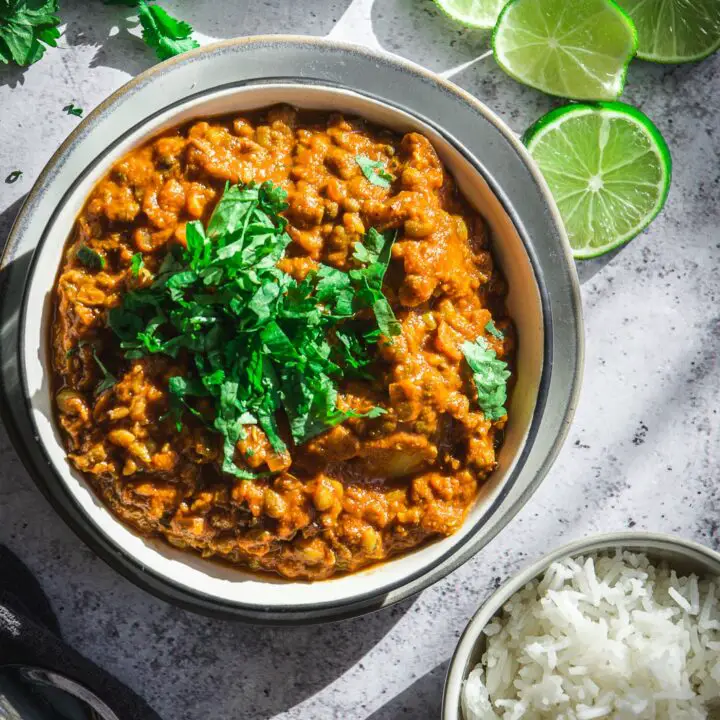 Easy and Healthy Vegan Cauliflower Mung Bean Curry
Total Time:
8 hours
40 minutes
This Easy and Healthy Vegan Cauliflower Mung Bean Curry is a hearty and filling curry perfect for any weeknight.
Ingredients
1 cup mung beans
5 cups water divided
2 tablespoon coconut oil
1 large leek, chopped (white part only)
3 garlic cloves, minced
1 teaspoon ground turmeric
½ teaspoon garam masala
½ teaspoon paprika
½ teaspoon ground coriander
2 teaspoon ground cumin
2" piece of ginger, minced
½ teaspoon salt
¼ teaspoon pepper
1 tablespoon coconut sugar
½ large head cauliflower or 1 small (florets only)
1 can full fat coconut milk
1 can tomato puree or 2 cups
1 tablespoon chopped cilantro plus extra for serving
Instructions
1. In a large pot, add beans, 3 cups of water, and soak overnight.
When you're ready to cook mung beans, discard soaking water, rinse them well and return beans to the pot with 2 fresh cups of water.


2. Bring to a boil then simmer mung beans for 30 minutes until soft and liquid has been absorbed. If there's any leftover liquid, drain it. You want the mung beans to be mushy in texture. You can drain excess water if there is any left.


3. Meanwhile, preheat a dutch oven (or large pot) on medium heat and add 2 tablespoon coconut oil, leek, and a pinch of salt. Cook for 6-8 minutes or until the leeks start to soften. Stir regularly to avoid it sticking to the pot.


4. Add garlic, minced ginger, all spices and cook for 2 minutes. Add cauliflower and toss with spices.


5. Next add in tomato puree, coconut milk, sugar, salt, and pepper and cook stirring occasionally for 20 minutes.


6. Add mung beans to the pot, cilantro, and stir well.
Serve over white rice, cauliflower rice, or eat on its own with additional cilantro.


*Tip: Curry tastes best when it's had the chance to rest for a bit.

Notes
1. I recommend soaking the mung beans for at least 8 hours but if you don't have the time, that's not a problem. Any soaking is good even if it's 30 minutes prior to cooking.
2. You can use any sugar you'd like, it doesn't have to be coconut sugar. Regular sugar will work and even maple syrup.
3. You can store the curry for 3-4 days in the refrigerator.
Nutrition Information:
Yield:

6
Serving Size:

1
Amount Per Serving:
Calories:

279
Total Fat:

20g
Saturated Fat:

16g
Trans Fat:

0g
Unsaturated Fat:

2g
Cholesterol:

0mg
Sodium:

249mg
Carbohydrates:

24g
Fiber:

6g
Sugar:

9g
Protein:

7g