These 11 easy gluten and dairy-free Thanksgiving sides will infuse a traditional holiday with some unexpected and delicious flavors.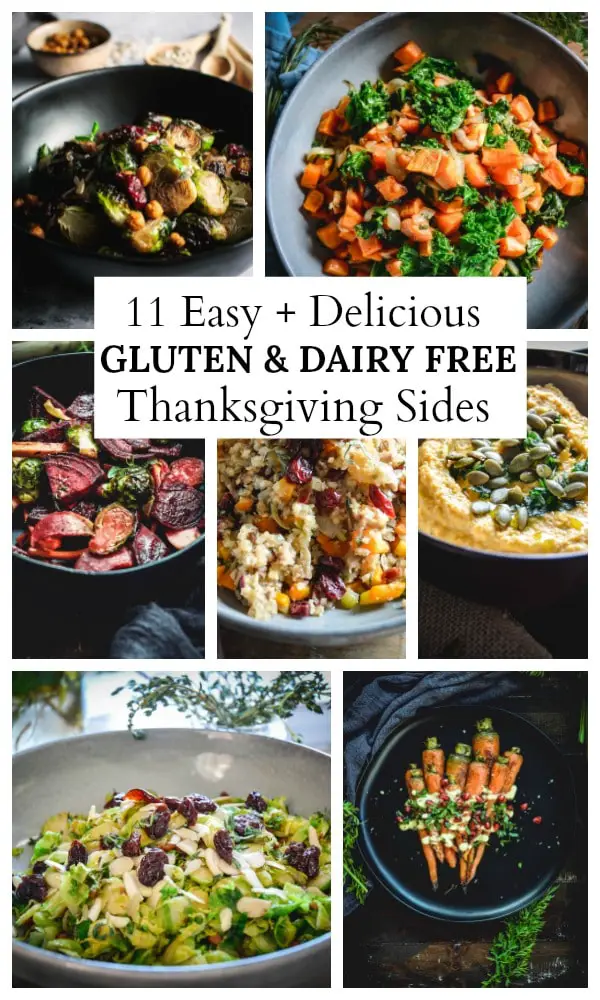 Out of all holidays, Thanksgiving may just be my favorite. I know, I know, Christmas people are booing me right now. Christmas is a close second. So is Halloween. But neither is about food...unless of course, you consider candy food, which I don't.
Thanksgiving, though - that's where I get to have all the fun...because, well, it involves food. Lots of food. And I'm mainly in it for the sides. Thanksgiving may as well be called the holiday of side dishes, because, honestly, that's all I want to eat. Sure Turkey or Tofurkey is well and good, but what would Thanksgiving be without the glorious side dishes?
Also, while traditional sides are great, it's 2020, we're in the middle of a pandemic, everything is crazy and you won't find a trace of traditional here. Instead, you can expect some tasty concoctions that may just surprise you. So here you go - 11 Easy Gluten and Dairy-Free Thanksgiving sides, I hope you will enjoy.
Additional Dietary Considerations
Because I try to make most recipes in mind with those struggling with gut issues, in addition to all recipes being 100% gluten and dairy-free, you will find the majority are paleo and whole 30 compliant, with 90% of them vegan as well. And to make your life easier, I've listed out which ones are compliant.
11 Easy Gluten and Dairy-Free Thanksgiving sides
Roasted Brussels Sprouts with Balsamic and Crispy Chickpeas - Vegan (Skip chickpeas for Paleo, Whole 30)
Maple Dijon Roasted Vegetables - Vegan, Paleo
Roasted Carrots with Orange Tahini Sauce and Pomegranate - Vegan, Paleo, Whole 30
Easy Paleo Cauliflower Cranberry Sage Stuffing - Vegan, Paleo, Whole 30
Cinnamon Roasted Butternut Squash with Cranberries - Vegan, Paleo, Whole 30
Simple Roasted Root Vegetables - Vegan, Paleo, Whole 30
Butternut Squash Hummus - Vegan, Paleo, Whole 30
Roasted Sweet Potatoes with Ginger, Cumin, and Coriander - Vegan, Paleo, Whole 30
Warm Brussels Sprouts Salad with Bacon and Dried Cherries - Paleo, Whole 30 (Vegan Option)
Apple and Beet Salad with Candied Walnuts and Cashew Cheese - Vegan, Paleo, Whole 30
Sweet Potatoes with Kale and Caramelized Onions - Vegan, Paleo, Whole 30
11 Easy Gluten and Dairy-Free Thanksgiving Sides