If you like chocolate and pistachios then you're going to love this simple no-churn, vegan chocolate pistachio ice cream with caramel sauce.
Jump To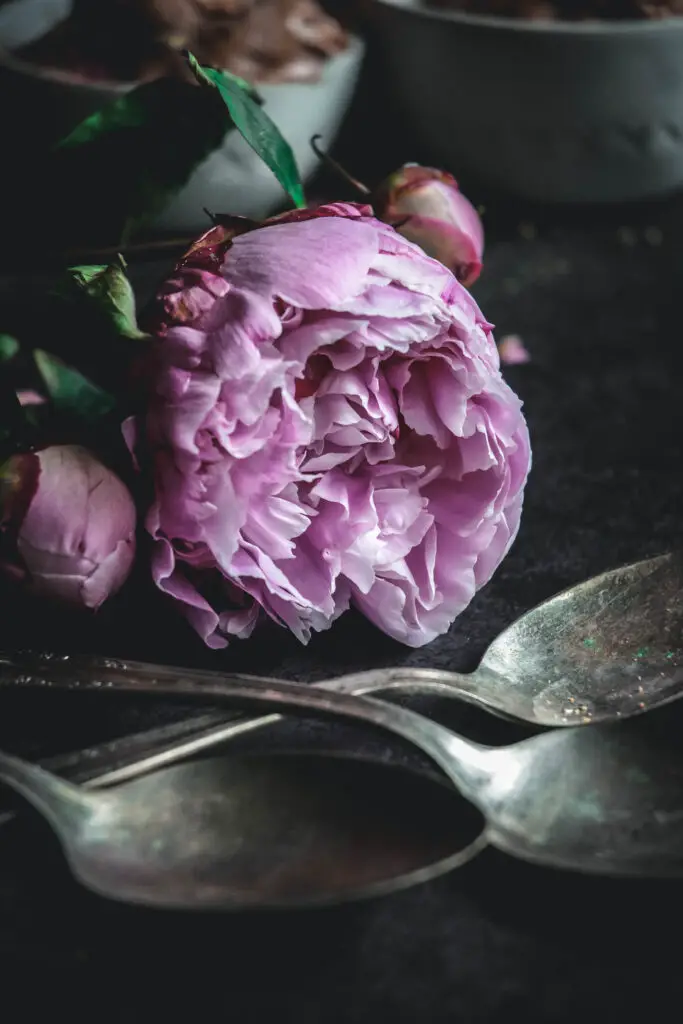 Green and jumpy, its gifted legs pausing once in a while to make song. The sky, of the clearest blue with an occasional cloud passing by. I laid in the tall grass, watching it sway back and forth as the green visitor disappeared from sight with one long hop.
Time moved slower then, summer's creatures buzzing about. July has always held a certain sweetness. I rolled over studying my body's imprint in the grass. Blade after blade slowly making its way back to the preferred upright position, undulating this way and that, always at the mercy of wind. Everything moved in slow motion, including me.
Lethargically, I trekked through the field back to my white, used Schwinn, stomach rumbling. Pebbles crunched under my feet as I reached the path, wiping a bead of sweat off my forehead. I wasn't quite sure of the time, but the sun told me it was sometime late afternoon. I roamed freely in the summer, coming and going as I pleased. As long as I was home for meals, my parents were fine with me exploring as I wished. I am still grateful for that.
Pedaling through rolling, green farmland, I made my way to the center of the village, straight to one of the only two pubs/restaurants. It was a special place, because it was the only one that carried ice cream. And not just any ice cream, but pistachio, which was a favorite for years. It was love at first bite and also happened to be my introduction to the crunchy, buttery nut. Even though it would be a long while before I would have an actual stand-alone pistachio.
As the years passed, time sped up exponentially, tastes broadened and changed. And when talking sweets, I now gravitate towards my ultimate favorite - chocolate. So in my adult years, with my adult freedoms, I take the liberty to experiment with flavors from childhood and adulthood and have them meet somewhere in the middle. So this vegan chocolate ice cream with pistachios and salted caramel was born.
How do you make vegan chocolate pistachio ice cream?
A good vegan chocolate ice cream, doesn't require a lot of ingredients but the ones you use should be of the best possible quality.
In my book, the base for a vegan chocolate ice cream is quality creamy full fat coconut milk and good cacao or cocoa powder. To go along with those; maple syrup, almond butter, a little ground cardamom, vanilla and ground pistachios.
You can certainly skip the caramel sauce, I think it is an absolute must, to complete this ice cream.
Tips for making smooth and creamy no churn vegan chocolate ice cream
Freeze and refrigerate everything!
While making this recipe several times, I've done a little trouble shooting to avoid one of the most common issues with home made no churn ice cream - icy taste. The issue is simple; the warm ingredients placed in the freezer take longer to freeze than in conventional ice cream makers and the water in coconut milk (or any milk), will create crystallization and leave a rather unpleasant mouth feel.
But if you keep your blender cup, blade and loaf pan in the freezer and the coconut milk and almond butter in the fridge for a few hours, you're going to end up with a smooth ice cream with little to no crystallization.
For the caramel sauce
You only need condensed coconut milk, vanilla extract, coconut sugar and a pinch of sea salt to make a smooth and creamy caramel sauce. This can be made in advance and stored in the fridge for 2-3 weeks (should it actually make it that long).
📖 Recipe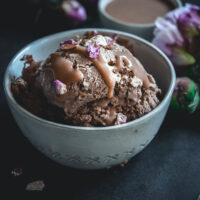 No Churn Vegan Chocolate Pistachio Ice Cream with Caramel
Total Time:
6 hours
16 minutes
If you like chocolate and pistachios then you're going to love this simple no-churn, dairy-free, vegan ice cream. And let's not forget the caramel, which pretty much ties everything together.
Ingredients
2 cans full fat coconut milk, refrigerated for at least 4 hours (I particularly like that brand)
¾ cup evaporated condensed coconut milk
½ cup coconut sugar
2 teaspoon vanilla extract divided
5 tablespoon cacao or cocoa powder
1 teaspoon ground cardamom
5 teaspoon runny raw honey
½ cup almond butter
2 tablespoon ground pistachios
Instructions
For chocolate ice cream:
In a food processor or blender, grind up pistachios in advance. Set aside.
Prior to starting, ensure that you freeze your blade, blender cup, and loaf pan and refrigerate the ½ cup almond butter and coconut milk for at least 2 hours.
Combine 2 cans chilled coconut milk, 1 teaspoon vanilla extract, cacao, cardamom, honey and almond butter and blend until smooth.
Transfer mixture to loaf pan, sprinkle with ground pistachios and cover with plastic wrap. Ensure the wrap makes contact with the ice cream mixture and wrap pan again tightly ensuring that little to no air can get in. Quickly transfer to freezer and freeze for 6 hours.
For caramel sauce:
Meanwhile combine condensed coconut milk, 1 teaspoon vanilla extract along with coconut sugar in small sauce pan and bring to a boil. Reduce heat and simmer for 25 minutes on low, stirring regularly until you get a creamy caramel sauce. Finish with a sprinkle of sea salt.
When the caramel has finished, transfer to a glass container and store in the refrigerator for 2-3 weeks.
To assemble ice cream. Once it's finished freezing, remove from freezer and let sit for 30-45 minutes (it's worth the wait).
Scoop vegan chocolate ice cream into bowl and finish with caramel sauce and sprinkle with additional chopped pistachios.